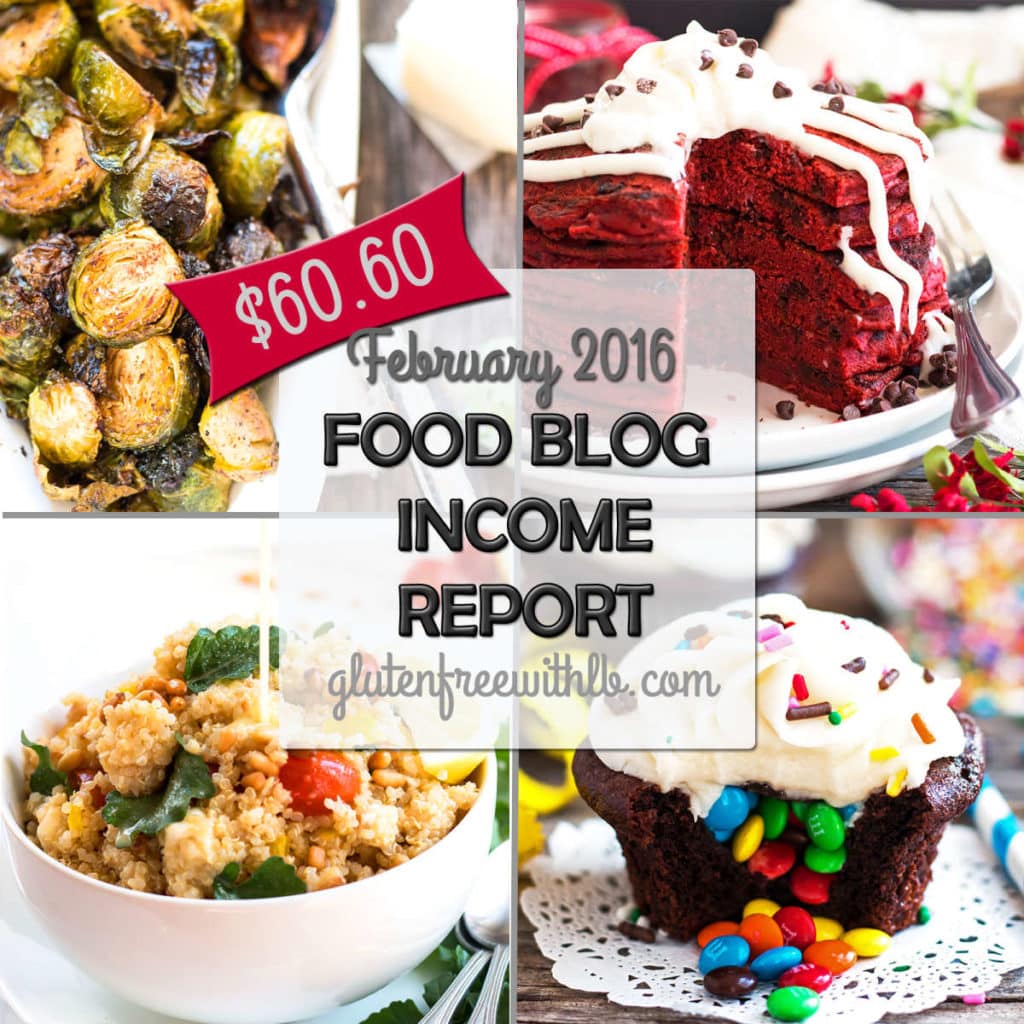 These reports are written in an effort to offer encouragement (and a little guidance) to other bloggers/entrepreneurs out there. I will be sharing the things that have worked here on Gluten Free with L.B. as well as the pitfalls that have been encountered.  After all, the best way to learn is from other people!

After over 2 years of blogging I am nowhere close to being a blogging expert, but I do have some real (blog) life lessons to share.  Whether you're a fellow blogger or just curious about the ins and outs of making money from the internet, read on! 
(Don't have a blog yet but would like to start one?  Visit my "How to Start a Blog" page to create your own in under 20 minutes!)
Traffic for February 2016
15,966 sessions (+26%) | 40,012 pageviews (+24%)
The Details
Income:
       Total Income=  $108.34
RPM = $2.71

(+38%)
*RPM stands for revenue/mille, or revenue/1,000 pageviews.  It will be used on every monthly report.  This helps gauge if monetization strategies are improving (making more money/1,000 pageviews) or getting worse.  Since traffic varies from month to month, it is good to have a consistent measurement to determine how well your site is generating money.
Expenses:
        Total Expenses=  $47.74
Total Net Profit = $60.60

(+33%)
A Quick Catch-Up
If you want to catch up and see what GFwLB has been doing for the past 2 years of blogging in order to get to this point, check out the income report from January 2016!
Changes Made in February
Mailchimp Automation
Last month I let you in on a little secret.  I officially released an e-book full of the Top 25 Recipes from Gluten Free with L.B. that you can get if you sign up for the e-mail list.  After searching around and trying to decide on a e-mail program I decided to go with Mailchimp.  After tinkering around with the program for a few days I figured out how to have an e-mail send within minutes of a member signing up for the e-mail list.  If you want to know how you can set up your own automatic e-mail for subscribers, check out my post here.  You do have to be on one of Mailchimp's paid programs, but by clicking this link, and signing up here, you will get $30 toward your account.  (And so will I!  It's a win-win!)
If you haven't signed up for the GFwLB's e-mail list and would like your free copy of the Top 25 Recipes, visit the signup form page here!
Growing the Community through Social Media and E-mail
One of the absolute best finds for the month of February was a FREE blog program called HelloBar.  It has been one of the only free pop-up programs I could find that would actually allow you to add a pop-up, floating bar, a box, and do a lot of customization.  Here are the pros and cons I have found with it so far:
PROS
You can add a picture to your pop-up.  (This really helps convert people to signing up for that free e-book!)
You can A/B test different bars, boxes and popups. (You can test colors, what you say, etc.)
It syncs easily with Mailchimp and many other e-mail subscription programs.
CONS
You cannot select which viewers see popups/bars/boxes unless you pay $$$.  (For example, I cannot disable my pop-up for mobile users.)
You have a HelloBar logo on the free version's bars, pop-ups, and boxes.  (Not terribly noticable and you can pay $$$ to not have this.)
All in all a WONDERFUL addition to the blog!
During the month of February I started to try out Conversions Box.  It made total sense at the time.  A little box pops up in the bottom right hand corner of the screen and asks users to like your Facebook page.  Yes, I got a few likes from the box, but honestly not enough for how annoying it became to my users.  (You couldn't turn it off for mobile users at all.)  Your blog is the only real estate you have and only so many pop-ups, bars and boxes can occupy this real estate.  At the end of the day I decided to stick with my Pinterest bar at the top and the pop-up (both from HelloBar) encouraging people to sign up for the e-mail list.
Aha!  Finally a way to schedule your pins to pinterest at the most popular times of the day! Ahalogy has a browser extension much like Pinterest and you can simply click it, pick your pin, and let them autoschedule them for you.  Most of these pins will go up between the hours of 6-9PM in order to get the most engagement.  And the best part is… you can pin any time of day and they still get posted at the peak hours!
New Wooden Backdrop (made by my sweet hubby, Cohl!)
Even after getting my new Canon 50mm f/1.8 STM lens in January, I still wasn't quite satisfied with my photography.  My pictures looked stale and I could tell the 6 month "hiatus" I took to start a business last year was starting to show.  My creative juices simply weren't flowing and I just wasn't feelin' it.  Not sure if it's a blessing or a curse but I find myself studying other peoples' food pics quite often.  Sometimes I get really bummed because I don't think my pictures will ever look that good, but other times I get encouraged because it gives me a new idea.
This month's idea was for a new backdrop.  Wooden backdrops have appeared to be the rage recently, and I can totally see why… because they just rock!  You can put any color scheme together with a nice, cool-toned wooden backdrop and BAM!  You've got yourself a Foodgawker-worthy photo.  Lucky for me, I didn't have to do much of the labor to create this wooden backdrop from old pallets.  (However, I did remove quite a few nails from the boards…)  Cohl did such a wonderful job making this 2-sided backdrop that I just might have to recruit him for more projects in the future. 🙂
Since this new wooden backdrop came into the picture (I talk about it like it's a long lost friend, but seriously–it kind of is!) my pictures have been kicked up a notch.  Foodgawker is not the end-all-be-all, but they sure do have a bit of food photography knowledge.  Thanks to this beautiful backdrop I have had 5+ photos appear on the 1st page of Foodgawker in the last month.  I'd say this wooden backdrop, hand-crafted by my hubby, gets 2 thumbs up!
Side note: Want to make your photos better?  I found Pinch of Yum's Tasty Food Photography e-Book to be the best resource for learning the ins and outs of food photography.  Trust me, it is worth every penny when you see how much your photos improve!!
Connect and Share the Food Bloggin' Love
OK.  Let's get a little real here.  How many of you have slowly stopped leaving comments, liking, sharing, pinning, tweeting, etc. other food bloggers content?  I see one measly hand lifting.  Truth be told, I know we all do this to some extent.  Even though we may do it subconsciously, we still do it nonetheless.  Something within us has convinced ourselves to not promote "said blogger's" content because if we do then they will be the one that gets all of the blog glory.  So.  Not.  True.
One of my favorite times in life was when I was in dental school.  (Yes, *gasp*, I'm a scary dentist!  But I promise I'm really not that scary!)  While all of us were essentially clamoring for the same pool of patients in order to pass our requirements, we still learned how to help a sista' (or brotha') out.  We were specifically placed in groups and something about that created a bond between us.  Isn't that how we should look at food blogging?  With so many niches for blogging out there, shouldn't we–food bloggers–create a united front and start sharing the love by promoting our group's content?  So please pin it, tweet it, share it, like it, love it and talk all about our "group's" content!
Speaking of sharing the love, check out the bloggers I follow and absolutely LOVE their stuff:
Pinch of Yum–have followed them since Day 1 of GFwLB!  They have the best income reports and are so transparent with what they're doing.
Sally's Baking Addiction–-I check Sally's site every single time I want a good go-to baking recipe.  She's absolutely presh.
Averie Cooks–she's starting to have even more non-baking stuff (along with an assortment of baking recipes) and it's all fabulous.
Homemade Hooplah–just found this one… Chrisy has got a wonderfully positive approach to food blogging and  she also does income reports!
Chelsea's Messy Apron–she's the mastermind behind the E-Book I bought this month.  She made $40K her first year of blogging!  *claps all around for her awesomeness*
My Natural Family–great whole food, healthy recipes with lots of gluten free options!  And she's been sweet enough to link to my posts in a few of her recipe roundups.  See… spread that bloggin' love.
A New Advertiser on the Site — Swoop there it is!
Honestly, haven't quite formed an opinion on this one yet.  They only pay on a Cost-Per-Click basis, so no clicks means no $$$.  Even almost 2/3s of the way through March I am still only seeing a few dollars worth of income from them.  Initially I joined thinking they would be a CPM (cost-per-mille and pay per impressions) program also and loved the idea of their advertisements being integrated within the posts. Food blog readers just don't seem to be quite "clicky" enough for a CPC program, though.  I'll stick it out to see what happens in the months to come and report back.
Organizing the Madness!!
This is the first month (minus the first few days) where I had a goal for how many times a week I would post and I actually stuck to it.  My goal this month was to consistently post 3 times/week.  One of those weeks would include the income report for a post and another week I would let myself do a personal post, while all of the rest would be recipes.  Income post–check!, Personal post–no check, 3 posts/week–check!
It was a lot more work, and took a lot of organization, to post three times/week, consistently.  After reading Chelsea's e-Book I was encouraged to get this little ole' blog organized.  I made a binder and had tabs for my editorial calendar, income, food thoughts, and random thoughts.  Having all of this in one place has really helped me keep my random thoughts together.  Not to mention, making a calendar and scheduling my recipes 2 weeks out has helped me tremendously when shopping at the grocery store and meal-planning.  I'll have a few more details on how I have been organizing myself and the blog in next month's report.
A Look Into the Future
What's going on for the month of March?
Is that an owl in the night or is that HootSuite?…

An introdution to Social Media Management Systems.

To Network or not to Network…

A look into different publisher networks.

A gift from a Facebook angel…

Seriously crazy awesomeness happened on Facebook in March!

Organizing the madness, continued…

More detailed instructions on how to organize yourself, your blog and creating relevant content.
YAY!!  You made it to the end!  Once again, I give you a virtual smiley face sticker for sticking around until the end. 🙂 If there was something I touched on in the post but you would like more information about, please comment below and I will give more details in the next post or send you an e-mail response.
Until next month's report,
SaveSave