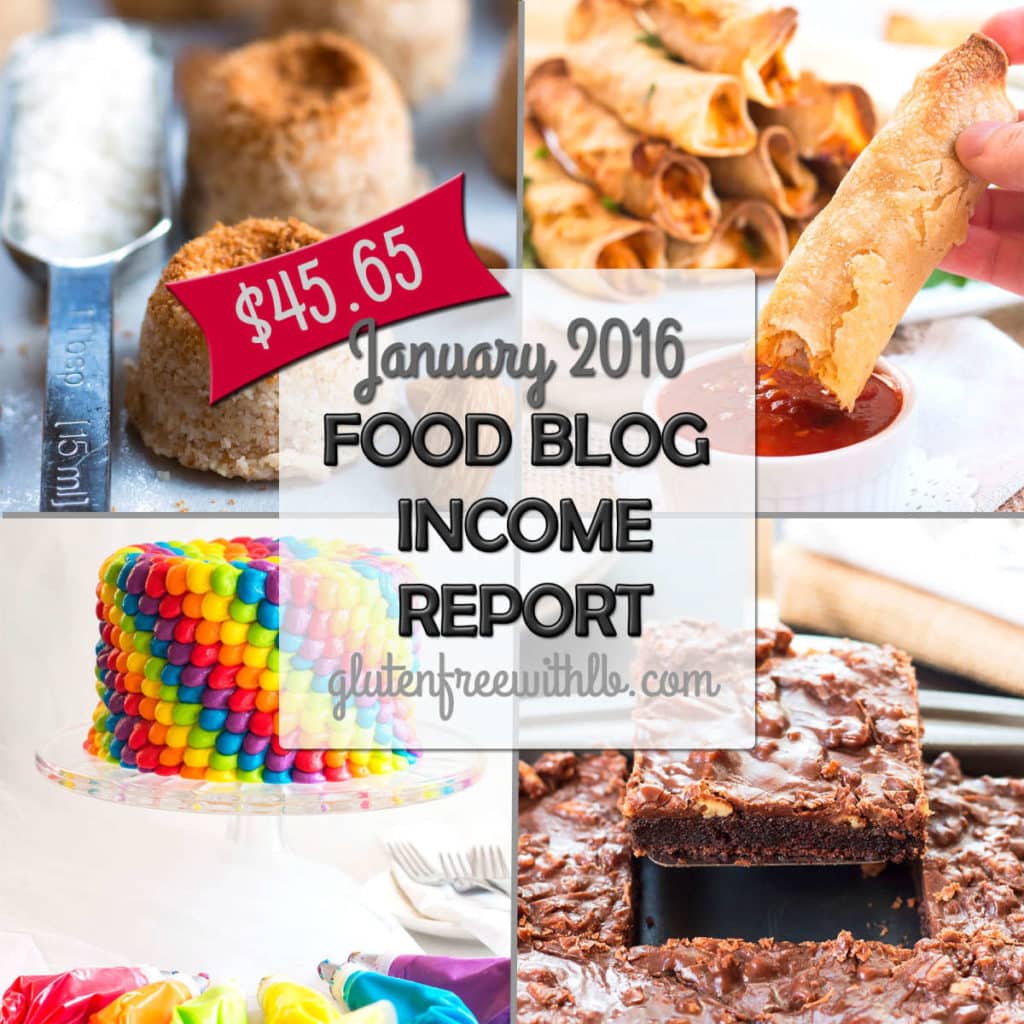 These reports are written in an effort to offer encouragement (and a little guidance) to other bloggers/entrepreneurs out there. I will be sharing the things that have worked here on Gluten Free with L.B. as well as the pitfalls that have been encountered.  After all, the best way to learn is from other people!

After over 2 years of blogging I am nowhere close to being a blogging expert, but I do have some real (blog) life lessons to share.  Whether you're a fellow blogger or just curious about the ins and outs of making money from the internet, read on! 
(Don't have a blog yet but would like to start one?  Visit my "How to Start a Blog" page to create your own in under 20 minutes!)
Traffic for January 2016
12,669 sessions | 32,375 pageviews
The Details
Income:
       Total Income=  $63.39
Expenses:
        Total Expenses=  $17.74
Total Net Profit = $45.65
RPM = $1.96
*RPM stands for revenue/mille, or revenue/1,000 pageviews.  It will be used on every monthly report.  This helps gauge if monetization strategies are improving (making more money/1,000 pageviews) or getting worse.  Since traffic varies from month to month, it is good to have a consistent measurement to determine how well your site is generating money.
A Quick Catch-Up
Officially the first post from glutenfreewithlb.com went up in January of 2014. The first 3 months I was operating through a web host called Wix.  Learning fairly quickly that I was unable to monetize my site using Wix, I switched to a WordPress site in May of 2014.  So as of today I have officially been "making money" off of my blog for about a year and 9 months.  I say that rather loosely considering for the first 1 ½ years I was not consistent with posting…  Which also means I was barely breaking even on what I was paying my web host provider and what I was making off of the advertisements I had installed.
From February-October 2015 I decided to pursue a small business endeavor and quickly realized I was really missing the blog. All of this to say… I have just recently really taken a leap and started looking at the blog as a potential future income source.  I won't be quitting my day job anytime soon, but I am now finally treating "blogging" as a career.
What's Making the $$$?
Advertisements
Since the blog has begun, the primary income source has been through advertisements.  There are pros and cons to this.
   Pros:
Set it and forget it.  Once these puppies are in place, you just get to sit back and watch the $$$ roll in.
Don't take much time.  After installing your first advertisement it is really easy to install any other ad programs you decide to use.
     Cons:
Irregular income.  There is very little method to the madness when it comes to how much money you make from advertisers.  The most logical equation is –>  Increased Traffic = Increased Revenue.
Very little control of content.  You don't get to pick who's advertising in your space!  Yes, you can filter through the ads and block certain ones but it is rather time consuming.  The best bet is to pick advertising programs you trust!  (Hello GourmetAds and BlogHer!)
Self-Made Products (e-CookBooks)
Exactly 1 year ago I released my very first e-CookBook, Free to be Raw.  This was my first attempt to diversify my income streams.  Just like advertisements, it has its' pros and cons as well.
      Pros:
You have all of the control.  Unlike advertisements, YOU get to pick what the content is AND how much you charge for it!
Great branding opportunity.  Having a customer choose to purchase your product creates a sense of loyalty to your brand.  And if they love it, you bet they're going to share the news with their friends and family!
     Cons:
Takes a lot of time.  You think creating 2-3 posts/week is daunting?  Add on 2-3 extra recipes for a 30 recipe cookbook!  Yes, it takes a lot of time, but once it's done… it's done!
There are so many FREE recipes already online.  It's difficult to convince your readers that your e-CookBook is worth X amount of money.  After all, there are already so many free recipes available online.  The key here is to find a topic that is unique enough that makes people want to buy it.
***Psssshhh.  Visit the FREE TO BE RAW page here and get your copy for only $3.99 by using code INCOME399***
Other Ways to Make Money
Two other ways to make money are from affiliate programs (selling other people's items and receiving a portion of the sale) or posting sponsored content (recipes, advertisements, etc.)  As the blog grows we will be revisiting the concepts in greater detail.
Changes Made in January
VIDEO!!!
We recently started filming VIDEOS for the blog!  What actually lit a fire under my bum was when I auditioned for a Food Network show.  For the second round of the interview process they asked for you to make a 15 minute long video.  I unfortunately did not get cast for the show, but it did encourage me and my buddy/videographer, Andrew, to start rolling out some film!  If you haven't checked any of them out yet you can see the Gluten Free with L.B. channel on YouTube by clicking here.
Top 25 Recipes of GFwLB for E-mail Subscribers
Growing a steady readership is a HUGE part in running a successful blog.  This month it was my #1 goal to complete an e-book that is offered to anyone who signs up for the mailing list.  I simply used Publisher to create the e-CookBook (it's very simple for Microsoft users as it is similar Word.)  For Mac users I have heard iBooks is pretty intuitive as well.  Make sure you eventually end up with a PDF version as that is one of the most universal formats of files.
After finishing this e-book at the end of January the next step was to have an automated e-mail go back to the community member as soon as they signed up for the mailing list.  (There will be more on how I use Mailchimp for automated e-mails in next month's report.)
If you haven't signed up for the GFwLB's e-mail list and would like your free copy of the Top 25 Recipes, visit the signup form page here!
Broken Lens = Better Photography
At the end of my photo shoot of the Texas Chocolate Sheet Cake my lens stopped focusing properly.  I freaked.  Immediately I went to Amazon and ordered a new one.  Little did I know they had just released a BRAND NEW version of my current lens.  The first time I used my new Canon 50mm f/1.8 STM lens I could immediately tell my pictures improved tenfold.  For a lens around $100 you simply cannot beat this one!
Side note: One thing I will go into more detail in later months is the importance of good photography.  If you're not taking eye-catching photos then it will take A LOT longer for people to find your site and try out your awesome recipes.  Still being quite a camera novice myself, I found Pinch of Yum's Tasty Food Photography e-Book to be the best resource for learning the ins and outs of food photography.  Trust me, it is worth every penny when you see how much your photos improve!!
A Look Into the Future
What's going on for the month of February?
Getting into the nitty gritty of social media.

And using resources such as Ahalogy, Hello Bar, and Conversion Box.

The importance of connecting with other bloggers.

Networking with other people just like you and me!

Mailchimp automation.

How to send an e-book to e-mail subscribers.

Organizing the madness!!

How to take the first steps to organize your blog.
Phew!!  That was a lot of info!  If you're still here reading this, congrats!  I give you a virtual smiley face sticker for sticking around until the end. 🙂 If there was something I touched on in the post but you would like more information about, please comment below and I will give more details in the next post.  
Until next time,