A food blog income report for other food bloggers and internet entrepreneurs.  It includes a comprehensive review of how Gluten Free with L.B. is making money blogging in November of 2016.
These reports are written in an effort to offer encouragement (and a little guidance) to other bloggers and internet entrepreneurs out there. I will be sharing the things that have worked here on Gluten Free with L.B. as well as the pitfalls that have been encountered.  After all, the best way to learn is from other people!

Don't have a blog yet but would like to start one?  Visit the How to Start a Blog page to create your own in under 20 minutes!
**Psshh… wanted to make sure you knew!  Some of the links below are affiliate links.  If clicked on and an item is purchased then I will get a small percentage of the sale–for that, I am super thankful! 🙂
Traffic for November 2016
79,028 sessions (+39%)  |  100,340 pageviews (+41%)
The Numbers
Income:
       Total Income=  $711.11
RPM = $7.09
*RPM stands for revenue/mille, or revenue/1,000 pageviews.  This helps gauge if monetization strategies are improving (making more money/1,000 pageviews) or getting worse.  Since traffic varies from month to month, it is good to have a consistent measurement to determine how well your site is generating income.
Expenses:
        Total Expenses=  $136.00
Total Net Profit = $575.11
A Quick Catch-Up
If you want to catch up and see what GFwLB has been doing for the rest of 2016, check out the income reports from the rest of 2016 here!
Changes Made in November 2016
You Never Know Who is Reading Your Blog…
One of the hardest aspects of blogging is not knowing how people are responding to your content.  Do they like it?  Did they read it?  Is it making any sort of impact in their life?!
This aspect could be why it is so awesome to have someone comment on your blog, or tag a picture of a recipe they made of yours on Instagram.
In addition to wanting your readers to engage and enjoy your content, there is also an entirely different reader that we all want on our site.  This is the reader that works at Today or Fitness magazine, MSN.com, or the Huffington Post.  These are the readers that if they like your work, they can help boost your blog to the next level.  I like to call these your "power readers."
The surprising success Gluten Free with L.B. had in November (breaking 100,000 pageviews for the first month ever!!) is largely in part due to those "power readers."  Fitness Magazine featured two recipes (No-Bake Pumpkin Pie Balls and these Lemon & Blueberry Greek Yogurt Bites), PureWow featured these Fajita Chicken Spaghetti Squash Boats, and many other recipes were featured by MSN.com, Parade Magazine, Today, BuzzFeed, Fave Gluten Free Recipes, and Fave Healthy Recipes.
All of this to say… you never know who is reading your blog!!  While most of the time it is probably one of your readers hoping to find a recipe to make, sometimes it might just be one of your "power readers" checking in to see if you have a recipe that will fit their next big, viral article!
A Little More About My "Big Idea"…
In October 2016's Food Blog Income Report, I touched on the concept of taking time out to "think big."  Life is so busy and overwhelming.  Each one of us can easily get swept up in the "to-dos" and not take time out to breath and dream about the "what's next?"
While taking a bit of a mind-breather in October I started to really think hard about what it is that I want to achieve with the blog.  Do I want to make an income from it?  Yes.  Do I want to make this income passively?  Yes.  So on I went to figure out how I could work hard now so I could reap the rewards later.
As I talked about in my very first income report, there are four main ways you can make income with a blog:
Advertisements
Sponsored Content
Affiliate Commissions
Your Own Products
The first three ways are already implemented here on the site.  The fourth has been one that I have been struggling with for a while.  I briefly sold an e-book back in January 2015.  Not having too much traffic at that time, it was really only purchased by my wonderful family and friends.  Tons of hours of work had gone into making that recipe e-book, and I did not see the return on my investment that I had so loftily expected.  This time around I wanted to invest less effort in order to try out a new concept.
Have you ever heard of e-mail marketing?  Most of you may recognize it by the many challenges that are popping up around the web.  (i.e.- Simple Green Smoothies, or A Sweet Pea Chef's Clean Eating Breakfast Challenge)
A blog or company encourages you to sign up for a "free" something-or-other.  This could either be a free 21-day challenge, a free e-book, etc.
Once you start receiving your free content they soon will start offering you a small product to buy. The small product is normally rather inexpensive (anywhere from $2-10).  The reader is already "primed" to buy since they have been receiving such amazing free content.
Once you have converted your passive reader into a customer (i.e.- someone willing to give you $$$), and continue to give them amazing content, they are now more likely to respond to your higher product offering.
This series of content and marketing is best known to take place through an automated e-mail series.  However, you could even set something like this up on your own website.
What is GFwLB's Upcoming E-Mail Marketing Series?
After much debate, I finally decided on creating an e-mail marketing series on Layered Lunches.  These are salads, or meals, that you strategically layer in a mason jar.  Dressing on the bottom, veggies in the middle and greens on the top.  This order allows you to have a crisp, non-soggy salad on-the-go!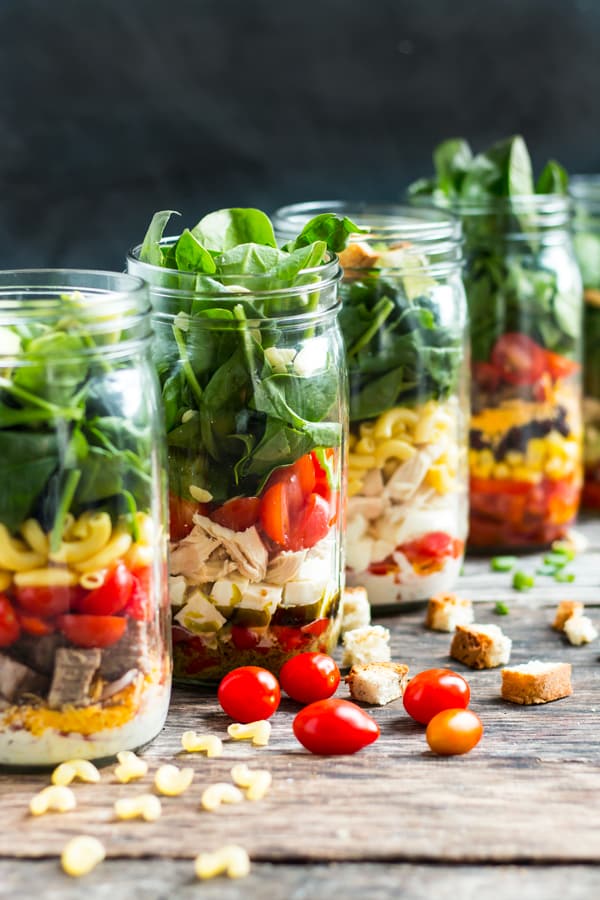 My goal with this series is to give my subscribers 10 recipes (2 weeks) for these Layered Lunches along with grocery lists and a weekly prep guide for free.  During these two weeks they will have the option to purchase two additional weeks (or 10 more lunches) that come in an easy-to-print PDF file.
Additional details are still in the works and I will report back to let you know how it turns out!
Do Not Forget About Your Affiliate Links… 
I am HORRIBLE at incorporating affiliate links into my blog posts.  Anyone else out there relate?!
During the month of November I decided to bite the bullet and incorporate a few links into my most popular posts.  I figured people were gearing up for the biggest-spending month of the year, so why not?!
While I did not see a HUGE amount of Amazon affiliate income, I did see some!  Also, it didn't hurt that Amazon was running a special and affiliates could earn up to 12% during the month of November.
If you're not doing it yet, you can sign up for Amazon's afffiliate program by going here.  While it may only be a few dollars here and there, it can definitely add up over time!
The After-Thanksgiving Slump…
Wow.  Oh.  Wow.  I had no clue how many people did not want to even THINK about food the day after Thanksgiving!!  This time last year GFwLB was not receiving too much traffic.  The spikes at that time were pretty sharp and the plateus were pretty moderate.  However, this year I realized how cyclical the nature of food blogging really is.

After a few days of lower-than-normal-traffic towards the end of November, it soon started to pick back up in December.  One major realization — people don't like to cook when life gets busy!  Imagine that 🙂
I would love to hear any questions, comments or things that have been working well for you on your site…
Leave Any Questions/Comments You Have Below
What's going on for December's Food Blog Income Report?
Digging Deeper Into E-Mail Marketing…

What tools and programs do you need to run an e-mail marketing campaign?

End of year RPMs…

Discovering a Christmas bonus from advertising income!

The value of video…

Why does video work so well?

New toys for new inspiration…

How to get out of your cooking/blogging rut!
YAY!!  You made it to the end!  Once again, I give you a virtual smiley face sticker for sticking around. 🙂 If there was something I touched on in the post but you would like more information about, please comment below and I will give more details in the next post or send you a personal e-mail response.
Until next month's report!
**Some of the links in this post are affiliate links.  If clicked and an item is purchased I will receive a small percentage of the sale, at no additional cost to you!**