A super soft, gluten free recipe for snickerdoodle pumpkin cookies that are rolled in cinnamon sugar and topped with a sweet glaze!
Pumpkin and cinnamon go together like peanut butter and jelly.  One does not seem to be complete without the other.  You know what I mean?!
These super soft and thick snickerdoodle pumpkin cookies are the result of the perfect union between pumpkin and cinnamon.  An ultra fluffy cookie dough is first whipped up… Followed by a very painful process of patiently waiting for the dough to chill.
After an hour of watching the clock, the fun of rolling balls of dough in a cinnamon-sugar mix begins. Soon you will be overwhelmed by intoxicating aromas filling your house.  And lastly?… Way too much sugary glaze gets piled on top of these tiny bites of pumpkin heaven!
Can you tell I am a bit obsessed?!
While visiting some of our best friends in San Antonio this week, Cohl and I had the pleasure of babysitting their 15-month-old daughter.  She has got to be one of the happiest toddlers I have ever seen!
There are three things that really make little miss Hannah happy… music, rides in the stroller and food.  The evening started with a stroll around the block as a means of distraction after Mommy and Daddy left.  The babysitting hour was then filled with a guitar serenade from Cohl and lastly… a cookie before dinner.
The cookie was consumed over the course of about 30 minutes, with many attempts made by our dog, Tevah, to snatch it away from Hannah's little hand.  Fortunately for Hannah, Tevah never succeeded.  🙂
A Tip for making these Snickerdoodle Pumpkin Cookies:
Make sure you read the directions carefully.  Before placing the cookies in the oven you will want to FLATTEN the balls of dough to 1/2-3/4 inch thick.
Even after flattening, the dough will rise substantially in the oven.  The cookies will look like little biscuits of cookie dough, but remember to keep reading the directions… You will want to flatten them out again to make super dense, ~1-inch thick cookies.
What is your favorite ingredient to pair with pumpkin?
I would love to hear in the comments section below!
Happy Pumpkin Snickerdoodlin'!
Super Soft Snickerdoodle Pumpkin Cookies
A super soft, gluten free recipe for snickerdoodle pumpkin cookies that are rolled in cinnamon sugar and topped with a sweet glaze!
Total Time
1
hour
35
minutes
Ingredients
3/4

c.

butter

softened

1

c.

white sugar

1/4

c.

light brown sugar

packed

3/4

c.

pumpkin puree

2

t.

vanilla

1

egg

2

c.

white rice flour

1

c.

tapioca starch

2

t.

xanthan gum

1/2

t.

baking soda

1

t.

baking powder

1/2

t.

salt

1

t.

cinnamon

1/2

t.

pumpkin pie spice
Snickerdoodle Coating
1/2

c.

white sugar

1

t.

cinnamon
Glaze
1

c.

powdered sugar

3-4

T.

heavy whipping cream

or milk

1/4

t.

vanilla extract
Instructions
Preheat oven to 350 degrees.

In the bowl of an electric mixer combine butter and sugar. Mix on medium speed for 2-3 minutes or until mixture becomes light and fluffy.

Add pumpkin, vanilla and egg. Mix for an additional minute.

In a separate large bowl combine flour, starch, gum, soda, powder, salt, cinnamon and pie spice. Toss to combine.

Slowly add dry ingredients into butter/sugar mixture until all ingredients are incorporated.

Refrigerate dough for at least 1 hour or up to 8 hours. (If you refrigerate for more than 2 hours make sure you let the dough sit at room temperature for 15 minutes before proceeding.)
For the Snickerdoodle Coating:
Combine ½ c. white sugar and 1 t. cinnamon in a small, shallow bowl and toss to combine.

Once dough has chilled, scoop 1 ½ - 2 tablespoons of dough. Roll dough into a ball and roll ball in the cinnamon sugar mixture, coating the ball completely. Repeat with remaining dough.

Place coated balls on a parchment paper-lined baking sheet. With a large, flat-ended cup or bowl flatten each ball of dough to ½-¾-inch thick. Bake cookies in preheated oven for 14-16 minutes.

Once cookies are done baking they will have risen significantly. Using the large, flat-ended cup or bowl from earlier, flatten cookies to a little less than 1-inch thick.

Let the cookies cool completely before glazing.
For the Glaze:
In a medium-sized bowl place powdered sugar, milk and vanilla. Whisk until glaze is smooth. Drizzle glaze over cooled cookies and enjoy!
Recipe Notes
You can also use 3 cups of a gluten-free 1-1 baking blend instead of the white rice flour, tapioca starch and xanthan gum.
Nutrition Facts
Super Soft Snickerdoodle Pumpkin Cookies
Amount Per Serving
Calories 215
Calories from Fat 45
% Daily Value*
Total Fat 5g 8%
Cholesterol 18mg 6%
Sodium 58mg 2%
Potassium 35mg 1%
Total Carbohydrates 41g 14%
Protein 1g 2%
* Percent Daily Values are based on a 2000 calorie diet.
Want more recipes like these Snickerdoodle Pumpkin Cookies?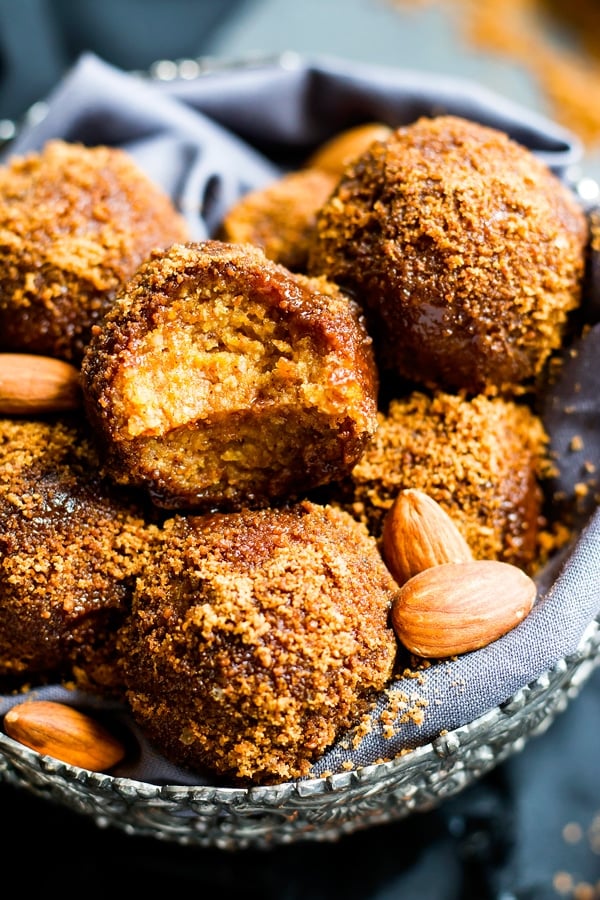 Pumpkin Spice Granola with Maple Syrup
Pumpkin Muffins with Maple Syrup