Congratulations!!! You've taken the first step if you are reading this page. Kudos to you! In hopes of helping those of you out there who may be too scared/intimidated/anxious about leaping into the wonderful world of blogging, I have put together a step-by-step guide on how you can start your own blog. You'll be done in under 20 minutes!
Whether you are a foodie, financial analyst, mom, or a fashionista wanting to start a blog, these steps will get you there! What I will explain to you below will allow you to have a site that is uniquely YOURS! You heard right. No more www.MyWebsite.BlahBlahBlah.com While it may seem overwhelming at first, let me sum it up in 4 Easy Steps
You need a Web-Host/Server:

A host is simply a company that owns and rents pieces of cyberspace. They will be renting you the virtual place in which you will operate your blog. (The one I use is Hostgator. I will be explaining their process below.)

You need a Domain Name:

A domain name is the address at which people can find where you are "renting" you're blog. Much like an actual street address for a real business. (i.e., www.www.evolvingtable.com )

You need a System (Website Content Management System-CMS):

A CMS is a type of program that simplifies the complexity of "writing code", and enables computer novices, like myself, to create a website. In essence, it is the online program which you will be using to do all of your posting and web designing.

You need a Design:

A website can not be complete without a design, layout, and some creativity.
Are you ready to start your own blog!?!
First, Go to HOSTGATOR and click on GET STARTED NOW.


Choose the BABY PLAN and select the $$$/MO* option.
The first step on HOSTGATOR will be for you to PICK YOUR DOMAIN.
A few pointers here:
Think long-term. You may have this website for a very long time!
Think broad. You want to encompass all that will be featured on your site.
Think creative. What makes your site unique?
Think simple. Make it easy to remember!
*If you already have a domain from another host, click on the tab I ALREADY OWN THIS DOMAIN and follow those directions.
You will then choose a HOSTING PLAN. Choose BABY, 1 MONTH @ $7.96/MO.
Follow the rest of the instructions below to fill out your PAYMENT information.
In the "add additional services options", select the SECURE AND ACCELERATE YOUR SITE OPTION only. (There are other alternatives for backing up your site and SEO optimization tools that you can look into later.)
At the very end, type in this coupon code: YOUGATOR30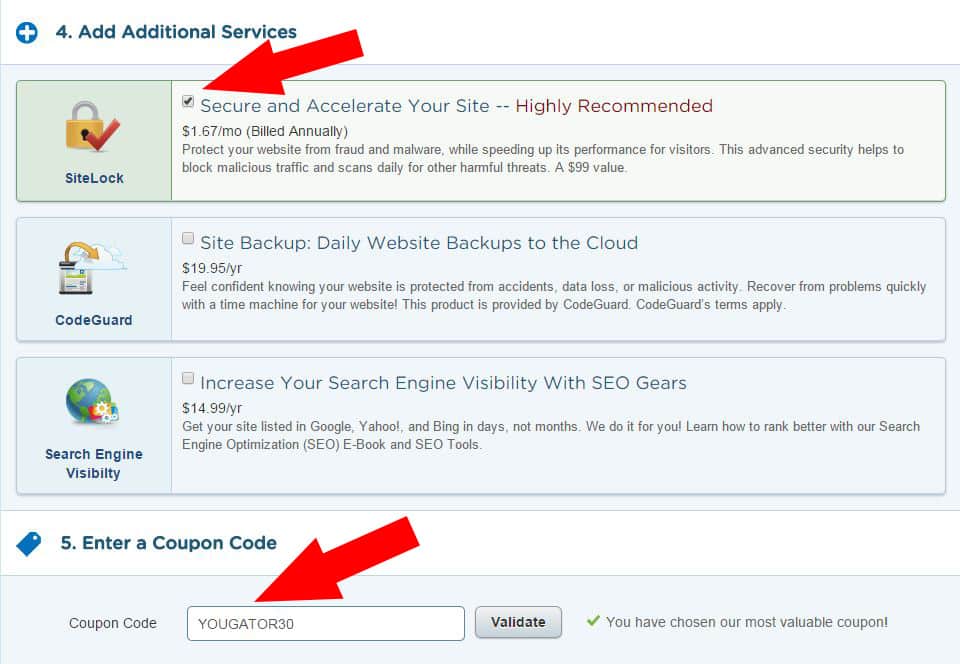 YAY!!! You officially have a HOST and a DOMAIN name!
Now it's time to CHECK YOUR EMAIL.
Look for the link next to where it says YOUR CONTROL PANEL and click that link.
This will take you to where you will download your "system" (i.e., WordPress)
Use the USERNAME and PASSWORD given to you in your email to login.
Once you get to your cPanel, click on QUICKINSTALL.
Click on WORDPRESS on the left of the screen.
Click CONTINUE.
Fill out your information according to your site in the FORM shown below. (address, email, blog title, etc.)
Once complete, click INSTALL NOW.
Once your installation is complete, you will get the following message. It will take a few hours for your site to actually be ready for you to use, so make sure to write down your USERNAME and PASSWORD.
If for some reason you lose access to the blue HERE link, your login address is simply www.yoursite.com/wp-admin.
Congratulations… You now have your own blog!!!
For the fourth part (design) of how to start your website, check out this video on YouTube for additional information on how to add a page, change the home page and create a logo. You can start at minute 14 since you've already created your site by now!
Stay tuned for my upcoming post on some of the top 10 most essential WordPress Plugins!