SIGN UP AND GET 20% OFF YOUR FIRST ORDER!!
Are you tired of the same dinner recipes week after week?Do you want to save money and not waste a ton of fresh produce?Would you like to be more organized and prep-ahead so the weeknights aren't so crazy?Do you want quick, nutritious meals your family will RAVE about?Each plan has 6 healthy dinner recipes (all are GF + DF), a meal prep guide and organized grocery list. Customize your grocery list by crossing off items you either already have or for recipes you are not making that week.
10-Week Meal Plan Bundle(Includes Meal Plans #1-10)$34.90 $29.99 (Best Value)The 10-Week Meal Plan Bundle #1 is completely customizable and includes 5 printable PDFs that each come with 6 healthy, family-friendly dinner recipes (all can be made GF + DF), nutritional information, an organized grocery list, and a meal-prep guide. A few of the recipes you will enjoy:-Sheet Pan Chicken Fajitas-Basil Lemon Baked Salmon in Foil-Egg Roll in a Bowl-Honey Sesame Chicken & Broccoli-Roasted Sweet Potato Cubes-Slow Cooker Shredded Chicken Burrito Bowl-Easy Blackened Shrimp Tacos-BBQ Chicken Stuffed Sweet Potatoes-Plus 50+ more delicious, family-friendly dinner recipes!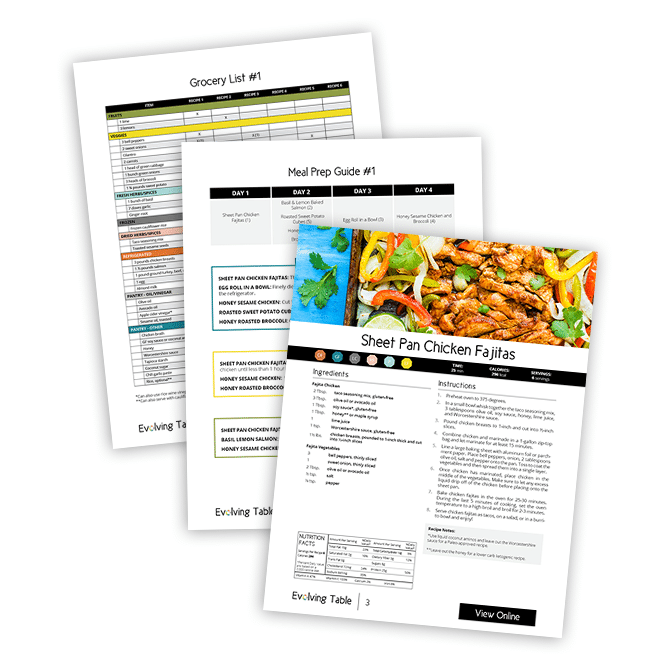 1-Week Meal Plan & Meal Prep Guide #1 $3.49
-Sheet Pan Chicken Fajitas-Basil Lemon Baked Salmon in Foil-Egg Roll in a Bowl-Honey Sesame Chicken & Broccoli-Roasted Sweet Potato Cubes-Honey Oven-Roasted Broccoli
1-Week Meal Plan & Meal Prep Guide #2 $3.49
-Slow Cooker Shredded Chicken Burrito Bowl-Easy Coconut Shrimp with Pineapple Dipping Sauce-Ultra Crispy Smashed Potatoes- Sweet Potato Turkey Chili-Sheet Pan Thai Peanut Sauce Chicken & Veggies-Black Bean & Sweet Potato Tacos
1-Week Meal Plan & Meal Prep Guide #3 $3.49
-Easy Blackened Shrimp Tacos-Roasted Broccoli with Sriracha ​-Stuffed Acorn Squash with Ground Turkey-Instant Pot Potato Corn Chowder-Golden Thai Curry Noodles with Coconut Milk-Roasted Butternut Squash Soup
1-Week Meal Plan & Meal Prep Guide #4 $3.49
-Maple Glazed Oven Baked Chicken Thighs & Veggies-Honey Sriracha Glazed Salmon-Chopped Kale Salad with Cranberries-Instant Pot Beef Stew-Pineapple Cauliflower Fried Rice-BBQ Chicken Stuffed Sweet Potatoes
1-Week Meal Plan & Meal Prep Guide #5 $3.49
-Easy Slow Cooker Chicken Tortilla Soup-Blackened Fish Tacos with Avocado Sauce-Ground Turkey Paleo Meatloaf-Instant Pot Mashed Potatoes-Spaghetti Squash Chicken Pad Thai-Roasted Tomato Basil Soup
1-Week Meal Plan & Meal Prep Guide #6 $3.49
-Slow Cooker Chicken Curry with Coconut Milk-Easy Baked Shrimp Scampi Foil Packets-Crispy Brussel Sprouts with Bacon-Sweet Potato Broccoli Quinoa Bowl-Beef and Broccoli Stir-Fry-Chicken Fajita Pasta
1-Week Meal Plan & Meal Prep Guide #7 $3.49
-Slow Cooker Pineapple Pulled Pork Tacos-Easy Green Beans Almondine with Garlic-30-Minute Easy Chicken Noodle Soup-Ground Turkey Mexican Lasagna-Cream of Asparagus Soup-Sausage & Chicken Jambalaya
1-Week Meal Plan & Meal Prep Guide #8 $3.49
-Teriyaki Shrimp Stir-Fry with Vegetables-Ground Turkey Taco Lettuce Wraps-Easy Instant Pot Mexican Rice-Grilled Greek Chicken Shish Kabobs-Easy Greek Tzatziki Sauce-Honey BBQ Chicken & Sweet Potatoes
1-Week Meal Plan & Meal Prep Guide #9 $3.49
-Instant Pot Orange Chicken- Mexican Shrimp Ceviche with Avocado-Baked Avocado Fries-Baked Thai Chicken Wings-Easy Skillet Sweet Potatoes-Slow Cooker Stuffed Bell Peppers
1-Week Meal Plan & Meal Prep Guide #10 $3.49
-Ground Chicken Thai Lettuce Wraps-Balsamic Glazed Flank Steak Roll-Ups-Cajun Skillet Potatoes-Chicken Fried Rice-Sweet Potato Brussels Sprout Tacos-Salsa Ranch Pasta Salad