Making this cake for my very best friends Jenn and Peter was by far one of the biggest honors I have ever had! Not only was I responsible for baking the cake that would reveal the gender of the baby to a house full of 30+ friends and family, but I would also be responsible for keeping a secret for more than 48 hours :-O… Secrets are so hard to keep when they're pink!!!
Wanting to go above and beyond to make this cake special for them, I decided to do something a little different than the typical pink/blue colored cake. Only having seen this done once before, I was a bit hesitant as far as the architectural structure was concerned. Thus, a trial cake was made on the Tuesday prior to the party. Boxed cakes and tub frosting were the perfect quick fix to ease my concerns on the construction of the cake. After a successful trial run, I couldn't wait to see their reaction when they found out they were having a baby girl!
I have included a very detailed, step-by-step pictorial and instructional guide for you to follow if you'd like to make one as well. It's such a simple cake to make with a very dramatic effect. Congratulations again, Peter & Jenn!!!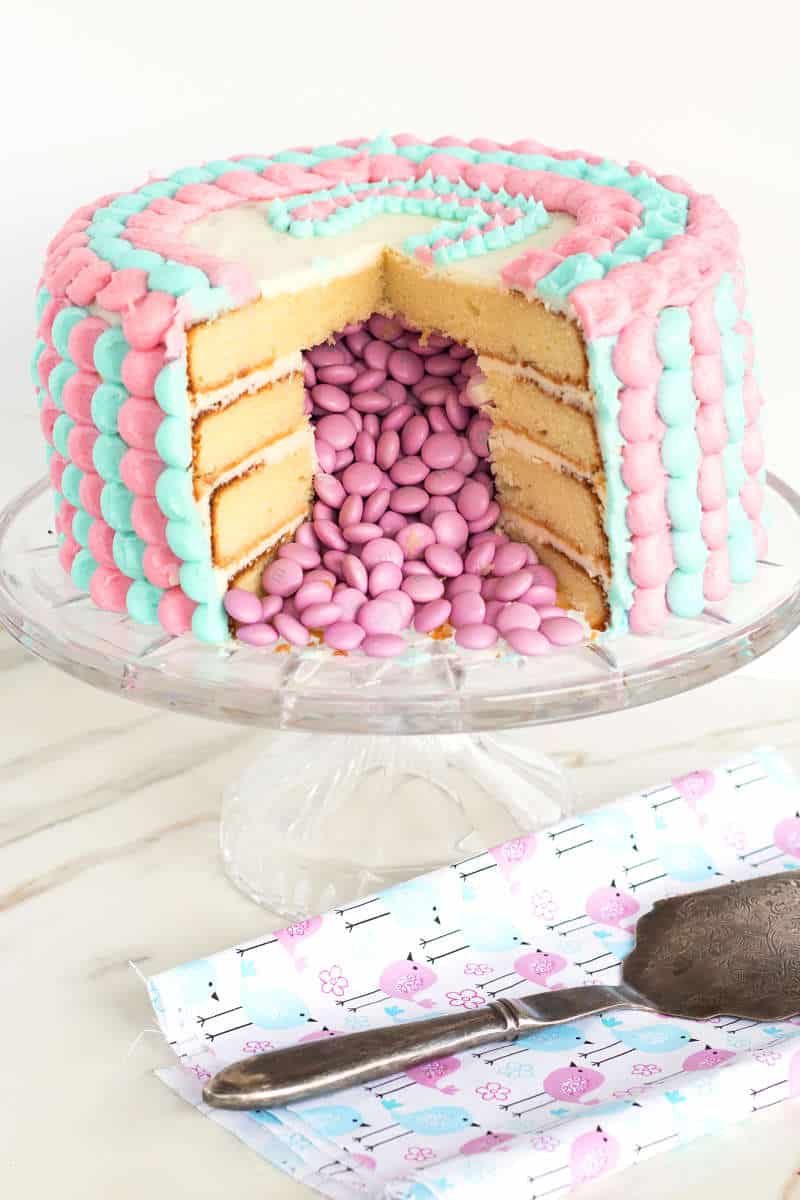 Gender Reveal Cake
Is it a boy or a girl? Make this cake to reveal it to your friends and family.
Ingredients
Buttermilk White Cake
1 ½

c

butter

melted

½

c

oil

4

c

sugar

6

eggs

2 ½

t

vanilla

2 ⅔

c

white rice flour

1 ⅓

c

tapioca starch

2

t

xanthan gum

(Or 4 c. all purpose flour instead of the above 3 ingredients)

2 ½

t

baking powder

½

t

salt

1

c

buttermilk

⅓

c

milk
Buttercream Frosting
1

c

butter

12

c

powdered sugar

2

egg white

7-8

T

milk

4

t

vanilla

, clear

1

t

salt

Food coloring

, if desired (half blue and half pink for second batch if following Gender Reveal instructions)
Instructions
For the Buttermilk White Cake:
Preheat oven for 350 degrees.

If you have a bowl that fits 12 cups of ingredients, go ahead and make this batch as the ingredients are listed above for a 4-layered cake. However, if you do not, halve the ingredients and make two batches. (Half of ⅓ c. = 3 T.+1 t. )

Combine butter, oil and sugar in a large bowl of a high speed mixer. Mix for 2 minutes on medium speed.

In a separate bowl, combine white rice flour, tapioca starch, xanthan gum, baking powder, and salt. Add in about 1 c. of dry ingredients to the butter/sugar bowl. Mix for 30 seconds.

Add eggs, one at a time, mixing well after each addition. Add in vanilla.

Add in remaining dry ingredients and milks (buttermilk and milk) alternatively, starting and ending with dry ingredients. Beat for an additional minute to make batter light and fluffy.

Fill four well-greased 9-inch round cake pans with even amounts of cake batter. Bake for 25-30 minutes, or until a toothpick inserted in the center comes out clean.

Let cool for 5-10 minutes before flipping out. Be careful to really release the edges of these cakes because they tend to want to stick to the bottom and edges of the pans!
For the Buttercream Frosting:
Cream butter, 4 c. powdered sugar and egg whites in the bowl of an electric mixer.

Alternatively add 2 c. sugar and 2 T. milk until all sugar is added.

Add in vanilla, salt and food coloring, if desired. Frost cake and enjoy!
To make the Gender Reveal Cake
STEP 1. Cut out a 3-inch round circle from the center of 3 of the layers. (You should have one layer remaining that is intact with no hole cut out.)

STEP 2. I used my first cut out as a guide to show me where to make my cut into the next layer.

STEP 3. Using the first batch of white frosting, frost the three, donut-hole shaped cake layers together. Make sure to save enough frosting to frost the top of the fourth layer and the sides of all four layers (as shown in step 5.)

STEP 4. Fill the hole all of the way up with M&Ms! I also put 4-5 toothpicks throughout my cake at this point to stabilize the layers. I kept them away from the front so when they cut into it, the toothpicks wouldn't show.

STEP 5. Place the fourth, whole layer and frost all sides with the remaining white frosting. It's OK if the sides are a bit messy, that will all be covered up with pretty frosting. Depending on your design for the top, however, you may want to make it a little smoother and thicker. Also, I put one more toothpick once the final layer was on top.

STEP 6. Now for the fun! Make the second batch of frosting, split it in two and color half pink and half blue. I used a 12 round tip for the piping and it worked great! Starting from the back, pipe 6 circles in PINK in a straight line.

STEP 7. Using an icing spatula, spread each circle of icing to the right. (I had two icing spatulas so I could alternate and not make a mess) Also, have some paper towels handy so you can wipe any excess icing onto them.

STEP 8. Once you have spread each circle, repeat step 6 by piping 6 circles in BLUE slightly on top of the spreads of pink and then repeat step 7. Do this all around the cake until done!

STEP 9. For the top of their cake I placed a huge question mark?... but there are so many cute ideas out there! Best of luck and have fun!
Nutrition Facts
Gender Reveal Cake
Amount Per Serving
Calories 692
Calories from Fat 225
% Daily Value*
Fat 25g38%
Cholesterol 93mg31%
Sodium 356mg15%
Potassium 83mg2%
Carbohydrates 114g38%
Protein 3g6%
Vitamin A 680IU14%
Calcium 44mg4%
Iron 0.4mg2%
* Percent Daily Values are based on a 2000 calorie diet.