Egg Roll in a Bowl is one of the best and most popular one-pot ground turkey recipes that also happens to be Paleo, Whole30, and low-carb. This deconstructed egg roll is full of shredded cabbage, loaded with carrots, and is bursting with Asian flavors from soy sauce and rice vinegar. Easily meal prep this healthy dinner dish ahead of time for busy weeknights or have it ready to enjoy in under 30 minutes!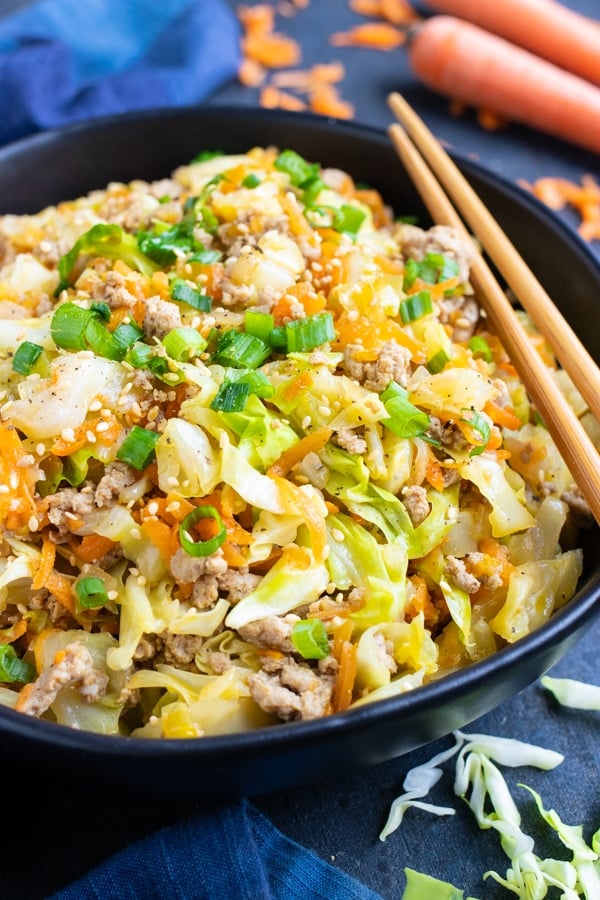 Egg Roll in a Bowl Recipe
Every now and then I will make a recipe and I know it is a success within the first 24 hours.
I promise I'm not being cocky. There is a method to my madness to prove this theory.
How exactly do I know?
The hubby and I wage leftover war against each other and fight to the egg roll in a bowl finish.
Cabbage is flying around as we elbow our way to the refrigerator for one last bite.
Ok, I'm getting a little dramatic here, but for realz.
These keto egg roll in a bowl leftovers can cause quite the stir.
You get all of the flavors of a traditional egg roll but in an easier, deconstructed, inside-out fashion.
Not to mention this simple recipe actually gets BETTER with time!
All of the delightful Asian flavors meld together in a harmonious medley of low-carb cabbage and ground turkey bliss.
So what is the solution to this leftover war?
Make another batch of this easy one-pot dinner recipe… because it takes less than 30 minutes!!
(Or double the batch and meal prep it for the week!)
Deconstructed Egg Roll
Who needs the wrapper when you have all of the inside goodness in one enormous bowl?
I don't know about you, but I sure do feel crummy after eating a traditional egg roll.
Maybe it's the grease it's fried in or the gluten-filled wrapper.
But did you know all of the ingredients INSIDE of the egg roll are actually pretty good for you?
So let's take all of those nutritious ingredients out, toss 'em around in a skillet, and make a healthier, keto and Paleo friendly dinner recipe!
Ingredients
So here are the ingredients inside of an egg roll that we'll need for this deconstructed version:
Ground Turkey: Traditionally ground pork is used. To make this recipe healthier you can either use ground turkey, ground chicken, or ground beef, instead.
Cabbage: Green cabbage was used in this recipe. You can also do a mixture of purple and green cabbage to give it an extra pop of color.
Carrots: This one-pot dish would not be complete without this colorful vegetable. Make sure to read below about the best way to shred carrots for this recipe.
Onion: A sweet onion is used but red or yellow may be substituted. Green onions also make a wonderful addition when serving.
Ginger & garlic: Fresh ginger and garlic are both used to add a zippy punch of flavor. To make things easier you can buy the pre-peeled garlic and use ginger paste instead.
Soy sauce: Read below about a few alternatives you can use if you are gluten-free or on a Whole30 diet.
Vinegar: There are a few different types of vinegar that work great in this Asian bowl.
Sesame Oil: Do not leave this very important ingredient out! It gives this dish a unique flavor.
Shredding Carrots and Cabbage
How thinly you shred the carrots and cabbage make a big difference on the finished recipe.
If you cut vegetables too thin you will end up with a SOGGY egg roll in a bowl.
Slice them too thick and they will be undercooked and hard.
The best way to shred the carrots for this recipe is to use a large food processor.
Yes, you can buy the matchstick carrots that are in a bag. However, they will need to be cooked longer to make sure they are cooked through.
For the cabbage, it is best to slice it with a very sharp knife and cut the it no thicker than ¼-½ inch thick.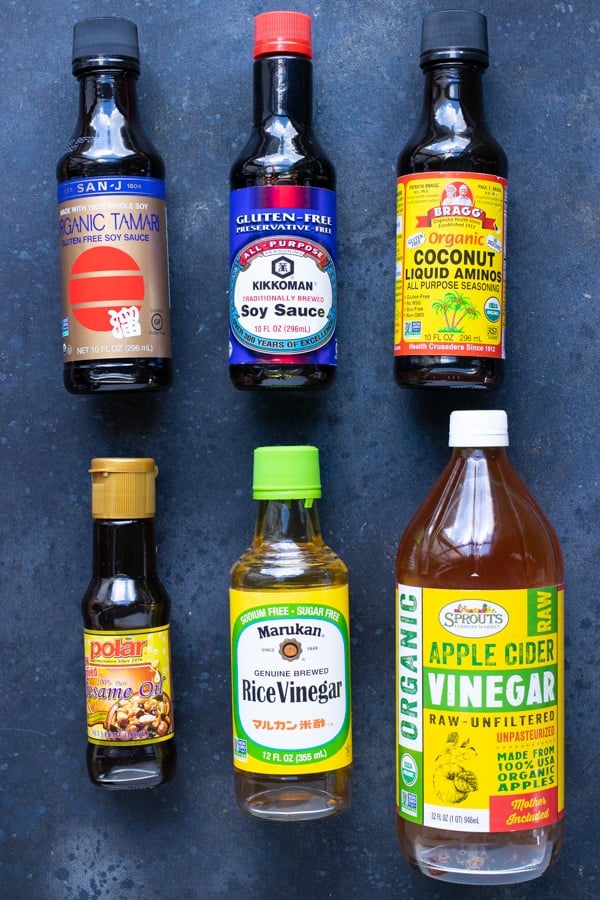 Soy Sauce & Vinegar Substitutions
There are also some simple substitutions you can make depending on what you have in your pantry and your dietary preferences:
Types of Soy Sauce:
Traditional Soy Sauce: This works great if you are not avoiding soy or gluten.

There are some gluten-free soy sauce brands available.

Tamari Sauce: My favorite soy sauce substitution if you are gluten-free.
Liquid Coconut Aminos: This is free from gluten and soy. It makes a great Whole30 and Paleo substitute for soy sauce.
Cook's Tip: All of these soy sauce variations can be located in the Asian food aisle at your local grocery store.
Types of Vinegar:
Rice Wine Vinegar: This is the most traditional vinegar used and delivers the most authentic flavor.
Apple Cider Vinegar: The second best vinegar to use and is a great Whole30 and Paleo substitute for rice vinegar.
White Wine Vinegar: While this vinegar is not the best substitute, it will work if that is all you have.
Cook's Tip: The apple cider and white wine vinegars will be located on the vinegar/oil aisle at your grocery store. The rice wine vinegar will either be on the vinegar aisle or in the Asian or Ethnic food ingredient aisle.
How to Make Egg Roll in a Bowl
Below you will find the step-by-step instructions that will show you how to make this easy dinner recipe.
(See the recipe card for further details and ingredient amounts.)
Storage
How long will this recipe last?
This meal can be refrigerated for up to 3-5 days. The flavors actually get better with time!
What is the best way to reheat this recipe?
Reheat leftovers in a bowl in a skillet over medium-low heat for the best taste and texture.
You can also warm it up in the microwave, but the texture will be soggier.
Can I freeze leftovers?
I would not recommend freezing this recipe. Excess water will accumulate after thawing and make the cabbage mushy.

Variations
Want to change this recipe up a bit? A few variations you can try include:
Use different varieties of cabbage – green or purple cabbage both taste great!
Ground beef, turkey, or pork all work great in the recipe.
If you're not on a Paleo, keto, or Whole30 diet you can use regular gluten-free soy sauce or Tamari instead.
Load it up with even MORE vegetables. Chinese broccoli, zucchini, and squash would taste great in here, too.
Other Low-Carb and Keto Recipes:
Thai-Style Shredded Brussels Sprouts
Other healthy dinner recipes.