What is mirepoix and how can you use it? It's so foundational, you might already know what it is without realizing its name. We'll be diving into how to use mirepoix, the different variations, and which recipes call for it. Mirepoix is all about deepening flavor to elevate your home cooked meals!
Mirepoix is a French term that is a combination of fresh vegetables that you use on a daily basis. But, how do you pronounce it? Where did the name come from?
What is mirepoix?
Mirepoix, or meer · pwah, is a flavor base for many types of dishes from all around the world. It's a combination of onion, celery, and carrot (all diced). It's one of the first things you learn in culinary school.
Together, these vegetables make up the aromatic flavorful base and are slowly cooked in either butter or olive oil, and are not to be caramelized. Sometimes mirepoix is kept in the final product of the dish, or these vegetables are strained out and removed before the final dish is done.
The word actually comes from a French aristocrat, the Duke Charles-Pierre-Gaston François de Lévis, duc de Lévis-Mirepoix. I mean, what a mouthful! Thank heavens it's only called one of those names. This mix of vegetables have been used as a staple among French cooking since the eighteenth century. So, it's been around a very long time.
When to Use Mirepoix in Cooking
It's important to understand that you don't taste the flavor of the individual components; however, you will taste how they blend in what you are cooking, adding an important depth and complexity to your finished dish.
There are a vast amount of ways to use it in certain cooking instances, so let's list a few:
Soup stock/broth. Soups like chicken noodle soup, minestrone soup, and stews start with the original mirepoix base of ingredients. You'll always sauté them first before adding broths, creams, and the rest of the ingredients to your soup.
Pot roast. Some dishes have you sear the sides of your seasoned meats (with salt and pepper). Then you'll add your vegetables once you've removed the meat from the pan. In this case, the mirepoix enhances the flavor of the meat and its pan juices.
Gravy. After you've prepared the mirepoix, you can add it in the bottom of your roasting pan, set the meat like chicken on the top, and roast it. The drippings once again combine with the vegetables, creating a beautiful savory blend of flavor. Then, once your roast is done, that juice can be the base of your gravy drippings.
Check out the recipes at the end of this post to try out some mirepoix-based dishes.
What do I need to make mirepoix?
To make a traditional mirepoix, you'll need 2 parts onion, 1 part celery, and 1 part carrots. The proportions are determined by weight (or just measuring cups), so you'll end up making a big bulk that you can use for future dishes too.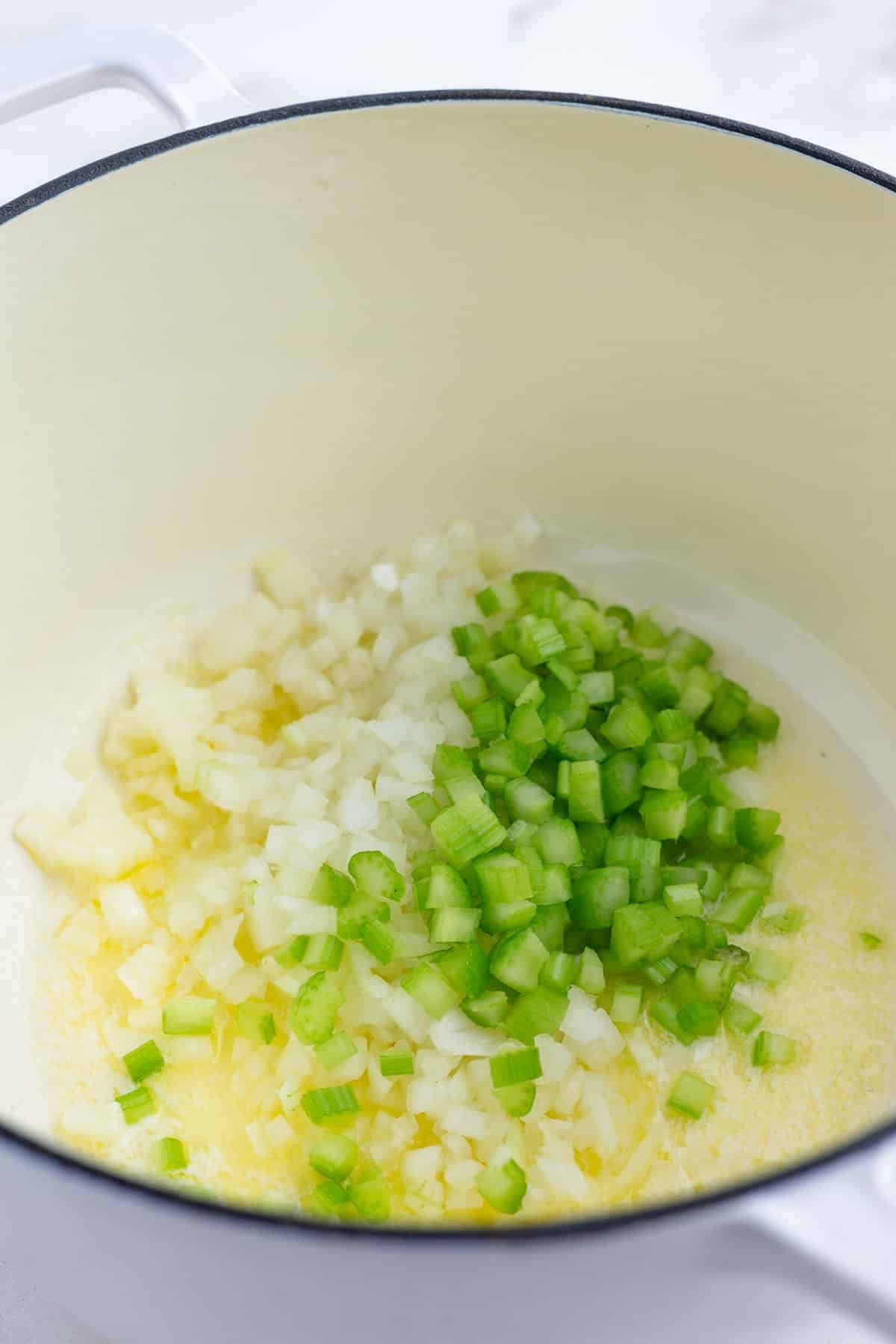 7 Common Mirepoix Variations
This aromatic blend is all over the world! There are many variations, and we'll focus on 7 kinds that you will most likely already know or run into later down the road.
Cajun Holy Trinity
This one consists of onions, green bell peppers, and celery. This ratio is two parts onion, one part green bell pepper, and one part celery.
French Pinçage
In addition to the traditional mirepoix, tomato paste is added to the mix. The same ratios apply for this one.
Italian Soffritto
Rather than a smaller dice, this one is actually minced and only cooked in olive oil until it's soft and brown. The ratio is the same as traditional mirepoix.
German Suppengrün
This one is referred to as "soup greens," so it includes carrots, leeks, and celery root. It additionally can have parsley or thyme or even other root vegetables like onions and rutabaga.
Spanish Sofrito
This one finds itself in the category of a Spanish's classic red sauce with tomatoes, onions, garlic, and other vegetables like bell peppers and fresh herbs.
Chinese
This one specifically uses ginger infused cooking oil (or oil with fresh/ground ginger) with garlic and scallions.
Indian
This one is fun; while it does have ginger like the Chinese mirepoix, it also has ghee, onion, garlic, and chilies.
How to Make Mirepoix
By simply following these steps, your dish will have a beautifully melded flavor:
Prepare the vegetables. Trim the roots, rinse and scrub the vegetables. Dry well them, and peel if needed.
Chop the vegetables. Depending on the type of mirepoix, either dice or mince your vegetables. The sizing can range from ¼ inch to ½ inch to 1-2 inches.
Cook the vegetables. Medium heat is your best bet here. Once you've added the oil or butter to a large skillet, add your vegetables and stir well to evenly coat all the vegetables. Let them cook until they are soften—but not browned—which could take up to 10-12 minutes.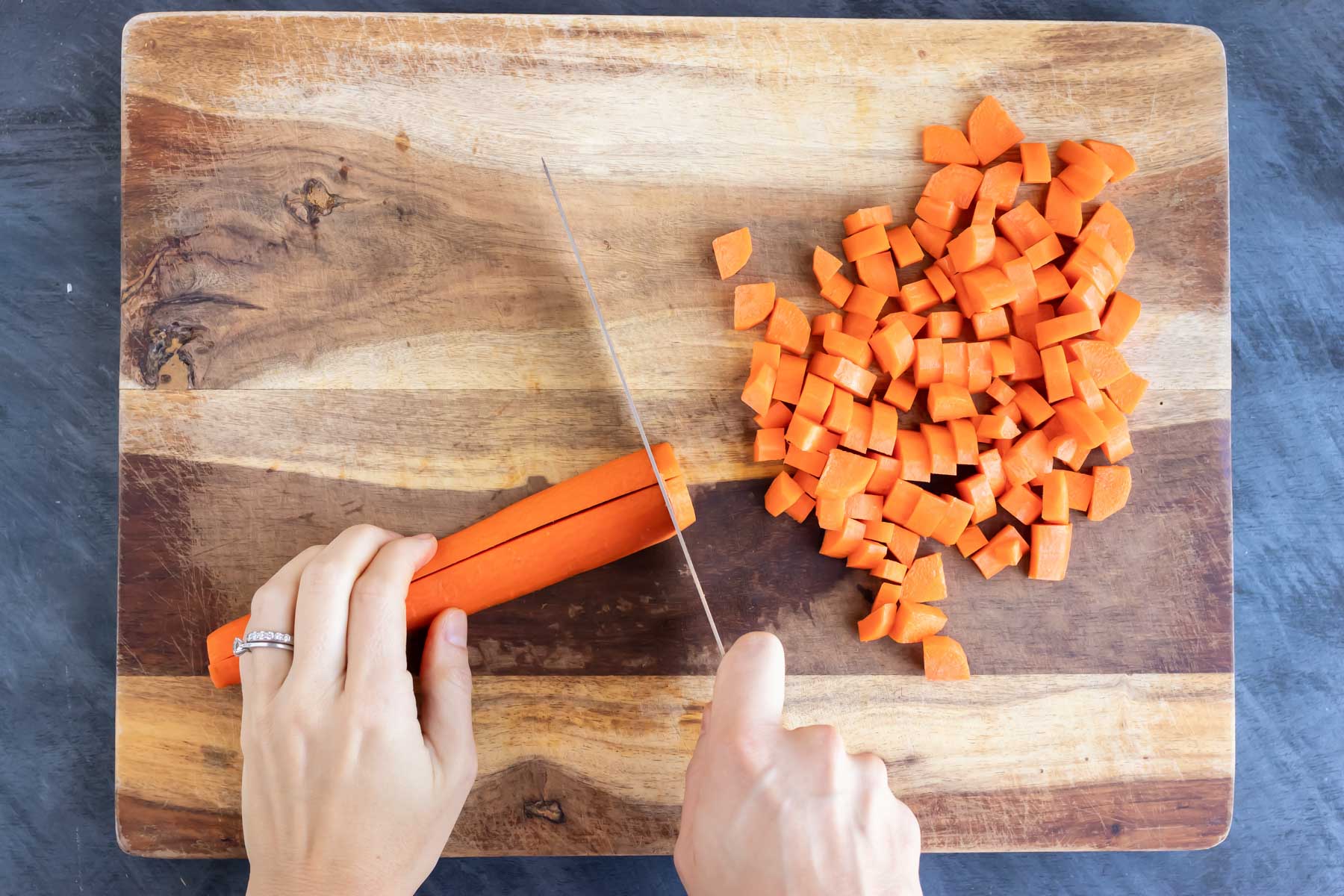 Expert Tips & Tricks
To really elevate your mirepoix, follow these tips and tricks:
Add vegetables in the correct order. Think about the thickness and density of your vegetables. You'll always add the carrot first, then the onion. Celery always comes last.
Cook low and slow. You're only slowly extracting the mellow sweetness from the vegetables. Browning enforces bitterness and will spoil the flavor.
Add the tomato paste towards the end of cooking. This brings an extra layer of umami, especially if you're cooking with meat and using the juices for sauce.
Try leeks instead of carrots. When making a white mirepoix for a white stock, sauce, or light gravy, take the orange carrots out and replace with white leeks.
Pre-make your mirepoix. This will cut your cooking time in half. Cook all of your mirepoix in one bulk, freeze it, then thaw it and add it to your next dish. It's a great way to meal prep!
Cut your vegetables in the same size. This will make it ten times easier to have an even, timely cook. Still pay attention to the order, but smaller pieces help things move faster.
Use a food processor. Dice up your mirepoix vegetables with a food processor to speed it up. Or, you can use a food cutter, here's my favorite one from Amazon.
Use a sharp knife. It's simple—using a sharp knife will, in fact, cut your time in half when dicing all these vegetables. Plus, you're less likely to cut yourself with a sharp knife!
Can I freeze mirepoix?
After cooking all of your mirepoix, freeze whatever you don't currently use in an airtight container since raw onions and celery don't freeze well.
Do I cook the meat or the mirepoix first?
Sear your meat first, take it out of the pan, then cook your mirepoix. The vegetables benefit from any of the cooked-on bits and fat from the meat.
What kind of onion do I use for mirepoix?
A yellow onion brings out the most balanced flavor and is the most traditionally used.
What ingredients can I substitute in mirepoix?
Any kind of root vegetable like rutabaga, parsnips, turnips, green onions, Brussels sprouts, button mushrooms, or shallots all work well.
Recipes Using Mirepoix
Here are some of everyone's favorite mirepoix-based recipes that you can cook in your own kitchen.
Instant Pot Chicken Noodle Soup calls for the most basic mirepoix out there. Try out this Olive Garden Minestrone Soup for a tasty weeknight dinner. Make this Instant Pot Potato Soup for your next cold, winter day.
This Bolognese Sauce is the perfect topping for pastas, mashed potatoes, baked potatoes, and even rice! Make this popular Italian Wedding Soup for your next big family dinner.