Parmesan asparagus fries are baked in the oven to crispy perfection. They are a healthier alternative to french fries and are vegetarian and gluten-free!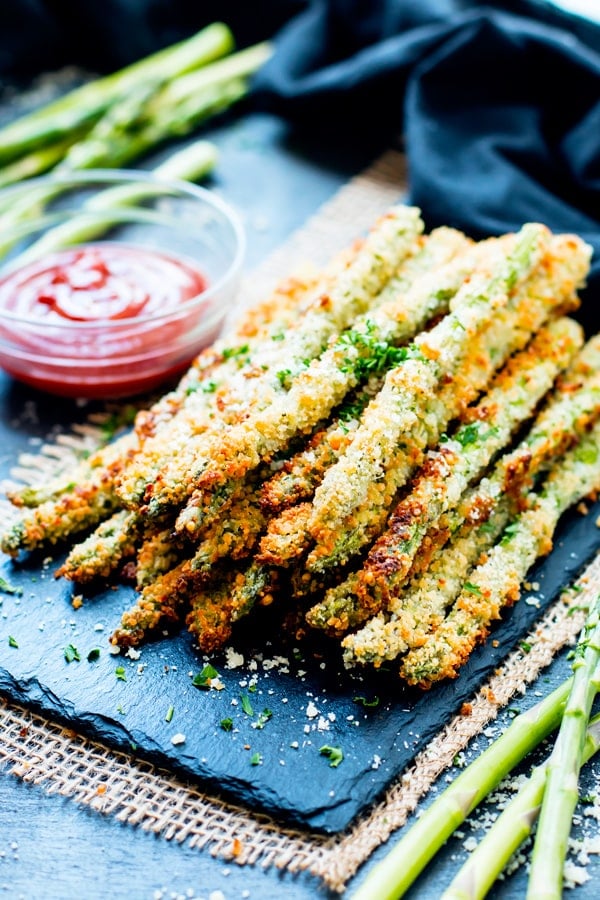 After having the most delicious Parmesan asparagus fries at a restaurant, I had to share this oven-baked version I created at home with you!
The night before Cohl and his brother, Jhet, took off on their 260-mile canoe race we went to eat at one of our favorite places in San Marcos, Tx… The Root Cellar.
It is this super cute restaurant built into the ground so it stays extremely cool even during the hottest summer months. Their menu is full of creative dishes and they have THE BEST Parmesan asparagus fries.
They serve up their Parmesan asparagus fries like any other restaurant would normal french fries… alongside their juicy burgers and stacked-high sandwiches.
Cohl and I tend to "share" our dishes with each other when we eat out. <– I say this very loosely.
I am a bit of a food hog. Oftentimes I fight for the food by hurriedly eating and/or hoarding food I want to eat on the far side of my plate (away from Cohl, of course.) Perhaps this is the result of being child #5 of 6, or maybe there is a fat kid buried deep within me. Whatever the reason is, I promise, I am working on it.
To be honest, I was a little disappointed that they did not have traditional French fries. Who wanted to eat Parmesan asparagus fries over french fries?!
My expectations were quite low about what these "fries" would taste like.
After my first bite of the crispy, crunchy, and oh-so-flavorful vegetable fry, I immediately went into "hoard-mode." While Cohl was chatting with his family on the other end of the table I would sneak one, maybe two fries at a time.
Even as I write this I almost feel ashamed of my food hogging habits. Almost.
The Parmesan asparagus fries were gone entirely too quickly.
The week immediately following the canoe race I set to work to try and recreate this masterpiece of a fry. Instead of being deep fried in oil, I decided to make them a bit healthier and bake them up in the oven.
Gluten-free Panko breadcrumbs are used and I definitely prefer this brand –> Aleia's Panko Bread Crumbs. They crisp up perfectly, just like a gluten-filled breadcrumb would!
Serve these Parmesan asparagus fries with any meal you choose. They taste great with ketchup or eaten on their own.
Want to Reheat these Parmesan Asparagus Fries?
I have found the best way to keep these fries crispy after reheating is to wrap them in aluminum foil and warm them up in either the oven or the toaster oven.
About 325 degrees for 10-15 minutes should do the trick!
Oven-Baked Parmesan Asparagus Fries
Parmesan asparagus fries are baked in the oven to crispy perfection. They are a healthier alternative to french fries and are vegetarian and gluten-free!
Ingredients
2

bunches asparagus

ends trimmed

½

cup

gluten-free flour

1-to-1 blend

2

eggs

1

Tbsp

milk

almond milk or soy milk

1

Tbsp

olive oil

½

cup

Parmesan cheese

¾

cup

Panko bread crumbs

gluten-free

¾

tsp

salt

¼

tsp

pepper

¼

tsp

paprika

Parsley

optional

Parmesan cheese

optional
Instructions
Preheat oven to 425 degrees.

In three separate bowls or pans (large enough to fit the length of the asparagus spears) place the following:

Bowl 1: Gluten-free flour blend.

Bowl 2: Whisk together the eggs, milk and olive oil.

Bowl 3: Toss the cheese, breadcrumbs, salt, pepper, and paprika.

Take 4-5 asparagus spears at a time and place them in bowl 1 (flour blend), dip them in bowl 2 (egg wash), and then coat them in bowl 3 with the Parmesan and breadcrumbs. Repeat with the remaining asparagus spears.

Line two large baking sheets with parchment paper. Place coated asparagus spears evenly spaced out onto the baking sheets.

Spritz asparagus spears with butter or coconut-flavored non-stick cooking spray and bake in the oven for 12-14 minutes.

Halfway through baking, flip spears and return to oven until they reach a nice golden brown.

Sprinkle asparagus spears with additional Parmesan cheese and parsley. Serve immediately and enjoy!
Nutrition Facts
Oven-Baked Parmesan Asparagus Fries
Amount Per Serving
Calories 126
Calories from Fat 45
% Daily Value*
Fat 5g8%
Cholesterol 45mg15%
Sodium 379mg16%
Potassium 261mg7%
Carbohydrates 14g5%
Protein 7g14%
Vitamin A 1000IU20%
Vitamin C 6.4mg8%
Calcium 125mg13%
Iron 3.2mg18%
* Percent Daily Values are based on a 2000 calorie diet.
Want more recipes like these Parmesan Asparagus Fries?
Crispy Baked Parmesan Garlic French Fries
Oven-Baked Sweet Potato Fries with Sriracha Mayo