This Homemade Fig Jam recipe is made with fresh figs, a touch of honey, a bit of lemon juice, and does not require additional pectin or gelatin. This easy, healthy, gluten-free and vegetarian recipe is great for breakfast on toast and biscuits, or served up on a cracker with goat cheese as a dinner party appetizer!
If you enjoyed this fresh fig recipe, you might also enjoy this Arugula Fig Salad with Balsamic Vinaigrette as well as these Homemade Fig Newtons made with dried figs!
Fig Jam During Fig Season
Once again it is fig season here in Texas! And my mom and stepdad have two GINORMOUS fig trees on their property.
Just about every July 4th the green fruits begin to turn a beautiful brown and we know it's time to start creating some delicious recipes.
Last year was my first experience working with fresh figs and a delightful Arugula Fig Salad was created.
This year homemade jam is on the menu and ya'll – it is OUT. OF. THIS. WORLD. DELICIOUS!
Especially when it is served on a gluten-free crackers with a bit of goat cheese!
Or, if you're not a fan of sweet mixed with savory, this recipe also tastes great atop a big gluten-free biscuit or slathered on a piece of toast.
Homemade, Healthy, & Easy!
And yes, I said healthy!
A few ingredients make this fig spread recipe is not only gluten-free and vegetarian, but also refined sugar-free and Paleo-friendly.
And before you get too scared about making it from scratch, it is actually SO much easier than you'd think and will not require any extensive canning or sterilizing.
Ingredients
This fig recipe is unlike other jam recipes in that it does not use any refined sugar and uses about half of the amount of sugar that is normally recommended.
So yes, it is quite a bit healthier than any store bought jam, jelly, or preserve you would normally buy..
Figs – Read below to learn more about the best types to use.
Water – The water will help thin it out a bit and give it a great consistency.
Coconut Sugar – Trust me, you won't be able to taste the coconut one bit and it's a great unrefined sugar to use!
Honey – Feel free to substitute with maple syrup if you happen to be vegan.
Lemon Juice – Not only does the acidity help prolong the shelf life, but it also cuts the sweetness just a touch.
Salt – It doesn't take much, but a pinch of salt with accentuate and complement nicely.
Best Types of Figs
There are numerous types of figs varying from really sweet to not-so-sweet.
Depending on the type you are using, you may need to adjust the amount of sugar used to your taste preference.
Here are a few varieties that will work well in this recipe:
Brown Turkey – These are the figs found at my mom's farm and are moderately sweet on their own and are the ones used in this recipe.
Adriatic – These green figs are incredibly sweet on their own and may even need slightly less sugar than called for in the recipe.
Black Mission – Another rather sweet variety and might need the amount of sugar adjusted accordingly.
More information on different fig varieties.
How to Make
Jams, unlike preserves, have a smoother consistency and only small pieces of fruit throughout the spread. Some use pectin or gelatin to create a gel-like consistency while other recipes do not call for it.
Wash figs and trim the stems. (See picture above.)
Add figs and water to a large Nutribullet cup or in a large food processor with water. Pulse a few times until mostly smooth and a few chunks remain.
Cook figs, coconut sugar, honey, lemon juice, and salt in a medium-sized saucepan or pot over medium-high heat until it begins to boil. Boil for 1-2 minutes, stirring constantly. (Steps 1, 2, and 3 below.)
Reduce heat to medium-low and simmer, uncovered, for 10-15 minutes or until jam has reduced by half. (Step 4 below.)
Cool jam to room temperature before serving or storing.
Get the Perfect Consistency
Now you might be wondering, "How do I know when it's done?"
Valid question! Simmering for too long will result in an overly sweet and super thick spread whereas pulling it off the burner too soon will give you a liquidy mess.
Two Ways to Test:
As you will see in the picture below, you want it to start sticking to the back of a wooden spoon.
Also, when you scrape the bottom of the pan, the jam will not fill in the space for at least 10 seconds. (Test this with the pot away from the heat.)
Cook's Tip: The jam will continue to thicken as it cools. If you are unsure if it is the correct consistency simply remove a small amount and place it on a plate so it can reach room temperature quickly.
How to Serve
Fig jam tastes great when served alongside savory dishes or on sweet breakfast treats. Here are a few of my favorite ways to serve:
On gluten-free crackers with goat cheese.
Spread it on biscuits.
In place of jelly on a PB & J.
With feta and balsamic on a crostini.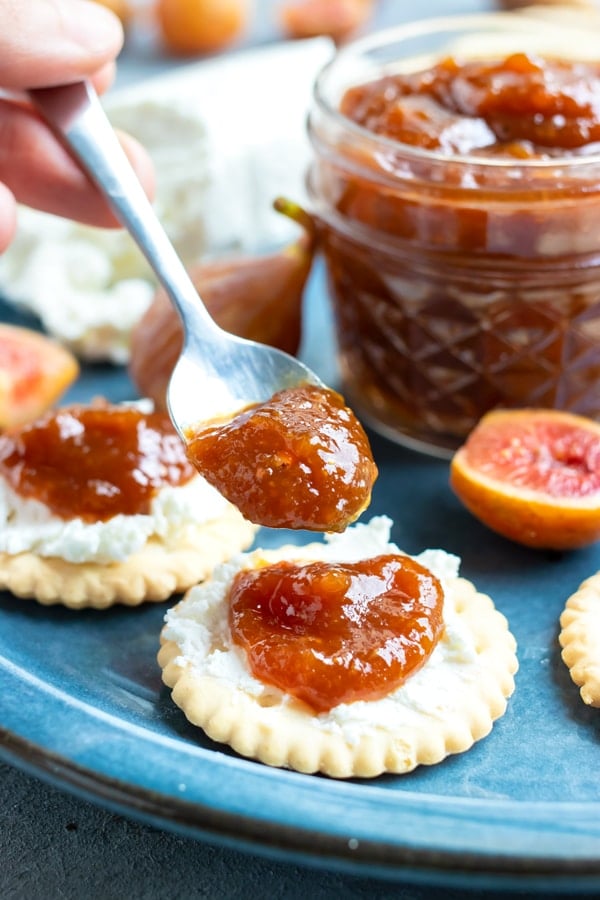 Storing
You've made your fig jam, but have doubled or tripled the batch, now what do you do with all of those leftovers? Below you will find a few answers to some FAQs when storing:
What is the Best Container to Store Homemade Jams and Jellies?
Glass mason jars are the best container to store your spreads in. You can opt for smaller 4-ounce and 8-ounce mason jars to give away to friends, or place it in a large 16-ounce jar if you're enjoying it at your house.
How Long will it Last?
Jams will last in the refrigerator, without canning, for up to 3 months.
Do I Need to Can Fig Jam?
If you would like to extend the life of your homemade jams, or if you would like to store it on the shelf, then canning will be necessary.
Learn more about how to can homemade jams here.
Appetizer and Sauce Recipes:
Honey Blueberry Goat Cheese Log
Other Dips, Sauces, and Dressing recipes.
Homemade Fig Jam Recipe
This Homemade Fig Jam recipe is made with fresh figs, a touch of honey, a bit of lemon juice, and does not require additional pectin or gelatin.
Ingredients
1

lb.

figs

fresh*

¼

cup

water

¼

cup

honey

or maple syrup

¼

cup

coconut sugar

or regular sugar

1

Tbsp.

lemon juice

Pinch

of salt

1

tsp.

vanilla
Instructions
Wash figs and trim the stems.

Add pureed figs to a medium-sized skillet over medium-high heat with honey, coconut sugar, lemon juice, and salt. Bring mixture to a boil and cook over medium-high heat for 2 minutes, stirring constantly.

Reduce heat to medium-low and let simmer for 10-15 minutes or until figs have reduced by half.

During the last 1-2 minutes add vanilla and stir to combine.
Recipe Video
Recipe Notes
Brown turkey figs, black mission figs, and Adriatic figs work great in this recipe.
Some fig varieties may be sweeter or less sweet than those used in this recipe (brown turkey figs) and the amount of sugar may need to be adjusted.
Fig jam will last in the refrigerator without canning for up to 3 months, or on the shelf for up to 1 year if canned using a water bath.
Nutrition Facts
Homemade Fig Jam Recipe
Amount Per Serving
Calories 50
Calories from Fat 9
% Daily Value*
Fat 1g2%
Sodium 1mg0%
Potassium 69mg2%
Carbohydrates 13g4%
Protein 1g2%
Vitamin A 40IU1%
Vitamin C 0.9mg1%
Calcium 10mg1%
Iron 0.1mg1%
* Percent Daily Values are based on a 2000 calorie diet.