A ground turkey curry dish that is healthy, low-sugar, gluten-free, Paleo and full of easy to find Indian spices.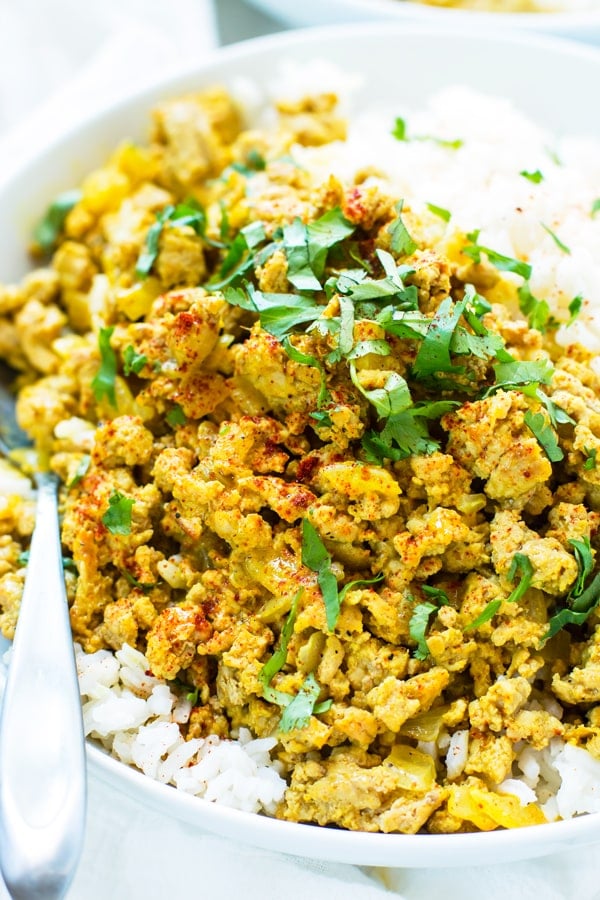 And so it begins. Our quest to ultimate healthiness.
Have you ever noticed how one day you find yourself being okay just eating a bite or two of a dessert, and then a few days later you are 3 helpings in?
That's my relationship with sugar. A love/hate, all or nothing type of relationship.
I love it when it is in my mouth, but man do I feel lousy once I am finished eating.
For the last year, I have struggled with headaches/migraines that occur up to 3-4 times a week.
I have tried multiple preventive medications, and am seeing a neurologist, a TMD specialist, a chiropractor and a doctor who specializes in nutritional counseling. My case is anything but straightforward.
I know I definitely have some postural misalignments due to years of crouching over textbooks, but deep down I also think something is not quite right in my diet.
In an effort to tackle this beast head on, a "yeast-free", Candida diet has become my way of eating over the past few weeks. Is it easy? Heck no. Have I cheated? Absolutely. Do I think it's working?! The jury is still out.
This ground turkey curry is just what the doctor order. Full of healthy ground turkey and finished with some easy to find Indian spices.
Serve it with a side of grilled or steamed veggies and you have yourself a healthy and filling dinner!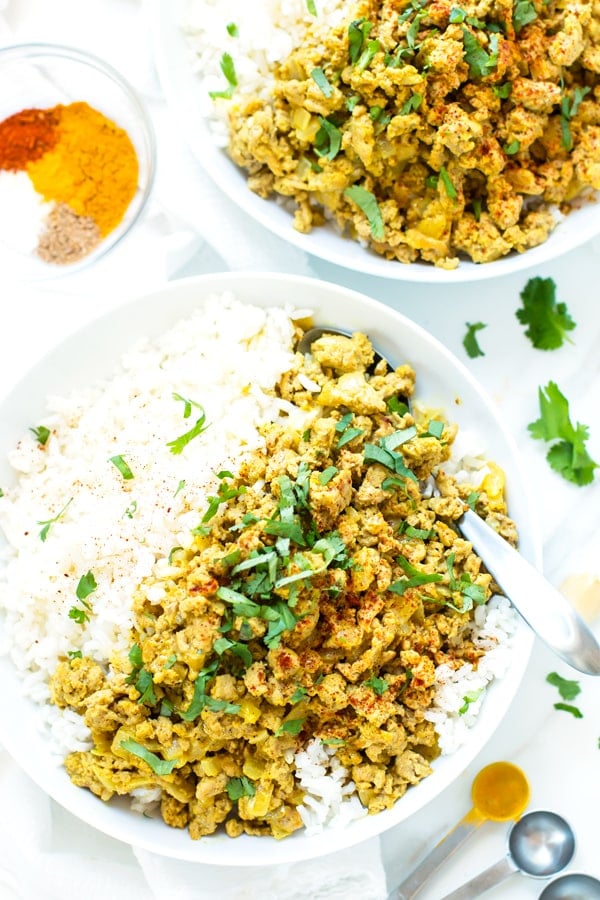 Thanks to our newfound way of eating, the next few weeks will be full of healthier, low sugar, gluten free dishes.
After a few weeks of this experimental eating regimen, I will slowly begin to add in natural sugars here and there to see how my body responds.
Can you tell I'm a bit of a science nerd who likes experiments?!
But for now, I hope you enjoy this tasty, healthy, ground turkey curry dish!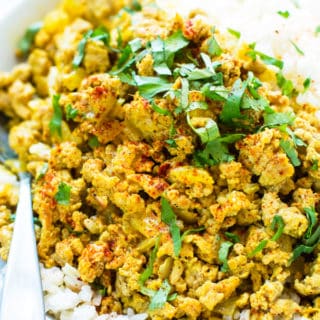 Easy Ground Turkey Curry
A ground turkey curry dish that is healthy, low-sugar, gluten-free, Paleo and full of easy to find Indian spices.
Ingredients
Curry Seasoning:
1 ½

tsp.

curry powder

1

tsp.

garam masala

¼

tsp.

cumin

⅛

tsp.

turmeric

⅛

tsp.

cayenne

(or ¼ if you like spice)

1

tsp.

salt

to taste

½

tsp.

pepper
Instructions
Saute onion in olive oil in a large skillet or pan over medium heat for 5-6 minutes, or until onions turn translucent.

Add garlic and ground turkey. Cook for another 7-10 minutes over medium heat, or until meat is cooked through.

While meat is cooking whisk together the seasoning ingredients in a small bowl.

Once meat is done cooking, add seasoning ingredients and coconut milk to the pan and stir until combined. (If you want your curry really thick, use less milk. If you would like it less thick, add more milk)

Reduce heat to low and let simmer for another 10 minutes.

Serve curry over rice or quinoa and sprinkle with cilantro. Enjoy!
Recipe Notes
Feel free to add in additional vegetables such as carrots, bell peppers, or peas.
Nutrition Facts
Easy Ground Turkey Curry
Amount Per Serving
Calories 361
Calories from Fat 225
% Daily Value*
Fat 25g38%
Cholesterol 62mg21%
Sodium 550mg24%
Potassium 635mg18%
Carbohydrates 9g3%
Protein 30g60%
Vitamin A 119IU2%
Vitamin C 5mg6%
Calcium 46mg5%
Iron 5mg28%
* Percent Daily Values are based on a 2000 calorie diet.
Want a few more quick, gluten-free dishes like this ground turkey curry to try?
15-Minute Curry Cauliflower Rice | Paleo
Slow Cooker Chicken Curry with Coconut Milk
Balsamic Glazed Flank Steak & Veggie Roll-Ups
Peanut Asian Chicken Lettuce Wraps