Slow Cooker Chicken Curry that is made with coconut milk and sweet potatoes!!  This curry chicken recipe is naturally gluten-free and makes a delicious lunch or dinner when served with rice.
Serving Up Chicken Curry for a Party
A couple of weekends ago we hosted our annual Christmas party.  Each year friends and family from all avenues of our life gather for an evening of fun and food (with this slow cooker chicken curry being the main course!)
This year was particularly entertaining when we happened to have a group of about 30-35 unexpected guests.  Let me back up a bit here…
Earlier that day my husband ran a race called "The Beer Mile."  I know… quite the paradox.  In this race each runner chugs a beer, runs a quarter of a mile loop, chugs a beer, runs a loop, etc., until he/she has run 1 mile and consumed 4 beers.  Our party was to begin a mere 3 hours after this event ended.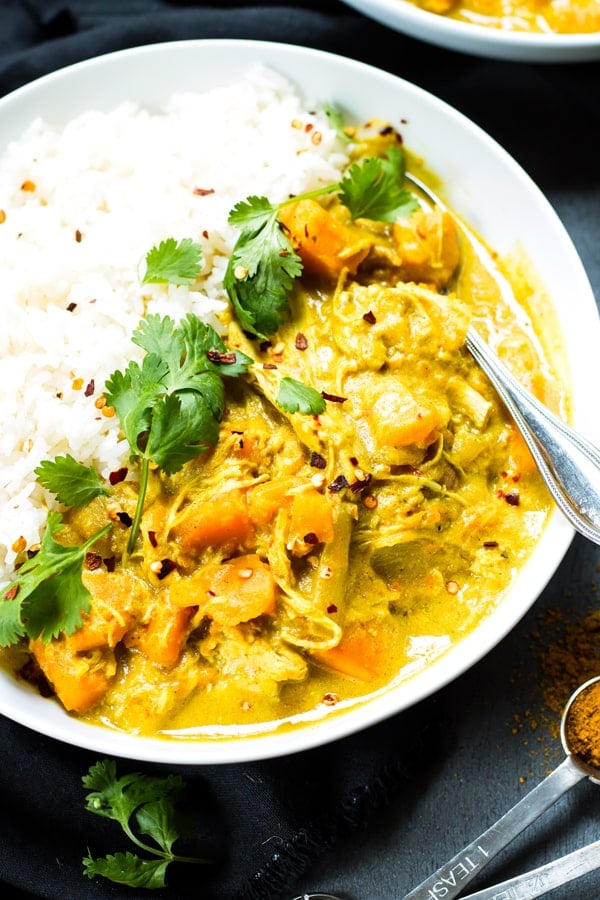 The party was going great when all of a sudden some people from the race showed up.  (Our good friend is well connected in the running scene and had invited a few over.)  They were extremely polite so we gladly welcomed them into our home.
Before we knew it groups of 5-6 people were showing up, that were not-so-polite, and had already had a bit too much fun since the run.  Soon enough the place looked like a frat house!!
Luckily, the chaos didn't last for long before my slightly intimidating hubby got frustrated and kicked the strangers out of our house.  Once the house cleared out, our group of 25-30 friends and family remained and a round of applause broke out.  It was time to really enjoy the festivities.
However, when we looked around we noticed that all of the drunken strangers were also quite ravenous runners.  All of our chips, dips and cheese boards had been consumed.
I quickly calmed everyone down and proudly announced… "They might have devoured the guacamole… but they didn't find the slow cooker chicken curry I hid!!"
People quickly dove into the two Crock Pots full of this slow cooker chicken curry.
A Vegetarian/Vegan Alternative to this Slow Cooker Chicken Curry
Two of our really good friends are vegetarian.  I knew they were coming to the party and I wanted to make sure they had something more than chips and dip to eat.  A simple way to make this chicken curry fit for a vegetarian is to leave out the chicken and substitute it for 2 cans of drained chickpeas.  You can leave all of the other ingredients the same!
Slow cookers are an extremely affordable kitchen appliance that are well worth the space they take up in your kitchen.  They come in various sizes, but I would highly encourage you to get at least a 6-QT Crock-Pot
.  This will give you plenty of room to make big batches of soup, stew or this coconut milk chicken curry.
Not wanting to clean up a mess?
Sometimes your slow cooker can be a bit of a hassle to clean-up.  If you want to save even more time, these Slow Cooker Liners
 can be thrown away after use.
Slow Cooker Chicken Curry with Coconut Milk
Slow Cooker Chicken Curry that is made with coconut milk and easy to find ingredients!! It is naturally gluten free makes a delicious lunch or dinner when served with rice.
Total Time
4
hours
20
minutes
Ingredients
1

lb.

chicken breasts

3

tbsp.

curry powder

mild

1

tsp.

turmeric powder

½

tsp.

ground coriander

2

tsp.

salt

1

tsp.

sugar

2

15-oz. cans

coconut milk

lite or full fat

1

cup

water

optional

2

tbsp.

butter

or olive oil

2

cloves

garlic

crushed

4

cups

sweet potatoes

peeled, cut into 1-inch cubes

1

medium

sweet onion

cut into 1-inch pieces

Rice

cooked

Cilantro

optional
Instructions
In a small bowl combine curry powder, turmeric, coriander, salt and sugar. Toss to combine.

Add coconut milk (and water if milk is thick). Make sure to lift up the chicken breasts to prevent the chicken from burning.

Add butter, garlic, and the bowl of seasoning ingredients. Stir the liquid to incorporate the seasonings.

Add sweet potatoes and onions. Stir to combine.

Cover

slow cooker

and set to Low for 6-8 hours, or High for 4-6 hours.

Check on curry during the last hour of cooking and stir the ingredients if the curry is starting to stick to the sides.

During the last 30 minutes of cooking, remove chicken from the

slow cooker

and shred it with a fork. Place chicken back into the slow cooker for the remaining time.

Turn off slow cooker and let rest for at least 20 minutes before serving. This will help thicken up the sauce. Serve chicken curry with jasmine rice and additional cilantro, if desired, and enjoy!
Recipe Notes
*Nutritional info is calculated with "lite" coconut milk and no rice.
Nutrition Facts
Slow Cooker Chicken Curry with Coconut Milk
Amount Per Serving
Calories 330
Calories from Fat 135
% Daily Value*
Total Fat 15g 23%
Cholesterol 58mg 19%
Sodium 1067mg 44%
Potassium 636mg 18%
Total Carbohydrates 25g 8%
Protein 17g 34%
* Percent Daily Values are based on a 2000 calorie diet.
Want more recipes like this Slow Cooker Chicken Curry with Coconut Milk?
Easy Slow Cooker Chicken Tortilla Soup
Slow Cooker Pineapple Pulled Pork Tacos