Once you know How to Cut and Clean Leeks, you can add this slightly confusing vegetable to a variety of dishes. It takes just a few simple steps to easily slice whole leeks and then remove the dirt they commonly have. After slicing and cleaning fresh leeks, you can use them in healthy soups and stews, roast them in the oven, or sauté them in a pan.
Cutting & Cleaning Leeks
When I first tried making the French classic, Potato Leek Soup, I had NO clue how to cut and clean leeks.
Nor did I know which part of the leek to use!
I totally thought the leafy dark green parts were the star of the show. (Boy was I wrong!)
Not only did I end up with dirt-filled sliced leeks…
But the soup turned out WAY too bitter because I used the wrong part of the vegetable.
Since then I have learned how easy it is to properly slice, clean, and use leeks in some of my favorite healthy recipes.
So if you're in the same boat, then read on and learn all about how to prepare this leafy vegetable!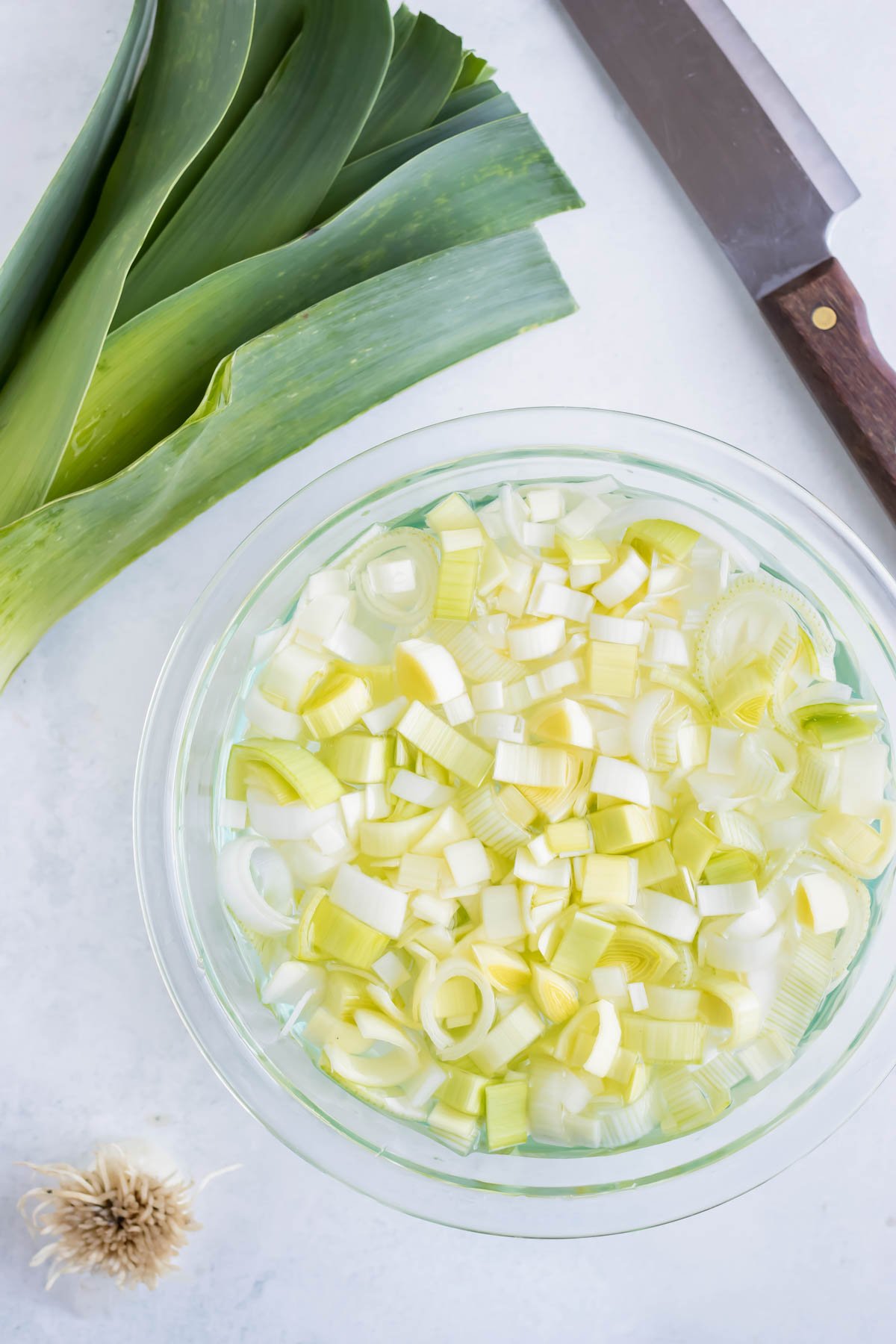 What are Leeks?
Leeks are a vegetable in the same family as the onion, garlic, shallot, scallion, and chive.
They have a mild onion flavor and can be eaten raw or cooked. When raw, they have a crisp bite and more pungent flavor.
Cooking leeks helps to mellow out the strong flavor and can be accomplished by roasting, sautéing, or even boiling.
What part of the leek do you eat?
Although they look like a larger form of a green onion, the edible part of the plant is actually the white and light green part—sometimes referred to as the stalk or stem.
The dark green tops of the leek are also edible, but they are quite bitter and are often discarded.
How to Cut Leeks
Cutting raw leeks is a quick and simple process once you understand the basics in this step-by-step guide.
All you will need is a really sharp chef's knife and one of your favorite cutting boards.
It shouldn't take you more than a few minutes to slice leeks in two different ways—half moons and rounds—for recipes:
Step 1: Remove the Root
The first step is to find the root end of the leek. Similar to a green onion, it is the white part with small root-like strings.
Move the knife slightly up, no more than an inch. Make a clean slice down, straight through the leek.
Step 2: Remove the Leaves
With the veggie still on the cutting board, locate the intersection of the dark and light green parts of the leek. Make a cut and remove the dark green leaves
Step 3: Slice the Leek
For Half Moons:
Slice the white part the leek in half, lengthwise.
Then cut it into thin strips, across its width.
For Round Slices:
Starting at one end, chop leeks into round, thin slices for the entire length. Be sure to keep the slices as evenly spaced as possible.
How to Clean Cut Leeks
Since leeks grow in the ground, they are often full of a lot of dirt hidden between all the leek's layers.
While you can prepare leek pieces by rinsing and washing them before cutting, it's easiest and most thorough to clean them in a bowl of water. Otherwise, you're mostly cleaning the outer layer rather than the middle of the leek, where much of the dirt is found.
Step 1: Soak in Water
Add the chopped leeks to a bowl of cold water.
Toss them around in the water until all of the dirt detaches from the leeks.
Step 2: Drain in a Colander
Drain the water carefully or use a colander.
Pat dry before using.
Selecting the Best Leeks
There are a few things you will want to look for in order to select the best leeks at the grocery store:
More white stalk and less green. Unlike green onions, the white part is the portion you eat. Look for leeks that have a longer white, edible stem.
Minimal to no yellowing. Yellow spots indicate that the leek is getting old and is not as fresh.
Crisp and firm. Select ones that are about the same firmness as an onion. Avoid ones that are soft or have leaves that are wilting.
Organic. Since leeks grow in the dirt, they have the most direct contact with harmful chemicals. If available, opt for organic over conventional.
Storing Leeks
Leeks last the longest when stored in a cool, dry place such as the crisper drawer in your refrigerator.
If they came in bag, remove the bag before you store leeks to prevent excess moisture from building up.
Depending on the level of freshness upon purchase, leeks can potentially last for up to 2 weeks in the refrigerator.
Look for signs of wilting or softening to determine if one is still okay to eat.
Best Leek Recipes
Your leeks are now in perfect slices, cleaned to perfection, and it's time to cook them! They're a great addition to so many recipes.
Leeks taste incredible when roasted in the oven, sautéed in a pan, or boiled for a soup.
Here are a few healthy leek recipes for you to try:
How to Cut and Clean Leeks
Once you know How to Cut and Clean Leeks, you can add this slightly confusing vegetable to a variety of dishes. Learn to easily cut whole leeks, then clean them by following a few simple steps.
Instructions
Cutting Leeks:
Cut off the root end of the leek.

Locate the intersection of the light green stem and dark green leaves. Make a cut and discard the green leaves.

For half-moon slices: Slice the leek in half lengthwise and cut into thin slices.

For round slices: Starting at one end cut the leek into round slices.
Cleaning Leeks:
Fill a large bowl with water and add sliced leeks.

Toss leeks around in the water until all of the dirt detaches from the leeks.

Drain the water carefully or use a colander.

Pat leeks dry before using.
Recipe Notes
Nutritional information is for 1 leek.
Nutrition Facts
How to Cut and Clean Leeks
Amount Per Serving
Calories 54
Calories from Fat 9
% Daily Value*
Fat 1g2%
Sodium 18mg1%
Potassium 160mg5%
Carbohydrates 13g4%
Protein 1g2%
Vitamin A 1484IU30%
Vitamin C 11mg13%
Calcium 53mg5%
Iron 2mg11%
* Percent Daily Values are based on a 2000 calorie diet.