This easy recipe for Savory Spiced Pecans is the perfect sweet and spicy low-carb snack for the holiday season. Raw pecans are tossed in butter, maple syrup, and cajun seasoning then baked in the oven to toasted deliciousness. Enjoy these roasted nuts on their own, add to salads, soups, and baked goods, or give as a DIY gift!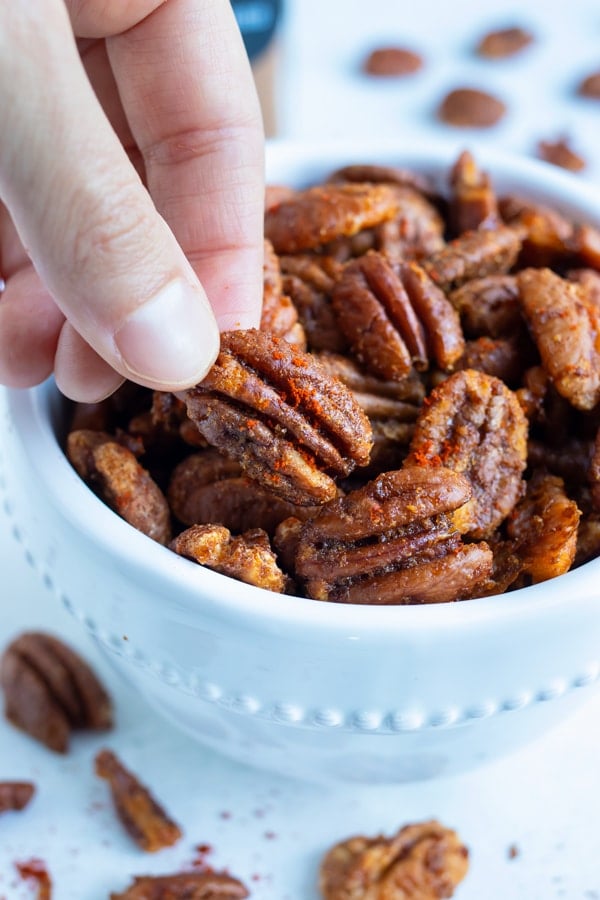 Every year we visit my grandparents in a little town outside of New Orleans, Louisiana for Christmas.
And every time my Nanny always has a big batch of her famous Cajun spiced pecans waiting for us to devour.
She packages them up in one of her vintage Christmas tins, alongside others full of her pecan pralines and icebox cookies.
A little sweet bite of a cookie – and then a handful of savory pecans – sweet, salty, repeat.
So this year I decided to take her savory roasted pecans recipe and give them just a little bit of a makeover. Encompassing that sweet and salty flavor all in one tasty bite.
I'm a glutton for punishment. And you must be, too.
Because lemme' tell you, these things are addicting!
(If you're more of a sweet and more sweet kind of spiced nuts guy or gal, then you'll want to hop on over and take a look at the Cinnamon Sugar Spiced Pecans.)

Ingredients
The simple ingredients you need to make this savory spiced pecan recipe include:
Pecans. You'll need 1 pound of whole, raw (not roasted) pecans for the recipe below. Choose either a lighter variety or a darker variety that you enjoy the taste of before roasting.
Butter. Melted butter helps to coat the pecans with the spice mix. You can also use a vegan buttery stick or even oil if you are dairy-free or vegan.
Sweetener. While this ingredient is optional, a little bit of pure maple syrup helps to balance out the savory notes of the spices. You can also substitute this with honey, agave nectar, or even monk fruit extract if on a keto diet.
Chili Powder. This warm spice makes up the bulk of the cajun mix. Make sure you select a MILD chili powder and not a spicy one for the best results.
Paprika. Regular paprika, and not smoked, was tested in this recipe. If you'd like to get a little creative you can swap out a portion with a smoked paprika to change it up a bit.
Cayenne Pepper. This is where the spicy kick comes in! If you prefer a milder roasted nut, simply leave this ingredient out. If you like your pecans on the spicy side, add the larger amount suggested.
Garlic Powder. Make sure you don't skip this one. A bit of garlic powder goes a long way in complimenting the other rich spices.
Cinnamon. A very earthy spice that will keep your taste buds guessing. Don't overdo it though as you just need a little bit!
How to Make Savory Spiced Pecans
The basic steps for making spiced pecans are simple to follow. Please see the recipe card below for more detailed ingredient amounts.
Make the Coating
Whisk together the melted butter or oil, syrup, and all of the seasonings in a large bowl until well combined.
Toss the Nuts
Add the pecans to the bowl and mix until all of the nuts are evenly coated.
Bake in Oven
Spread the pecans in a single layer on a large baking sheet lined with parchment paper.
Bake in a preheated 300°F oven for 25-30 minutes or until the nuts are toasted and aromatic. Toss nuts halfway through roasting.
The lower oven temperature will allow the pecans to roast low and slow. This results in a more robust, naturally nutty flavor.
Cool and Serve
Remove from the oven and allow the nut to come to room temperature before serving.
Add them to your favorite salads, munch on them for a snack, or package them up as a cute DIY food gift.
Storing
Keep the spiced pecans in an airtight container for up to 2 weeks. You can use a plastic storage container or Christmas tin.
You can also refrigerate them to extend the shelf life up to 3-4 weeks. However, the taste and texture will be slightly affected if refrigerated.
Dietary Modifications
The recipe you'll find below is already gluten-free and vegetarian as written. Here are some adjustments and substitutions you can make to help it fit your other dietary requirements:
Dairy-Free

– Swap out the butter for a plant-based butter alternative or oil.
Vegan – Use oil or a butter alternative in place of the butter.
Keto – Omit the maple syrup or switch it for liquid monk fruit extract.

DIY Gift
These savory spiced pecans are one of the best food gifts to give for the holidays.
Not only are they naturally low-carb and gluten-free, but they can also easily be made dairy-free and vegan, too.
So just about everyone can enjoy them!
To make these into a mason jar gift:
Add to a glass 8-ounce or 16-ounce mason jar.
Tie a pretty ribbon around the neck of the jar.
Optional: Attach a hand written recipe to the ribbon or a name tag.
FAQs
Are spiced pecans gluten-free?
Not all recipes are gluten-free since they may have flour as an ingredient. However, the recipe you will find below is completely gluten-free and can be served to anyone with Celiac's disease.
Should pecans be soaked before roasting?
It is not necessary to soak pecans before roasting but you certainly can. Just make sure to dry them thoroughly before seasoning and cooking.
What are roasted pecans good for?
First and foremost roasted pecans are great as a snack all on their own. They are also wonderful mixed into salads, baked into breads, or use them to garnish soups.
Expert Tips and Tricks
Take a test. Make sure you enjoy the taste of the raw pecans before seasoning and roasting.
Balance it out. Create the perfect sweet and savory combo by using maple syrup.
Change it up. Swap out some of the paprika for smoked to enhance the flavor.
Line the sheet. Use parchment paper for crispy nuts and easy cleanup.
The nose knows. Smell for an aromatic scent as this will indicate the nuts are done.
Savory Spiced Pecans
This easy recipe for Savory Spiced Pecans is the perfect sweet and spicy low-carb snack for the holiday season. Enjoy these roasted nuts on their own, add to salads, soups, and baked goods, or give as a DIY gift!
Ingredients
1

lb.

pecans

raw

4

Tbsp.

butter

melted*

2

Tbsp.

pure maple syrup*

1 ½

tsp.

chili powder

1

tsp.

paprika

¼ – ½

tsp.

cayenne pepper

½

tsp.

garlic powder

1 ¼

tsp.

salt

to taste

¼

tsp.

cinnamon
Instructions
Whisk together melted butter or oil, syrup, and seasonings in a large bowl.

Add pecans and toss until well coated.

Bake in preheated oven for 25-30 minutes or until nuts are toasted and aromatic. Toss nuts halfway through roasting.

Let cool completely before serving. Store in an airtight container for up to 2 weeks.
Recipe Video
Recipe Notes
Use vegan buttery sticks or a vegetable based oil if dairy-free or vegan.
You can also use a few drops of liquid monk fruit extract if keto or leave the sweetener out completely.
Nutrition Facts
Savory Spiced Pecans
Amount Per Serving
Calories 230
Calories from Fat 216
% Daily Value*
Fat 24g37%
Cholesterol 8mg3%
Sodium 184mg8%
Potassium 136mg4%
Carbohydrates 6g2%
Protein 3g6%
Vitamin A 429IU9%
Vitamin C 1mg1%
Calcium 26mg3%
Iron 1mg6%
* Percent Daily Values are based on a 2000 calorie diet.