Learning how to make arepas is actually super easy! This arepa recipe is made from instant corn flour and makes a yummy gluten-free and vegetarian alternative to bread.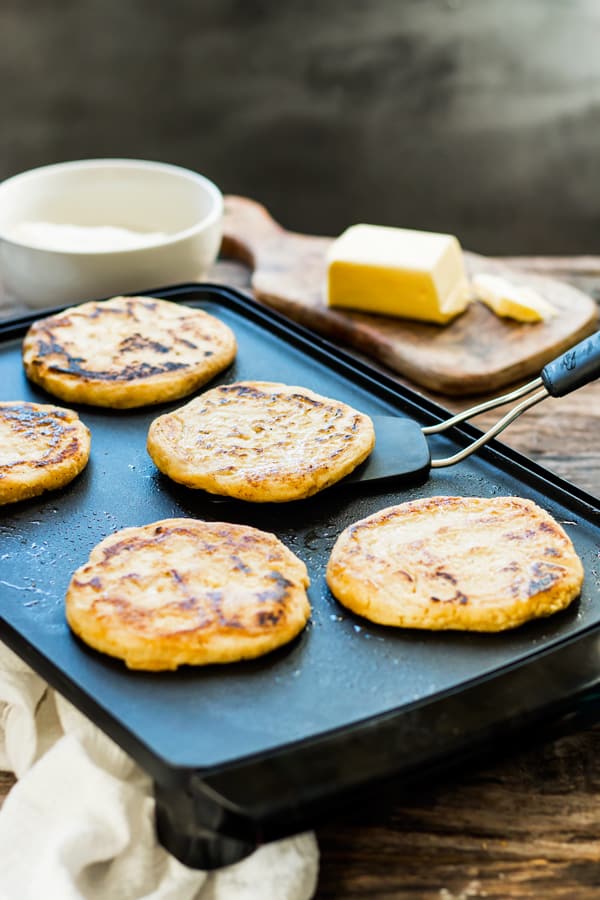 My new food-love has officially been found!!
Finding alternatives to bread when you are gluten-free is quite challenging. You pretty much have a few brands to choose from, none of which seem to quite compare to the gluten-laden classic.
So why not switch up your sandwich? Instead of trying to replace the gluten-filled sandwich bread with a gluten-less imitation… why not try out this classic Venezuelan sandwich… the Arepa!!
What are Arepas and are they Gluten-Free?
Arepas are found primarily in the cultures of Venzuela and Colombia. They are made of masa that has been treated with lime, or masa harina, water, a bit of shortening and salt. In their classic form they are 100% gluten free. <–Do you know what this means?! You can go to almost any classic Venezuelan or Colombian restaurant and order straight from the menu. Can I get a WOO-HOO?!
How to Make Arepas — Watch the Video Above!
While whipping up arepa dough is actually rather easy, the process of making them is a bit tedious… It reminds me of making pancakes. A lot of the process is spent over this hot griddle
or skillet.
Instead of cooking the arepas completely in a skillet, I prefer searing both sides for a few minutes and then letting the oven do the remainder of the cooking. This means less time for me and evenly cooked arepas every time!
Where do I get Arepa Flour?
Most grocery stores will carry "arepa flour." Just remember, masa harina, or instant corn masa, is VERY different from corn meal, or regular masa. Personally, I have used the Maseca Instant Yellow Corn Masa Flour
and I have also heard that P.A.N.'s Pre-cooked White Corn Meal
is great, too!
What should I fill my arepas with?
Absolutely whatever you please!! Some of our favorite filling ingredients include beans, chicken, cheese and a bit of veggies. You can even eat these for breakfast and load them up with eggs and bacon!
If you want to see our favorite Stuffed Arepa Recipe you can check it out on the site in just a few days!
How to Make Arepas
Learning how to make arepas is actually super easy! This classic Venezuelan sandwich is made from instant corn flour and makes a yummy gluten free and vegetarian alternative to bread.

Ingredients
2

c

warm water

1 ½

tsp

salt

1

tbsp

shortening

butter flavored, melted

2

c

instant corn masa flour
Instructions
Preheat oven to 350 degrees.

Place water, salt and shortening in a large bowl. Slowly add flour, mixing well after each addition with a spoon.

Once almost all flour is added, start mixing dough by hand until dough is just combined.

Cover arepa dough with a moist towel and let sit at room temperature for 10 minutes.

Scoop out ½ cup of arepa dough, roll into a ball, and flatten into a 4-5 inch diameter and ½ inch thick arepa.

Test to see if dough is the right consistency by placing the arepa in the palm of your hand and then flip your hand over.

If the arepa sticks for a second or two, and then falls off, the dough is the perfect consistency. If it falls off quickly, add a bit more water. If it doesn't fall at all and sticks to your hand, add more arepa flour.

Repeat step 5 with the remaining dough.

On a griddle or cast iron skillet, set to medium-high heat (about 400-450 degrees), place 1 tablespoon of butter or shortening. Once griddle is heated, add arepas.

Cook each arepa for 3-4 minutes or until they begin to brown, flip, and cook for an additional 3-4 minutes on the other side.

After all arepas have been seared on both sides, place them on a baking sheet and bake in preheated oven for 12-15 minutes.

Slice arepas in half and stuff with your favorite fillings. Enjoy!
Recipe Video
Nutrition Facts
How to Make Arepas
Amount Per Serving
Calories 118
Calories from Fat 18
% Daily Value*
Fat 2g3%
Sodium 1mg0%
Potassium 74mg2%
Carbohydrates 21g7%
Protein 2g4%
Vitamin A 60IU1%
Calcium 39mg4%
Iron 2.1mg12%
* Percent Daily Values are based on a 2000 calorie diet.
Want to see more recipes like these Arepas?