Thai yellow chicken curry that is full of potatoes, carrots, onions, and coconut flavor!  This Thai yellow curry recipe makes a wonderful gluten-free and healthy dinner recipe for busy weeknights.
The inspiration for this Thai Yellow Curry Recipe:
About 4 miles from our house is the most inconspicuous Thai restaurant.
You will find it tucked away in a far back corner of a rather popular shopping center in South Austin.
You would never guess that this "strip-center" restaurant would produce food so authentically Thai.
It's Always a Thai Yellow Chicken Curry Kind of Night!
For a couple of months in a row, at least one night each week Cohl and I would look at each other and no words needed to be exchanged.
We knew that tonight was going to be a Thai yellow curry recipe kind of night.
He tends to order the green curry (it's always too spicy for me!) and I lean more towards a Thai yellow chicken curry or massaman curry (both are much tamer on the spicy scale!)
Intimidated by the thought of cooking Thai Yellow Chicken Curry, too?
After weeks of these shenanigans I realized that I had a true fear… a fear of attempting and ultimately failing at executing a foreign cuisine's classic recipe.
So I bucked up some courage, headed to our local Central Market, and proceeded to search for a few necessary, but somewhat hard-to-find ingredients.
Can I just offer you a little encouragement?  The hardest part of this entire yellow curry recipe… locating the ingredients.
And honestly, after you locate the Thai chili peppers and the lemongrass paste, it really isn't all that bad!
What goes into this Authentic Thai Yellow Curry Paste?
Garlic and ginger – located in your produce section!
Thai chili peppers – you will find these at  your more specialty grocers.  They are the little ~2-inch peppers you see in all of the photos in this post!
Salt, turmeric, curry powder, and coriander – all can be easily found in the spice section.
And lastly… lemongrass paste – this was the most difficult to locate.  I ended up finding this lemongrass paste at my larger, more specialty, grocery store.  However, if you cannot find it you can always buy this one online!
All you have to do is toss all of the ingredients into a smaller food processor (I love this mini food processor
for mixing up sauces, salad dressings, and yummy Thai yellow curry paste!) and process until a smooth paste forms.
You can store this paste for your Thai yellow chicken curry for up to 2 weeks in an airtight zip-top bag in the refrigerator.  If you store it much longer it will most likely start to lose its flavor!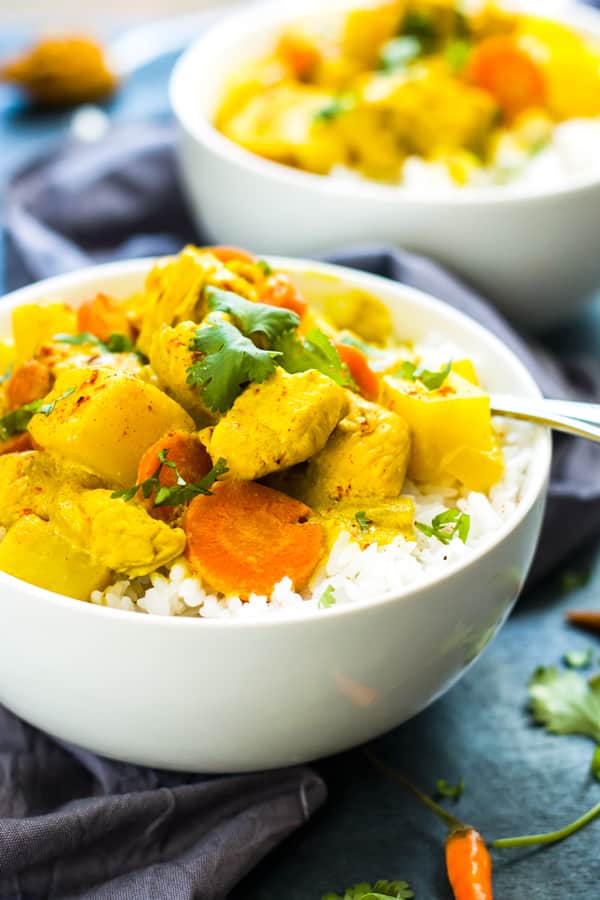 Thai Yellow Chicken Curry with Carrots and Potatoes
Thai Yellow Chicken Curry that is full of traditional Thai flavors, coconut milk, carrots and potatoes. A healthier and gluten-free dinner recipe for those busy weeknights!
Ingredients
Yellow Chicken Curry
2

T.

olive oil

1 1/2

c.

sweet onions

cut into 1-inch pieces

1

lb.

chicken

cut into 1-inch cubes

1 1/2

c.

carrots

cut into 1-inch pieces

1 1/2

c.

white potatoes

cut into 1-inch cubes

2

15-oz. cans

full-fat coconut milk

1

T.

white sugar
Instructions
For the Yellow Curry Paste:
Combine all yellow curry paste ingredients together in the bowl of a small food processor. (If you have a 6+ cup processor you may want to double the recipe.)

Process ingredients for 2-4 minutes, or until ingredients become a thick paste.
For the Yellow Chicken Curry:
Drizzle olive oil into a large pan over medium heat and add onions. Saute for 3-5 minutes.

Add chicken and curry paste. Saute over medium heat for 3-5 more minutes, or until chicken is almost done cooking.

Add carrots, potatoes, milk and sugar. Stir until well combined.

Cover curry and reduce heat to a simmer. Let simmer for 25-35 minutes or until potatoes and carrots are fork tender.

Serve yellow chicken curry over jasmine rice and enjoy!
Recipe Notes
You can double or even triple the Yellow Curry Paste recipe.  If you would like to save the paste for later, store it in an airtight zip-top bag and keep in the refrigerator for up to 2 weeks.
Nutrition Facts
Thai Yellow Chicken Curry with Carrots and Potatoes
Amount Per Serving
Calories 188
Calories from Fat 81
% Daily Value*
Total Fat 9g 14%
Cholesterol 42mg 14%
Sodium 151mg 6%
Potassium 505mg 14%
Total Carbohydrates 14g 5%
Protein 12g 24%
* Percent Daily Values are based on a 2000 calorie diet.
Want more recipes like this Thai Yellow Chicken Curry?
Slow Cooker Chicken Curry with Coconut Milk
Slow Cooker Chicken Tortilla Soup
Spinach & Artichoke Stuffed Spaghetti Squash