If you love spaghetti, then you have to try this authentic, Italian Pomodoro Sauce. Simply sauté onions and garlic, then add fresh tomatoes, and season with basil for the best topping. This recipe is perfect on any pasta, including penne, and makes for a quick and flavorful dinner in less than 30 minutes.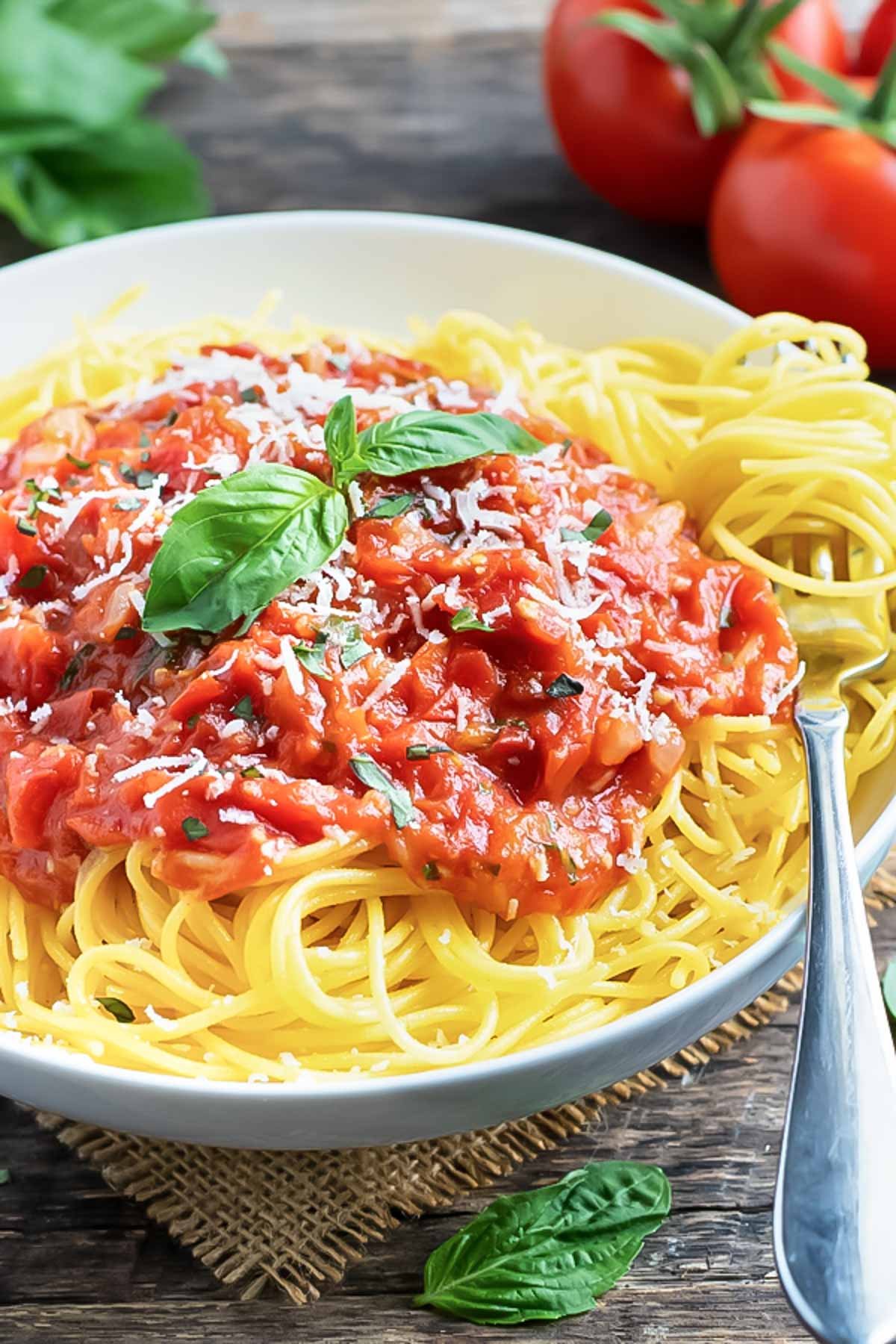 Homemade Pomodoro Sauce Recipe
Brightly colored and flavor-packed tomatoes make this pasta Pomodoro sauce recipe one to make over and over again. You can freeze some for later, or use it all up over a plate of spaghetti noodles.
And just to clear the air, store-bought spaghetti sauce is by no means looked down upon! Heck, I grew up on that stuff and still love to drown a bed of penne pasta in it or make this easy Roasted Vegetable Pasta Bake.
But the depth of flavor from sautéing a skillet full of fresh Campari tomatoes, cloves of garlic, and basil leaves is extremely difficult to find in a jar. And it's so simple to do!
Pomodoro is a lighter tomato-based sauce from Italy and is slightly different than the meat-based Bolognese Sauce, specifically from Bologna. While they have similar ingredients, the biggest difference is the addition of beef or pork.
Want a few other fresh tomato recipes? You might also enjoy this Easy Shrimp Creole, Roasted Tomato Basil Soup, and these Roasted Cherry Tomatoes.
What is Pomodoro Sauce?
Pomodoro sauce is made from tomatoes, garlic, olive oil, and fresh basil.
The Italian word, "Pomodoro" means "golden apple." This yellow-tinted vegetable was the first type of tomato grown in Italy and used in this kind of sauce.
The flavor comes from sautéing onions and garlic, then allowing the tomato mixture to simmer.
This perfect sauce can be served on your favorite pasta or even with bread.
Ingredients
The simple ingredient list you need to make this classic Italian tomato sauce is:
Oil. Get good quality extra-virgin olive oil for the most authentic flavor. Avocado oil can be used if needed, though.
Onion. A sweet onion perfectly complements the acidity of the tomatoes. A yellow onion or white onion can be subbed.
Garlic. Fresh minced garlic is essential to create a flavorful base. Try not to use garlic powder, as the sauce won't turn out the same.
Tomatoes. When selecting whole tomatoes for a homemade sauce, there are a few types that are easy to find in the grocery store and taste great. Campari is one of the best types to use due to their juiciness, low acidity, and high sugar levels. They are also a very beautiful red color that will give your sauce a gorgeous hue. San Marzano tomatoes are not as easy to find in grocery stores, but if you can, pick some up because they will be incredible! Vine-ripened is also another great variety to use and they are easy to find. Roma is definitely lower on the list, since they tend to not be super flavorful when found in the grocery store. However, if they are homegrown, they will work perfectly! Avoid canned tomatoes or tomato paste.
Basil. There might not be a better combination in food than tomato and basil. Most types of fresh basil should work. Sweet is the most readily available.
Noodles. This sauce is delicious on just about any type of pasta, including spaghetti, linguini, penne, or capellini. Opt for a gluten-free variety, if needed. Or, change it up and serve it over gnocchi!
Pro Tip: Try to avoid cherry or grape tomatoes since their skins are pretty tough and will not cook down as well as the above varieties.
How to Make Pomodoro Sauce
This is a relatively easy Pomodoro sauce recipe since it only requires a few ingredients and under 30 minutes to cook.
Cut the Veggies
Finely dice 2 ½ pounds of tomatoes and ½ sweet onion. Here are some tips on how to dice an onion.
Mince the garlic, as well.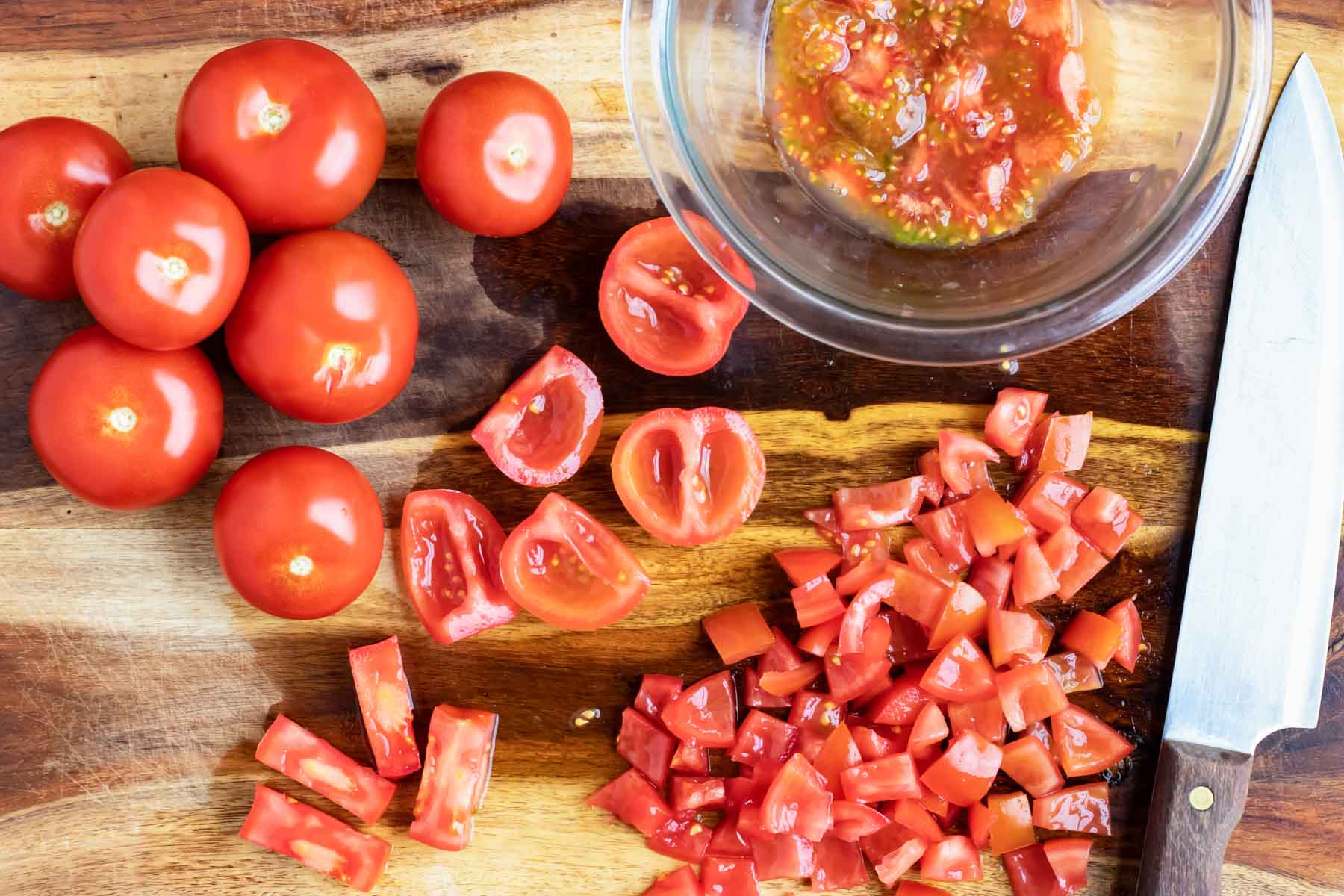 Make the Base
Sauté the onion in olive oil over medium-high heat until it turns slightly translucent. This should take around 2 to 3 minutes.
Add the minced garlic and continue sautéing for 1 minute. You should smell the garlic clearly.
Reduce and Simmer
Turn the heat to medium-low. Add in the diced tomatoes and sugar if you're using it.
Be sure to stir regularly, and allow the tomato mixture to cook for 15 to 20 minutes.
When there are about 5 minutes left, start to crush the tomatoes with the back of a wooden spoon. As you push on the tomatoes, the sauce will thicken. Stop when you reach your desired consistency.
Season and Serve
Reduce the heat to low.
Mix in the fresh basil and kosher salt. Stir and taste. If needed, add in more.
Serve Pomodoro sauce over penne pasta, spaghetti, or capellini with additional fresh basil and Parmesan cheese.
Pro tip: Save some of the pasta water to thin out the sauce if needed.
Meal Prep and Storage
To Prep-Ahead: You can easily make this sauce up to 2 to 3 days before you need it.
To Store: Keep the leftover sauce in an airtight container in the fridge for up to 4 to 5 days.
To Freeze: Much like many other tomato-based sauces, this one freezes exceptionally well. To freeze any leftover Pomodoro sauce, simply cool it to room temperature, store it in an airtight freezer-safe container in the refrigerator for at least 4 hours, and then freeze for up to 3-4 months.
To Reheat: Simply let it thaw in the refrigerator for 1-2 days and then reheat in a saucepan or in the microwave.
What's the difference between Pomodoro sauce and marinara sauce?
The main ingredients in Pomodoro sauce are the same as those in marinara: tomatoes, basil, garlic, and olive oil. The main difference is in their consistency and cooking methods.
Pomodoro sauce is traditionally simmered longer, 20-30 minutes, or even for hours, resulting in a slightly thicker and deeper red color. It also begins with finely diced fresh tomatoes and has a smoother consistency. Marinara sauce is cooked more quickly and has a brighter, slightly orange hue. It starts with large chunks of fresh tomatoes and is chunkier and slightly runny.
What does Pomodoro sauce taste like?
Pomodoro sauce, much like other tomato-based sauces, has a strong, slightly tangy, and delightfully savory tomato flavor that is just a little sweet. Generally, it is smooth and seasoned perfectly with herbs like basil.
What are the different types of tomato sauce?
If you're looking for a simple tomato sauce recipe from Italian cuisine, there are many to pick from. Marinara is a classic type, Bolognese has meat, Puttanesca contains added capers and olives, and Vodka cream sauce, like the name, uses vodka and cream. Of course, Pomodoro is a simple yet flavorful sauce with onion, garlic, and basil.
Expert Tips and Tricks
Go for flavor. The outcome will be greatly affected by your tomato choice, so be picky.
Mix it up. Experiment with changing up the fresh herbs, and try oregano or parsley.
Mash it good. Use the back of a wooden spoon or even a meat masher to really crush the tomatoes if you want a smoother sauce.
Low and slow. The longer you let the sauce simmer, the deeper and bolder the flavors will become.
Wait 'til the end. Add the basil and sugar after simmering the sauce, and just a little at a time. You can always increase the amount if needed.
Spice it up. For a kick, add a pinch of red pepper flakes.
More Sauce Recipes
You might be surprised how simple it actually is to make your own sauces at home after trying this classic Italian Pomodoro.
Teriyaki Sauce is perfect for an Asian night. Or try this Red Enchilada Sauce or Mole Sauce for a Mexican celebration.
When Thanksgiving rolls around, put this Orange Cranberry Sauce on the menu.
Buffalo Wing Sauce is spicy and flavorful.
More Easy Italian Recipes
If you're craving authentic Italian food, be sure to put these recipes on the menu soon.
Fresh Tomato Bruschetta, Italian Wedding Soup, and Minestrone Soup are delicious ways to start your meal. Or top a side salad with Olive Garden Italian Dressing.
For the main course, try this Mozzarella-Stuffed Meatloaf, Olive Garden Chicken Marsala, or Lemon Chicken Piccata.
Easy Pomodoro Sauce Recipe
If you love spaghetti, then you have to try this authentic, Italian Pomodoro Sauce. Simply sauté onions and garlic, then add fresh tomatoes, and season with fresh basil for the best topping.
Ingredients
2

Tbsp.

olive oil

½

cup

sweet onion

seeds removed, finely diced

5

cloves

garlic

crushed

5

cups

tomatoes

about 2 ½ pounds, finely diced

1

tsp.

sugar

optional

2

Tbsp.

basil

fresh, cut into thin strips

½

tsp.

salt

to taste

Parmesan cheese

optional
Instructions
In a medium pot sauté olive oil and diced onion over medium heat for 2-3 minutes, or until onion is slightly translucent. Add crushed garlic and continue sautéeing for 1 minute.

Add tomatoes and sugar. Keep sauce over medium-low heat and sauté for 15-20 minutes, stirring occasionally.

During the last 5 minutes, start crushing the tomatoes with the back of your spoon. Do this until all tomatoes are completely crushed.

Stir in basil and salt to taste. Reduce heat to low. Let simmer for 2-3 minutes.

Serve with spaghetti or penne pasta, extra basil, and fresh Parmesan. Enjoy!
Recipe Notes
Campari, vine-ripened, or fresh garden tomatoes will all work great in this recipe.
Feel free to leave out the sugar if you prefer your sauce less sweet.
Can also sub vegan Parmesan cheese.
A few of my favorite gluten-free pastas:
Nutrition Facts
Easy Pomodoro Sauce Recipe
Amount Per Serving
Calories 136
Calories from Fat 72
% Daily Value*
Fat 8g12%
Sodium 254mg11%
Potassium 737mg21%
Carbohydrates 15g5%
Protein 3g6%
Vitamin A 2750IU55%
Vitamin C 42.8mg52%
Calcium 53mg5%
Iron 1.1mg6%
* Percent Daily Values are based on a 2000 calorie diet.