Is cornbread gluten-free? The short answer: it depends on the type of cornmeal and flour that is used. Find out how you can tell if it's gluten-free, learn ways to make homemade cornbread recipes, and which cornbread mixes you can purchase online or at your nearest grocery store.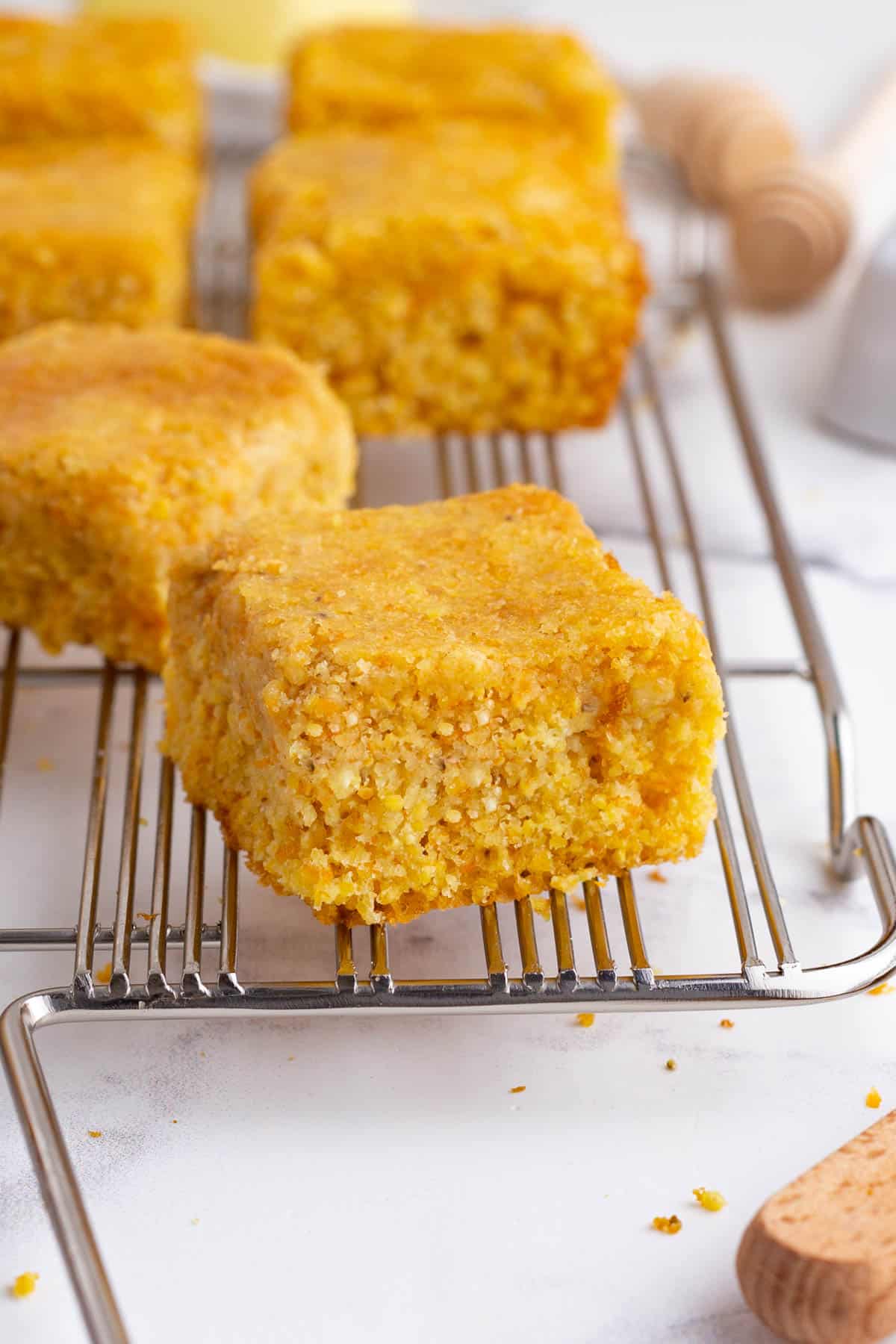 Yes, cornbread can be gluten-free. Is it always gluten-free? Absolutely not.
It's possible to find gluten-free cornbread at your local grocery store or restaurant, but you'll want to make sure to read the label carefully. Most store-bought cornbread uses a combination of wheat flour and cornmeal. This makes it tricky to find the perfect cornbread that fits your dietary needs.
You can also safely make it gluten-free at home by using a certified gluten-free flour along with certified gluten-free cornmeal.
You'll then be able to enjoy a hearty bowl of chili that is perfectly spiced with your version of the best cornbread to top it off!
Does cornbread contain gluten?
Yes, cornbread does contain gluten, but it depends on the flour that is being used. If the ingredients to your homemade recipe or store-bought mix contains wheat flour, then it is absolutely NOT gluten-free. However, you can simply substitute with certified gluten-free flour to alter recipes.
By this logic, making cornbread gluten-free requires no extra thought, right? Unfortunately, that's not the case despite the fact that corn is a gluten-free grain. Since corn is a grain that often gets manufactured at the same factories as other gluten-containing grains, there is a high chance for cross contamination with these corn products.
Can I have cornbread on a gluten-free diet?
Yes, but only if it's made with certified gluten-free corn and gluten-free all-purpose flour.
Check out these Mini Cornbread Muffins that can be easily altered with gluten-free flour and this Gluten-Free Cornbread.
Does regular cornmeal have gluten?
It shouldn't, but it does have the potential for cross-contamination. Cornmeal itself doesn't contain gluten, so it is gluten-free. It could be made in a shared facility with gluten products, so make sure to look for the certified gluten-free label.
Does Jiffy cornmeal have gluten?
Yes. Jiffy's corn muffin mix contains wheat flour; therefore, causing it to have gluten. Jiffy's website confirms that their products are not processed in non-gluten factories. But, keep reading to see which other brands are better options for your dietary needs and taste preferences.
How much gluten does cornbread have?
In store-bought cornbread mixes, you'll find that it is half cornmeal and half wheat flour causing gluten to be a prominent ingredient.
What cornbread brands are gluten-free?
Arrowhead Mills, Bob's Red Mill, P.A.N. Cornmeal, and Yummmy Cornmeal are a few common store-bought cornbread mixes.
Bob's Red Mill cornbread mix contains whole grain sorghum flour which is an excellent gluten substitute.
On the other hand, Arrowhead Mills has a recipe that includes their gluten-free yellow cornmeal and organic all-purpose flour.
P.A.N. Cornmeal has a pre-cooked gluten-free white cornmeal that is made by simply adding water to create the batter.
If you desire a more coarse cornmeal, Yummmy Cornmeal is the way to go.
Conclusion
If you're wanting to triple check to ensure that you are safely eating gluten-free cornbread, check out these gluten-free Sweet Mini Cornbread Muffins. But, if you need that savory and spicy kick, make this Honey Jalapeño Cornbread. For a Southern twist, bake this Cajun Cornbread Dressing with Sausage. You don't want to miss out on these easy and moist gluten-free recipes!
FAQs
What is cornbread made of?
Traditional cornbread is a mixture of cornmeal, milk, flour, eggs, and butter. It is usually mixed together all in one bowl and then baked in the oven.
What is gluten?
Gluten acts as the "glue" and helps hold wheat, barley, semolina and other wheat products together to maintain their shape. Gluten is a naturally occurring grain; therefore, it is impossible to strip it away. So when gluten isn't present, we still need something to bind the flour or dry ingredients to the wet ingredients. A gluten substitute, one like xanthan gum, can be used in its place to make gluten-free baked goods.
What are common gluten-free substitutes?
Arrowroot, flax, polenta, rice, and bean flours and starches are commonly used as replacements for gluten.