Yams vs. sweet potatoes… Are they really the same or are they different vegetables? There are many varieties of sweet potatoes and yams, so let's learn about their distinct characteristics, when to use them, and how to incorporate them into any dish—even Thanksgiving dinner!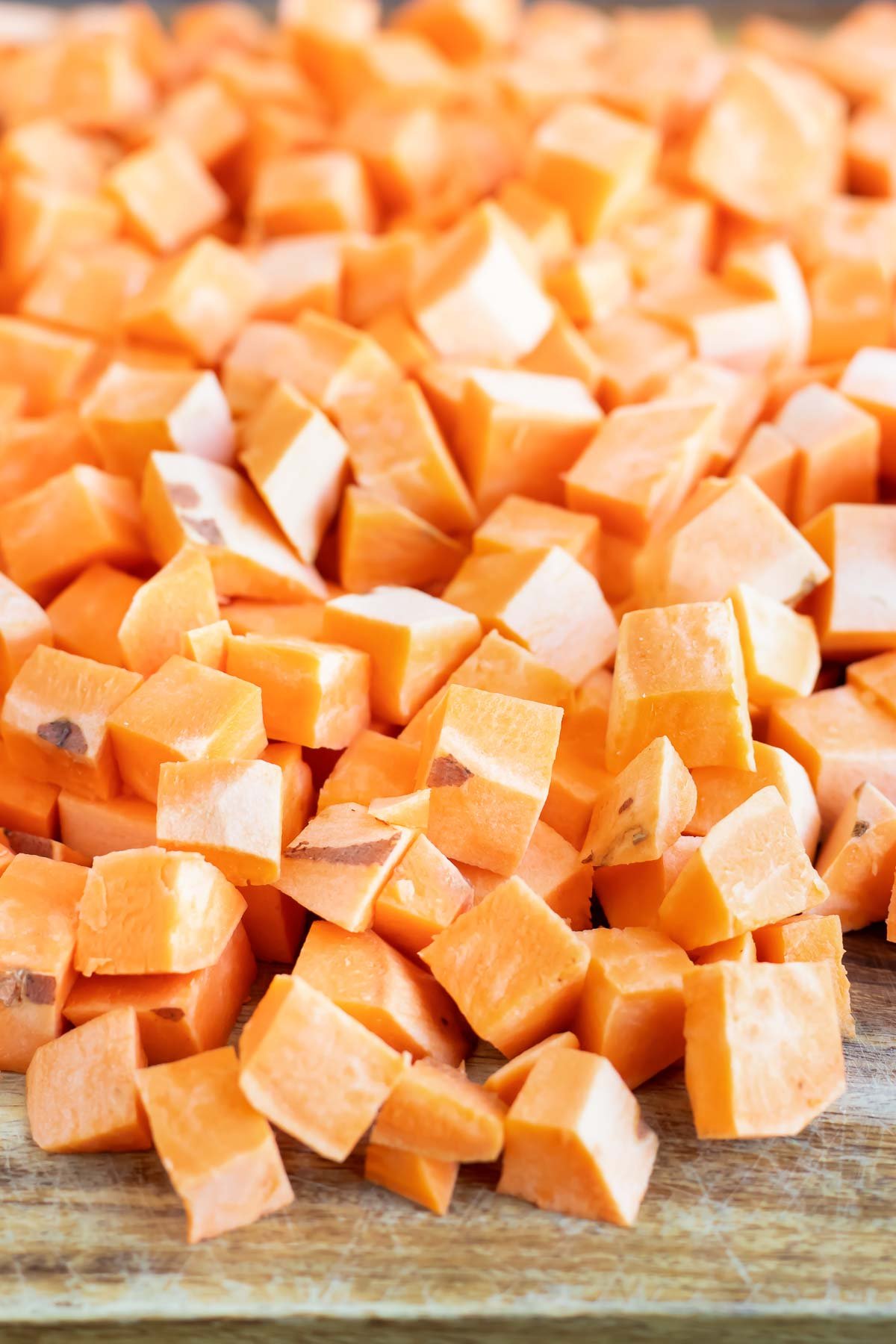 What is a yam?
Yams are a root vegetable with a bark-like, brown skin (almost wart-like looking) and a very light, pale white flesh. Yams have more of a neutral flavor and often complement the flavors of other ingredients in your dish. They are a plant species from the dioscorea family that originate from West African cuisines and parts of Asia. There are multiple different types, including white, yellow, and purple, to name a few. Yams can be prepared by baking, boiling, and frying.
What is a sweet potato?
Sweet potatoes have a sweet taste and soft texture when cooked. Their flesh is commonly orange, but can also be white or purple. Sweet potatoes are more widely found in American grocery stores, but they are distinct from more "regular" potatoes like Russets. They come from the ipomoea batatas plant family and originate from Central and South America and the United States. Sweet potatoes have become more popular over the years because of their nutritional profile, so check out this Are sweet potatoes healthy? post that talks all things health benefits.
(Does this post have you craving a quick fix? Here's How to Microwave a Sweet Potato for the fastest, most nutritious on-the-go snack or dinner. If you have more time, you can Boil Sweet Potatoes or learn How to Bake Sweet Potatoes.)
What is the difference between yams & sweet potatoes?
Yams have rougher skin and a coarser and dryer flesh, while sweet potatoes have smooth skin and creamy, sweet flesh.
While people might call and use yams and sweet potatoes interchangeably, they are definitely a part of different plant families. Even though they are both root vegetables, yams flourish in more tropical climates, whereas sweet potatoes grow more commonly in North America and Europe.
Cultural differences between yams and sweet potatoes?
Sweet potatoes are seen as more of an American food, whereas yams are more popular in international markets.
Sweet potatoes play a central role in many American diets. They promote healthy weight loss and are full of nutritional benefits (learn more in Are sweet potatoes healthy?). They are also a key feature of many traditional Thanksgiving and Christmas holiday dinners.
Yams have their roots in Africa and are at the center of many different cultures on the continent. For West Africans, in particular, yams are viewed as life-giving and are honored with their own festivals. Historically, if a town was having a hard time with crops, they would replace the crops with yams to symbolize a new beginning.
Are yams or sweet potatoes healthier?
All things considered, both yams and sweet potatoes are healthy for you and provide a wide range of nutrients. Comparing the two might help you better understand their slight differences AND to know if one might better suit your nutritional needs.
For one cup of each raw vegetable, each yield:
| | | |
| --- | --- | --- |
| Yams | | Sweet Potatoes |
| 177 | Calories | 144 |
| 2 g | Protein | 2 g |
| 42 g | Carbohydrates | 4 g |
| 6 g | Fiber | 4 g |
| 1 g | Sugar | 6 g |
| 25 mg | Vitamin C | 3 mg |
| 26 mg | Calcium | 40 mg |
| 31 mg | Magnesium | 33 mg |
Sweet potatoes are considered to have more antioxidants and soluble fiber than yams, and they also have a lower calorie count.
Ultimately, they're both super beneficial for you. Each brings different flavor profiles to your dishes, so it's up to you, the type of foods you make, and your taste preferences. Because they're so good for you, what's most important is finding a way to incorporate at least one of them into your diet!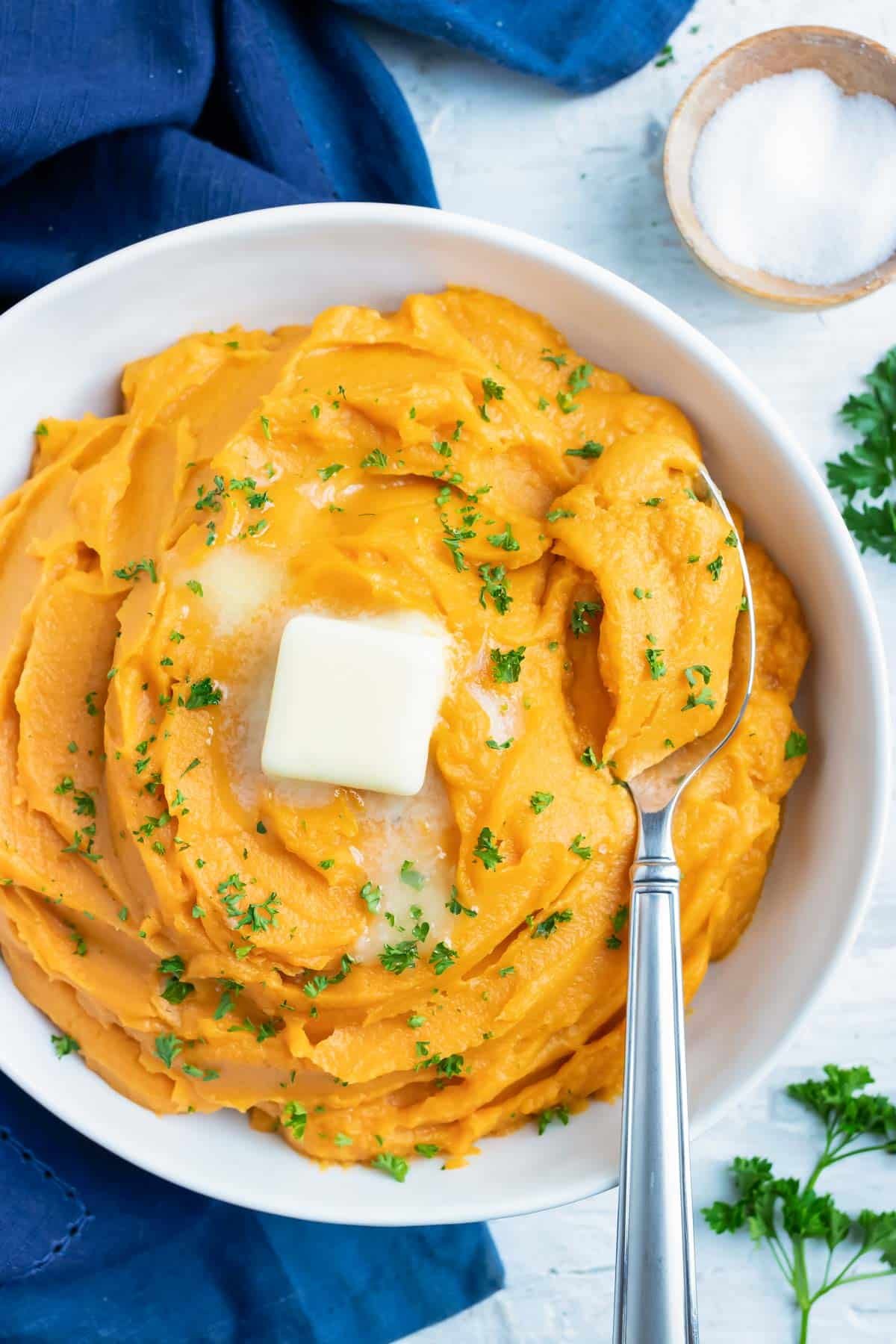 When to use yams vs. sweet potatoes?
​Yams and sweet potatoes, while varying slightly in texture and taste, can be used relatively interchangeably, especially in savory dishes (for baking and sweeter recipes, you're probably better off using sweet potatoes). Try each of them out in some of these classic options:
How to pick and store a yam and sweet potato?
Both yams and sweet potatoes should be firm. Avoid soft spots, cracks, or wrinkles. Storing sweet potatoes and yams are the same: in a dark, cool place at room temperature which will ensure a long shelf life of 3-5 weeks or in your fridge for up to 3 months. Once they are cut, they will last up to 24 hours in your fridge.
Best Yam & Sweet Potato Recipes
You can't go wrong with any of these 20+ Healthy Sweet Potato Recipes, but some of the best ways to enjoy this nutritious root vegetable (and its cousin, the yam!) include: