If you have a gluten intolerance, you might be wondering, is couscous gluten-free? Because it's a type of pasta that uses wheat flour, the answer is no. However, there are excellent gluten-free alternatives with similar taste and texture! Try them as substitutes in couscous recipes like the ones included below.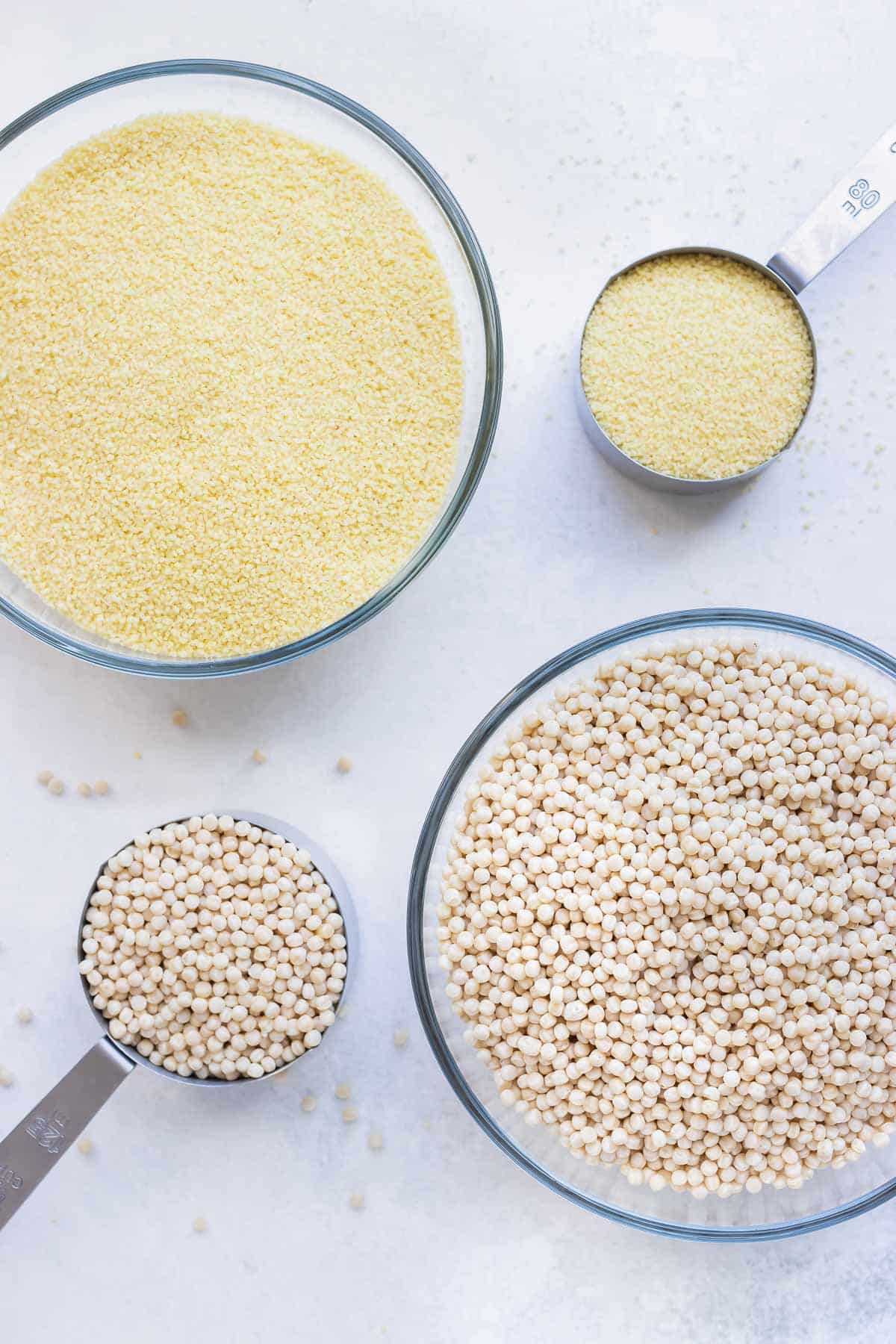 What is couscous?
Couscous is a type of pasta (think pasta spheres) that's made with durum wheat semolina flour. It originates from North Africa and the Middle East. In US grocery stores, you'll commonly find it in the pasta aisle.
Couscous has many health benefits! For more on this, take a look at this post, Is Couscous Healthy?.
Does couscous have gluten?
Yes, couscous does contain gluten. Because it's made with semolina wheat flour, it is unsafe for someone who has a dietary restriction to gluten, gluten-related disorders, or celiac disease.
But the best part is that there are ample alternatives that use gluten-free grains and have a similar texture to couscous.
What is the couscous gluten content?
The semolina hard durum wheat used in couscous is a high gluten flour. Durum contains 27% of wet gluten. This gluten content is 3% higher than your average everyday wheat. With that being said, this makes regular couscous highly intolerable to people who have a non-celiac gluten sensitivity.
Best Gluten-Free Couscous Substitutes
Here is a list of gluten-free products that give you many ways to enjoy the similar taste of traditional couscous.
Plain Quinoa
A good gluten-free substitute in place of couscous is quinoa. Like couscous, it is not a complete whole grain, so you'll benefit from pairing it with other foods to round out your meal. It's smaller than couscous, but still holds that round shape you're looking for.
Fonio
One of the gluten-free substitutes that highlights the nutty flavor you get from couscous is fonio. Fonio looks and feels like sand. You prepare fonio the exact same way as couscous. You aren't missing out on essential nutrients with this staple food.
Sorghum
Sorghum is a nutty, hearty substitute that looks similar to the small spherical shape of couscous. It is sweeter in taste, but it can be cooked to your taste preference easily.
Amaranth
Amaranth is a substitute that is derived from grass. It's still nutty and is best prepared by toasting it in a skillet before cooking to bring out its depth of flavor.
White Rice or Brown Rice
This is the most common substitute for many gluten-free grains, and it's the easiest to prepare. You can use a variety of grain lengths to make it as close to the shape of couscous as possible. Different types of rice, in addition to other colors and shapes, have different flavor profiles, giving you a variety of options.
Millet
Millet is the closest substitute to couscous because it is similar in size and texture. It can be eaten hot or cold like couscous, and has more protein than most gluten-free grains.
Cauliflower Rice
Cauliflower rice is not just used for a couscous substitute, but for rice too. It's similar in size to couscous and can be used as a great base for multiple types of dishes.
Gluten-Free Couscous
Here's a list of gluten-free couscous brands that you can use in place of traditional couscous. Be sure to always check the ingredient list to make sure you're consuming only gluten-free ingredients. If the package is labeled as gluten-free, then you can be sure that the couscous was processed in a gluten-free facility.
Gefen Gluten-Free Pearl Couscous. It is delicious, easy to make, versatile, nutritious, and gluten-free certified.
Shipetaukin Fonio Gluten-Free Couscous. Hearty, healthy, plant-based protein, gluten-free, and vegan.
Clearspring Organic Gluten-Free Instant Couscous. The simplest and fastest way to make couscous at home.
Yolele Fonio Precooked Gluten-Free Couscous. Gluten-free, vegan, and paleo all at once.
Imphex Thiere Millet Gluten-Free Couscous. Healthy, delicious, nutritious, and safe to eat.
Gluten-Free Couscous Recipes
For other alternatives to couscous, check out this post answering the question, is brown rice healthier than white rice? Additionally, try out this Instant Pot White Rice Recipe if that's what you have on hand. A really easy, yummy couscous alternative is found in this post about How to Make Cauliflower Rice.
For any brand that's Israeli Pearl or Instant couscous—gluten-free or not—tread through this post about How to Cook Couscous. You can easily replace gluten couscous with gluten-free couscous for this Mediterranean Couscous Salad with Tomatoes for your next Saturday brunch.
You can always make this Cilantro Lime Cauliflower Rice Recipe if you're in a time crunch and can't get a gluten-free couscous right away. Try out this 15-Minute Curry Cauliflower Rice if you're wanting a savory couscous-like dish.