Quick and easy gluten-free chicken noodle soup is the perfect remedy for the cold and flu season!  In under 30-minutes, you will be sitting down to a bowl full of America's favorite classic soup recipe.
Easy Chicken Noodle Soup
This recipe was actually created about 2-3 months ago when I came down with the most wicked of colds.
Low-grade fever, body aches, and a cough that lasted 3 weeks.
It.  Was.  Miserable.
Let's just say I spent a lot of time on the couch watching Christmas movies (Yes!!  In September) and cuddling with my dog, Tevah. <– I didn't want to get Cohl sick!
It was a little too early into the cold and flu season to post this quick and easy chicken noodle soup recipe.  You know there is this thing called "timeliness" when it comes to food blogging and you want to post your recipe when it is most applicable to your audience.
Well, this week finally came, and there was that "30-Minute Easy Chicken Noodle Soup" recipe on my Google calendar.
It felt like FOREVER ago that I was hit with that massive cold.  Would I remember what it felt like to drag myself into the kitchen and throw what ingredients I happened to have into a pot?
But little did I know it, here I am with my second cold of the season.
I think my body is telling me that I need to load up on antioxidants and limit my number of Paleo Chocolate Chip Cookies. 🙂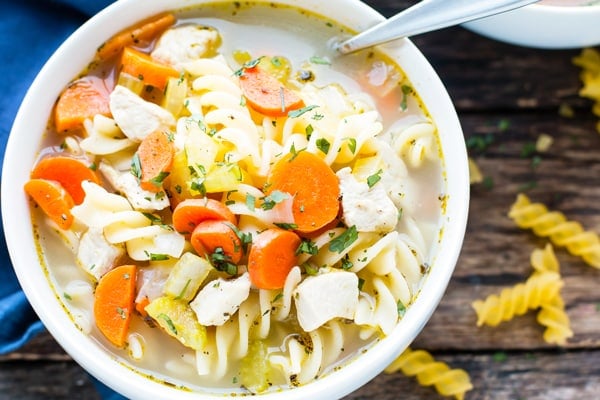 Whether you are coming down with a cold, caring for someone that has one, or just want a warm and cozy soup… this easy chicken noodle soup recipe needs to happen.
Let's look at a major keyword here…
EASY.
There is no whole chicken or making of your own chicken stock.
I know, that is where a LARGE majority of the nutrition comes from in a chicken noodle soup.
But who has time to wait for the stock to simmer when your head is full of congestion, your nose won't stop running, and you can't seem to locate that precious box of tissues.
Gluten-Free Chicken Noodle Soup in Under 30 Minutes
This easy chicken noodle soup recipe can be made in under 30 minutes.
Yup, you heard me right.
Get your chicken going in the pot, cut up a bunch of veggies, and throw it all together with your favorite store-bought chicken broth.
No shame in my game here.  It.  Is.  Delicious!

How Can You Evolve this Easy Chicken Noodle Soup?
A few ways you can make this quick and easy chicken noodle soup even healthier:
Use gluten-free noodles.  I definitely do this because, why not?  They taste great and work better with my tummy.
Add more veggies!  Throw in whatever you have… zucchini, squash, bell peppers, kale, or spinach!
Use chicken bone broth in place chicken broth.  Definitely A LOT more nutrition!
30-Minute Easy Chicken Noodle Soup
Ingredients
2

Tbsp.

olive oil

1

cup

sweet onion

finely chopped

1

cup

carrots

cut into bite-sized pieces

½

cup

celery

cut into bite-sized pieces

2

cloves

garlic

crushed

1

lb.

chicken breasts

cut into bite-sized pieces

1

tsp.

salt

½

tsp.

pepper

½

tsp

dried sage

½

tsp.

dried thyme

3-4

cups

chicken broth

3

cups

water

2

cups

almond milk

unsweetened

6

oz.

rotini pasta

gluten-free
Instructions
In a large pot or Dutch oven drizzle olive oil and add onion, carrots, and celery.

Saute over medium heat for 3 minutes.

Add garlic and continue cooking over medium heat, stirring occasionally.

Add chicken cubes and cook for 4-5 minutes, or until chicken is almost cooked through.

Next, add salt, pepper, sage, thyme, chicken broth, water, and almond milk.

Increase heat to high and bring soup to a boil.

Once soup is boiling, add pasta and cook for 7-10 minutes, or until noodles are cooked through.*

Serve with additional salt to taste and enjoy!
Recipe Notes
*Noodles will continue to absorb liquid if you save soup as leftovers. To prevent this, you can divide the soup and only add as many noodles as you want at that time. When you reheat the soup, simply bring the soup to a boil and cook noodles for 7-10 minutes.
Nutrition Facts
30-Minute Easy Chicken Noodle Soup
Amount Per Serving
Calories 274
Calories from Fat 72
% Daily Value*
Total Fat 8g 12%
Cholesterol 48mg 16%
Sodium 976mg 41%
Potassium 558mg 16%
Total Carbohydrates 27g 9%
Protein 21g 42%
* Percent Daily Values are based on a 2000 calorie diet.
Want more recipes like this 30-Minute Easy Chicken Noodle Soup?
Roasted Butternut Squash Soup with Coconut Milk
Easy Slow Cooker Chicken Tortilla Soup
Crock-Pot Broccoli Cheese Soup