You're only 5 ingredients away from making the BEST homemade Sriracha Mayo recipe! This spicy sauce is ready in 5 minutes by mixing sriracha, mayonnaise, lemon, and garlic into creamy perfection. Use as a dip for French fries, or as a sauce to add a kick to sushi, burgers, or fish tacos!
Easy Sriracha Mayo Sauce
Back when I lived in San Antonio there was this very popular restaurant called The Cove.
I was absolutely OBSESSED with their sweet potato fries served with a side of sriracha mayo. So much so that I would often ONLY order fries with that addicting sauce for dinner!
After recently recreating and perfecting their Baked Sweet Potato Fries, the sauce was next in line.
So after a little tweaking and lots of taste-testing, this Sriracha Mayo recipe was born – and ya'll! It's so incredibly good!
You may initially think this big batch will last you AT LEAST a week. But fair warning – it tastes great on EVERYTHING!
In addition to using it as a dipping sauce, drizzle it on eggs, fish tacos, sushi rolls, or use as a spread on Sweet Potato Black Bean Burgers.
But luckily this spicy mayo is so quick and easy to make, you can have another batch ready to enjoy in less than 5 minutes!
Ingredients
The simple ingredients you need to make this sriracha mayo include:
Sriracha Sauce. This spicy sauce is also a little sweet and gives this mayo a wonderful kick of flavor. Read more below about the different types of hot sauce and substitutions you can try.
Mayo. Regular store-bought mayo, such as Duke's or Hellman's, is the best tasting for this recipe. However, an avocado oil- or plant-based mayonnaise will work as well. This popular condiment is easy to find.
Lemon Juice. Just a touch of fresh lemon juice helps to balance out the richness of the mayonnaise. If you don't have this on hand you can squeeze in some lime juice instead.
Garlic. One small fresh garlic clove is crushed and then mixed in. You can also use ¼ teaspoon of garlic powder.
How to Make Sriracha Mayo
Here are the simple steps to follow to make this spicy mayo recipe:
Combine Ingredients
Add all ingredients to a medium-sized bowl. You can adjust the ratio of mayo-to-sriracha if you like it a bit spicier.
If you plan on storing the sauce for future use, you can save dishes and mix in an airtight container.
Mix Well
Stir until well combined.
Using a whisk is the best way to make sure all of the flavors are incorporated.
Sriracha Sauce and Substitutions
Up until recently this was a pretty hard-to-find hot sauce. However, with the boom of popularity you can now find all sorts of brands that create this Asian sauce.
Yellowbird's Blue Agave Sriracha is my personal recommendation since it's made with wholesome ingredients.
Huy Fong is a very popular brand and can be found in most grocery stores.
You can normally find sriracha sauce in either the condiment aisle or the ethnic or Asian food aisle at your grocery store.
If you're having a hard time finding sriracha sauce, you can also use whatever hot sauce you have on hand. Frank's Red Hot and Tabasco sauce are great substitutions. But do note, the spice level of these other hot sauces varies drastically. It's best if you add them in smaller increments and taste after each addition.
Meal Prep and Storage
To Prep-Ahead: This sauce is great to meal prep ahead since it lasts for so long!
To Store: Seal the sriracha mayo in an airtight container and keep in the refrigerator. If made with fresh garlic it will last for up to 2 weeks, and up to a month if garlic powder is used.
To Freeze: This will cause the sriracha mayonnaise to separate upon thawing, so it is not recommended to freeze any leftovers.
Dietary Modifications
The recipe you'll find below is already low-carb, gluten-free, vegetarian, and dairy-free as written. Here are some adjustments and substitutions you can make to help it fit your other dietary requirements:
Vegan. Use an egg-free mayonnaise.
Paleo and Whole30. Find a hot sauce without any added sugar.
Keto. You can reduce the carbs even more by using a sugar-free hot sauce.
How spicy is sriracha mayo?
Spicy sriracha mayo is about a 5 out of 10 on the spicy scale when 1½ tablespoons of Sriracha sauce is used or a 3-4 out of 10 when 1 tablespoon is used. Feel free to use more or less depending on your desired spice level!
What is sriracha mayo made of?
The two main ingredients in sriracha mayo are mayonnaise and sriracha. Garlic and lemon juice are great flavor additions as well.
Is sriracha mayo the same as yum-yum sauce?
The two mayonnaise-based sauces are similar, however yum-yum sauce is not as spicy, and has a sweeter taste.
Is spicy mayo healthy?
Because this sauce contains mayo it can be high in fat. To make it healthier, use a low-fat mayonnaise.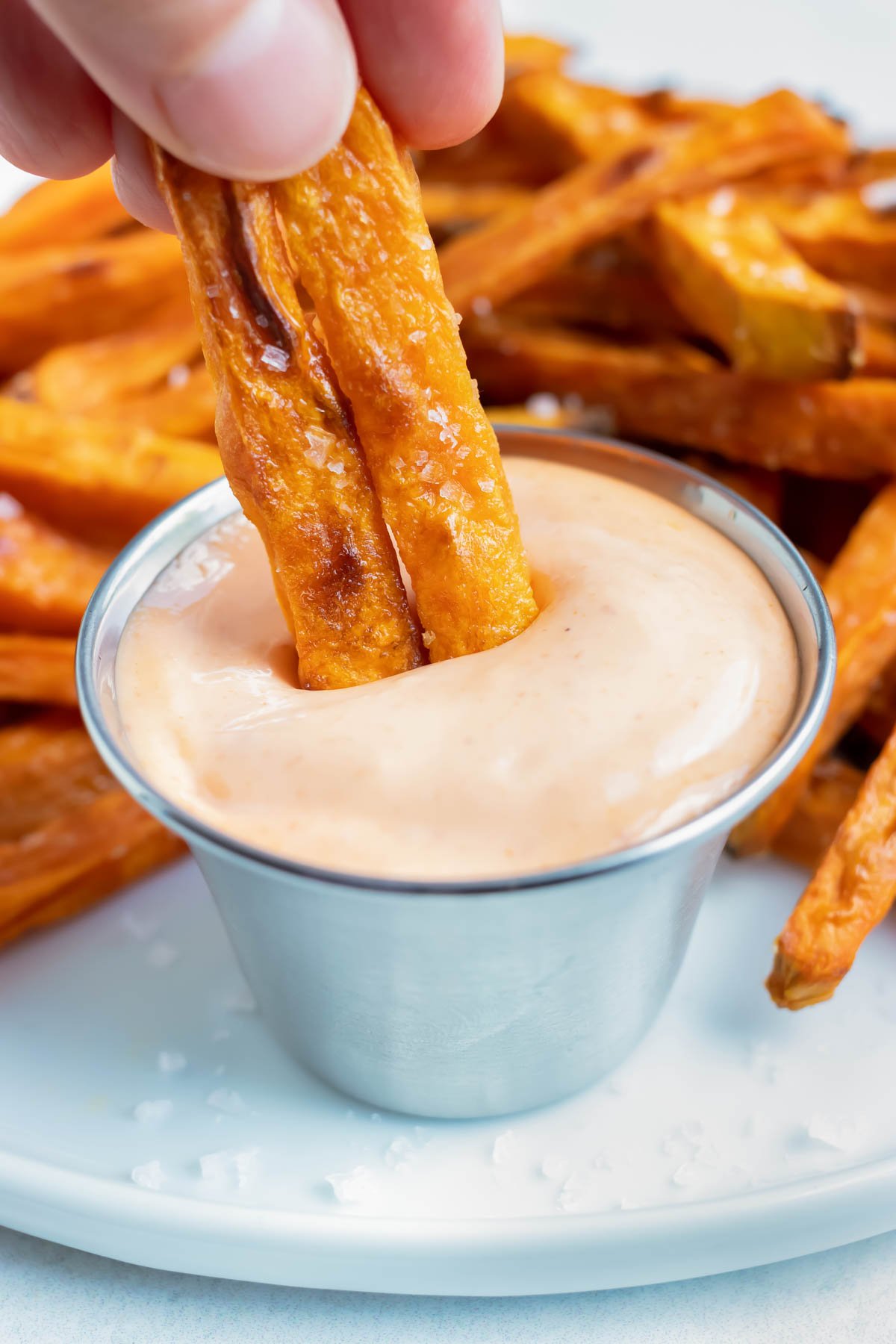 Expert Tips and Tricks
Double the batch. Make extra and enjoy it for weeks.
Get creative. Use this spicy sauce in place of ketchup on all your favorite foods.
Sub it out. Replace sriracha with another hot sauce to mix up the flavor.
Add and taste. This makes it easy to adjust the amount of spice to your liking.
Store it longer. Substitute garlic powder for the fresh garlic and keep the sauce for up to 1 month.
What to Serve With Sriracha Mayo
Have some extra sriracha mayo? Use up this creamy sauce with these tasty recipes:
This sauce is delicious on Baked Potato Wedges, Baked Sweet Potato Fries, and Sweet Potato Hash.
It also takes Shredded Chicken Tacos to a whole new level.
Serve sriracha mayo on Air Fryer Pickles and Air Fryer Zucchini Chips.
Or, top a Sushi Rice Bowl with a spoonful.
Easy Sriracha Mayo Recipe
Learn how to make Sriracha Mayo with this easy recipe. Use as a dip for fries, or to add a kick to sushi, burgers, or fish tacos!
Ingredients
½

cup

mayonnaise

regular, avocado-oil, or vegan

1 – 1 ½

Tbsp.

Sriracha sauce

or other hot sauce

1

tsp.

lemon juice

freshly squeezed

1

small clove garlic

crushed

Salt

to taste, optional
Instructions
Add all ingredients to a medium-sized bowl.

Whisk until well combined.

Sriracha mayo will last in the refrigerator for up to 2 weeks.
Recipe Video
Recipe Notes
This sauce is about a 5 out of 10 on the spicy scale when 1 ½ tablespoons of Sriracha sauce is used or a 3-4 out of 10 when 1 tablespoon is used.
This recipe makes about

½

cup of sauce, or 8 tablespoons.
Nutrition Facts
Easy Sriracha Mayo Recipe
Amount Per Serving
Calories 96
Calories from Fat 90
% Daily Value*
Fat 10g15%
Cholesterol 6mg2%
Sodium 211mg9%
Potassium 7mg0%
Carbohydrates 1g0%
Protein 1g2%
Vitamin A 17IU0%
Vitamin C 4mg5%
Iron 1mg6%
* Percent Daily Values are based on a 2000 calorie diet.