This Cadillac Margarita recipe is all the name implies, the best you can get. To make this top-shelf drink, you only need a few ingredients like reposado tequila, Grand Marnier, fresh lime juice, and agave nectar. Impress your guests with this decadent Mexican cocktail at your next Cinco de Mayo party or get-together.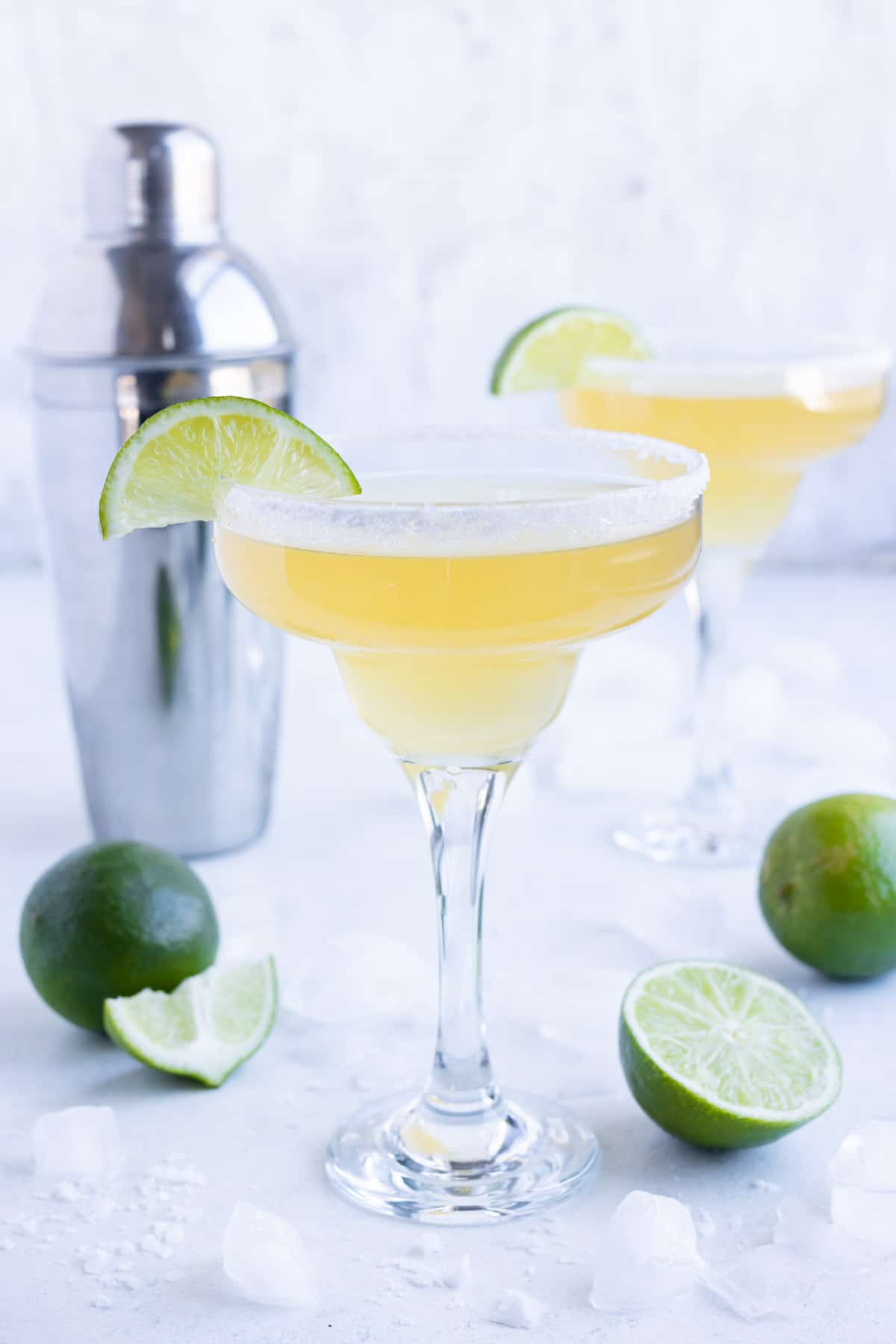 It's safe to say that there really isn't a bad margarita out there.
But, there definitely are BETTER recipes, and this Cadillac Margarita is one of them!
Similar to a classic margarita, you need tequila, orange liquor, and lime juice. However, rather than tequila blanco, you need tequila reposado. Agave syrup tastes better and is healthier for you than sour mix, as well.
But unlike the classic, this one is made with premium ingredients.
Top shelf tequila reposado.
Grand Marnier instead of Cointreau or other orange liqueur.
And just the right amount of agave nectar to balance out that freshly squeezed lime juice.
And fair warning… Because the flavors are so well balanced, these guys are secretly incredibly potent!
Not to mention, it only takes 4 ingredients and less than 5 minutes to whip one up. So they're the perfect addition to your upcoming Cinco de Mayo celebration or girls' night in!
(If you want a little more of a fruity flavor, you've got to check out this Blood Orange Margarita!)
Ingredients
You only need a few simple ingredients to make this Cadillac Margarita:
Tequila. Opt for a reposado, which has been aged longer and has a slightly sweeter flavor than a blanco. However, it doesn't have that whiskey flavor from being aged too long, as anejos do. Pick a good quality tequila since it makes up the bulk of the flavor. Some of my favorites include Lunazul, Espolon, and Cazadores. These brands are all roughly $20 for a 750ml – delivering tons of flavor without a hefty price tag.
Lime juice. Freshly squeezed is best. You need roughly 1 lime to get enough juice for one margarita. Use a citrus juicer or lemon squeezer to get the most liquid out.
Grand Marnier. Elevates the flavors of this drink. This is a higher-quality French orange liqueur. It is slightly more expensive with a more complex taste than Triple Sec and Cointreau.
Agave nectar. You don't need much, just a couple of teaspoons. You can also sub honey or even regular sugar, but agave gives it the most authentic flavor. Agave also mixes in much more easily than honey which tends to harden and crystallize once cold.
How to Make a Cadillac Margarita
The easy steps to make this Cadillac Margarita take only a few minutes. See the recipe card for more detailed ingredient amounts.
Juice and Mix
Roll your lime on the counter back and forth a couple of times. This step releases the juice and makes it easier to get everything out.
Cut your limes in half. Use a citrus juicer or lemon squeezer if you have one. It's ok if you don't, but it will take a little more work. Squeeze over a clean bowl.
Add ice to a cocktail shaker or glass mason jar with a lid until halfway full. Pour in whatever type of tequila you are using, Grand Marnier, lime juice, and agave nectar. Place the lid on tightly.
Shake it Good
Shake the container well for a minute or two. If you are using a cocktail shaker, hold the top on tight so it doesn't come off.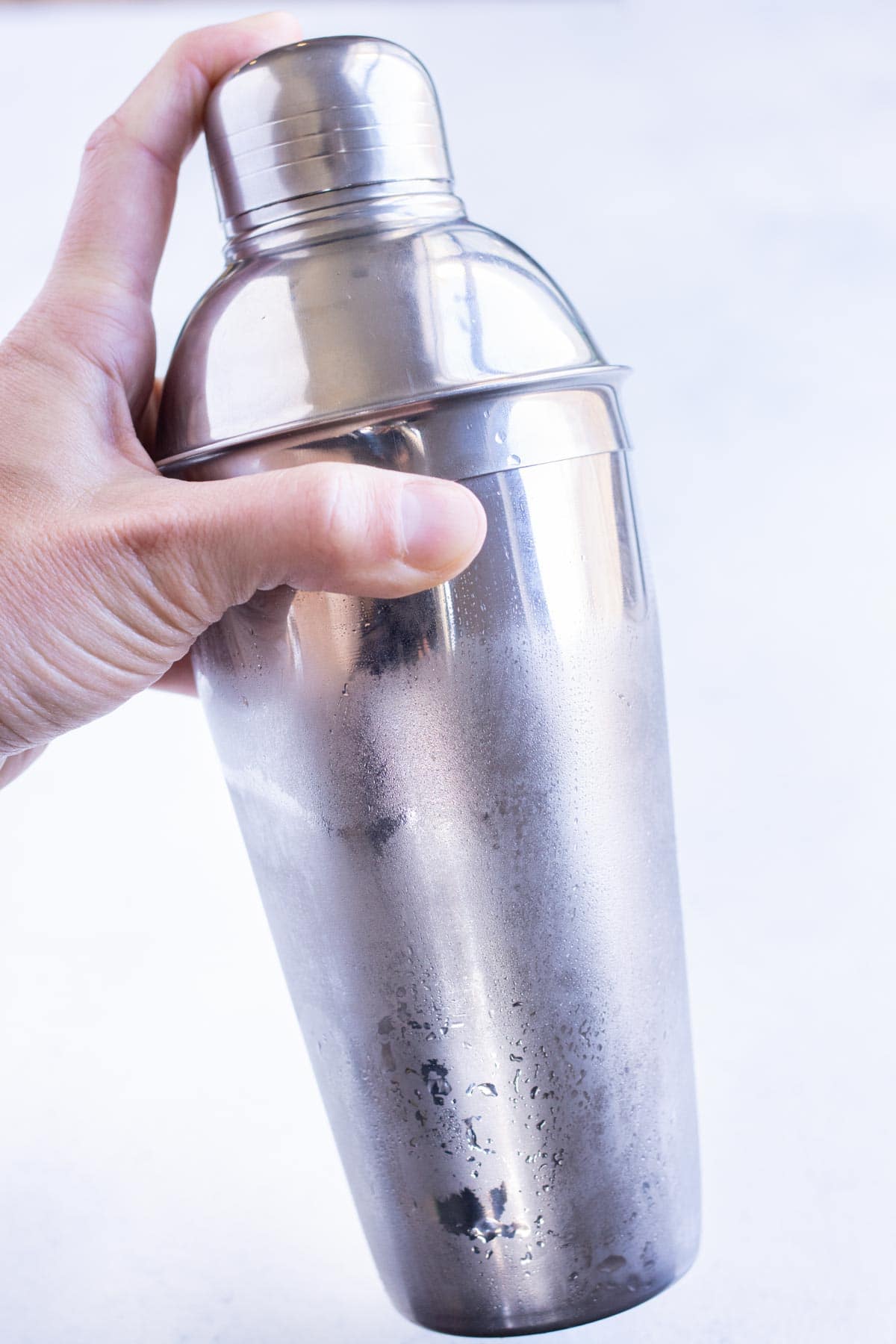 Salt the Rim
If you want that restaurant-quality margarita at home, then you've GOT to give it a salted rim!
Cut a small slit in the middle of a lime slice. Then, rub the lime around the rim of the empty glass, about ½ inch down the side.
Pour some coarse or kosher salt onto a small plate or bowl. Lightly dip the rim of the glass into the salt until the rim is completely coated.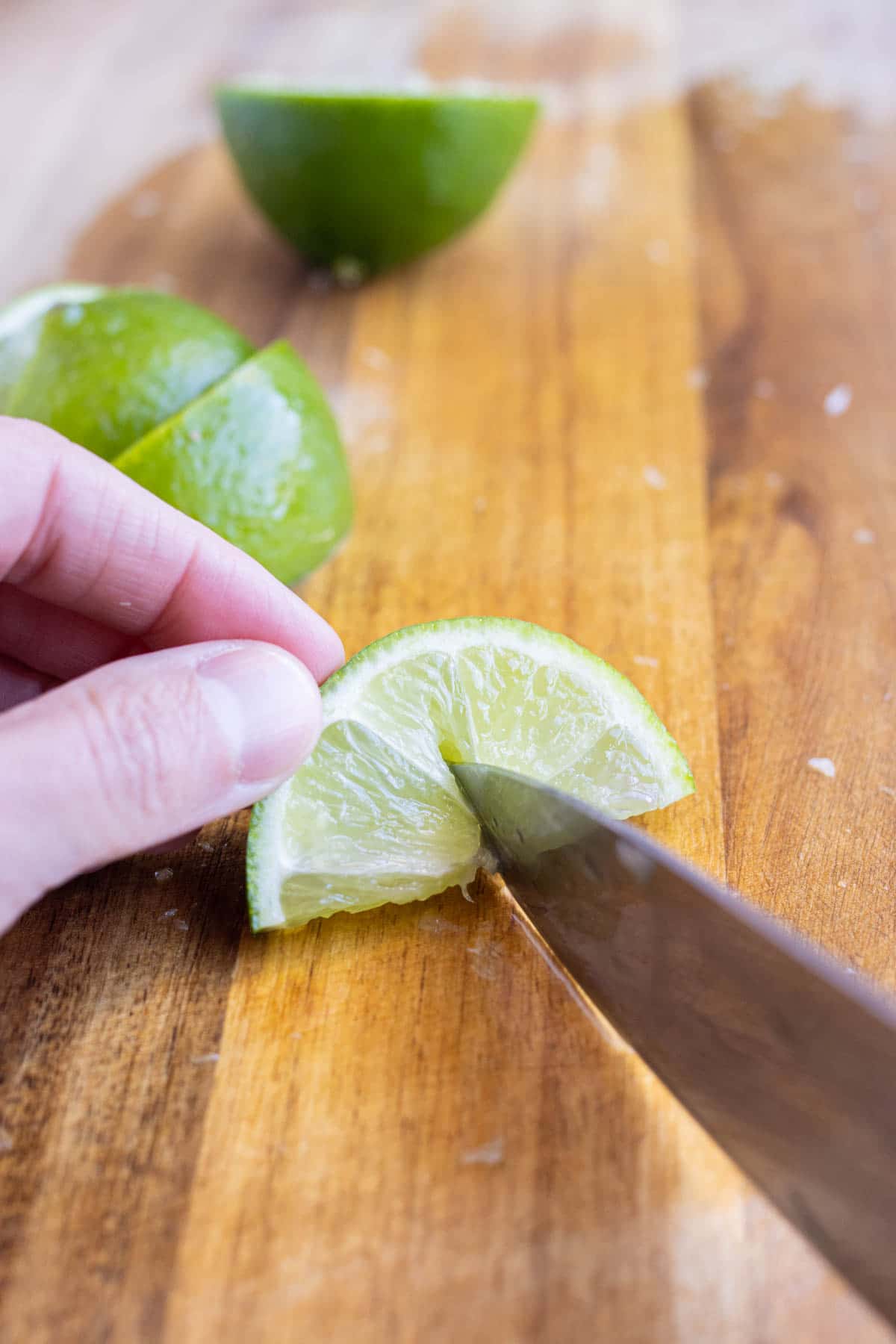 Pour and Serve
Remove the lid from your shaker. If you have a strainer, use it to eliminate any chunks of lime.
Carefully pour the margarita into your salted glass. Garnish with a slice of lime or orange peel and enjoy!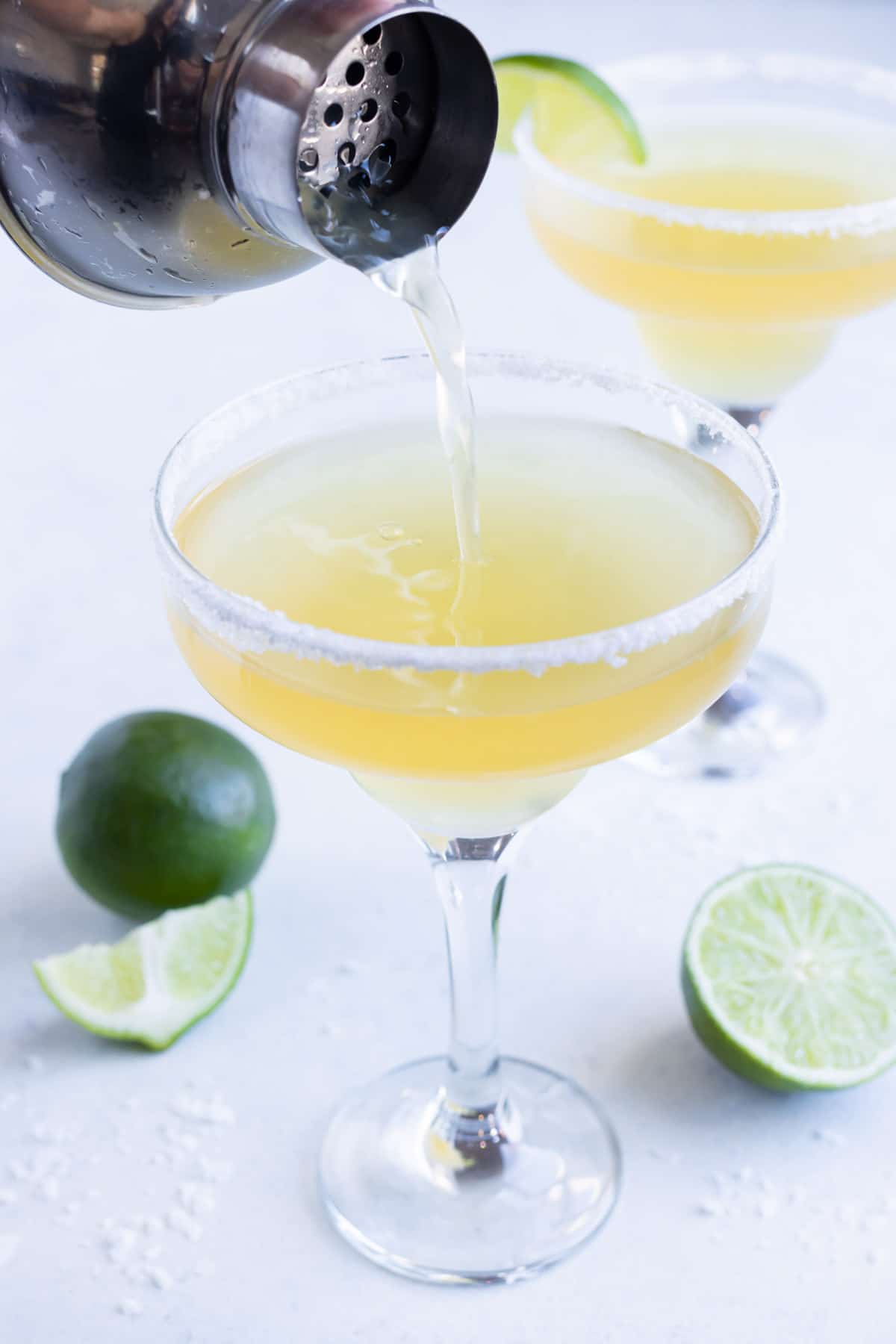 Meal Prep and Storage
To Prep-Ahead: Squeeze lime juice up to 1-2 days ahead of time and store in an airtight container.
To Store: Keep any unused margarita (if there is any!) in a jar with a tightly fitting lid. Leave in the fridge for up to 2-3 days.
Make a Big Batch
Cadillac Margaritas are delicious when made in small batches for one or two. However, you can easily whip up a batch for a group.
If you would like to make this recipe to serve 8 people:
Increase the amount of tequila to 1 ½ cups, Grand Marnier to 1 cup, lime juice to ¾ cup, and agave nectar to ½ cup.
Add all ingredients to a large pitcher without ice and whisk to combine.
Store margarita covered in the refrigerator for up to 2 days.
Add ice 5-10 minutes before serving and enjoy!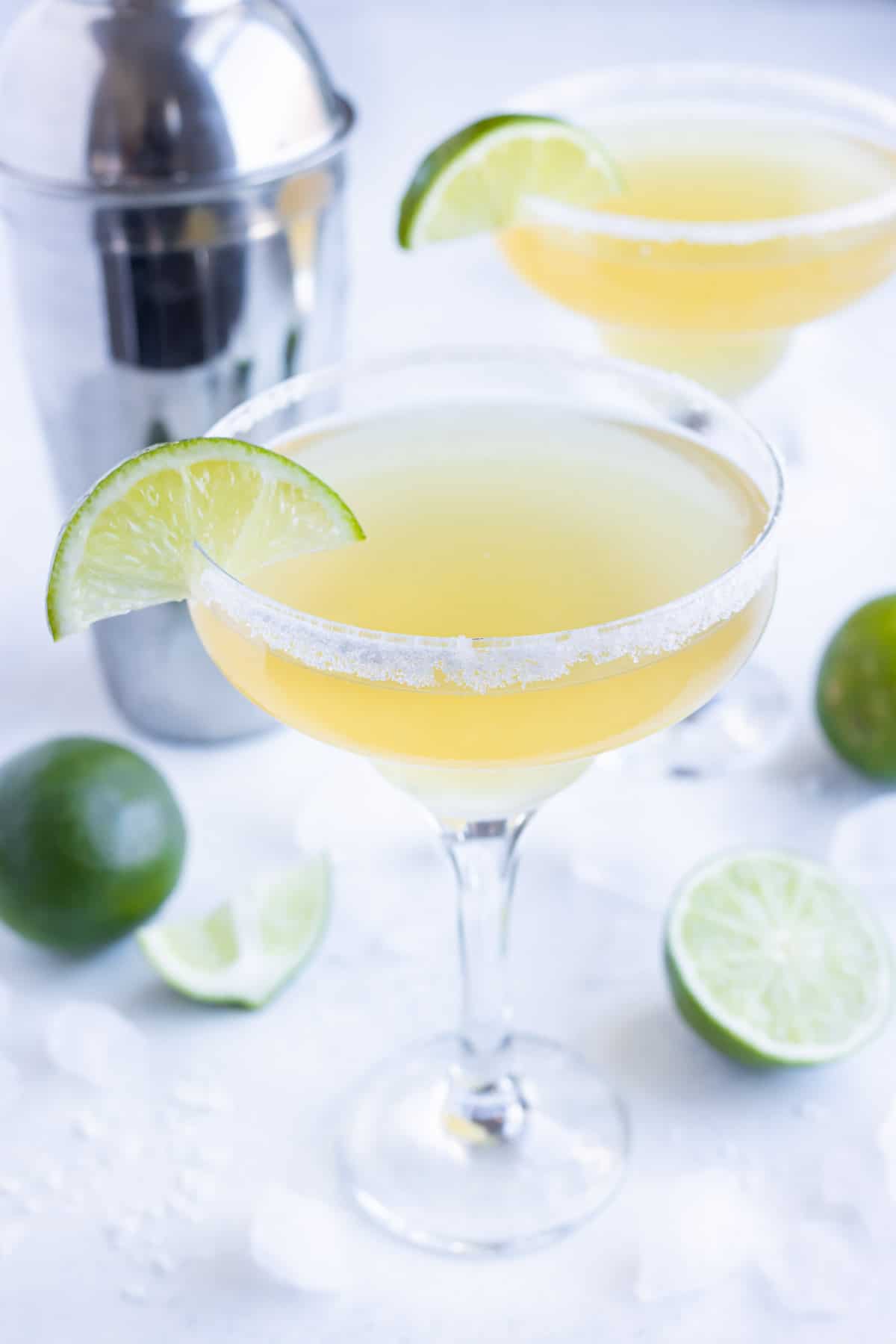 FAQs
What is the difference between a margarita and a Cadillac Margarita?
The main difference between a classic margarita and a Cadillac Margarita is the quality of the ingredients. Both use tequila, lime juice, and sweetener, but the Cadillac Margarita has top-shelf liquor, including reposado tequila and Grand Marnier.
Why do they call it a Cadillac Margarita?
Cadillac Margaritas are also called Grand Margaritas and are made with top shelf tequila, Grand Marnier, lime juice, and a sweetener. By referencing the luxury car, the drinker knows they are getting one of the best margaritas.
Is a Cadillac Margarita stronger?
Typically, Grand Marnier has a higher alcohol content than other orange liqueurs, like triple sec. This added alcohol makes a Cadillac Margarita stronger than the classic version.
Expert Tips and Tricks
Reach up. For the Cadillac Margarita, opt for a top-shelf tequila and aim for reposado for the most flavor.
Opt for fresh. The hand-squeezed lime juice will make a huge difference in the quality of the margarita.
Shake well. Don't under-mix the cocktail. Shake until the mixer is very cold on the outside.
Don't skip the salt. A salted rim is a must for this premium drink.
All decked out. Garnishes make for a beautiful presentation. Opt for a slice of lime or orange.
More Cocktail Recipes
If you love this Cadillac Margarita, try one of these other cocktail recipes next:
Cadillac Margarita Recipe (Top-Shelf)
This Cadillac Margarita recipe is all the name implies, the best you can get. To make this top-shelf drink, you only need a few ingredients like reposado tequila, Grand Marnier, fresh lime juice, and agave nectar.
Ingredients
1.5

oz.

tequila, reposado

(3 Tbsp.)

1

oz.

2 Tbsp. Grand Marnier

(2 Tbsp.)

¾

oz.

lime juice

freshly squeezed (1 ½ Tbsp.)

¼

oz.

agave nectar

(2 tsp.)

Ice

Salt

optional
Instructions
Fill a cocktail shaker or a large glass mason jar half full with ice and then pour in the tequila, Grand Marnier, lime juice, and agave nectar.

Shake for 10-20 seconds, or until the drink is well mixed and the shaker is chilled.

If you'd like a strong margarita, serve immediately so the ice does not melt. If you'd prefer a weaker margarita, let the shaker sit for a minute or two, shake again for 5-10 seconds, and then serve.
For a Salted Rim:
Quarter a lime and cut a slice down the center. Rub the lime wedge around the edge of the margarita glass.

Fill a small plate with salt at least ⅛ to ¼-inch thick. Dip the juice-coated glass into the salt, spinning it around to coat all sides evenly.

Pour the Cadillac margarita drink into the glass, being careful not to disrupt the salted rim and garnish with a lime wedge. Enjoy!
Recipe Video
Nutrition Facts
Cadillac Margarita Recipe (Top-Shelf)
Amount Per Serving
Calories 213
Calories from Fat 9
% Daily Value*
Fat 1g2%
Sodium 3mg0%
Potassium 35mg1%
Carbohydrates 16g5%
Protein 1g2%
Vitamin A 11IU0%
Vitamin C 8mg10%
Calcium 3mg0%
Iron 1mg6%
* Percent Daily Values are based on a 2000 calorie diet.