Serve up this Blood Orange Skinny Margarita for your next Mexican-themed dinner party or Cinco de Mayo celebration! This healthier, homemade drink is made with fresh blood orange and lime juice, agave nectar, and silver, or blanco, tequila for the best margarita recipe!
If you are a lover of all things tequila, you might also want to check out these other drinks and recipes: Watermelon Tequila Fizz, Margarita Cupcakes with Tequila Lime Frosting and this Mexican 75 Cocktail.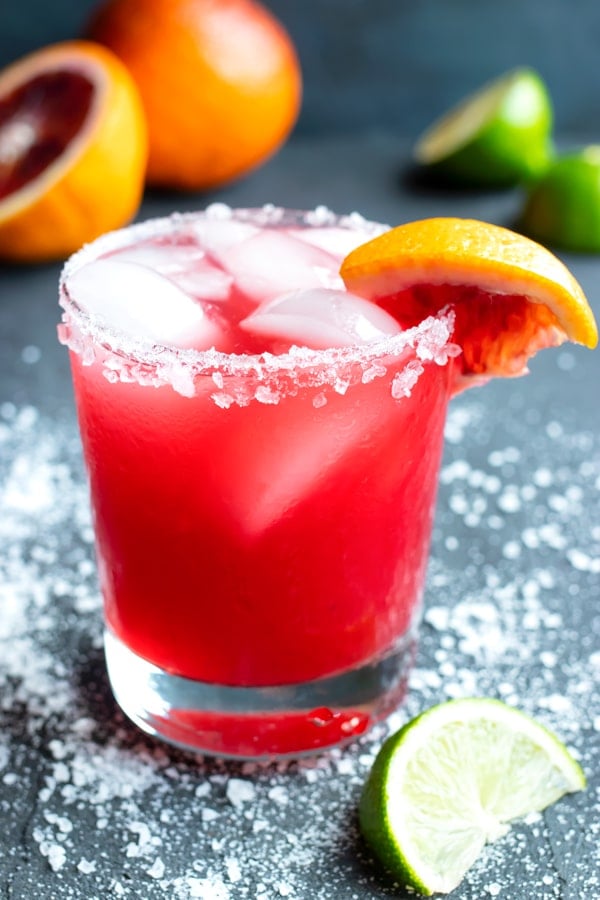 Blood Orange Skinny Margarita for Friends!
If you have hung out with Cohl and I at any party you know one thing is certain… we LOVE our tequila!
Whether it is served straight up with a large cube of ice or made into a tasty skinny margarita, it is almost always our drink of choice.
While strolling through the grocery store the other week I spotted a few blood oranges. When I got home and saw the brilliant maroon and orange colors I knew almost immediately… fresh blood orange margaritas were going on the menu that night!
A few of our friends came over and I whipped up a batch of this homemade drink. While the process of squeezing the oranges and limes to get the fresh juice is a little time consuming, it is TOTALLY worth it to make the absolute BEST margarita recipe you have ever had.
Ingredients
Making this recipe is a super easy process and only requires a few simple ingredients:
Blood Oranges:

Blood oranges are typically found in season and in your grocery store from January until June, but can vary depending on the variety you buy. If you cannot find blood oranges, regular Navel oranges can be substituted.

Limes:

Lime juice typically makes up the bulk of this skinny cocktail. Please make sure to buy FRESH limes and juice the limes yourself for the absolute BEST drink.

Agave Nectar:

Agave nectar is traditionally used to make a margarita "skinny." Normally, less of this sweetener is needed resulting in a lower calorie drink made with a natural sweetener.

Tequila:

Any type of tequila you happen to have will work, however, there are a few brands that make the best margaritas. (Learn more below.)
Best Tequila To Use
While any tequila will work in a margarita recipe, there are a few key tips when selecting the best:
Silver tequila, or tequila blanco, is traditionally used to make a classic margarita. It is a little milder in taste and flavor versus the reposado and anejo, which have been aged quite a bit longer. Tequila blanco blends in well with the other ingredients, too.
Since a margarita is made up of more than just tequila, buying a mid-level quality tequila will work great. No need to bust out the $100 bottle! I generally shoot for a bottle within the $20-25 range.
While a classic margarita is made with silver tequila, you can also bump up the flavor a bit by using a reposado tequila. This is traditionally referred to as a cadillac margarita when paired with Grand Marnier.
A few Tequilas for Margaritas:

Espolon Silver (pictured above)
Dulce Vida Silver (pictured above)
Milagro Silver
Patron Silver
How to Make
Now that you have the ingredients you need to make this recipe, let's learn how to make a margarita:
Juice the limes and oranges by using a lemon squeezer.
Add juices, agave nectar, and tequila into a cocktail shaker that has been filled with ice.
Salt the rim of your glass and pour your drink into the glass. Garnish with a lime or orange wedge. Enjoy!

Salted Rim
Making a salted rim is actually quite simple. You can easily make your own salted rims just like at your favorite Mexican restaurants at home!
How to Make a Salted Rim:
First, cut a lime wedge and make a small slice down the center of it.
Squeeze the lime juice around the rim of your margarita glass (without anything in it yet!) to about ½-inch down the glass.
Place coarse sea salt into a shallow bowl or plate that is large enough to fit the rim of the glass into it. Twirl glass rim in the sea salt until it is evenly coated.
Pour drink into the glass and garnish with an additional lime or blood orange wedge and enjoy!
Kitchen Tools & Utensils
As mentioned previously, there are a few kitchen tools and utensils you will need when making these homemade margaritas.
Cocktail Shaker – Using a cocktail shaker works the best when making margaritas since the ingredients get evenly mixed and your cocktail does not get watered down by too much ice.

You can also just stir together the ingredients in a large glass, but make sure to remove any excess ice to get the best taste.

Lemon Squeezer or Citrus Juicer – While a citrus juicer will take slightly less time, you most likely already have a lemon squeezer on hand. Either one will work great!
Margarita Glasses – Just about any 6-8-oz. glass will work when serving up this margarita recipe, but these colorful margarita glasses and these stemless cocktail glasses would be extra cute!
Big Batch
Margaritas are a wonderful cocktail to serve at dinner parties or for a Cinco de Mayo celebration. If you're serving these up for more than a few people it is best to make this recipe in a big batch and prep it ahead of time.
If you would like to make this recipe to serve 8 people:
Increase the amount of blood orange juice to 2 cups, lime juice to 1 cup, agave nectar to ½ cup, and tequila to 1 ½ cups.
Add all ingredients to a large pitcher without ice and whisk to combine.
Store skinny margarita covered in the refrigerator for up to 2 days.
Add ice 5-10 minutes before serving and enjoy!
Other Recipes to Serve with:
Mexican Shrimp Ceviche with Avocado
Blood Orange Skinny Margarita
Ingredients
¼

cup

blood orange juice*

fresh

2

Tbsp.

lime juice

fresh

1.5

oz.

tequila

blanco or reposado

1

Tbsp.

agave nectar

light

Coarse salt

Additional limes
Instructions
Combine blood orange juice, lime juice, tequila, and agave nectar in a cocktail shaker that has been filled with ice.*

Shake margarita 10-15 times or until well mixed.

Take a lime wedge and swirl it around the rim of the margarita glass. Dip coated edges in a shallow plate or bowl full of coarse sea salt for a salted rim.

Pour skinny margarita into glass and garnish with a lime or blood orange wedge and enjoy!
Recipe Notes
You can also substitute Navel oranges if you cannot find blood oranges.
Use a Lemon Squeezer or Citrus Juicerto get the juice from the lime and blood orange.
You can also just stir together the ingredients in a large glass instead of in a cocktail shaker, but make sure to remove any excess ice to get the best tasting margarita.
Nutrition Facts
Blood Orange Skinny Margarita
Amount Per Serving
Calories 179
% Daily Value*
Sodium 2mg0%
Potassium 124mg4%
Carbohydrates 20g7%
Vitamin A 125IU3%
Vitamin C 39.8mg48%
* Percent Daily Values are based on a 2000 calorie diet.