This Easy Frozen Mojito is a refreshing summer cocktail that is bursting with fresh mint flavor, lime juice and zest, coconut cream, ice, and rum. You can make this blended frozen drink without the alcohol for a healthy mocktail recipe, too!
Frozen Mint Mojito Recipe
I have officially deemed this summer the season of frozen drink recipes!
What started off with a lazy afternoon tanning on cots in the backyard while sipping some homemade piña coladas…
Has slowly evolved to include a menu ranging from White Wine Peach Sangria to Watermelon Frosé and this refreshing Frozen Mint Mojito.
And the best part about these blended cocktails?
They can be made with alcohol or without any at all for a mocktail recipe!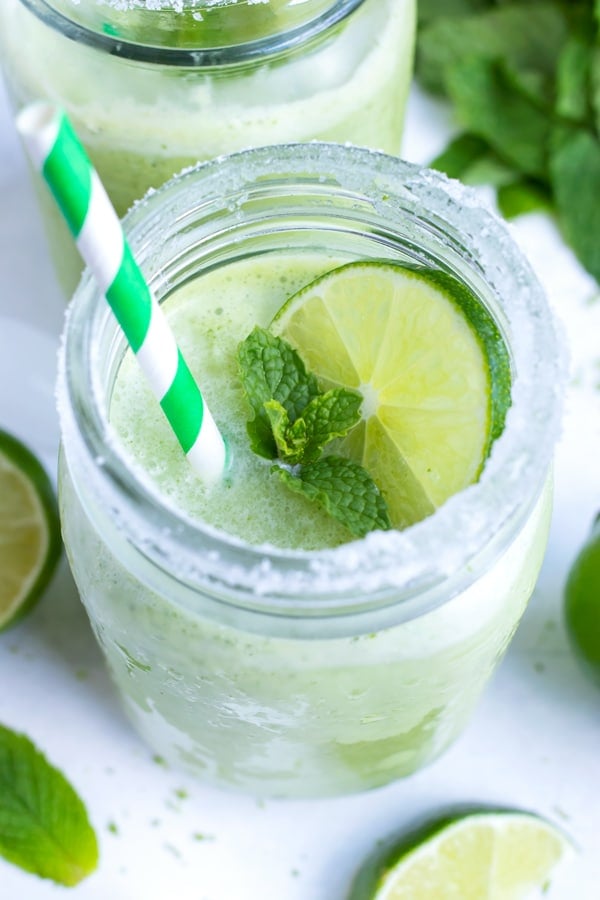 Summer Cocktail Drink
This frozen mojito was inspired by the overflow of sweet mint we have growing in our garden.
I had run out of lemons so I didn't have the ingredients needed for the Frozen Lemonade I had been making on repeat, but I did have a few limes.
Hmmm…. limes, mint, rum. Ah hah!
Oftentimes I find mojitos on the rocks lack that mintyness. Unlike a classic mojito recipe, this frozen version actually blends up the mint into the drink so it is absolutely BURSTING with flavor.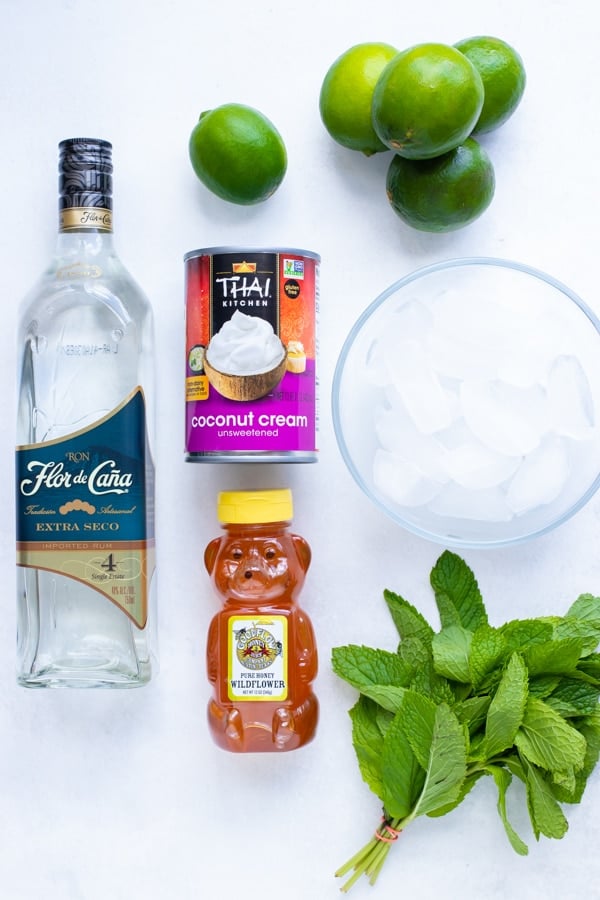 Ingredients
One of the best things about this frozen mojito recipe is how simple the ingredients are to find.
If you keep limes on hand, chances are you already have all of the items you need to make this drink:
Limes – Freshly squeezed lime juice and lime zest is used in this recipe. You'll need about 4-5 medium-sized limes to get enough juice.
Sweetener – A number of different sweeteners can be used in this drink. It completely depends on your dietary preference. Read more about the options below.
Mint – The main ingredient here since it gives the bulk of the flavor to this drink. It is key that you use a mint variety you absolutely love. (I would stay away from peppermint and opt for the sweet mint varieties.)
Rum – Feel free to leave this out and substitute with water if you would prefer a non-alcoholic version. Read more below about the best type of rum to use.
Coconut Cream – A few tablespoons of coconut cream help to balance out the acidity of the lime juice while also making the drink super smooth. If you can't find coconut cream, refrigerate coconut milk for at least 6 hours and scoop off the cream from the top of the can.
Ice – The amount of ice you use will largely depend on how thick and slushy you want your frozen mojito to be.
Water – A little bit of water is added to help thin out the drink. You can add as little or as much as you'd like.
Juice and Zest
When using both fresh lime zest and juice in a recipe it is best to ZEST the lime before JUICING.
If you don't know how to zest a lemon or lime, there are 5 different ways using the tools and utensils you already have on hand.
My favorite kitchen tool being a microplane. Not only is it super easy to use, but it also finely grates the rind so it will easily disperse throughout your dishes and drinks.
For juicing, I always use a citrus squeezer.
Sweeteners
Depending on your taste preference and what you have available, there are a few different options you can use to sweeten up this mojito:
Honey – This is my personal preference and what I use when making this recipe. It pairs perfectly with the tart lime juice and adds a nice floral flavor to the drink.
Agave Nectar – Another liquid sweetener that can be used if you are vegan.
Sugar – Regular white sugar can be used in place of the honey if you do not care to avoid refined sugar.
Stevia – Liquid or powder stevia can be used in place of the high-sugar sweeteners if you are on a low-carb diet.
Best Rum for Mojitos
Much like when making a pina colada recipe, you'll want to opt for a light, white, or silver rum.
Darker rums have been aged longer and thus have a stronger flavor that will overpower the mint and lime flavors of a mojito.
White rums are aged for less time and maintain a light, fresh flavor.
However, if you only happen to have a darker rum you can always use that instead.
The Best Rums for Mojitos:
Flor de Caña – personal preference
Bacardi Superior
El Dorado
How to Make
The process of making a frozen mojito is so quick, simple, and can be done in under 10 minutes.
Zest two of the limes before juicing to get 1 tablespoon of lemon zest.

Add lime juice, zest, honey, cream, mint, rum, and 3 cups of ice to a high-speed blender.

Blend ingredients on medium for 1-2 minutes, or until completely smooth.

Add more ice if you would like it thicker or additional water if you would like it smoother.
Best Blender
One of the most crucial elements when making frozen drinks at home is to use a very good high-powered blender.
While your cheaper blenders will work decently, you'll get a super smooth, and more slushy-like consistency if you use one of the following:
Vitamix – Hands down the best blender to use due to its' large capacity and extremely high power.
Nutribullet – A great second option, but you may have to blend your ingredients in batches.
Food Processor – While this won't give you the same slushy consistency of a blender, you will be able to process all of your ingredients at the same time.
Serving
This recipe yields enough frozen mojito for about 4 servings.
One of my favorite ways to serve this summer cocktail is in a cute mason jar with a paper straw and a slice of lime.
If you want to get a little fancy, you can even give it a sugared rim, too.
Don't want the glass? Pour this mint drink into a plastic cup for the littles or to drink poolside.
Make Ahead
You can easily make a batch or double batch of this ahead of time for a pool party or backyard BBQ.
Prepare the frozen mojito and place it in a freezer safe plastic container.
When ready to serve, pull it out 2 hours in advance. Let some of it melt before you add it back to the blender you used previously.
Blend until smooth and to your desired consistency.
Cook's Note: If you're pressed for time you can also pop the slightly thawed out mixture into the microwave to get it to melt some before blending.
Frozen Mojito Recipe
Ingredients
½

cup

lime juice

freshly squeezed, about 4-5 limes

1

Tbsp.

lime zest

⅓

cup

honey

agave nectar, or sugar

¾

cup

rum

white or silver

¼

cup

sweet mint

chopped

2

Tbsp.

coconut cream

3

cups

ice

¼-½

cup

water

optional
Instructions
Zest two of the limes before juicing to get 1 tablespoon of lemon zest.

Add lime juice, zest, sweetener, rum, mint, cream, and 3 cups of ice to a high-speed blender.

Blend ingredients on medium for 1-2 minutes, or until completely smooth.

Add more ice if you would like it thicker or additional water if you would like it smoother.
Recipe Notes
To make a mocktail, substitute water for the rum.
Nutrition Facts
Frozen Mojito Recipe
Amount Per Serving
Calories 195
Calories from Fat 27
% Daily Value*
Fat 3g5%
Sodium 13mg1%
Potassium 85mg2%
Carbohydrates 19g6%
Protein 1g2%
Vitamin A 135IU3%
Vitamin C 11mg13%
Calcium 16mg2%
Iron 1mg6%
* Percent Daily Values are based on a 2000 calorie diet.