Wondering if you can freeze pumpkin pie? You can – and it's actually quite simple! It will easily become your go-to method for all holiday pies. These tips and tricks will teach you the best way to properly store the most awaited dessert at your holiday table!
Yes, you can freeze your pumpkin pie. Pumpkin pies and sweet potato pies freeze exceptionally well due to their higher-fat, custard-based fillings.
This is a simple way to alleviate the busyness of holiday baking. In fact, you can freeze your homemade and store-bought ones. You can even do this with leftover pie to save for a later date.
The best part is that you can freeze your pumpkin pie up to 6 months in advance, and still get the same level of freshness you would if you had baked it the day of. When it comes time to prepare your various holiday dishes, your already-made pie will be ready to eat after a quick thaw. It's really as easy as pie!
How Do I Freeze Pumpkin Pie?
It takes two very simple steps:
1. Bake your pumpkin pie and let it cool completely.
Not cooling completely may result in a soggy crust. Additionally, the texture and taste of the pumpkin pie filling may not taste as fresh. Cooling can take up to 3 hours.
The good news is that you can speed this process up by baking your pumpkin pie in an aluminum pan or disposable pan. Aluminum pans will also prevent ice crystals from forming while it freezes. Set your pumpkin pie on a wire rack as it cools.
*Be patient as you don't want an ounce of warmth when you place your pumpkin pie in the freezer, or else your results will be disappointing!
2. Cover your entire pie in layers of plastic wrap and tin foil.
Place your pumpkin pie in an airtight container or freezer bag (optional).
The tin foil prevents your pumpkin pie from absorbing any funky smells from other food in your freezer. The whole point of this is to have minimal air exposure to prevent issues like freezer burn. Freezer burn changes the texture and taste of the pumpkin pie.
Make sure to place your pumpkin pie on a flat surface in your freezer, so the creamy filling stays level with the pie crust surrounding it.
Optional: Date your pumpkin pie with tape and permanent marker.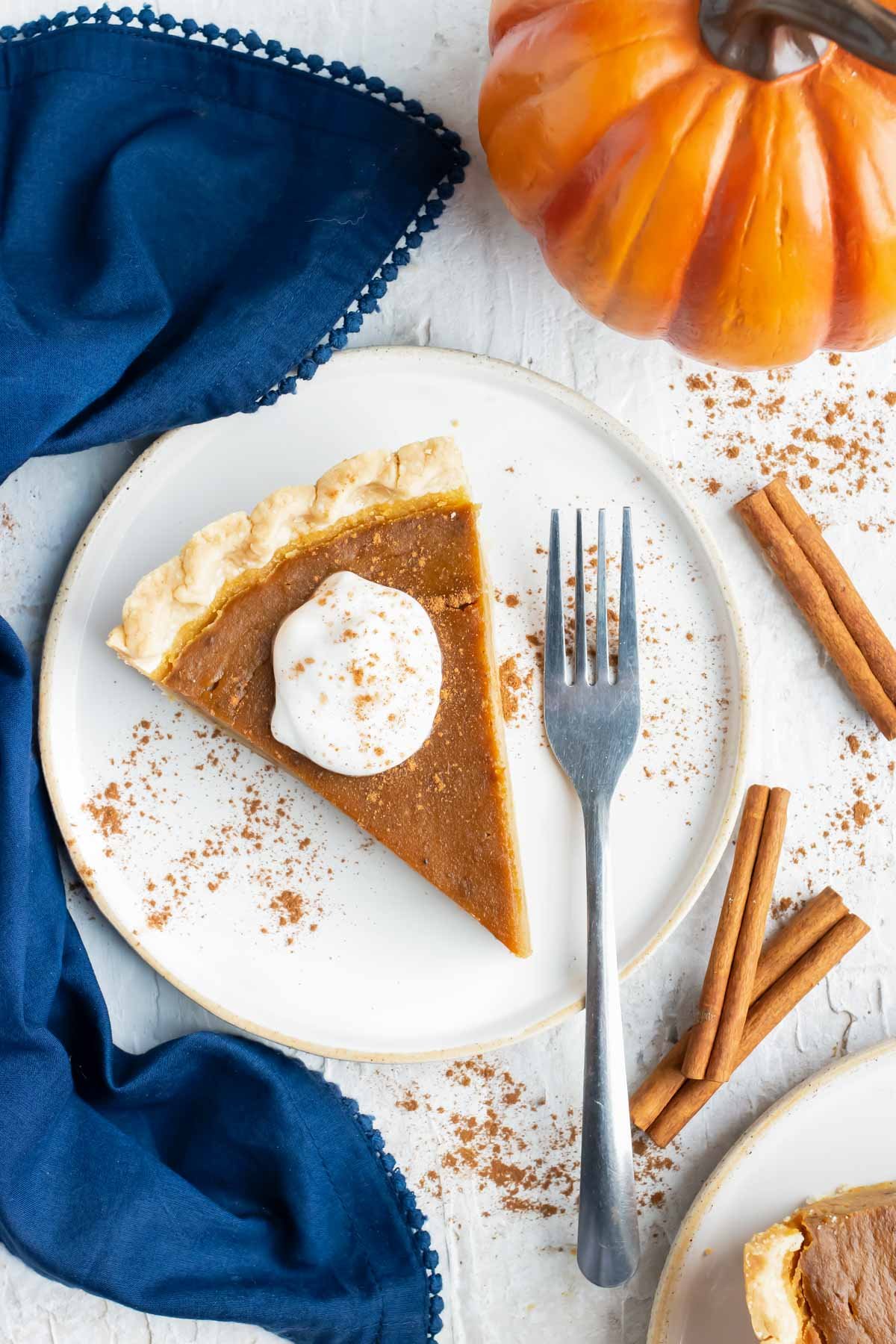 How Long Does Pumpkin Pie Last in the Freezer?
Pumpkin pie will last in the freezer from 2-6 months depending on how well you wrap it. After this time it the texture will begin to degrade and it will lose its rich, pumpkin pie spice flavors.
Check the Expert Tips and Tricks at the bottom of this post to know how you can make your it last for the whole 6 months.
How Do I Prepare Frozen Pumpkin Pie When I'm Ready to Eat It?
Take your wrapped pumpkin pie out at least 12 hours before serving and place it in your refrigerator. This prevents sogginess developing in your pumpkin pie throughout the thawing process.
Once it's completely thawed, put it on the counter to reach room temperature. This can take a couple of hours after thawing in the refrigerator.
If you want to serve it warm, put it in the oven at 300 degrees for a cook time of 20-30 minutes. Make sure to cover the pie crust with tin foil so it doesn't burn. Check on it often so you don't overcook it by accident!
Once it's thawed, you might be wondering Does Pumpkin Pie Need to be Refrigerated? <– We answer this question for you in detail!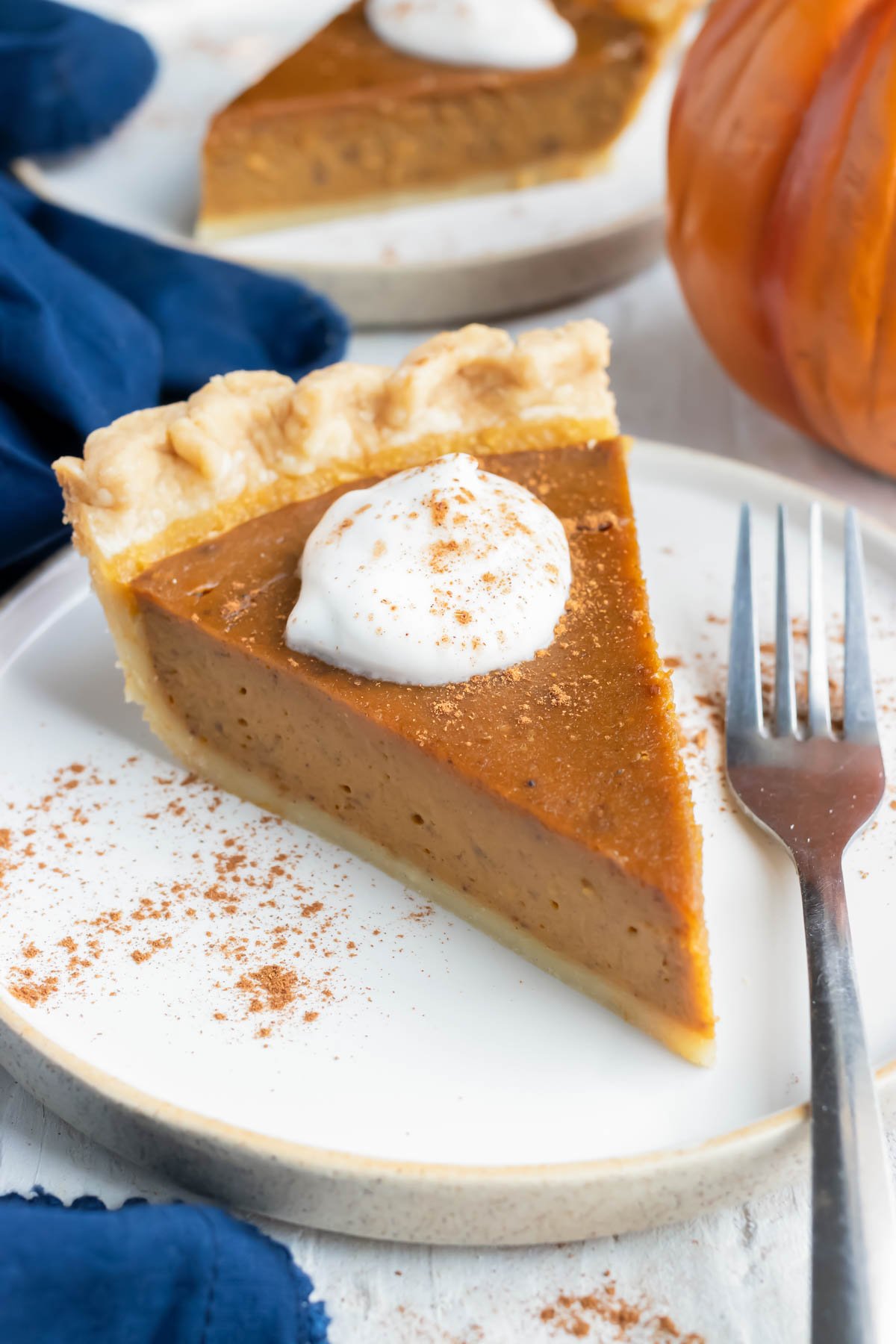 Conclusion
Freezing your pumpkin pie will significantly reduce the stress of preparing your home, dishes, and decorations ready for the holiday season and dinner parties. Try this out with your pecan pie, apple pie, sweet potato pie… The possibilities are endless!
With a dollop of whipped cream or a scoop of ice cream, it will be everyone's favorite Thanksgiving dessert. It's simple, requires little attention, and will prove to be the best quality method!
EXPERT TIPS & TRICKS
For the best long term results, plastic wrap your pumpkin pie 3-4 times to ensure extra protection.
Have your pumpkin pie slightly chilled before freezing to achieve prime thawing results.
It's a good idea to put a box of baking soda in the freezer, so the pie doesn't take on odors from other foods.
If you'd like to serve your pie in a more festive pie pan, simply cut the aluminum pan off with kitchen scissors and place it carefully in your desired serving dish.
If you bake your pumpkin pie in a ceramic pie pan, know that the thawing process could take a little longer.