If you have wondered whether that pumpkin pie needs to be refrigerated, you're not alone. Keep reading to learn the best way to safely store your homemade or store-bought pie to preserve the most taste and texture in the crust and filling. You can keep celebrating Thanksgiving days later.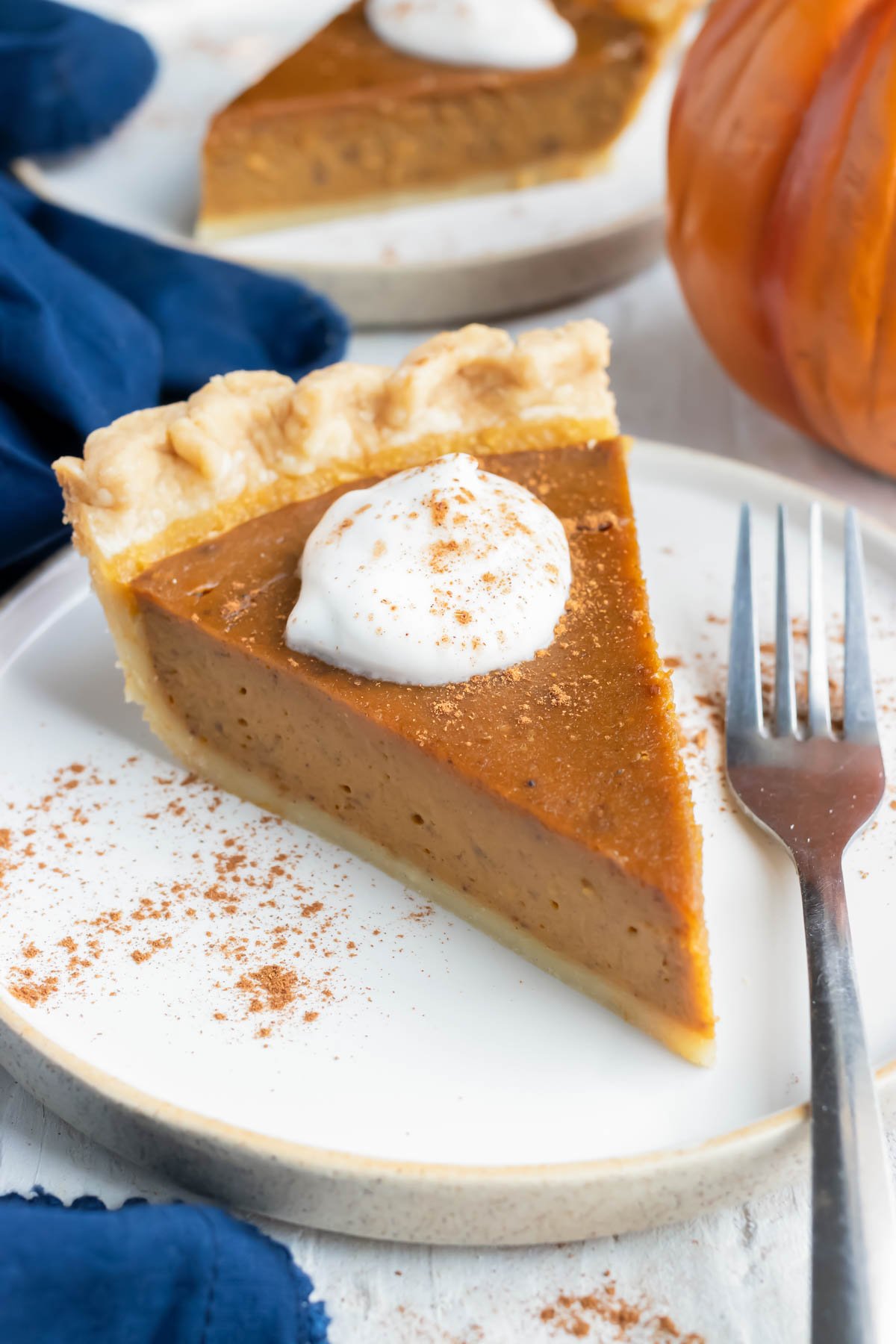 Thanksgiving turkey and side dishes are great, but no holiday would be complete without a creamy classic pumpkin pie!
Similar to pecan pie without corn syrup, sweet potato pie, and chocolate pecan pie, many people ask if they should refrigerate pumpkin pie or not?
To sum it up – yes, you should refrigerate pumpkin pie.
There are many reasons why and the storage instructions will be covered in greater detail below. You'll also learn how to reheat it, so the filling and pie crust still taste amazing!
So bust out your favorite pumpkin pie recipes and learn the safest way to enjoy it for days after the holiday.
Should You Refrigerate Pumpkin Pie?
The USDA states that all egg-rich and egg-based pies, such as pumpkin, pecan, lemon meringue, and pies with custard fillings, should be cooled and refrigerated after baking. These pies will generally last for up to 3 to 4 days in the refrigerator if stored properly without sacrificing any of the tastes or flavor.
Refrigerating pumpkin pie is necessary for food safety and avoiding the growth of bacteria as well as giving you the best taste and texture to the filling. (So you get to enjoy all of that delicious pumpkin pie spice flavor!)
A good rule to follow is to refrigerate ALL pumpkin pies. However, many store-bought pies may have preservatives and shelf-stabilizers that make them safe to be left unrefrigerated. Take caution, however, and be sure to check with an employee of the store or bakery you're purchasing it from.
These same rules apply when asking if pecan pie needs to be refrigerated, too.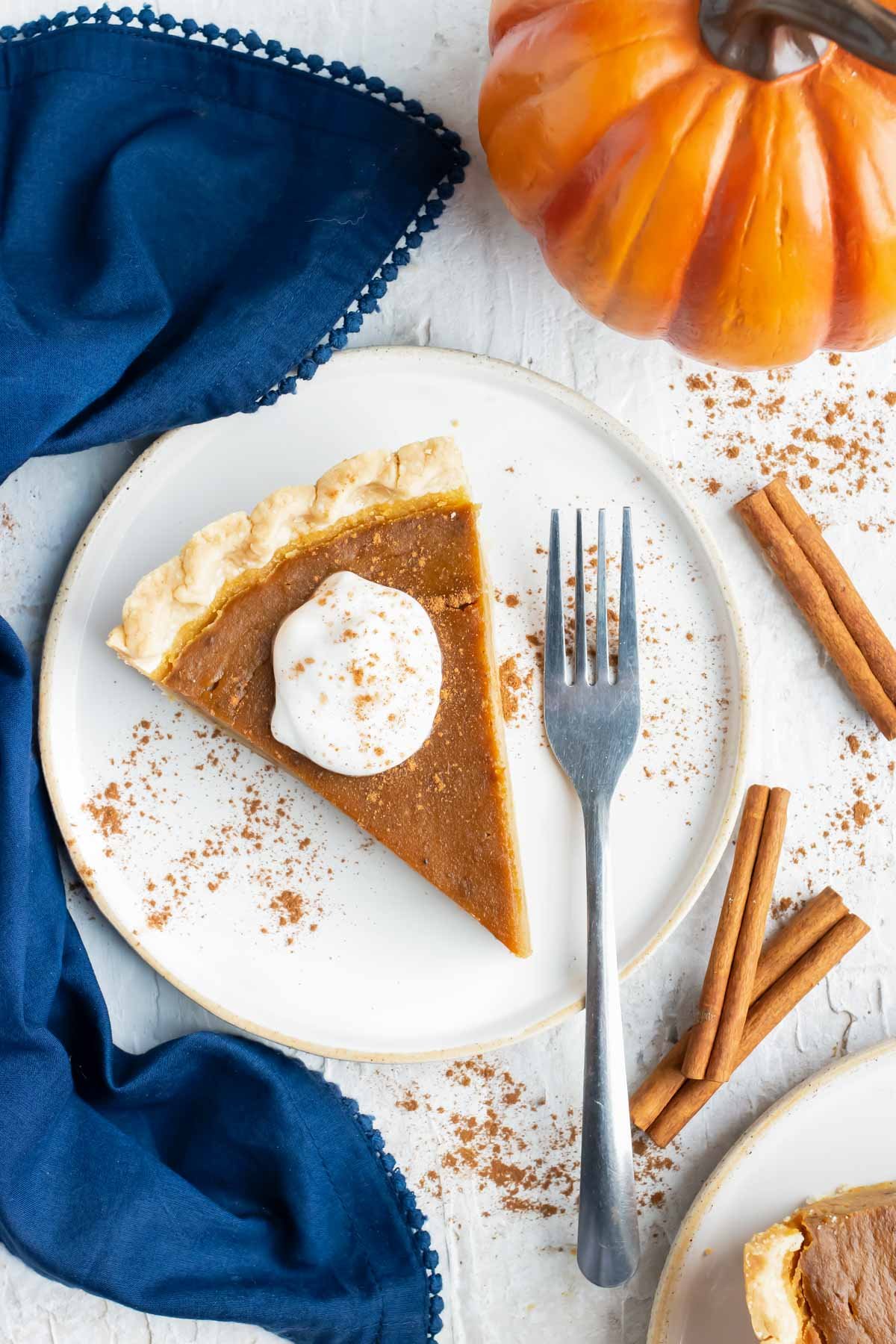 How to Store Pumpkin Pie?
After the pumpkin pie has been baked in the oven, allow it cool completely to room temperature.
Once cooled, loosely wrap the entire pie or the rest of the pie that wasn't eaten in a layer of aluminum foil or plastic wrap. Pay attention that it's not wrapped too tightly as extra moisture can accumulate while being stored in the refrigerator.
Pumpkin pie can be safely stored in the refrigerator for up to 3 to 4 days.
Remove the pie from the fridge before serving and let the dessert sit at room temperature for at least 30 minutes or up to 1 hour.
How to Freeze Pumpkin Pie?
After it has been baked, bring the pumpkin pie to room temperature and refrigerate for at least 4 hours or up to overnight.
Once it's chilled, cut the store-bought or homemade pumpkin pie into individual pieces. Tightly wrap each slice in a piece of wax paper in order to avoid freezer burn on the pumpkin pie filling and pie crust. Place the slices in a large gallon-sized ziplock bag. Lastly, put the bag in the freezer and freeze for up to 3-4 months.
Avoid freezing pumpkin pie with toppings, like whipped cream.
How to Thaw Frozen Pumpkin Pie?
When you're ready to eat that frozen slice of pie, let it thaw in the refrigerator overnight. Then, set the pieces on the counter at room temperature for at least 30 minutes before enjoying.
Don't want to wait that long after freezing? You can unwrap the slice, add it to a microwave-safe plate, and warm up at 30% power for a couple of minutes, checking every 30 seconds until it's thawed.
FAQs
Why is it important to refrigerate pumpkin pie?
Pies rich in egg and fruit should always be refrigerated for the best taste and texture and also to reduce the chance of bacterial growth.
When does pumpkin pie need to be refrigerated?
First, let the pumpkin pie cool completely after baking. Then, tightly wrap and place in the fridge.
What should you serve pumpkin pie with?
Pumpkin pie is delicious with a cup of coffee and topped with a dollop of whipped cream.
More Pumpkin Recipes
Have some extra pumpkin puree and need to use it up? Check out these easy pumpkin recipes to try out next:
If you're craving pumpkin for breakfast, opt for these Pumpkin Chocolate Chip Muffins or Pumpkin Banana Bread. Pumpkin Overnight Oats is a super easy recipe, as well.
And don't forget to make up some delicious Pumpkin Butter Recipe.
This savory and Creamy Pumpkin Soup is worth a try, too.