Mix up your own homemade Pumpkin Pie Spice with this easy recipe. The DIY seasoning blend is made by quickly combining 5 simple ingredients and can be stored for years! Use this spice mix to create the best Fall treats like pies, cookies, muffins, and bread.
Have you ever been in the middle of making a homemade pumpkin pie or healthy pumpkin muffins and looked in the cabinet to find…
You were out of pumpkin pie spice?!
Or maybe you went to the grocery store the day before Thanksgiving only to find…
All of the pumpkin spice jars were gone?!
Or maybe you're just THAT into cooking and want to know how to give your recipes the MOST flavor!!
Whatever the reasoning, you can easily make this Fall blend at home – it's such a great substitute for the store bought kind!
Only five spices go into it and they can all easily be found at your local grocery store.
What is Pumpkin Pie Spice?
Pumpkin pie spice, or sometimes simply called pumpkin spice, is a blend of ground cinnamon, nutmeg, ginger, cloves, and sometimes allspice.
This mix can either be purchased at the grocery store or made at home.
It is most commonly used in homemade pumpkin pie recipes as well as pumpkin muffins and pumpkin cookie recipes.
What spices are in Pumpkin Pie Spice?
Typically you will find 4-5 different spices in store bought and homemade. (See recipe card below for ingredient amounts.)
Ground Cinnamon. A warm and woody, sweet and slightly spicy flavor. It makes up a large majority of the blend. Do not substitute this for any of the other spices.
Ground Nutmeg. Sweet and nutty in flavor, this also contributes a lot to the flavor profile.
Ground Ginger. The same amount of this zesty spice goes into the blend as nutmeg.
Ground Cloves. When pumpkin pies or recipes are a bit on the pungent side, you can thank cloves for that. A little goes a long way, so please adjust based on your preferences.
Ground Allspice. This spice is optional and is not found in all pumpkin pie spice recipes. It also has a peppery bite, so feel free to leave it out if you want to tone down your mix.
Expert Tip: You can substitute the ground cloves for allspice, or vice versa.
How to Make
The basic steps for how to make pumpkin pie spice are simple to follow. Please see the recipe card below for more detailed ingredient amounts.
Add all ingredients to a bowl. Use a medium-sized bowl in order to be able to mix well. Or, save on dishes and use the container you plan on storing it in.
Stir together. A whisk does best for distributing everything evenly. Mix until it is well combined.
Store until ready to use. Include in your favorite recipes or even sprinkle on buttered toast. See below for storage tips.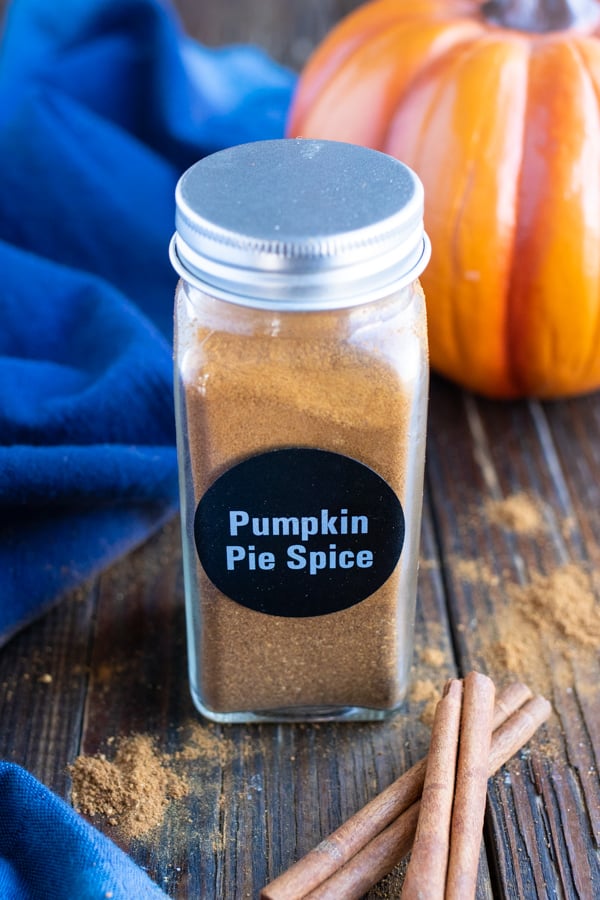 Storing Homemade Blends
It is best to keep homemade seasoning mixes in an airtight container. These 4-ounce mason jars or these glass spice jars are both good options for storing DIY seasoning mixes.
Keep the glass container in a cool, dry space. A spice cabinet (NOT over the stove!) or a dry pantry will work great.
You do not want too much open space in the container. It is best to choose one that just barely fits all of the seasoning mix.
Best Store Bought Brands
A store bought pumpkin pie spice is a great substitute if you don't have time to make it from scratch.
Mccormick's is the easiest kind to find at your grocery store.
If you prefer an organic variety, Simply Organic is my favorite brand to buy. It tastes very similar to this homemade recipe.
FAQs
Does Pumpkin Pie Spice ever go bad?
Homemade seasoning mixes will never go bad, but they will lose their potency over time. Make sure you store in an airtight container for best results.
How Long Does Pumpkin Pie Spice Last?
Pumpkin spice will last for up to 1-2 years if stored at room temperature in a cool, dry place.
What can be used instead of pumpkin pie spice?
Apple Pie Spice can be a substitute, but it has cardamom in it and no cloves so the taste will be a little different. Avoid using just allspice, which is not a good substitute for pumpkin spice.
Is allspice the same as pumpkin pie spice?
No, allspice is a specific spice made from a plant called Pimenta dioica. However, allspice is a common ingredient found in pumpkin spice.
Why is it called pumpkin spice?
Contrary to popular belief, pumpkin spice does not actually contain any pumpkin! This blend got its name because it is made up of the spices commonly used to season pumpkin pie.
Expert Tips and Tricks
Swap them out. Substitute the ground cloves and allspice for one another.
Disperse evenly. Use a whisk or fork to mix the spices.
Less dishes. Combine the spices in the container you are storing the blend in.
Stay cool. Keep in a dark, dry place away from any heat.
Don't leave room. Air will cause the flavor to deteriorate faster so use the smallest container possible.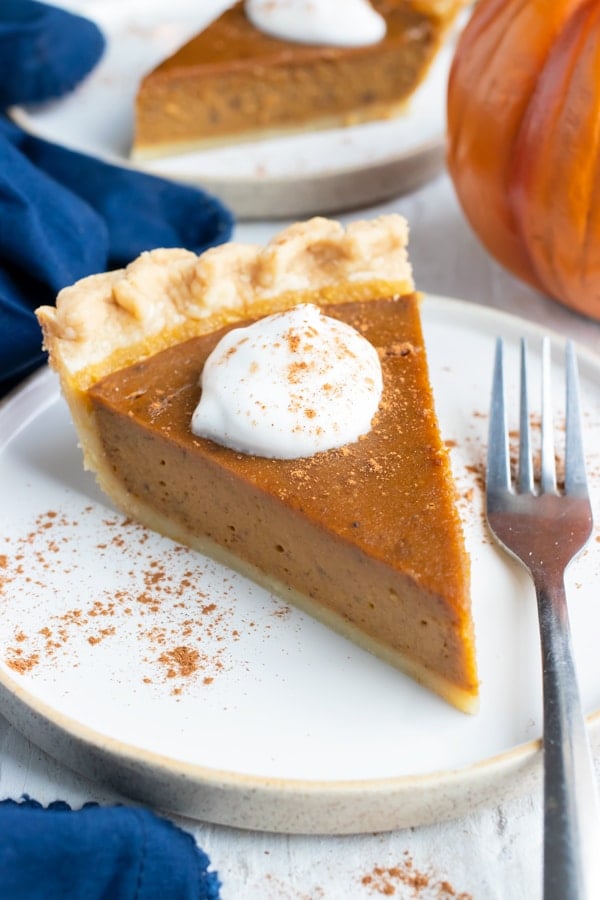 Recipes that use Pumpkin Spice
Want to start putting that homemade pumpkin spice mix to good use? Here are a few of my all-time favorite healthy pumpkin recipes that use this pie spice:
Pumpkin Pie Spice Recipe
Mix up your own homemade Pumpkin Pie Spice with this easy recipe. Use this spice mix to create the best Fall treats like pies, cookies, muffins, and bread.
Ingredients
3

Tbsp.

ground cinnamon

1

Tbsp.

ground nutmeg

1

Tbsp.

ground ginger

1

tsp.

ground cloves

1

tsp.

allspice
Instructions
Add all ingredients to a medium-sized bowl and whisk to combine.

Store pumpkin pie spice in an air-tight container for up to 1-2 years.
Recipe Notes
This recipe yields ~6 tablespoons of pumpkin pie spice.
Ground cloves and allspice can be substituted for each other.
Keep in an airtight glass container in a cool, dry space away from heat.
Nutrition Facts
Pumpkin Pie Spice Recipe
Amount Per Serving
Calories 20.59
Calories from Fat 5
% Daily Value*
Fat 0.58g1%
Sodium 1.99mg0%
Potassium 28.24mg1%
Carbohydrates 4.85g2%
Protein 0.34g1%
Vitamin A 11.8IU0%
Vitamin C 0.15mg0%
Calcium 46.54mg5%
Iron 0.57mg3%
* Percent Daily Values are based on a 2000 calorie diet.