Learn how to make the Best Pumpkin Pie Recipe with a homemade pie crust and a DIY pumpkin spice blend. A creamy, gluten-free, and dairy-free filling is loaded with cinnamon spice for an easy Thanksgiving dessert.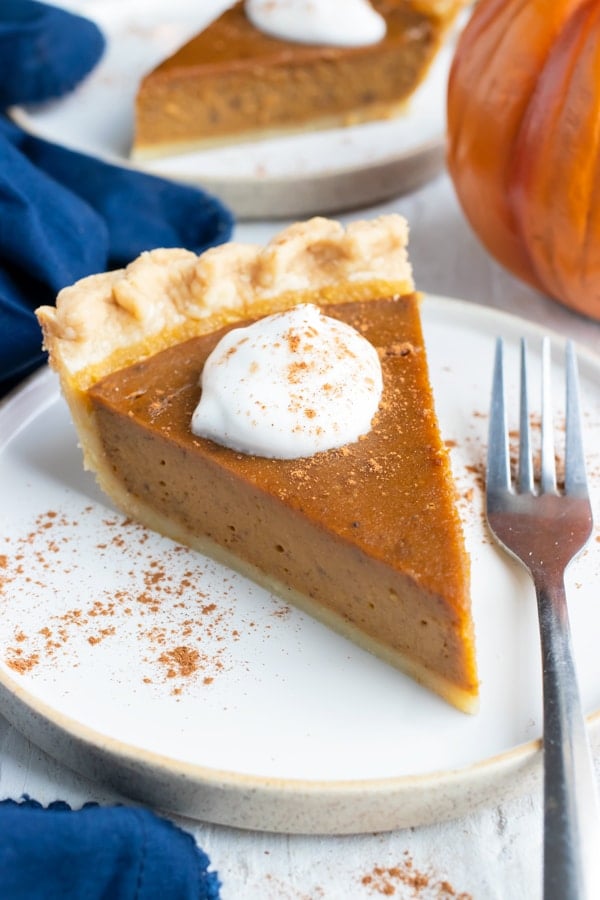 The BEST Homemade Pumpkin Pie
Homemade pumpkin pie is hands down the BEST dessert at Thanksgiving.
(Those of you who opt for pecan pie can pop on over to these Chocolate Pecan Pie Bars if you wish!)
There is just something about that creamy filling loaded with pumpkin pie spice…
That buttery, and flaky homemade pie crust…
Presented beautifully under a dollop of dairy-free whipped cream.
It would not be a traditional Thanksgiving Day without a big ole' slice of pumpkin pie.
(And isn't homemade pie SO much better than store bought?!)
Dairy-Free and Gluten-Free
For years my family followed the recipe outlined on the back of a can of Libby's pumpkin puree.
While it was delicious, making it dairy-free and vegan tastes just as good – and is so much healthier for you!
There are only a few ingredient swaps to make this healthy version of a classic recipe.
Ingredients
It is super easy to find the ingredients you will need for this pumpkin pie at your local grocery store.
If you are preparing this the week of Thanksgiving, you'll want to do your grocery shopping in advance!
Canned pumpkin puree and store bought pie crusts sell out extremely fast!
Ingredients:
Homemade Pie Crust – A 9-inch gluten-free pie crust was prepared in advance. You can also use store bought if you are pressed for time.
Pumpkin Puree – Libby's pumpkin puree and another organic variety were both tested in this recipe. You can also make pumpkin puree from scratch.
Pure Maple Syrup – Feel free to substitute agave nectar for the maple syrup if that is what you have on hand.
Coconut Sugar – If you do not have coconut sugar you can replace it with regular white sugar.
Coconut Milk – Full-fat coconut milk is used instead of sweetened condensed milk to make this a recipe dairy-free.
Eggs – If vegan, feel free to use 2 flax eggs in place of regular eggs. This will have no affect on the finished taste or texture of your pie.
Starch – Tapioca, arrowroot, or corn starch may all be used interchangeably in this recipe.
Pumpkin Pie Spice – A homemade pumpkin pie spice was used, but a store bought spice blend can be used instead.
The Crust
As mentioned previously you can either buy a pie crust at your grocery store or make one from scratch.
This homemade pie crust is flaky, easy to make, and is a perfect crust to use for this pie.
Add the tablespoon of sugar mentioned in the recipe to give it a slightly sweet taste, too!
If you are vegan or dairy-free, simply use vegan buttery sticks in place of the butter.
Mixing the Ingredients
There are a few different ways you can mix your ingredients:
Hand mixer – This is probably the most common, but is a little more difficult to get a super creamy pie filling.
Stand mixer – If you have a KitchenAid, add the ingredients and let it do the work for you.
Large food processor – This is by far the best method. You will get a super creamy filling with no unwanted lumps.
How to Make
To make this pie, you will want to follow these steps:
(See recipe card below for more detailed information)
Prepare a homemade pie crust in a 9-inch pie plate

Or use a store bought 9-inch pie crust.

Partially bake the crust in a 375 degree oven for 15 minutes.
Combine pumpkin filling ingredients in a large food processor.
Process ingredients for 20-30 seconds or until smooth.
Pour pie filling into the partially baked crust.
Spread mixture evenly into the crust and bake in preheated oven.
Cook's Tip: If you are worried about the filling overflowing, place a baking sheet under the pie pan in the oven.
FAQs: Baking
How long does it bake?
Bake at 375 degrees for 15 minutes. Reduce heat to 350 degrees and bake for an additional 30-35 minutes.
How to tell when pumpkin pie is done baking?
It is done baking when the center no longer jiggles when shaken.
FAQs: Storing
Does it need to be refrigerated?
Yes, a pumpkin pie is much like a custard and needs to be stored in the refrigerator.
Once done baking let pie come to room temperature. Cover with a piece of aluminum foil or plastic wrap and store in the refrigerator for 3-4 days.
How long does pumpkin pie last?
It will last when stored in the refrigerator for up to 3-4 days.
Can you freeze it?
Yes, you can freeze pumpkin pie but the taste and texture will be slightly affected.
How to serve?
This pie recipe tastes great served with homemade coconut whipped cream and a sprinkle of pumpkin pie spice.
Vegan, Dairy-Free, and Gluten-Free Pies
This healthy pumpkin recipe can easily be made vegan, dairy-free, and gluten-free with a few easy substitutions:
Vegan: Substitute the eggs for flax eggs and the butter in the crust for vegan buttery sticks or margarine.
Dairy-Free: Use coconut milk in place of the condensed milk and vegan buttery sticks in place of the butter.
Gluten-Free: A gluten-free flour (1-to-1 blend) can be used in place of all purpose flour in the pie crust. Just make sure it has xanthan gum as one of the ingredients.
Paleo: If you would like a grain-free and vegan version, you can check out this Paleo Pumpkin Pie.
Since this recipe uses natural sweeteners, it is lower in calories, carbs, and sugar than a traditional pumpkin pie.
Other Pumpkin Dessert Recipes
MORE PIE RECIPES
No holiday spread would be complete without PIE! Here are a few more of my favorite pie recipes:
Homemade Sweet Potato Pie Recipe
Homemade Pumpkin Pie Recipe | Gluten-Free, Vegan
Learn how to make the Best Pumpkin Pie Recipe with a homemade pie crust and a DIY pumpkin pie spice blend. A creamy gluten-free and dairy-free pumpkin pie filling is loaded with cinnamon spice for an easy and healthy Thanksgiving pie recipe.
Instructions
Preheat oven to 375 degrees.

In the bowl of a large food processor combine pumpkin puree, maple syrup, coconut sugar, coconut milk, eggs, vanilla, pumpkin pie spice, and tapioca starch.

Process for 20-30 seconds, scraping down the sides halfway through.

Pour pumpkin pie filling into the parbaked pie crust. Spread mixture evenly into the crust.

Bake pumpkin pie in preheated oven for 15 minutes. Reduce heat to 350 degrees and bake for an additional 30-35 minutes.

The pumpkin pie is done baking when the middle no longer jiggles when slightly shaken.

Let pumpkin pie cool completely, at least 2-3 hours, before serving.
Recipe Notes
To make this recipe vegan use 2 flax eggs in place of regular eggs.
Nutritional facts are calculated using this Homemade Pie Crust recipe.
Cook time is based on the homemade pie crust already being prepared.
Nutrition Facts
Homemade Pumpkin Pie Recipe | Gluten-Free, Vegan
Amount Per Serving
Calories 276
Calories from Fat 108
% Daily Value*
Fat 12g18%
Cholesterol 41mg14%
Sodium 98mg4%
Potassium 232mg7%
Carbohydrates 40g13%
Protein 4g8%
Vitamin A 8332IU167%
Vitamin C 3mg4%
Calcium 57mg6%
Iron 2mg11%
* Percent Daily Values are based on a 2000 calorie diet.