Caprese Skewers with balsamic glaze are an easy, make-ahead holiday appetizer recipe the whole crowd will enjoy! Simply layer up mozzarella pearls, cherry tomatoes, and fresh basil leaves onto a few wooden skewers for an elegant and tasty gluten-free, low-carb, vegetarian, and keto caprese salad snack!
Caprese Skewers and Italian Memories
Continuing the theme of Christmas party appetizers (be sure to check out this Smoked Salmon Dip!), here is one of the lighter dishes we like to serve at holiday gatherings… Caprese Skewers! Not only is this Christmas appetizer SUPER simple to make, but it is also absolutely irresistible.
These caprese salad skewers bring me back to the wonderful backpacking trip Cohl and I took to Europe over five years ago. You have never had a REAL caprese salad until you have had one at a streetside cafe in Rome, Italy. The fresh mozzarella and heirloom tomatoes are hard to beat.
But since most of us do not have access to tomatoes straight off the vine or mozzarella that has been freshly pulled, the ingredients found at your local grocery store will work just great, too!
A Very "Christmas-ey" Holiday Appetizer!
And did I mention how awesomely Christmas-ey these appetizers are?!
The vibrant red, green, and white already found in mother nature! You won't want to throw another Christmas shindig without these bad boys on the table.
Below you will learn how to make caprese salad skewers, what ingredients you will need, how to serve them, how to store them, and the best way to make caprese skewers ahead of time! And if you have any questions, please ask away in the comments section below.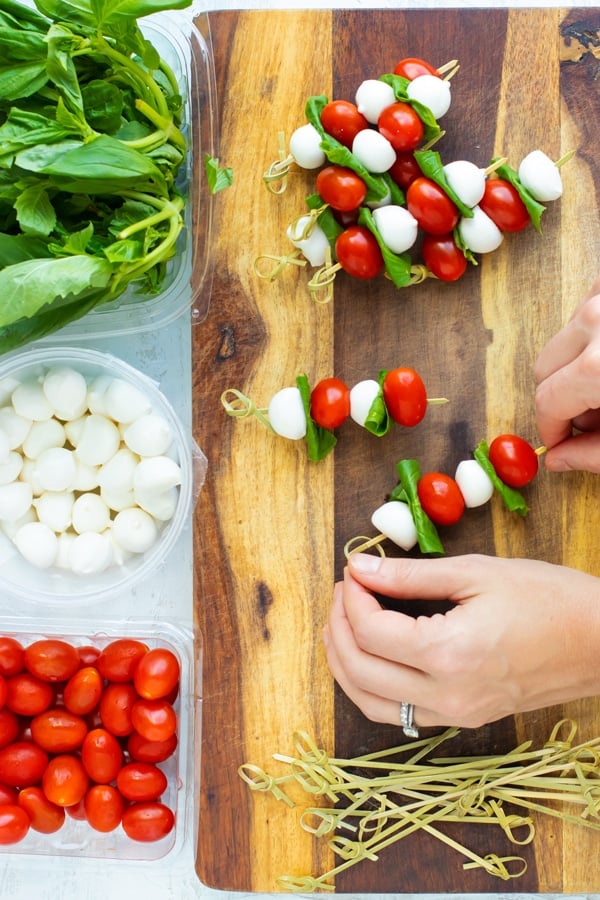 How to Make Caprese Salad Skewers
While you can technically call this a "recipe," I like to think of making caprese skewers as more of a formula. There are just a few simple steps you will need to follow to have a plate full of these delightfully festive snacks ready for your party guests.
Remove any extra pieces of wood from your 4½-inch wooden skewers.
Layer one mozzarella pearl (or ball), one basil leaf, and one cherry tomato and repeat until wooden skewer is full.

If you cannot find the wooden skewers pictured, simply do one repetition of mozzarella, basil, and tomato on a regular-sized toothpick.

Refrigerate caprese skewers for up to 24 hours before your holiday party.
Just before serving drizzle caprese salad bites with a bit of balsamic reduction or glaze and watch your appetizers disappear before your eyes!

Caprese Skewers Ingredients
As mentioned previously, you will only need a few ingredients when making these Christmas appetizers:
Mozzarella pearls or balls – You can find these in the refrigerated section with the other cheeses.

If unable to find the pearls, a block of mozzarella cut into cubes will work, too!

Cherry tomatoes – If unable to find cherry tomatoes, grape tomatoes will work great.
Fresh basil leaves – Try to find similarly sized basil leaves for best results.
Balsamic glaze or reduction – You can make your own balsamic glaze or buy it at the grocery store.
How to Serve?
These caprese skewers are best served on a large white, silver, or gold serving platter to show off their natural red, white, and green colors. Drizzle them with balsamic glaze or reduction just before serving or serve it in a bowl on the side.
How to Store?
If you have any extra caprese salad skewers you can store them in the refrigerator for up to 24-48 hours if you drizzled balsamic glaze on them. (The glaze will start to make the basil wilt!) If you did not drizzle balsamic glaze on top, they will keep for up to 3-5 days if stored in an airtight container. The basil will begin to wilt slightly, but will still taste great!

Can I Make Caprese Skewers Ahead of Time?
One of the best aspects of these holiday appetizers is the fact that you can prepare them up to 24 hours in advance. Avoid assembling them much before this to avoid wilted basil leaves. Also, you will want to buy your basil the same day or the day before assembly to avoid this, too.
Once the skewers are assembled, simply store them in an airtight container in the refrigerator or on the serving platter wrapped in saran wrap until ready to serve. Avoid drizzling balsamic glaze until JUST before serving.

Other Appetizer Recipes for your Holiday Parties
Individual Healthy 7-Layer Dips

Caprese Bites
Caprese Skewers with balsamic glaze are an easy, make-ahead holiday appetizer recipe the whole crowd will enjoy!
Instructions
Alternatively add a cherry tomato, mozzarella pearl, and basil leaf onto a 4 ½-inch toothpick or skewer. Repeat this process until skewer is full.

Store caprese skewers in the refrigerator for up to 24 hours before serving.

After plating the caprese skewers, drizzle with balsamic glaze. Enjoy!
Recipe Video
Nutrition Facts
Caprese Bites
Amount Per Serving
Calories 30
Calories from Fat 18
% Daily Value*
Fat 2g3%
Cholesterol 3mg1%
Sodium 8mg0%
Potassium 51mg1%
Carbohydrates 1g0%
Protein 1g2%
Vitamin A 280IU6%
Vitamin C 5mg6%
Calcium 42mg4%
Iron 0.2mg1%
* Percent Daily Values are based on a 2000 calorie diet.
SaveSave