Smoked Salmon Dip is an easy appetizer for Christmas, New Year's, or any other holiday party that only requires a few simple ingredients and can easily be made dairy-free, low-carb, and keto diet friendly. You will learn how to make this salmon dip recipe with cream cheese, yogurt, lemon, and dill in under 5 minutes!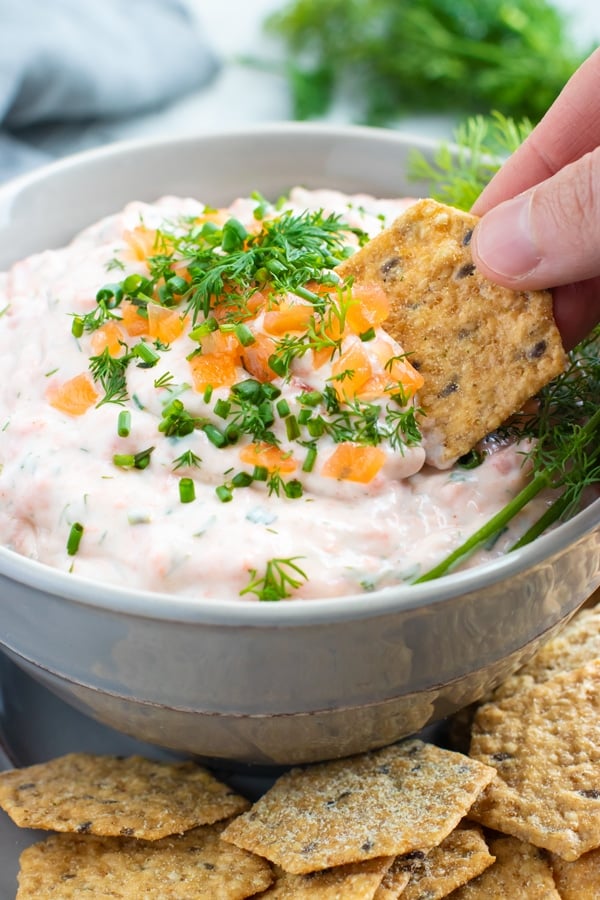 Smoked Salmon Dip Recipe
Smoked salmon is one of those specialty food items I do not really ever think about until one of the following occurs:
We are throwing a Christmas or New Year's party or weeknight get-together and need a few snack foods.
The hubby and I go on a backpacking trip and enjoy it the first night before it gets too warm without refrigeration.
When we (rarely) get bagels and the epic combo of smoked salmon and cream cheese is on the menu.
Those times I am STARVING in the grocery store, see the smoked salmon packages, and devour it as I walk through the store in an attempt to avoid buying everything on the aisles.
Then something occurred to me, why not turn this delightful delicacy into a smoked salmon dip? Combine the creaminess of the cream cheese, the smokiness of the smoked salmon, and the freshness from a bit of dill and lemon zest!
And do you want to know the best part?? I have made this smoked salmon dip full of dairy as well as dairy-free and they both came out incredible! Not to mention, it is very low-carb and a great appetizer recipe for guests on a keto diet when served with celery sticks or bell peppers.
So if you are in need of a super quick, but kind of fancy dip or appetizer to bring to an upcoming party, look no further than this salmon dip recipe! Below you will learn what ingredients you will need, how to make smoked salmon dip, how to store it, how long it will last, and what to serve it with.
Ingredients
Smoked salmon dip is a simple appetizer recipe to make last-minute for a party because it only requires a few easy-to-find ingredients (see picture above):
Wild smoked salmon – feel free to use Nova, Sockeye, or any other kind you enjoy the taste of on its own.
Yogurt – Make sure you get plain yogurt, but Greek, regular, or dairy-free will work great.
Cream cheese – The cream cheese in a block or a dairy-free variety (like Daiya's or Kite Hill's) work equally as well.
Lemon juice and zest – Fresh lemons work best, but bottle lemon juice can work if you do not have one.
Fresh dill – A necessity for this recipe!
Chives – If you are unable to find chives, substitute for green onions.
Salt, pepper, and paprika.

How to Make
Once you have gathered all of your ingredients, you will need either a large food processor or high speed blender that you are able to pulse. My personal preference is the Cuisinart 11-Cup food processor since it has the pulse function and can hold a double-batch of this smoked salmon dip.
You will first add the cream cheese, yogurt, lemon juice, lemon zest, and process for 20-30 seconds. Next, you will add the dill, smoked salmon, and seasoning ingredients. Pulse until just combine.
Smoked salmon dip tastes best served slightly chilled. If your ingredients are too warm after processing, simply return the salmon dip recipe to the refrigerator for 30 minutes before serving.
How to Store It?
Since smoked salmon dip is full of temperature sensitive ingredients you will want to store it in the refrigerator between servings.
How long will it last in the refrigerator?
Salmon dip will last for up to two weeks if stored in an air-tight container in the refrigerator. However, if you used cold smoked salmon the dip will only last for up to 3 days.
Can I freeze salmon dip?
Yes, you can freeze smoked salmon dip (if you are lucky enough to have any left!) Store the dip in an airtight container for up to 3 months in the freezer and let thaw in the refrigerator for a day or two before serving. The dip may separate slightly after thawing due to the yogurt. If this happens just give it a few good stirs and it will be good to go!
What to Serve with Smoked Salmon Dip?
The real question is, what CAN'T you serve with smoked salmon dip!! This party snack recipe is great for guests on a gluten-free, keto, dairy-free (if made with dairy-free cream cheese and yogurt), and low-carb diet. Here are a few options of what to serve alongside it:
Gluten-free and/or grain-free crackers
Celery sticks
Bell peppers
Carrots
Pieces of bread or toast
You can even serve this smoked salmon dip as a spread on some bread and turn it into a delightful sandwich!
Other Recipes Like this Salmon Dip Recipe:
If you need a few more holiday party appetizers, here are others you might enjoy:
Smoked Salmon Dip
Smoked Salmon Dip is an easy appetizer for Christmas, New Year's, or any other holiday party that only requires a few simple ingredients and can easily be made dairy-free, low-carb, and keto diet friendly.
Ingredients
8

oz.

cream cheese

softened, or dairy-free cream cheese*

5

oz.

yogurt

plain, or dairy-free yogurt

1

Tbsp.

lemon juice

1

tsp.

lemon zest

2

Tbsp.

dill

finely chopped

¼

tsp.

salt

4

oz.

wild smoked salmon

roughly chopped

1

Tbsp.

chives

finely chopped, or green onions

⅛

tsp.

paprika
Instructions
Add cream cheese, yogurt, lemon juice, and lemon zest to the bowl of a

large food processor

. Process for 20-30 seconds, scraping down the sides halfway through.

Add dill, salt, smoked salmon, chives, and paprika. Pulse 5-10 times, or until ingredients are well incorporated.

Serve immediately or refrigerate smoked salmon dip until ready to serve. Sprinkle with additional chives and serve with crackers, celery, or carrots. Enjoy!
Recipe Video
Recipe Notes
You can also use a dairy-free cream cheese spread (Daiya and Kite Hill make some) and a dairy-free yogurt.
Nutrition facts are calculated without crackers, celery, or carrots.
Nutrition Facts
Smoked Salmon Dip
Amount Per Serving
Calories 84
Calories from Fat 63
% Daily Value*
Fat 7g11%
Cholesterol 24mg8%
Sodium 181mg8%
Potassium 82mg2%
Carbohydrates 1g0%
Protein 3g6%
Vitamin A 545IU11%
Vitamin C 3.8mg5%
Calcium 40mg4%
Iron 0.3mg2%
* Percent Daily Values are based on a 2000 calorie diet.