Once you know How to Clean Collard Greens, they will likely make a regular appearance on your weekly menu. Simply fill a large tub or sink with water, let the greens soak, then carefully rinse away any remaining dirt and debris before cooking. Once clean, you can easily prepare this leafy vegetable as a healthy side.
Cleaning Collard Greens
Collard greens sometimes get a bad rap.
If they're not prepared well, they are often bitter with a weird texture.
Many people don't know how to clean and prepare the leaf part for cooking, either.
Well, fear no more! I'm here to tell you that cleaning collard greens is EASY! Just a few simple steps and you'll be well on your way to enjoying this Southern favorite.
Collard greens are often enjoyed on New Year's Day alongside Instant Pot black-eyed peas and gluten-free cornbread for good luck. You can also cook collard greens as a side dish to smoked ham hocks.
And don't forget to try out this Southern Collard Green recipe next time the mood strikes you.
What are Collard Greens?
Collard Greens, often simply called collards or greens, are dark green vegetables with fan-like leaves and fibrous stems. They are closely related to kale, mustard greens, and turnips. In many places, you will find these vegetables used interchangeably.
Typically, this plant is prepared slowly at low temperatures along with other ingredients like bacon or ham, beans, okra, and garlic.
While collard greens aren't really hard to work with, many people think they are. They just take a little time and patience to get the green leaves tender and bring out the flavor.
Do collard greens need to be washed?
Yes! Leafy vegetables like collard greens are often full of hidden dirt and debris. A good wash is essential to removing everything you don't want to eat.
What You Need
To make the process of cleaning collard greens easier, be sure to have these basic supplies:
Large tub OR clean sink. Collard greens need a good soak in cold water before cleaning and cooking.
Vinegar. While not absolutely necessary, vinegar does help to thoroughly clean the plant and remove dirt and debris.
Towels. Either paper towels or a kitchen towel can be used.
Cutting board. After you clean them, you can remove the stems.
Sharp knife or kitchen shears. This is needed to cut through the tough stalks.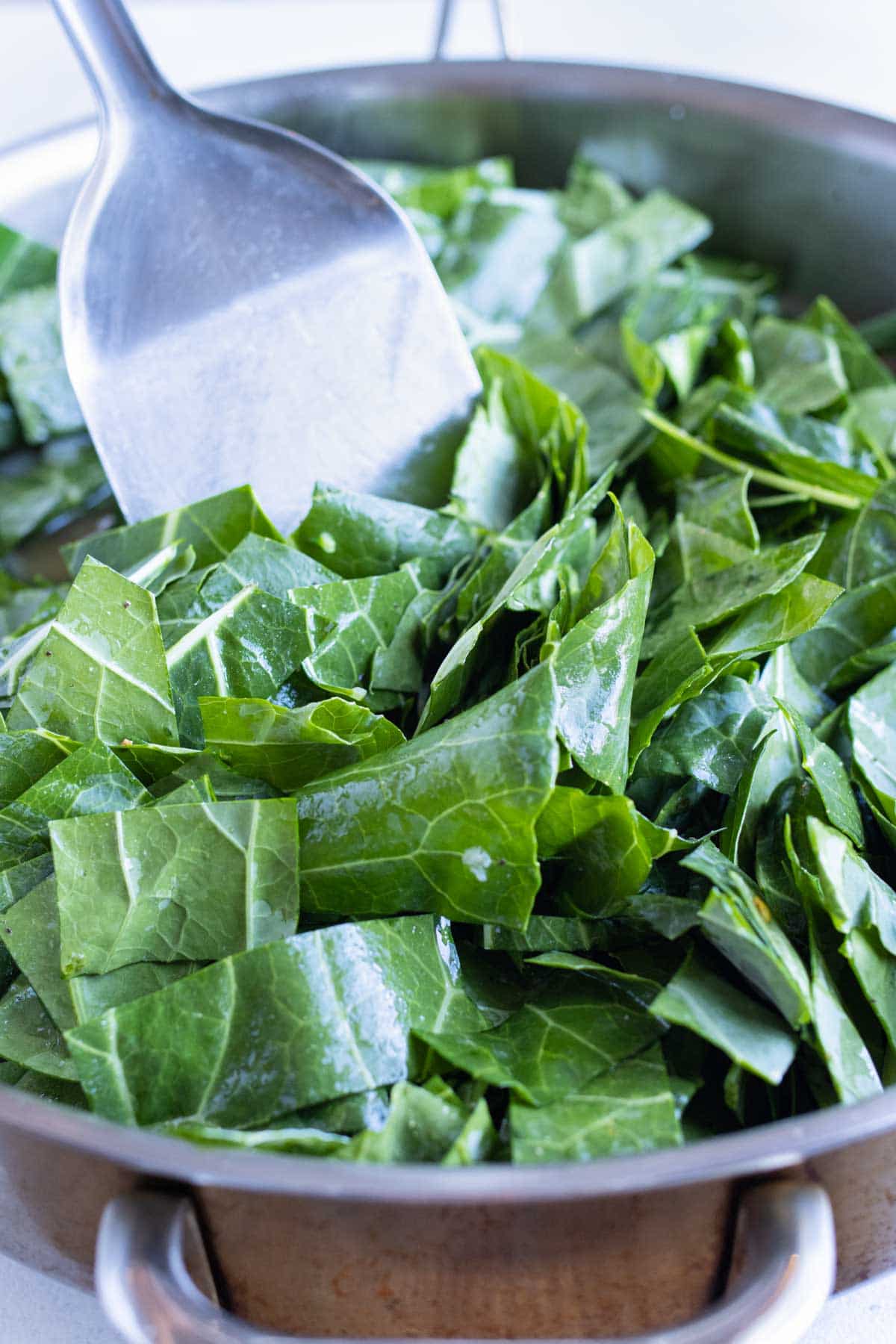 How to Clean Collard Greens
The simple steps to clean collard greens are easy to follow:
How long should I soak collard greens?
First, you will need a large tub of water. You can use a cleaned kitchen sink or large Tupperware bowl. You can even use a large pot, if needed.
Depending on how much liquid your bowl can hold, you can add a little bit of vinegar. Aim for ½-cup for every 2 to 3 gallons. This step is optional, however.
Place the leafy collard greens in the tub or bowl of cold water. Let them soak for 10 to 15 minutes.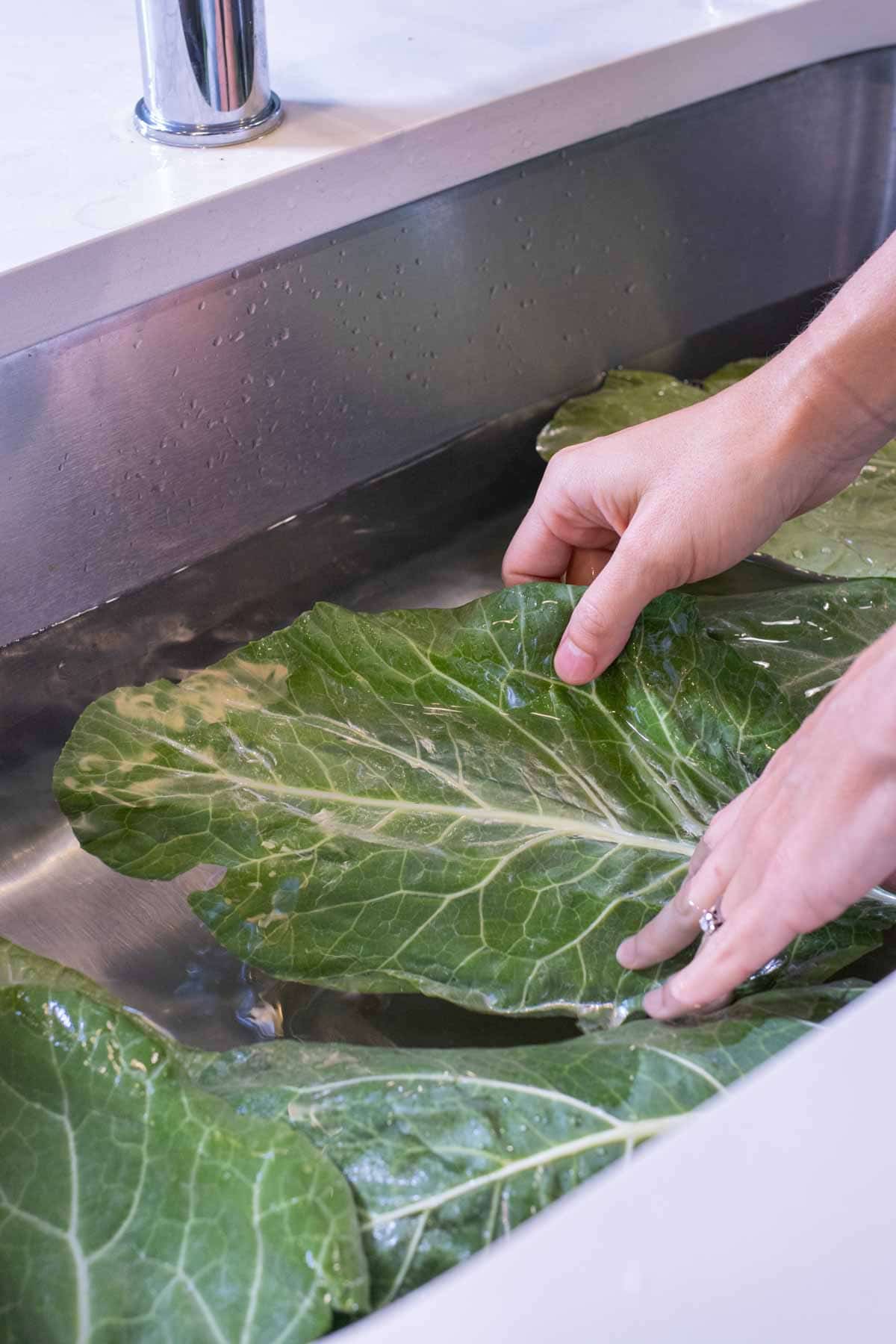 Rinse them Off
You will likely see some dirt or sand in the bottom of the tub, and this is normal. If you used a large pot or tub, drain the water.
Turn your faucet on low and carefully rinse off each leaf as you remove it from the water.
Dry the Leaves
Lay out some towels on the counter. Set each leaf on the towels.
Then, use another one to gently pat the collard greens until they're dry.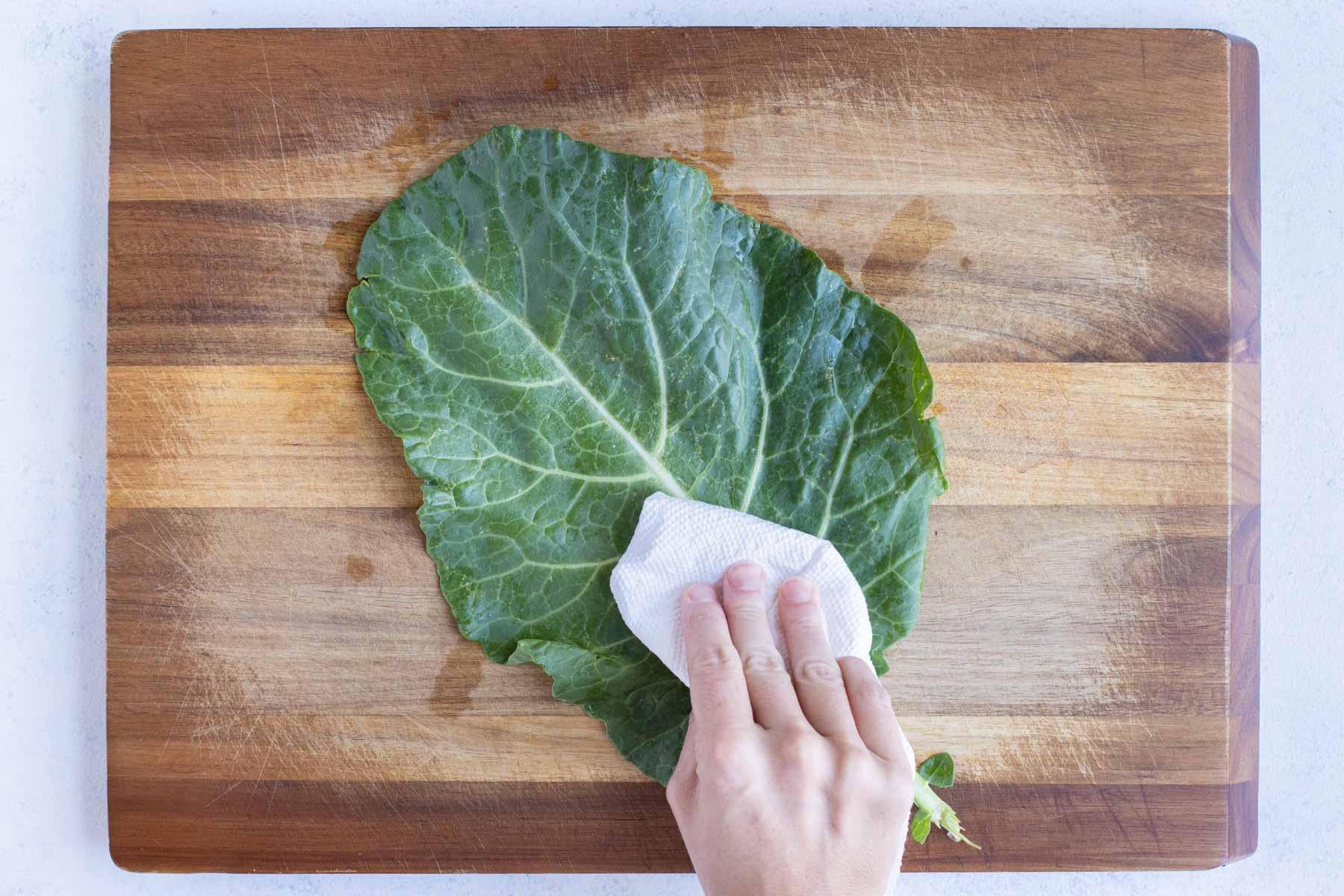 Remove the Stem
Use kitchen shears or a sharp knife to cut along both sides of the stem, or rib. You don't need to go all the way to the top of the leaf, about halfway is good.
You are aiming to remove the fibrous, tough section of the stalk.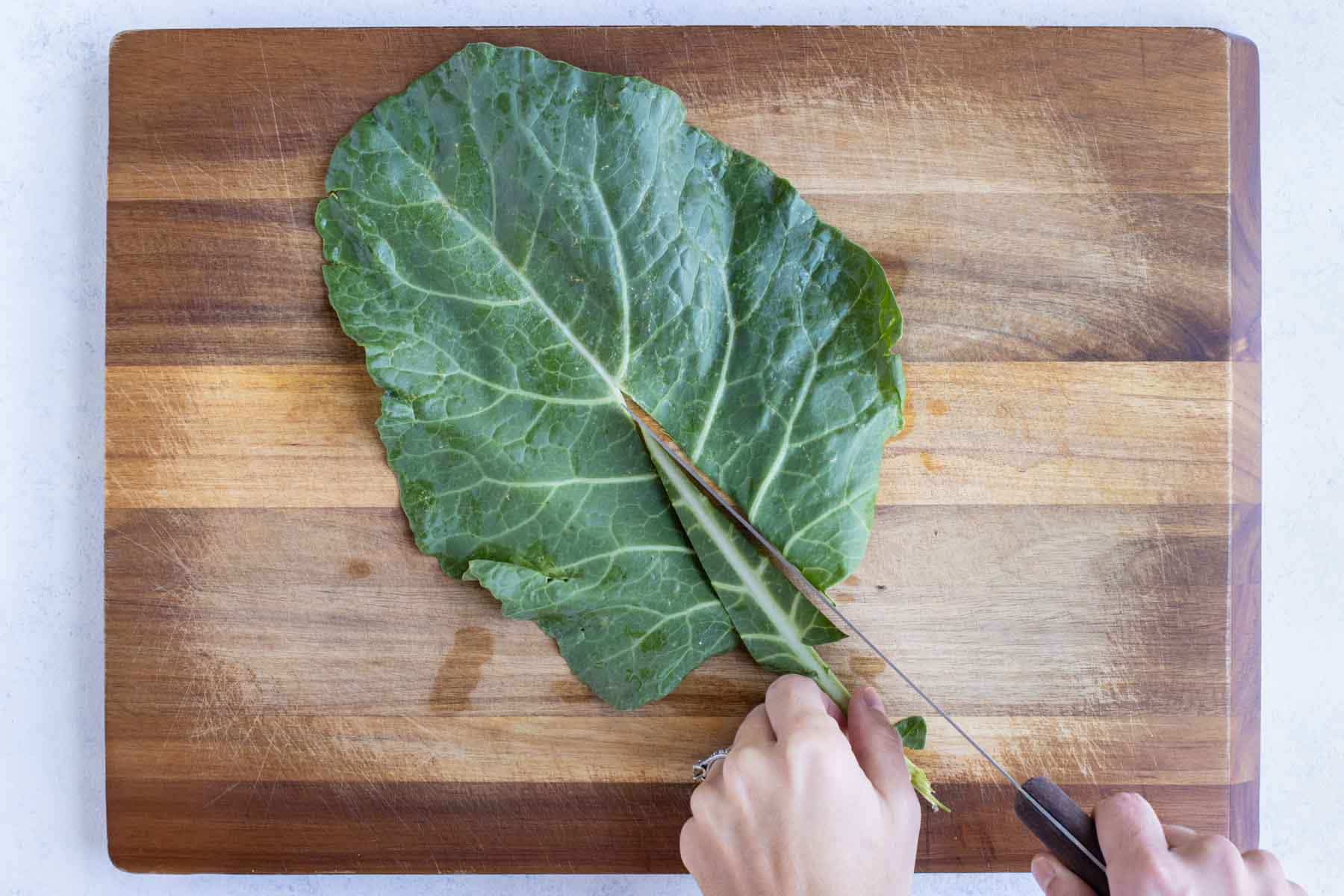 Expert Tips and Tricks
Go big. You need a really large tub or bucket to let them soak, use your sink to make it easy.
Vinegar soak. While not necessary, a little bit of vinegar goes a long way to clean the collard greens.
Dry it off. Use a kitchen towel or paper towels to remove any moisture from the leaves after cleaning.
Get rid of it. The middle part of the stem, also called the rib, is super fibrous and should be removed before cooking.
Get creative. Once clean, collard greens can be cooked and served in so many ways, like with grits, in soups and stews, or with a protein like pork.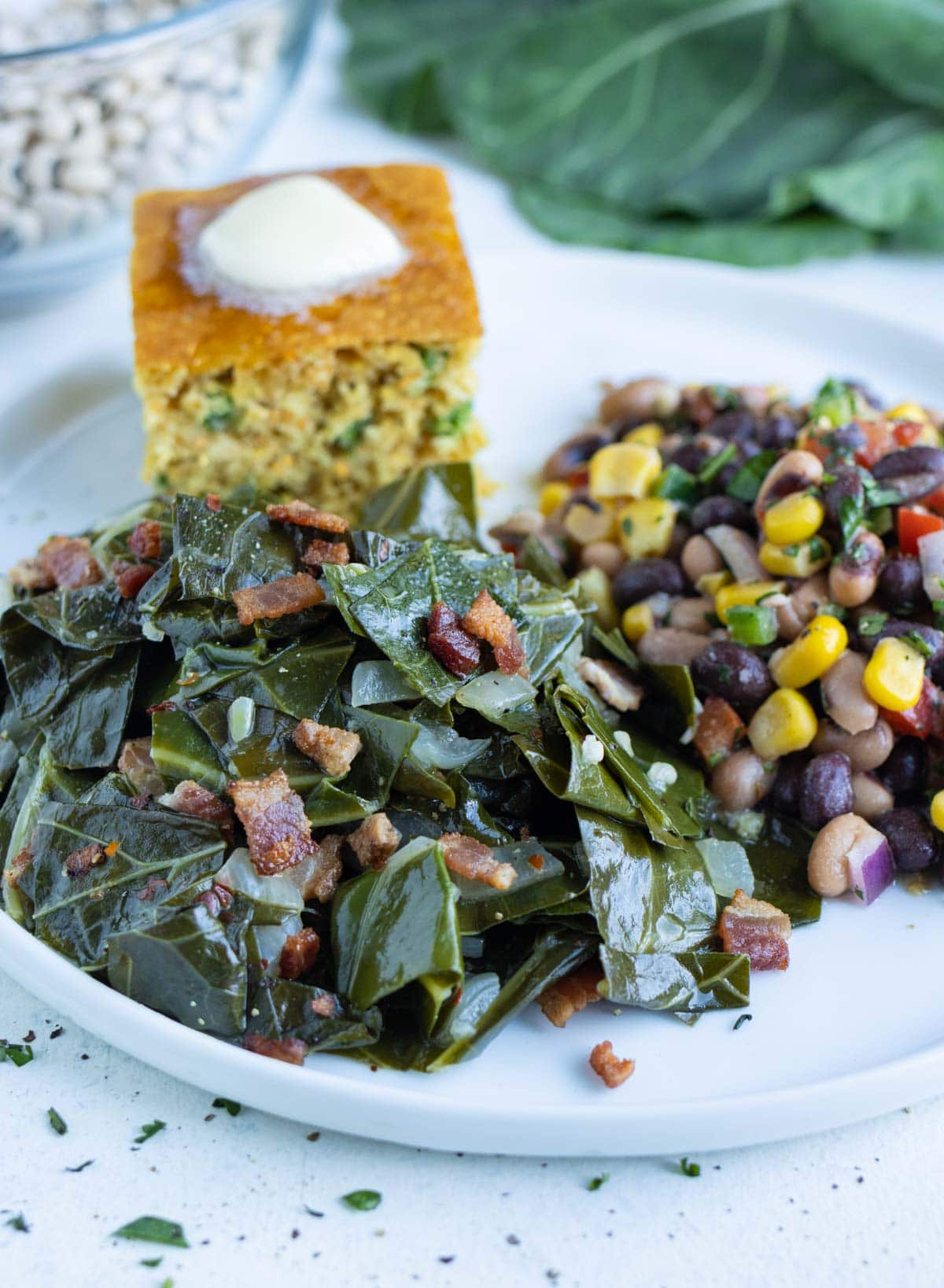 How to Use Collard Greens
Collard greens are an underutilized vegetable. Try this Southern Collard Greens recipe for a classic favorite.
They are delicious raw in this Rainbow Veggie Hummus Wrap, as well.
You can also chop some up and mix them into salads like this Fall Harvest Salad with Apples, this Chopped Kale Salad with Cranberries, or this Roasted Beet Salad with Goat Cheese.
How to Clean Collard Greens
Once you know How to Clean Collard Greens, they will likely make a regular appearance on your weekly menu. Simply fill a large tub or sink with water, let the greens soak, then carefully rinse away any remaining dirt and debris before cooking.
Instructions
Fill the sink or a large tub with cold water. If using vinegar, add about ½-cup for every 2 or 3 gallons of water.

Separate the collard greens and set them in the water. Be sure they are fully submerged. Allow the leafy vegetables to soak for at least 15 minutes. Rinse them with fresh water as you remove them.

Dry each leaf with paper or kitchen towels.

Use kitchen shears or a knife to remove the fibrous part of the stem, or the rib, from each leaf.

Use prepared greens in your favorite recipe!
Nutrition Facts
How to Clean Collard Greens
Amount Per Serving
Calories 61
Calories from Fat 9
% Daily Value*
Fat 1g2%
Sodium 32mg1%
Potassium 405mg12%
Carbohydrates 10g3%
Protein 6g12%
Vitamin A 9536IU191%
Vitamin C 67mg81%
Calcium 441mg44%
Iron 1mg6%
* Percent Daily Values are based on a 2000 calorie diet.