Have a bunch leftover and wondering how to freeze green onions to use later? It only takes a few quick minutes to prep them with this easy method. Once you learn this simple hack, you can always have scallions on hand when you need a fresh punch of flavor!
Green onions, or scallions, are one of those vegetables that many recipes call for because they add so much flavor. Unfortunately, they are also something many people leave out because scallions are not the easiest to keep on hand.
What if I told you there was a way to be sure you always have green onions on-hand anytime you need them?!?
There are 3 ways to store green onions in the refrigerator or at room temperature that are simple and sustainable.
Plus, you can freeze green onions for later use, as well! Cue the happy dance.
From soups, stews, stir-fries, rice dishes, and more, once you learn the best way to freeze them you'll never miss out on this integral flavor again!
Freezing Green Onions
Wash Well
The most important step in preparing the bunch of green onions is to wash them.
Remove the rubber bands and run the scallions under cold water. Ensure there is no dirt or debris left on the onions.
Thoroughly pat dry with paper towels. Do not leave any liquid as this will form ice crystals when freezing. Excess moisture can also increase freezer burn.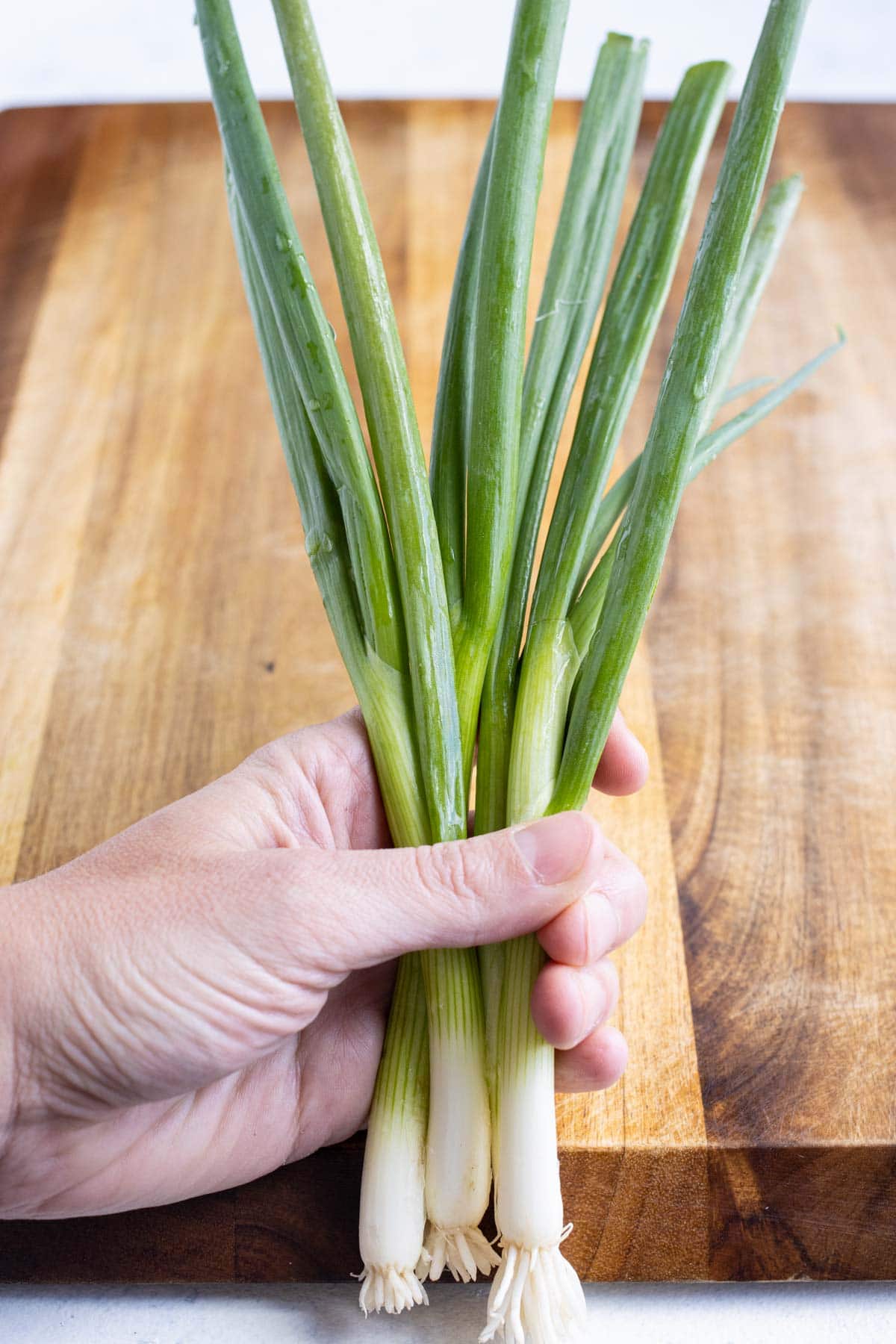 Trim
After thoroughly washing the green onions, trim them down and remove the bulbs. When freezing, dispose of the roots.
Or, save the roots and regrow some more!
Slice or chop the green parts to your preference. Cutting the onions into small pieces is recommended since frozen green onions are best used in cooked foods. After they're thawed, the texture becomes soggier and doesn't work great as a garnish.
Check out these tips on how to cut green onions if you don't already know!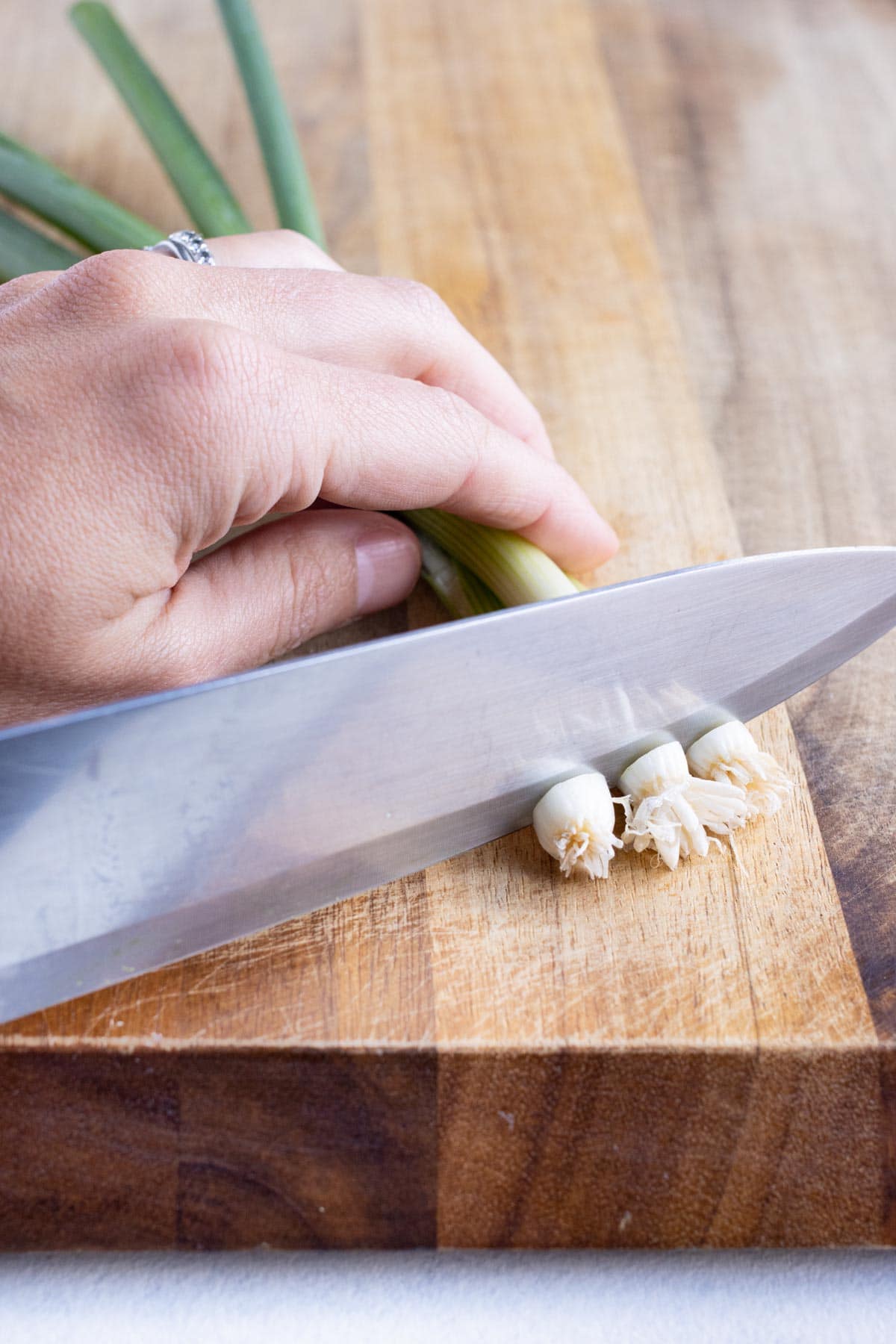 Toss it Up
Place the sliced green onions into a freezer-safe storage container. After 1-2 hours, toss them so they do not stick together.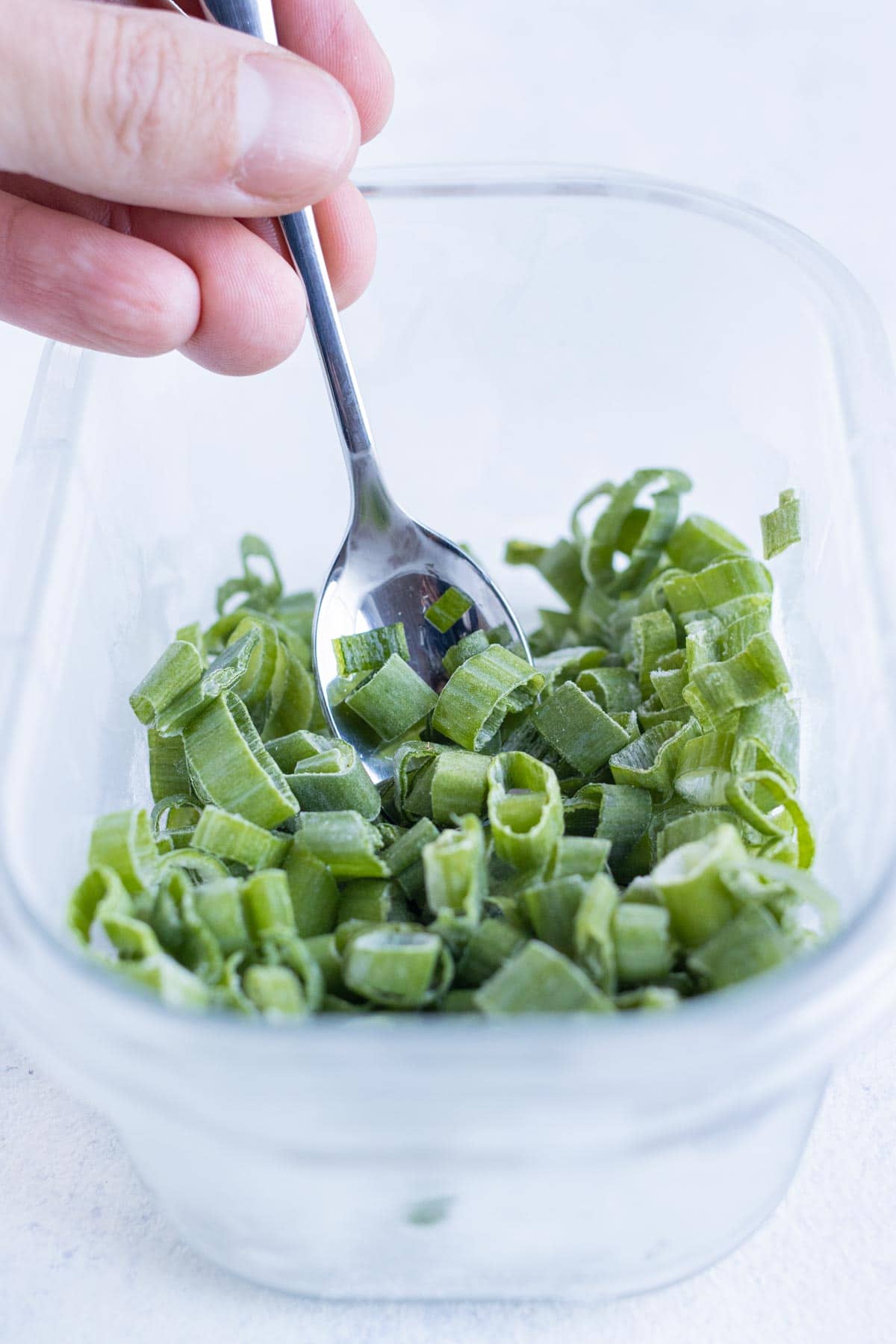 Spread Out
Flash freezing is another great method to freeze green onions. The quicker they are frozen, the fresher they will stay.
Prepare a sheet pan by lining it with parchment paper. Place your chopped or sliced green onions in a single layer on the tray.
Put the pan in the freezer for 1-2 hours. This process will also keep the green onions from freezing into a chunk making them difficult to use later.
Store in Freezer
Whichever method was used, place the green onions in a freezer-safe container. Either a freezer bag or container will work. Store frozen green onions in smaller portions for ease of use down the road.
And don't forget to label your storage container with the date!
Place the frozen scallions back in the freezer for up to 6 months.
Expert Tips and Tricks
Clean 'em up. Be sure to wash well and remove limp or rotten stalks.
Chop 'em small. Cut green onions the size you plan to use after thawing. The smaller the better.
Save the roots. Keep the root end and place them in a jar of water. This will grow new green onions.
Spread 'em out. Freeze green onions on a tray in a single layer, not touching. You don't want a frozen clump!
Just a bit. To make using frozen green onions easier, store them in single serving sizes.
FAQs
Do chopped green onions freeze well?
Chopped green onions do freeze well and easily. However, it is best to use frozen green onions in baked or cooked dishes since they become soggy once thawed.
How long will green onions last in the freezer?
You can leave frozen green onions in the freezer for up to 6 months.
What is the best way to preserve green onions?
When prepared and stored properly, green onions have a shelf life of up to 3 weeks in the fridge. You can also freeze green onions for up to 6 months. Check out these tips on storing green onions.
Recipes with Green Onions
Try any of these delightful recipes with green onions.
How to Freeze Green Onions
Have a bunch leftover and wondering how to freeze green onions to use later? It only takes a few quick minutes to prep them in this method.
Total Time
1
hour
5
minutes
Instructions
Cut Green Onions: Add cut green onions to a freezer-safe plastic container or bag. Freeze for 1-2 hours, or until the onions become firm. Give them a toss to separate them into individual pieces and then return to the freezer to store for up to 2-3 months. Use cut green onions in soups, stews, or even frittatas and casseroles.

Whole Green Onions: Cut the bunch in half so they can easily fit in the storage container. Place in a freezer-safe container and store for up to 2-3 months. When ready to use, thaw green onions at room temperature and then cut into pieces.