Enjoy a big bowl of roasted butternut squash soup that is made with coconut milk and other Whole 30, dairy-free, and Paleo-friendly ingredients. This vegan dinner recipe is full of oven-roasted and baked squash and makes a wonderful main dish, appetizer, or side dish recipe.
Want more vegan soup recipes? You might also like this Creamy Pumpkin Soup, Healthy Cauliflower Soup, Cream of Asparagus Soup, and Roasted Tomato Basil Soup!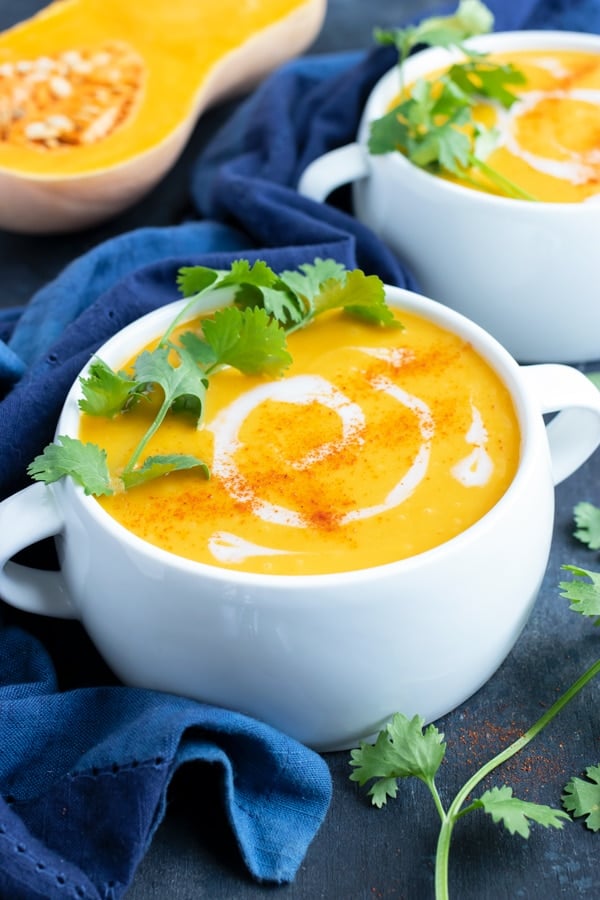 Roasted Butternut Squash Soup
Even right now as I type these words, I am craving a bowl of this nutritious roasted butternut squash soup.
My body decided to trick me last week and it felt like I was coming down with a cold.
I got the usual tickle in my throat, extreme fatigue for a day, a slight cough, and then…. nothing.
But I still went ahead and whipped myself up a big batch of this healthy, heart-warming, and vegan meal to help fight the potential sickness.
And while getting a cold is not the end of the world, it certainly does make you appreciate the majority of days that you are healthy.
Fall & Winter Meal Idea
With the Fall and Winter seasons right around the corner, having a few healthy recipes on hand is crucial when combatting illness.
And while a big bowl of gluten-free chicken noodle soup is definitely cozy and soothing, a vegan, Paleo, and Whole30 serving of this recipe is even healthier for you and tastes incredible!!
Super creamy,
Full of flavor,
Slightly sweet,
And ultra savory.
You just might feel like you have been transported to the most elegant log cabin in the wintry mountains when you are enjoying this recipe! <– Can you tell I am a dreamer?!
Ingredients
The ingredients needed for this Whole30 recipe are relatively easy-to-find in your local grocery store.
Butternut Squash – Look for a large squash that is around 2 1/2 – 3 pounds in weight.
Coconut Milk – This vegan milk substitute makes up the bulk of the liquid in this recipe.

Feel free to use a LITE coconut milk to make this lower in fat and calories.
Make sure you get the CANNED coconut milk and NOT the kind in the refrigerated section.

Garlic – Fresh garlic is best, but garlic powder can be substituted if that's all you have.
Ginger – Minced ginger paste is quick and easy-to-use and is what was used in this recipe.
Vegetable Broth – Use this if you are vegetarian or vegan. If you are not, you can also use chicken broth or bone broth instead.
Cayenne Pepper – This spice helps give it a little kick. Feel free to leave it out if you want it to be a bit sweeter.
Cinnamon – This subtle spice gives it a Fall feeling to it. If you're not a fan, simply leave it out!
How to Make Roasted Butternut Squash Soup
There are a few simple steps you will need to follow to make this vegan and Paleo dish:
Roast a whole butternut squash in the oven. (See below for more details.)
Saute onions until tender.
Stir in coconut milk, seasoning ingredients, and broth.
Simmer for 5 minutes or until ingredients are combined.
Add roasted butternut squash and coconut milk ingredients to a large food processor or high-speed blender.
Process or blend until ingredients are smooth, about 2-3 minutes.
Reheat squash in a saucepan over Medium-Low heat until your desired temperature is reached.
Roasting Butternut Squash
Now that you understand the general steps, it's time to start roasting the squash in the oven.
Roasting butternut squash before making the soup brings out the natural sweetness versus just boiling it.
So trust me, you do not want to skip this process!
Cut the butternut squash in half length-wise. (Image 1 above.)
Drizzle a touch of olive oil over both halves. (Image 2 above.)
Sprinkle both halves with a pinch of salt. (Image 3 above.)
Place halves face side-down on a large baking sheet. (Image 4 above.)
Roast in a 425 degree oven for 40-50 minutes, or until squash is caramelized and tender.
Ways to Puree
There are a few ways you can puree these ingredients into a super creamy consistency:
Vitamix – A large high-speed blender, such as a Vitamix, is hands-down my favorite way. You can puree it in a single batch, it comes out ultra creamy, and it is the least likely to splatter all over your kitchen! (This is pictured above.)
Food Processor – This is the second best option, but you will need to puree in batches.
Immersion Blender – In almost every other creamy soup recipe, this would be my preference. However, the squash is pretty thick and will make using an immersion blender a little tricky and potentially very messy.
Serving, Storing, and Reheating
Once the soup is completely pureed and ultra creamy, it's time to serve it up!
If it has cooled down, simply add it back into the pot and reheat until it reaches your desired temperature
Serving: Serve with additional coconut milk or coconut cream drizzled on top, a sprig of cilantro, and a sprinkle of cayenne pepper, for presentation.
Storing: Have some leftovers? This dish seriously gets better with time and will taste wonderful after a day or two in the refrigerator. Simply store in an airtight container in the refrigerator for up to 4-5 days.
Freezing: Want to freeze leftovers for later? Place in a freezer-safe container or Ziploc bag in the freezer for up to 4-6 months.
Reheating: The best way to reheat soup is to return it to a pot and heat up over Medium-low heat. You can also reheat it in the microwave if you're in a rush.
Healthy Way to Fight a Cold
Normally I am diligent with dosing up on Vitamin C at the first signs of coming down with a cold.
And guess what… a bowl of this bowl of deliciousness has over 50% of the recommended Vitamin C that you need!
Not to mention, it is full of fresh ginger, garlic, and cinnamon.
Ginger: it is anti-inflammatory and will help ease a sore throat. It also has the potential to kill rhinovirus before it rears its' ugly head!
Garlic: has special components, Allicin and Allion, which contain antiviral and antibacterial properties.
Cinnamon: contains anti-inflammatory and immunity-boosting properties.
Other Healthy Soup Recipes
Roasted Tomato Basil Soup (Vegan)
Slow Cooker Chicken Tortilla Soup
Cream of Asparagus Soup | Vegan
Instant Pot Potato Corn Chowder
Roasted Butternut Squash Soup with Coconut Milk
Enjoy a big bowl of roasted butternut squash soup that is made with coconut milk and other Whole 30, vegan, dairy-free, and Paleo-friendly ingredients.
Ingredients
1

large

butternut squash

cut in half, seeds removed

1-2

Tbsp.

olive oil

Pinch

of salt
For the Soup:
2

Tbsp.

olive oil

¾

cup

sweet onion

finely chopped

3

cloves

garlic

crushed

1 ¼

tsp.

ginger

crushed

¾

tsp.

salt

¼

tsp.

cinnamon

Pinch

cayenne pepper

15

oz.

coconut milk*

canned, full-fat or lite

1-2

cups

vegetable broth*

Cilantro

optional
Instructions
Preheat oven to 425 degrees.

Drizzle 1 tablespoon olive oil and sprinkle a pinch of salt on the inside of both halves of the butternut squash.

Place squash face-down on a large baking sheet lined with parchment paper or aluminum foil. Bake in preheated oven for 40-50 minutes, or until squash is tender.
For the Soup:
In a medium saucepan or pot combine 2 tablespoons olive oil and onion. Sauté over medium heat for 3-4 minutes.

Add garlic and ginger. Continue cooking over medium heat for 1-2 minutes.

Lastly, add salt, cayenne, cinnamon, coconut milk, and broth. Stir to combine ingredients. Cover skillet with a lid, reduce heat to low, and let ingredients simmer for 5 minutes.

Once squash is done cooking, remove as much flesh as you can and discard the skin.

Add all of the squash and coconut milk mixture to a high-speed blender, such as a Vitamix. Or, add half of the squash and half of the coconut milk mixture to the bowl of a large food processor and process in batches. Puree for 2-3 minutes, or until contents are completely smooth.

Pour soup back into the pot or saucepan and reheat over Medium-Low heat.
Recipe Video
Recipe Notes
You can use Lite coconut milk instead of full-fat, but be sure to only use 1 cup of broth initially.
Feel free to use chicken broth instead of vegetable broth if you are not vegan.
Have trouble cutting butternut squash in half? Learn How to Cut Butternut Squash here.
Nutrition Facts
Roasted Butternut Squash Soup with Coconut Milk
Amount Per Serving
Calories 321
Calories from Fat 207
% Daily Value*
Fat 23g35%
Sodium 415mg18%
Potassium 989mg28%
Carbohydrates 32g11%
Protein 4g8%
Vitamin A 24192IU484%
Vitamin C 50mg61%
Calcium 131mg13%
Iron 4mg22%
* Percent Daily Values are based on a 2000 calorie diet.