In need of a substitute for sour cream? Check out this list of 12 options suited for any diet—dairy or non-dairy. Additionally, you'll learn all about what sour cream is and why it's used in baking. Take a look through recipes at the end that include sour cream and its alternatives for the best desserts, dinners, and salads!
What is sour cream?
Sour cream is pasteurized dairy cream with lactic acid bacteria added to it. This results in a sour and tangy flavored cream. Sour cream also has a 20% fat content, making it thicker than other dairy products like heavy whipping cream or whole milk. It is commonly used for toppings, in baking, and as a thickening agent.
Best Sour Cream Substitutes
Take a look at these 9 sour cream substitutes to use when you can't rush to the grocery store:
DIY Sour Cream
This is a great make-ahead sour cream alternative if you have the time and want to spend less on your grocery bill. The steps are simple, and each ingredient is a staple in most pantries!
Whisk 1 cup heavy cream with 1 teaspoon distilled white vinegar or lemon juice and let it sit for 10 minutes in a glass jar.
Stir in ¼ cup whole milk.
Let sit at room temperature for 24 hours.
Refrigerate until ready to use.
This DIY sour cream acts just like the sour cream you buy at the grocery store for anything like toppings, sauces, marinades, and baking.
Mayonnaise
Mayonnaise is such a great option because the eggs and oil provide the same kind of moisture as sour cream. If it's too thick for your own preference, thin it out with some apple cider vinegar, which can also provide a hint of sourness. You'll use the exact amount that the recipe calls for which makes this substitute so easy!
Greek Yogurt or Plain Regular Yogurt
Greek yogurt may be the best substitute because of its thick texture and tangy taste, which closely mimics sour cream. For 1 cup of sour cream, mix in 1 tablespoon of lemon juice to every 1 cup of Greek yogurt. The lemon juice adds the right amount of acidity.
Plain yogurt is another great alternative if you have it on hand. Thicken the plain yogurt by straining it through a cheesecloth to drain out some of the liquid. You'll use what's left in the cheesecloth, and 1 cup yogurt is equivalent to ¾ cup strained yogurt. Use a 1:1 ration when using this substitution.
Cottage Cheese
Cottage cheese is a protein-packed alternative to sour cream. Don't let the texture throw you off because you can simply blend 1 cup cottage cheese with 2 teaspoons of lemon juice and you'll be good to go. With this combination, use the same ratio.
Cream Cheese
Cream cheese is a great substitute because it is thick and does not curdle when cooking. Whipping your cream cheese at room temperature with 1-2 tablespoons milk will soften it, making it the right consistency for a sour cream alternative. Use the same amount that the recipe calls for on this one.
Buttermilk
Because of its smooth consistency and tart taste, buttermilk is a good substitute. Because it is thinner than sour cream, you only need ¾ cup of buttermilk for every 1 cup sour cream. It's best to use buttermilk as a sour cream alternative for baking, not for toppings.
Plain Kefir
Kefir is a fermented dairy drink that is a mix of buttermilk and yogurt, so its sour taste resembles sour cream quite well. It is thin, so it's best used for dips and dressings. For most sour cream recipes, use the same amount that the recipe calls for.
Mexican Crema
Since sour cream is used as a topping often, Mexican crema is an easy substitute. It has a creamy texture, is thinner, and works well even on high heat. Use a 1:1 ratio with this one, or eyeball it since it's mainly used for toppings.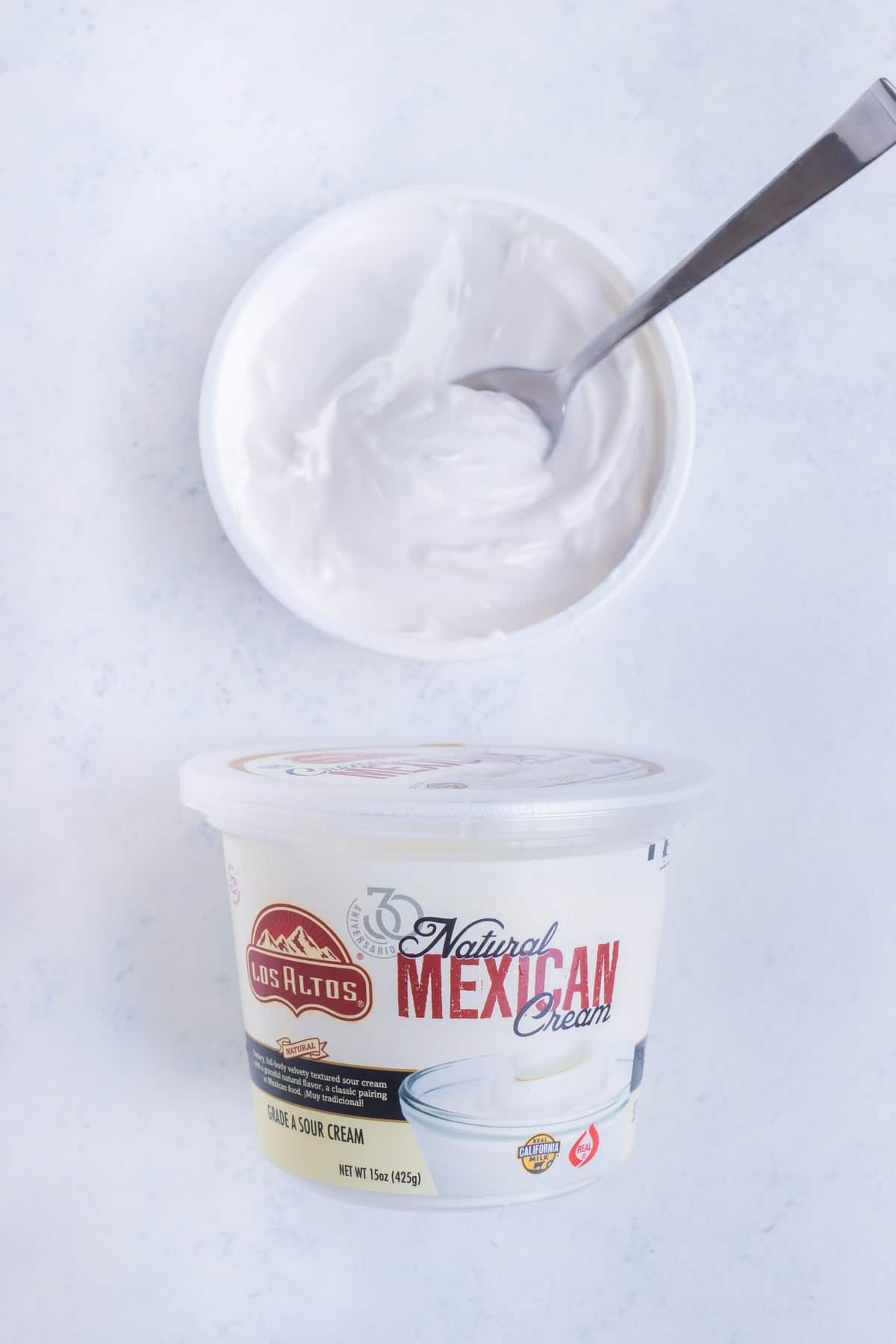 Crème Fraîche
This option might be the best sour cream substitute if you can find it at your grocery store because it's essentially French sour cream. Its thicker consistency makes it creamier than most substitutes. You can use the same amount as the recipe calls for on this one, and it won't disappoint you.
Dairy-Free / Vegan Sour Cream Substitutes
For anyone on a dairy-free or vegan diet, here are 3 homemade options that can suit your personal preferences:
Vegan Mayonnaise
One of the non-dairy alternatives to sour cream is vegan mayonnaise because of its thicker texture. You can even make it homemade in just 3 simple steps:
Blend ⅓ cup unsweetened soy milk with ½ teaspoon yellow mustard and ¼ teaspoon salt until smooth.
Slowly add 1 cup canola oil to the blender until contents are fluffy.
Add ½ tablespoon lemon juice, blend, and serve!
You can use a 1:1 ratio, and making extra is encouraged—it lasts a long time in your fridge.
Coconut Milk
Coconut milk is one of the many dairy-free options that make an excellent substitute. With canned coconut milk, simply skim the coconut cream that rises to the top. Add 1 tablespoon vinegar or lemon juice to the cream you just skimmed off. Add a smidge of salt and let it sit in the fridge covered for at least 30 minutes.
Like many other substitutes, you can use the exact amount that the recipe calls for.
Cashew Cream
Because cashews have a natural tangy flavor, cashew cream can make a great sour cream substitute. If you can't find it at grocery stores, you can easily make it at home for a healthy alternative using these steps:
Soak 1 cup cashews in a hot water bath for 30 minutes.
Drain cashews and add to a food processor with 2 tablespoons lemon juice and 1 teaspoon apple cider vinegar.
Add salt to taste, and let refrigerate for 4 hours to thicken up.
What's the purpose of sour cream in baking?
Sour cream has 4 purposes in baking:
Adds moisture: Adding sour cream to a batter thickens and moistens it without thinning it like milk and buttermilk.
Enriches: Sour cream enriches baked goods because of its high fat content with 20 grams of fat in 4 ounces.
Activates baking soda: The acid in sour cream makes your cake expand, eliminating the need for baking powder.
Provides an even bake: Since sour cream has low acidity, it slows down the browning process resulting in an even bake inside and out.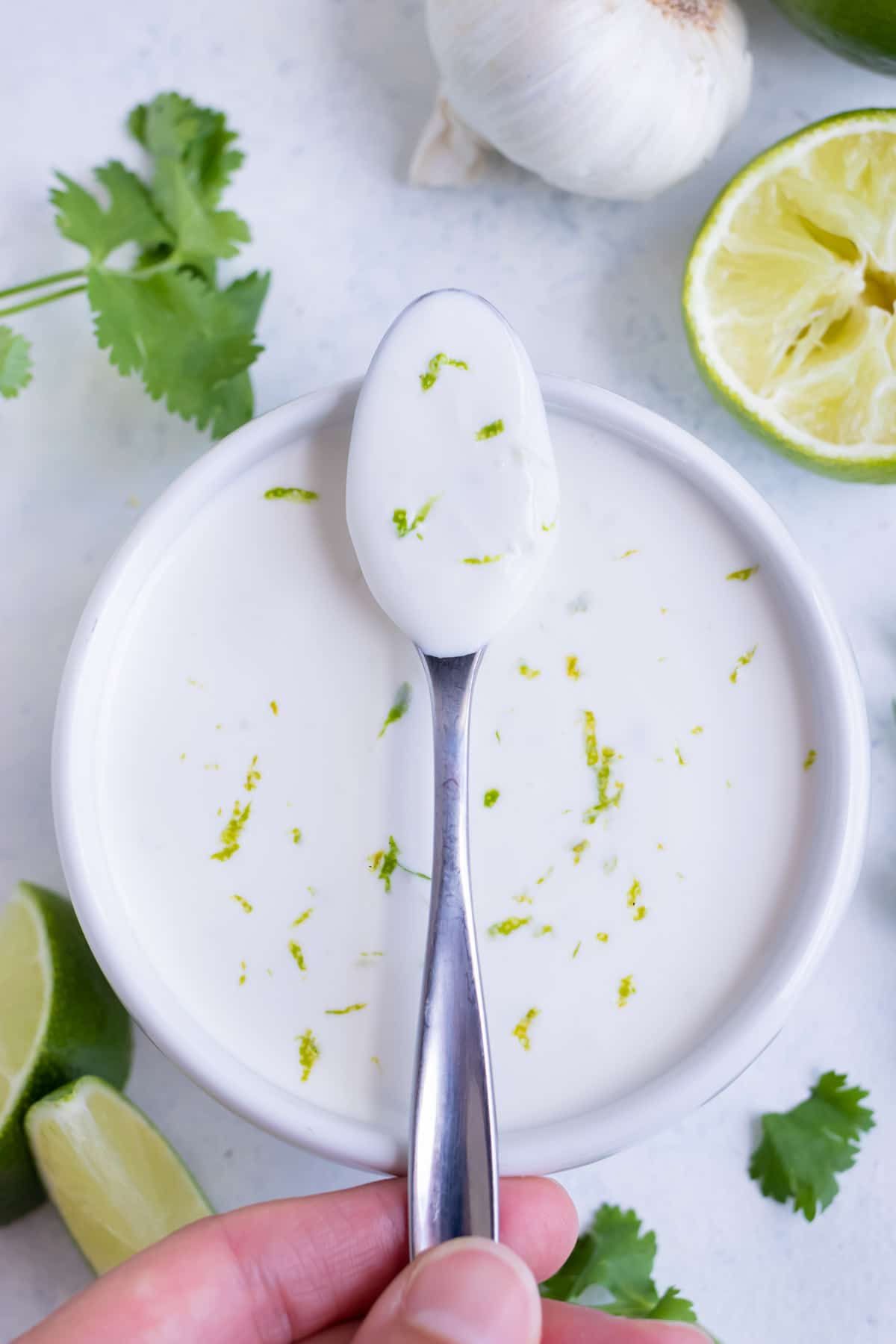 Which sour cream substitute is the best?
Depending on what you're making, here's a good rule of thumb for when to use which substitute:
| | | | |
| --- | --- | --- | --- |
| Baking | Marinades | Dips / Sauces | Dressings |
| Greek yogurt | Greek yogurt | Greek yogurt | Plain regular yogurt |
| Plain regular yogurt | Mayonnaise | Plain regular yogurt | Cream cheese |
| Buttermilk | Vegan mayonnaise | Cream cheese | Mayonnaise |
| Cream cheese | | Mayonnaise | Vegan mayonnaise |
| Cottage cheese | | Vegan mayonnaise | Buttermilk |
| Coconut milk | | Buttermilk | Plain kefir |
| Cashew cream | | Plain kefir | Mexican crema |
| | | Crème fraîche | Coconut milk |
| | | Coconut Milk | Cashew cream |
| | | Cottage cheese | |
| | | Cashew cream | |
Sour Cream FAQ
​Can you freeze sour cream?
Yes, you can freeze sour cream for up to 4 months if you put it in a plastic bag and remove excess air.
Is sour cream keto?
​Since sour cream is so high in fat, it works well with the low-carb, keto diet and promotes a healthy gut.
How much acid is in sour cream?
Sour cream has a pH level of 4.5.
Can I substitute milk for sour cream?
​Yes, but you'll need to add an acid like lemon juice and a thickener like powdered milk.
Is sour cream just yogurt?
No, yogurt is made from milk and sour cream is made from cream and lactic acid-producing bacteria.
Recipes with Sour Cream and Its Alternatives