Learn How to Make Zoodles, also known as zucchini noodles, for a healthy, low-carb and keto pasta option. This guide includes 5 quick and easy methods including using spiralizers, a mandoline, julienne peeler, or knife. Once you know how to cook these Whole30, vegan, and Paleo noodles, pair them with spaghetti sauce and more!
Finding a healthy, low-carb, and keto-friendly alternative to pasta can be somewhat of a challenge.
Up until recently there just hasn't seemed to be a great substitution for that ultra starchy, and glutinous grain.
That is, until I discovered a spiralizer and how easy it is to make zucchini noodles!
What are Zucchini Noodles?
Zucchini noodles, affectionately shortened to "zoodles", are spirals of zucchini squash that have been cut into a pasta shape.
Sometimes in the form of thicker spaghetti noodles, thin linguine, or even thin sheets like pappardelle pasta.
They get super soft and tender once you cook them in a skillet, microwave, or bake them in the oven. Plus, they do a pretty incredible job of mimicking the shape and texture of regular pasta…
Without the carbs, gluten, and grains, of course!
(Like veggie noodles? You might also enjoy these Sweet Potato Noodles and these Butternut Squash Noodles!)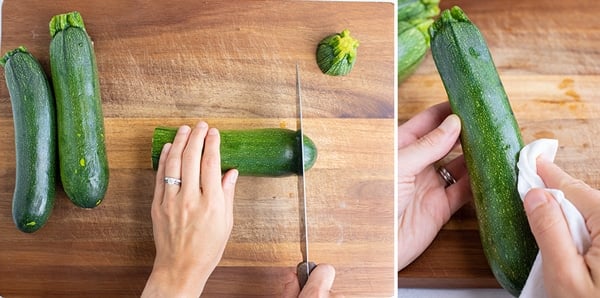 Preparing the Zucchini
Before you can turn your squash into a beautiful vegetable noodle, you'll first have to prepare it:
Rinse it under cool water and scrub with a vegetable brush to remove any dirt and debris.
Cut and remove both the stem and blossom ends of the squash.
Expert Tip: Try to select larger zucchini versus smaller for longer noodles.
How to Make Zucchini Noodles
There are a few different ways you can make zucchini noodles, with and without a spiralizer.
1. Countertop Spiralizer
Here are the simple steps for spiralizing zucchini:
Insert your blade of choice into the countertop spiralizer.

Suction it to the countertop to keep it steady.

Poke the very center of one cut end of the zucchini onto the sharp circular blade.

Make sure it is properly centered for the longest zoodles.

Skewer the other end of the zucchini onto the pointed plastic handle.

Check that it's on there well so it doesn't slip while spiralizing.

Hold the pressure handle facing you in your left hand and the spinning handle in your right hand.

This will give you the best control.

Spin the handle while applying some forward pressure towards the blade and watch as the zucchini noodles appear.

Repeat until you have your desired amount of zoodles.
Best Spiralizer
A vegetable spiralizer is hands down the best and easiest way to make zoodles.
And not just any spiralizer.
In fact, here are the key features to look for to make sure you purchase the best spiralizer:
Countertop: While this type does take up quite a bit more cabinet space than the hand spiralizer does, it is SO much easier and quicker to use.
Suction cup: Some of the table top spiralizers come with this amazing little gadget that enables it to suction itself to your countertop. Seems like it might be a bit unnecessary, but it is TOTALLY worth it. If you've ever tried spiralizing, the kitchen tool will start hopping around your counter with every turn. That is, if you don't have a suction cup that makes it stick to the counter.
Handle: In addition to the suction cup, you'll also want it to have an additional handle that sticks out towards you. This will help you to put a little pressure and more easily move the zucchini into the blade while it's spinning.
Different Blades: Even though you'll probably tend to use one of the blades more often than the others, it's nice to have options for different sizes of zucchini noodles. (i.e. spaghetti, linguine, or pappardelle.)
Here are a few of the best spiralizers:
OXO Good Grips: Great deal for your money and is what you see pictured here.
KitchenAid: Best if money is not a concern and you already own a KitchenAid stand mixer.
Briefton's: This one comes with 10 different blades and is much heavier and sturdier than other spiralizers.
Spiralizers are also great for making noodles out of a TON of different vegetables. From Sweet Potato Noodles, to beets, carrots, and summer squash, there are SO many different vegetables you can spiralize with this kitchen gadget.
2. Handheld Spiralizer
A handheld spiralizer does a great job of making those cute and curly zucchini noodles, but does take a little bit more time than a countertop kind.
Hold the handheld spiralizer in your non-dominant hand. Place the zucchini into the open hole with your other hand.
Twist until almost all of the zucchini is used. Poke the food holder into the exposed end and finish twisting the rest of the zucchini.
3. Mandoline
While the two spiralizer options above both make long, curly strands of zoodles, a mandoline will result in shorter and straighter zucchini noodles.
You also need to pay pretty close attention that you do not knick a finger while using this very sharp kitchen tool.
Place your blade of choice on the mandoline. Adjust to your desired thickness, about ⅛-inch is ideal.
Slice the zucchini. Move zucchini over the blade to create strands. When you get toward the end, use the slicing guard to save your fingers and get the most zucchini.
4. Julienne Peeler
You've got to be a little careful with this kitchen tool, as it is extremely sharp, too.
Hold the zucchini in your non-dominant hand. You can also cut one side flat and then place it on a cutting board if you're not comfortable holding it.
Place the peeler at one end of the zucchini. Make sure the julienne side is facing towards the skin. (step 1 above)
Create strands of zucchini. Pull apart from one end to the other. (Step 2 above)
5. Knife
By far the most difficult and time-consuming method to use, but it will work if you're in a pinch.
Cut the zucchini into ⅛-inch slices length-wise. Use a sharp knife to be the most precise.
Slice into ⅛-inch thick strands. Stack a couple slices to cut at the same time.
How to Cook Zucchini Noodles
Zoodles taste incredible when eaten raw and are extremely nutritious for you.
However, if you'd prefer them to be slightly more soft and tender, or you like your zoodles warm, here are three different ways you can cook them:
Sauté in Skillet – Add a tablespoon of oil or butter to a skillet over medium heat along with your zucchini noodles. Heat for 1-2 minutes, stirring occasionally, or until your desired tenderness is reached.
Microwave – Another quick and easy option is to pop them in the microwave and cook for 30-60 seconds.
Bake in Oven – Preheat the oven to 350°. Place zucchini noodles on a large baking sheet. Bake for 10-15 minutes or until it's as tender as you want.
Meal Prep and Storage
To Prep-Ahead: If you're not cooking the zoodles immediately, you can store them in an airtight container in the refrigerator for up to 5 days.
To Store: Keep leftover zoodles in the refrigerator in an airtight container for up to 3-5 days.
To Freeze: Do not try freezing zucchini noodles. Once thawed you will end up with a watery mess instead of perfectly firm and sturdy noodles.
To Reheat: Warm cooked zoodles in a skillet with some oil, or in the microwave.
Sauce for Zoodles
Any type of sauce will work, but a thicker sauce will pair the best with zucchini noodles.
Try to avoid thin and watery sauces that will make the zoodles even more soggy.
A creamy dairy-free alfredo sauce, thick pomodoro sauce, or any other chunky sauce will work great!
FAQs
How can I make longer zucchini noodles?
Center the zucchini on your spiralizer. Shorter zucchini noodles are a result of not having the zucchini properly center over the circular blade end or on the pointed handle end. Larger zucchini squash also result in longer zucchini noodles.
What can I do with the leftover zucchini core?
Add the leftover zucchini core to a stir-fry or chop it up and eat it raw in a salad.
Why are my zucchini noodles soggy?
Soggy and watery zoodles are often the result of using larger squash with a lot of seeds. If you prefer sturdy noodles, opt for smaller zucchini. But do note, you'll also get shorter zucchini noodles!
Expert Tips and Tricks
Go long. Choose a large zucchini and make sure the core is centered on the spiralizer for the longest noodles.
Or make them shorter. Cut the zucchini noodles using a kitchen or herb knife before cooking and serving.
Reduce waste. Use the core cooked up with more veggies, or toss in a salad.
Keep it thick. Pair with heavier sauces for best results.
Invest for success. Find a quality spiralizer to save time and effort.
Leave on the skin. This adds a great texture and beautiful color.
Recipes
Now that you've made and cooked your zucchini noodles, let's try them out in some of these healthy recipes:
Cajun Chicken Zucchini Noodles
Toss them in some homemade Pasta Pomodoro Sauce.
Mix them with some melted Homemade Garlic Herb Butter.
How to Make Zucchini Noodles (Zoodles)
Knowing How to Make Zucchini Noodles gives you a healthy, low-carb option when you're craving pasta. Here are 5 different and super easy ways to make zoodles using a spiralizer, mandoline, julienne peeler, or a knife.
Ingredients
4

medium zucchini

ends cut

Oil

Salt

to taste
Instructions
Sauté Zucchini Noodles
Add 1-2 tablespoons of oil or butter to a skillet over medium heat along with your zucchini noodles.

Heat for 1-2 minutes, stirring occasionally, or until to your desired tenderness.*

Sprinkle with salt just before serving.
Bake Zucchini Noodles
Preheat oven to 350 degrees.

Place zucchini noodles on a large baking sheet that has been lined with parchment paper.

Bake for 10-15 minutes or until to your desired tenderness.

Sprinkle with salt to serve.
Microwave Zucchini Noodles
Place zucchini noodles in a microwave-safe bowl.

Microwave on high for 1 minute using 30-second intervals until to your desired temperature and tenderness.

Sprinkle with salt before serving.
Recipe Notes
*Do not place a lid while cooking as this will result in overly soggy and watery zucchini noodles.
To Store: Keep leftover zoodles in the refrigerator in an airtight container for up to 3-5 days.
To Freeze: Do not try freezing zucchini noodles. Once thawed you will end up with a watery mess instead of perfectly firm and sturdy noodles.
Nutrition Facts
How to Make Zucchini Noodles (Zoodles)
Amount Per Serving
Calories 33
Calories from Fat 9
% Daily Value*
Fat 1g2%
Sodium 16mg1%
Potassium 512mg15%
Carbohydrates 6g2%
Protein 2g4%
Vitamin A 392IU8%
Vitamin C 35mg42%
Calcium 31mg3%
Iron 1mg6%
* Percent Daily Values are based on a 2000 calorie diet.