This Homemade Chili Seasoning Recipe is the BEST way to add tons of flavor to your favorite beef, turkey, or even vegan chili dishes. It is so easy to mix together ground spices like chili powder, cumin, paprika, and a few other ingredients and keep this blend on hand. Use this seasoning instead of McCormick's to add flavor to classic Fall and Winter dishes.
Best Homemade Chili Seasoning Recipe
Have you ever made your own chili seasoning mix recipe from scratch?
Homemade blends are quite a bit healthier for you, SO easy to make, taste incredible, AND you can adjust the spice level to your preference!
Simply pull this blend out of your cabinet, add the right amount to your favorite chili recipe, and voila!
You have a big bowl of Instant Pot Chili or Sweet Potato Turkey Chili that is ready for the big game or a cozy couch day.
Traditionally, chili seasoning is a mix of 6-8 spices with chili powder being one of the main ingredients.
This DIY spice blend is often used in ground turkey, ground beef, and even vegan chili and pumpkin chili recipes.
Much like homemade taco seasoning and blackened seasoning, chili seasoning can be prepared ahead of time and stored for future use.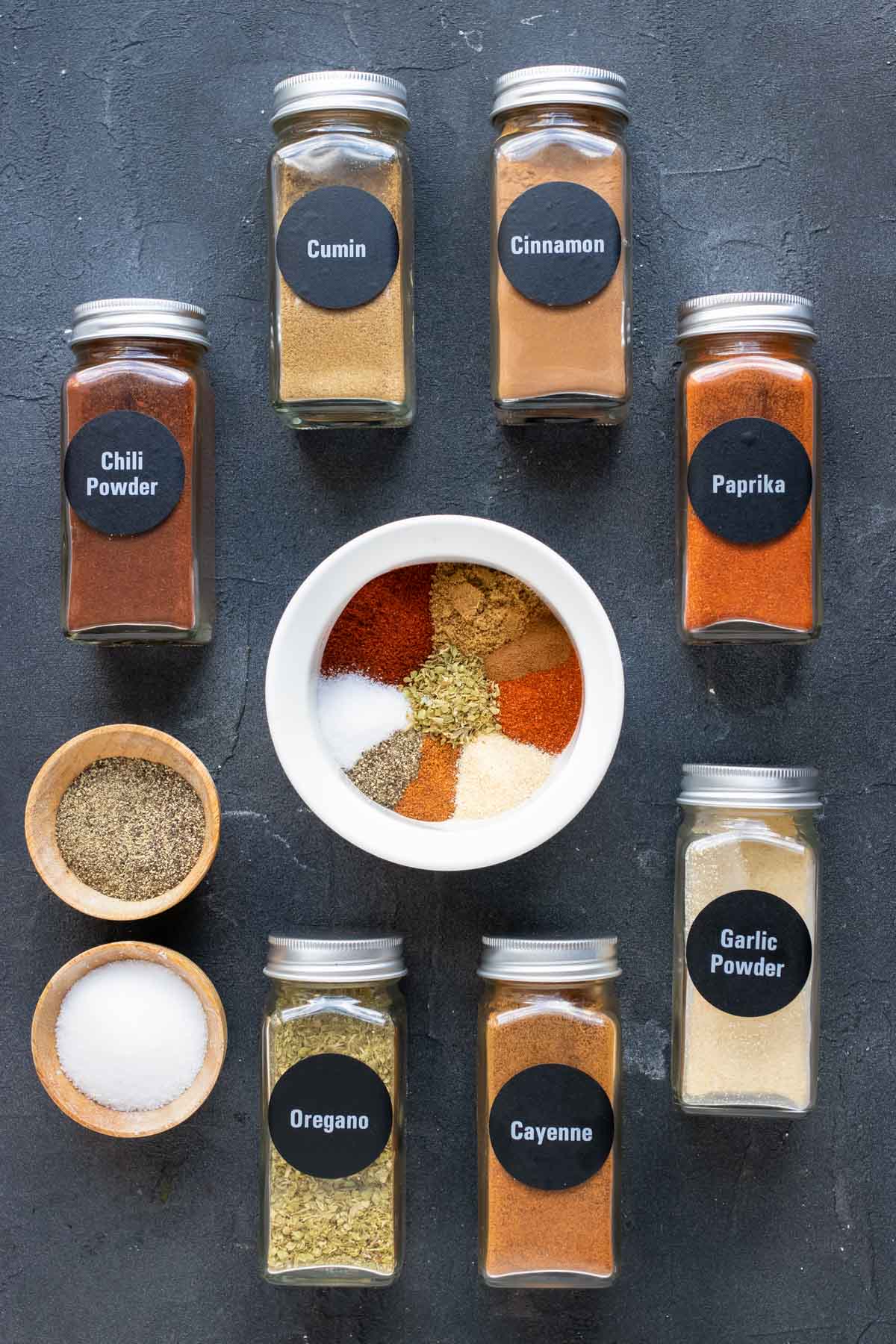 Ingredients
The ingredients you need to make this homemade chili seasoning include:
Chili Powder. The star of the show, this makes up the bulk of the mix.
Cumin. Much like in taco seasoning, cumin is also used in this recipe.
Paprika. Feel free to use half smoked paprika and half regular paprika for an extra kick!
Garlic Powder. Please do not substitute for garlic salt. You can, however, opt for onion powder, instead.
Oregano. Feel free to swap out with dried thyme or basil.
Cayenne pepper. You can adjust the amount according to your spice preference. Or, use red pepper flakes if you do not have cayenne pepper on hand.
Cinnamon. A super tasty secret ingredient! It adds an extra level of flavor to your homemade chili recipes.
Black pepper. Any good ground black pepper works great.
Salt. This is completely optional. Leave this out if you want to decrease the amount of sodium.
How to Make Chili Seasoning
Below you'll find the simple steps to make this homemade chili seasoning mix:
Gather Ingredients
Making this spice mix at home is quite simple and requires a few easy to find spices and herbs.
The first step is to collect everything you need. All of the ingredients should be readily available at your local grocery store.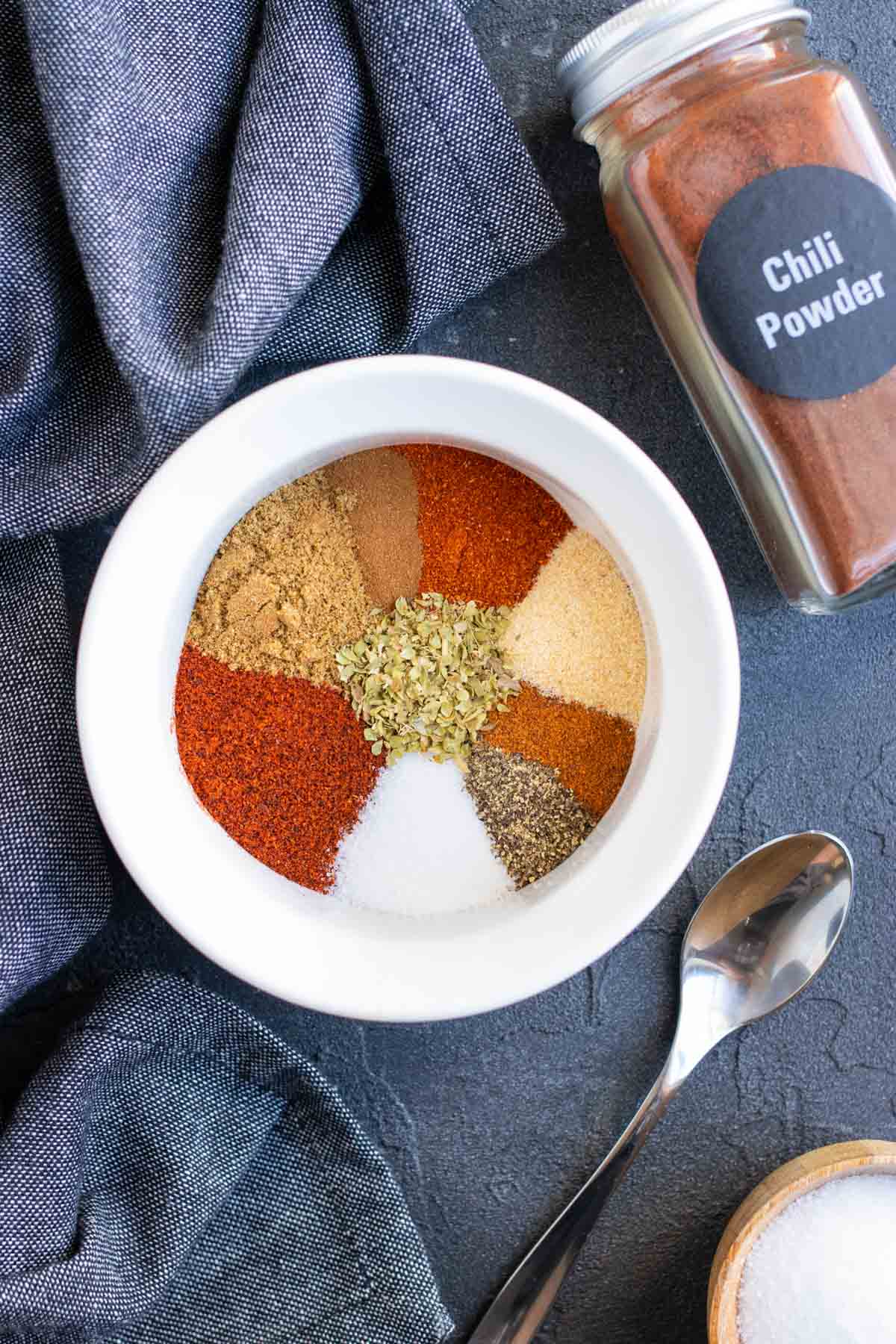 Mix it Up
After you collect the ingredients, all you need to do is stir it together.
You can either use a bowl, or combine everything in the container you want to store it in to save time.
Storing
It is best to keep homemade spice mixes in an airtight container.
Store this blend in a cool, dry space. A spice cabinet (NOT over the stove!) or a dry pantry will work great.
You do not want too much open space in the container. It is best to choose one that just barely fits all of the spices.
These 4-ounce mason jars are my favorite to store DIY seasoning mixes in.
Chili seasoning will last for up to 1-2 years if stored at room temperature in a cool, dry place.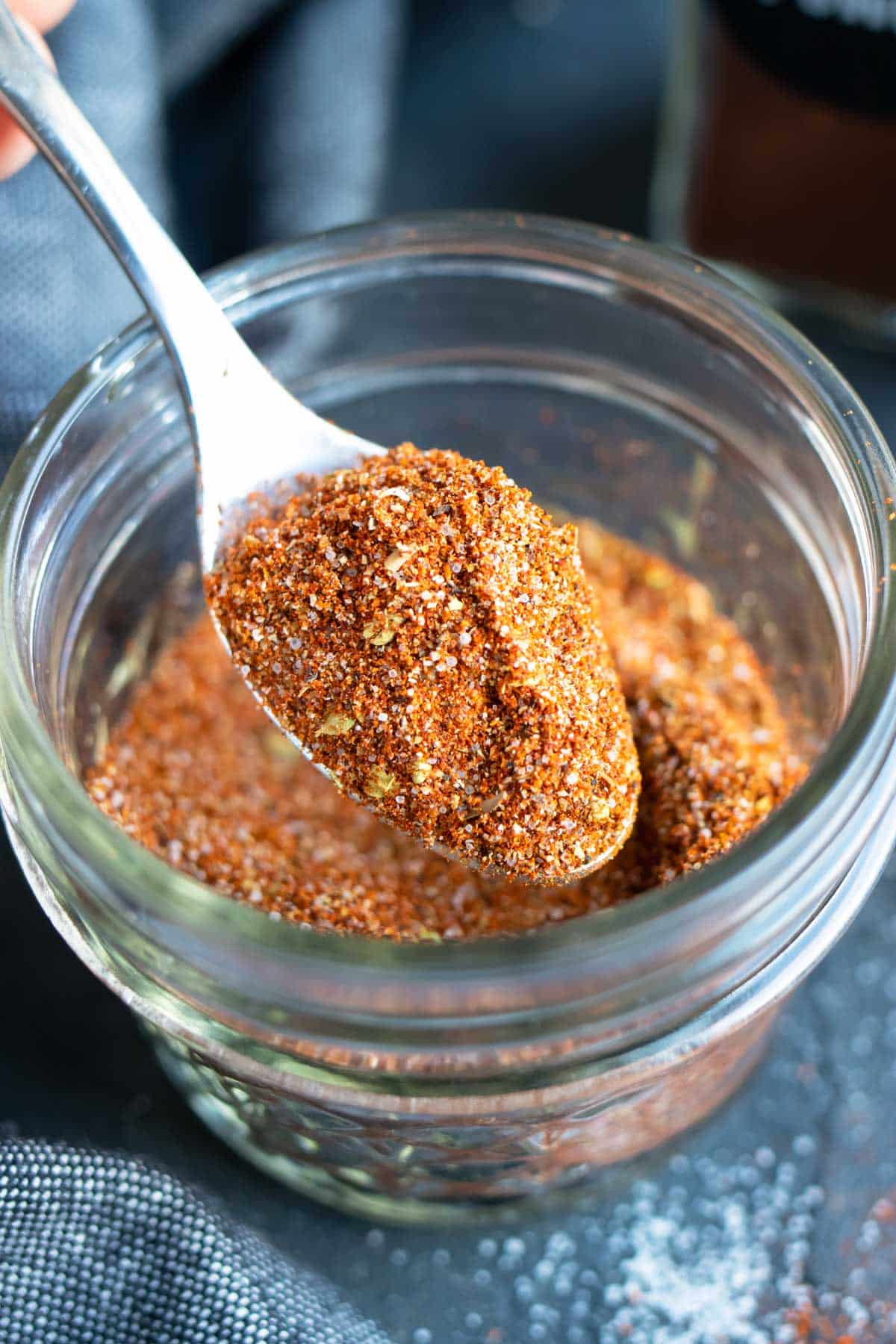 FAQs
How much chili seasoning do you need for a pound of meat?
Use 3-4 tablespoons of chili seasoning mix per pound of ground meat.
Does a homemade spice mix ever go bad?
No, they will never go bad, but they will lose their potency over time. Make sure you it store in an airtight container for the best results.
What is the best secret ingredient for chili?
Cinnamon is a fabulous secret ingredient for chili! It adds the best subtle yet amazing flavor.
Can I use taco seasoning for chili?
The two spice mixes are quite similar, and you can use taco seasoning for chili, especially for more of a Mexican flair. However, to make traditional chili it is best to stick with chili seasoning.
Expert Tips and Tricks
Make it smoky. Mix in half smoked and half regular paprika.
Use less dishes. Combine the ingredients in the container you are using to store the blend.
Know how much. Season one pound of meat with 3-4 tablespoons of chili seasoning.
Store it right. Keep the blend in a small, airtight container.
Keep it cool. Heat will ruin this spice mix, so store it in a cool place away from moisture.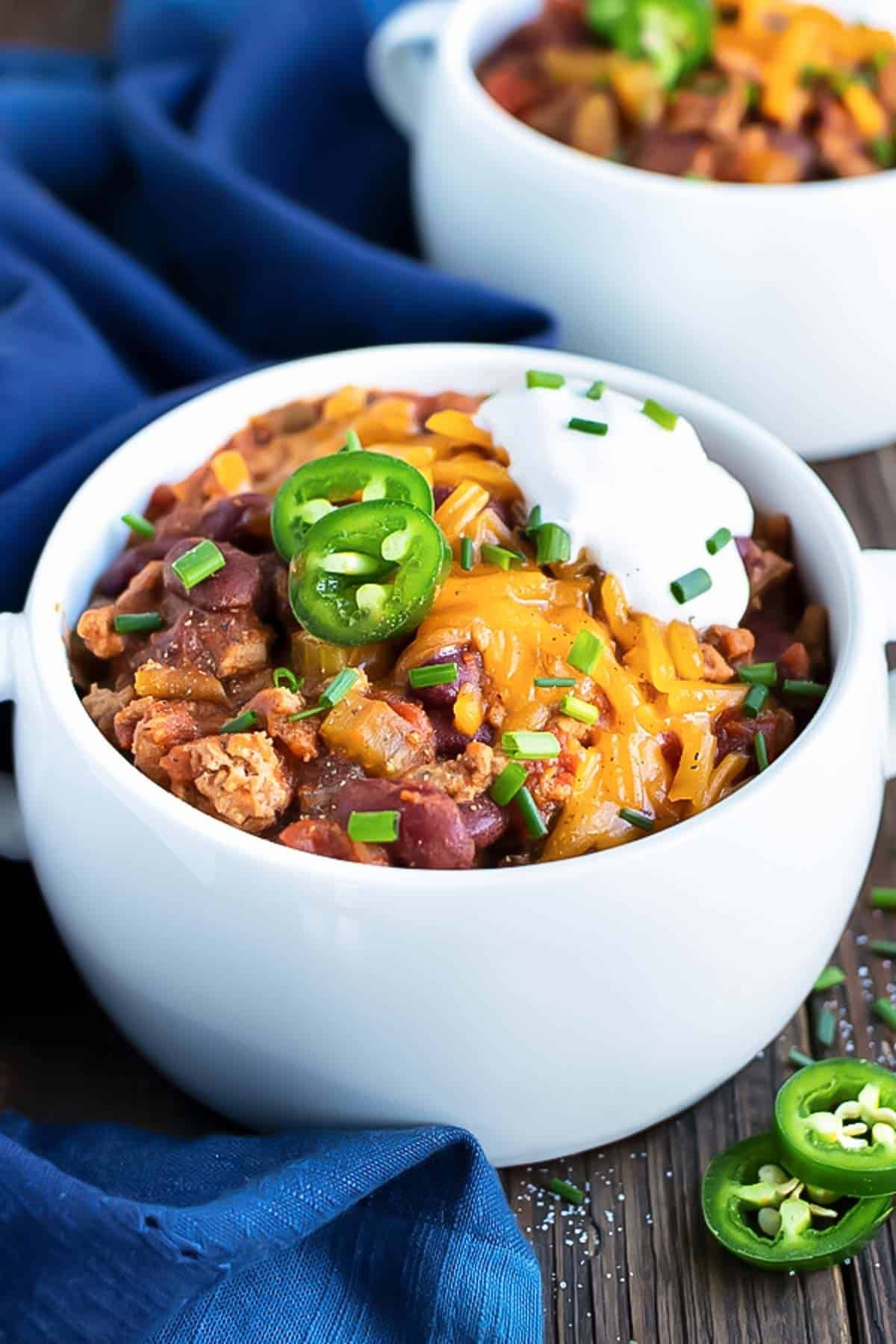 Recipes with Chili Seasoning
Use this delicious DIY recipe in any of these chili variations for the perfect, cozy meal:
Instant Pot Beef Chili, Instant Pot Chicken Pumpkin Chili and Instant Pot Ground Turkey Chili can be ready in no time!
Healthy Sweet Potato Ground Turkey Chili is a family favorite in our house.
Vegan Chili and Pumpkin Chili are both creative ways to use up chili seasoning!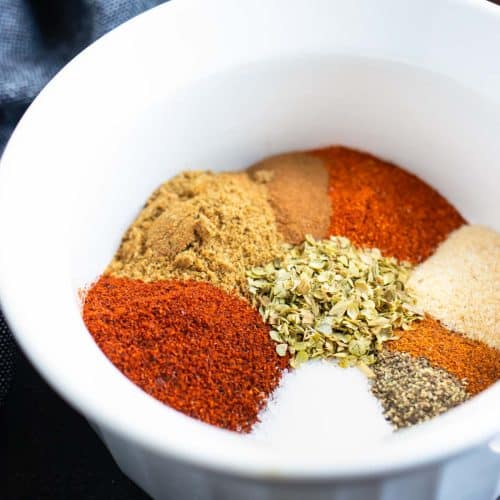 Best Chili Seasoning Recipe
This homemade Chili Seasoning recipe has the BEST flavor, is so easy to make, and is perfect in beef, turkey or vegan chili recipes!
Ingredients
3

Tbsp.

chili powder

1 ½

Tbsp.

cumin

2

tsp.

paprika

½

tsp.

cayenne pepper

1

tsp.

garlic powder

1

tsp.

oregano

dried

¼

tsp.

cinnamon

1

tsp.

black pepper

3

tsp.

salt

optional
Instructions
Whisk Ingredients: Add all ingredients to a small bowl or mason jar for storing. Whisk together until well combined.

Use 3-4 tablespoons of seasoning mix for every 1 pound of ground meat.

Make this Instant Pot Turkey Chili or Instant Pot Beef Chili with it or store in an airtight container for up to 6 months in a cool, dry place.
Recipe Notes
Nutrition information is for 1 tablespoon of chili seasoning.
Recipe yields ~½ cup of chili seasoning.
Nutrition Facts
Best Chili Seasoning Recipe
Amount Per Serving
Calories 25
Calories from Fat 18
% Daily Value*
Fat 2g3%
Sodium 814mg35%
Potassium 215mg6%
Carbohydrates 5g2%
Protein 2g4%
Vitamin A 2424IU48%
Vitamin C 1mg1%
Calcium 61mg6%
Iron 3mg17%
* Percent Daily Values are based on a 2000 calorie diet.