Massaged Kale Salad is the perfect way to enjoy this healthy veggie without the hard, bitter taste. Finely chopped kale is tossed in a lime and lemon salad dressing along with avocado, carrots, and bell peppers. This easy recipe is light, refreshing, and one of the best ways to boost your immune system with all of kale's health benefits!
The BEST Massaged Kale Salad
Kale salad?! Yes… Massaged Kale Salad!! It is SO good and incredibly good for you. (Like even better than spinach!)
But there is a secret way of preparing kale so even the most resistant people will enjoy this nutritious green.
For the longest time I could not even chew kale without having a slight gag reflex. Something about the texture and the firmness of it just did not mesh well with my senses.
Not until I tried a good kale salad recipe did I realize it is actually quite delicious if it is finely chopped and massaged well. It has become my favorite way to enjoy this leafy green veggie. It is the perfect side dish made with whole foods.
And bonus, an easy dressing that is made of olive oil, lime, and lemon juice complements the kale so nicely.
The best part of this easy kale salad is the simple ingredients.
Want other salad recipes like this? Check out these 7 Healthy Salad Dressing Recipes, this Chopped Kale Salad with Cranberries, and this Chicken Cobb Chopped Kale Salad for other healthy kale salad ideas.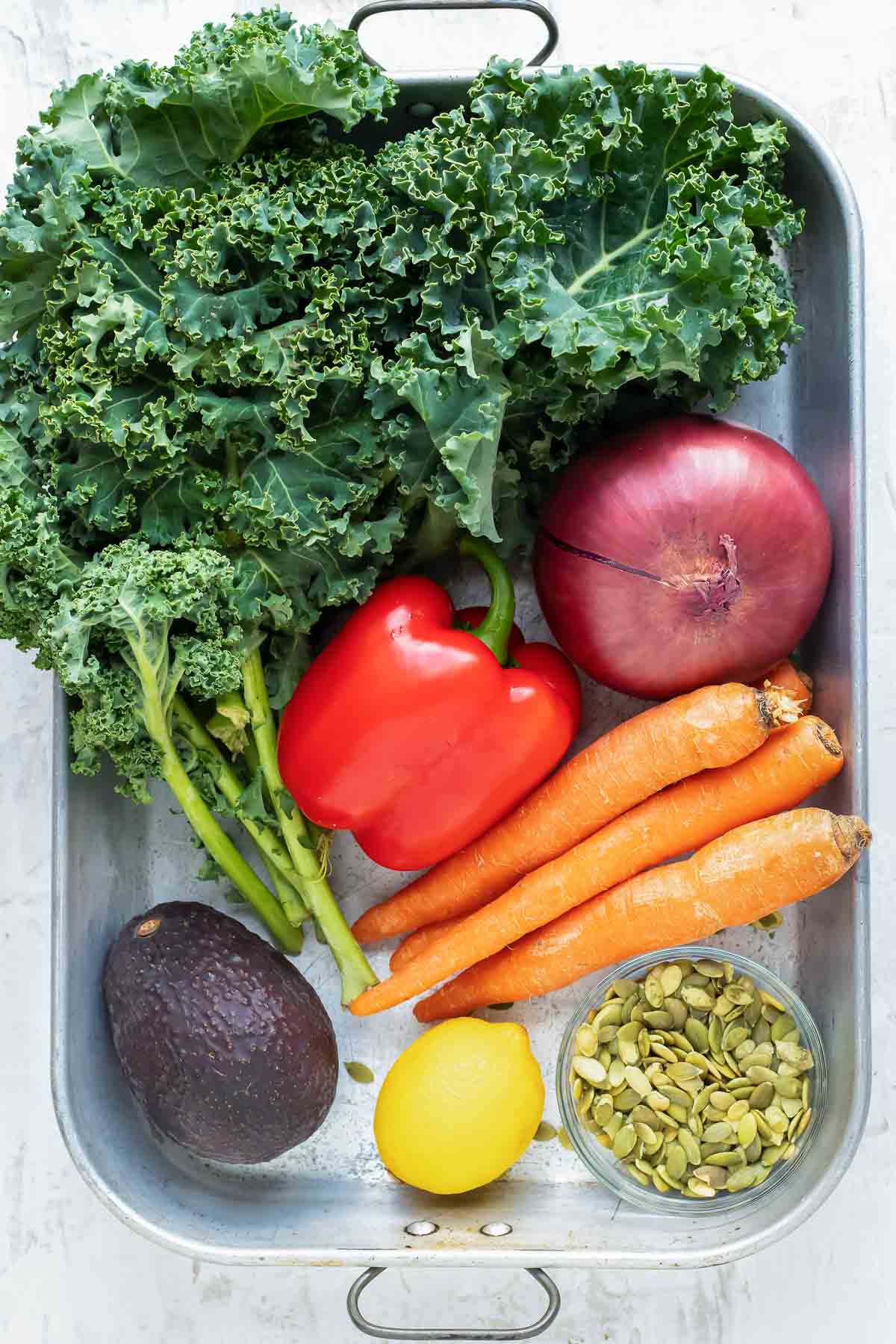 Ingredients
The basic ingredients you need to make this simple kale salad include:
Kale. You need one full bunch of kale. There are different types of kale available, including Tuscan kale, lacinato kale, dinosaur kale, and baby kale. Any of these can work. Finely chopped, it will yield about 5 cups. Look for a dark green bunch with no visible spots of wilting or browning.
Carrot. A grated carrot is needed. You can do this yourself, or your local grocery store might have a bag of pre-shredded carrots.
Zucchini. You also need a grated zucchini. Be careful of excess moisture from this veggie, though.
Oil. Either olive oil or avocado oil work best. Opt for a high-quality neutral oil for this salad.
Ginger. Fresh, grated ginger or store-bought ginger paste can be used for the dressing.
Citrus. Both lemon and lime juice are needed. While you can use a bottled type, freshly squeezed yields the most flavor.
Avocado. Look for a large avocado. You'll want to remove the pit and peel, and then finely dice it.
Onion. A red onion adds a rich flavor and a pop of color. You can sub in a yellow, white, or sweet onion if that's what you have.
Bell pepper. While a red bell pepper was used, you can opt for any color.
Sunflower seeds. For a real treat, go for a toasted variety.
How to Make a Massaged Kale Salad
Below you'll find the simple steps to make this delicious kale salad:
Prep the Veggies
Buy organic kale that comes in a bunch, not the pre-chopped kind in the box.
Trust me, it tastes MUCH better.
With clean hands, rinse and dry the leaves thoroughly. Kale tends to collect a lot of dirt and debris.
Remove the stems and finely chop the leaves by either placing it in a food processor with a shredding attachment or finely chopping it with a knife. Small pieces are incredibly important.
Shred both the carrots and the zucchini, as well.
Place the kale, carrots, and zucchini in a large mixing bowl.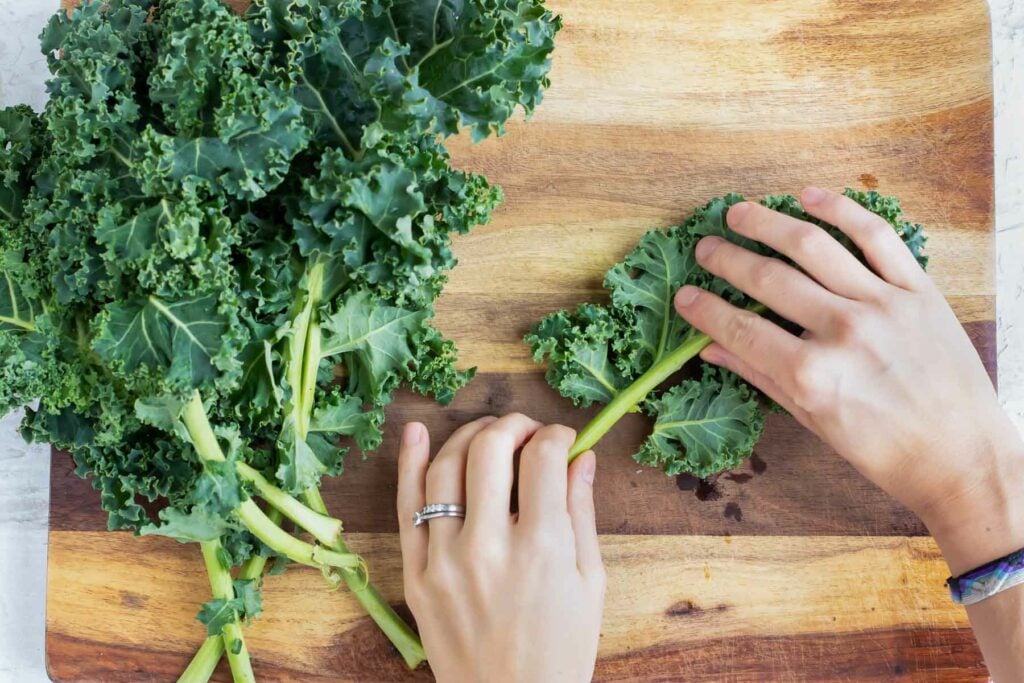 Whisk the Lemon Dressing
While I have experimented with numerous dressings (check out these 7 Healthy Salad Dressings!) this quick and easy lemon salad dressing is one of the best recipes.
It's quick.
It is easy to prepare.
And it does not require any added sugar. Like zilch!
In a small bowl whisk together the dressing ingredients (olive oil, salt, ginger, lime juice, and lemon juice).
Pour the dressing over the salad and gently massage it into the vegetables.
Let the salad sit for 10-15 minutes. This allows the ingredients in the salad dressing to tenderize and mellow out the kale.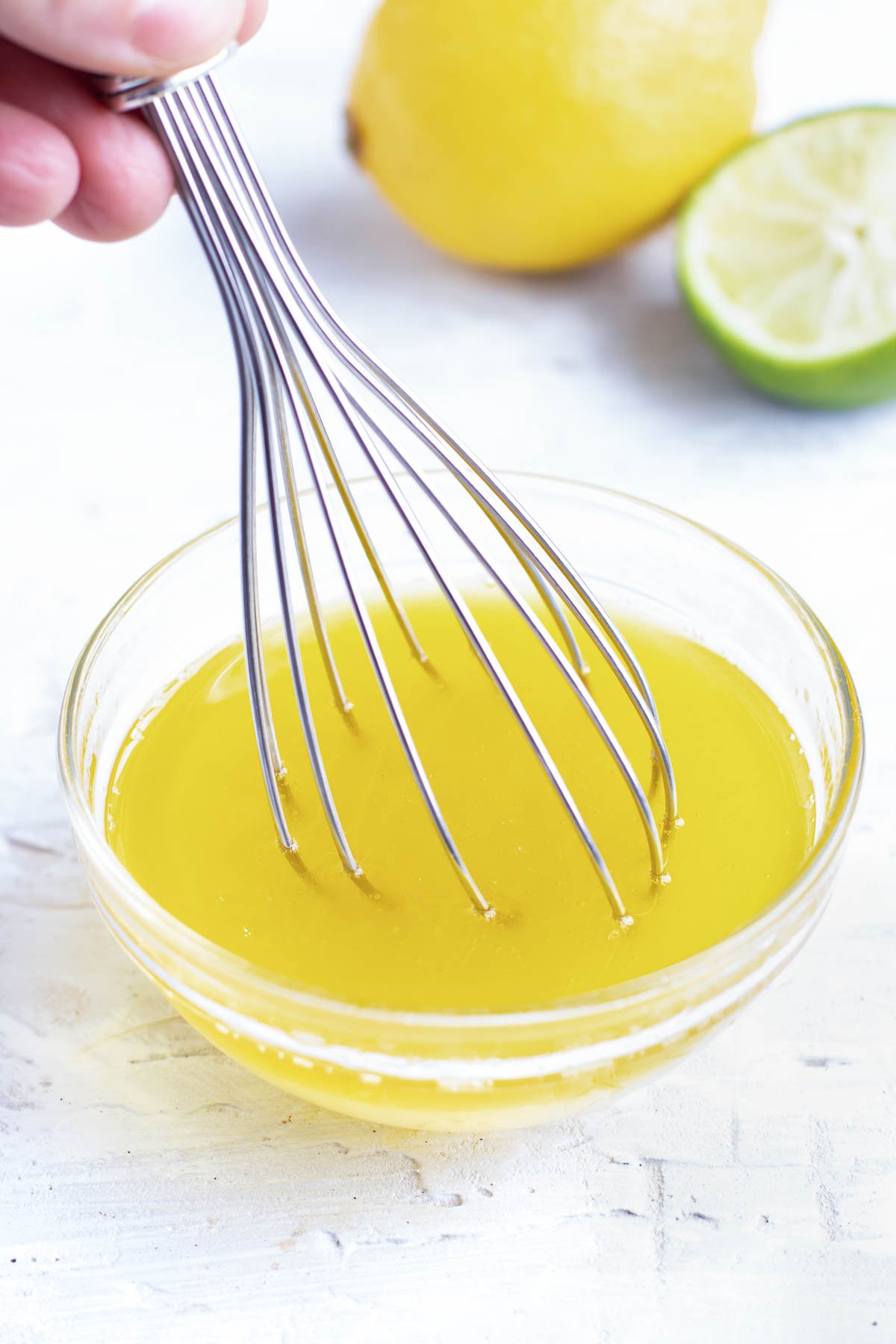 Toss the Salad Together
Finally, it's time for the rest of the ingredients. Add the avocado, onion, bell pepper, and sunflower seeds to the salad and dressing. Carefully toss to ensure all of the pieces are coated.
Serve the salad immediately.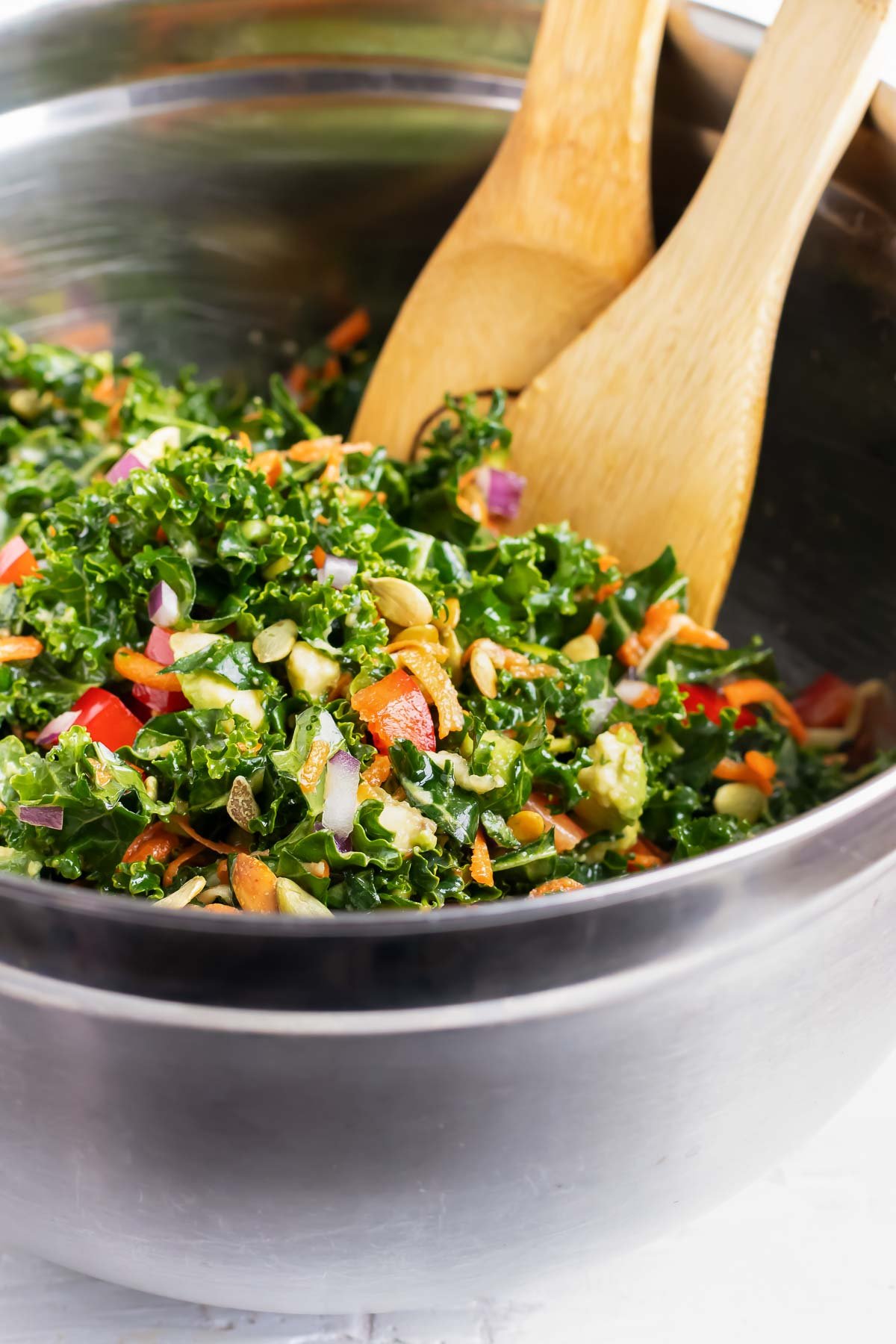 How to prep massaged kale salad ahead of time?
You can easily meal prep this massaged kale salad ahead of time by compiling all the components. Finely chopped kale will last for 3-4 days if stored in a Ziplock bag that remains open and with a paper towel to absorb any excess moisture. Store chopped bell pepper and onion in a Ziplock bag for up to 3 days. If shredding your carrots and zucchini in a food processor, save this step and chopping the avocado until the day of serving so they do not turn brown. Whisk together your dressing and store separately from the leaves until you are ready to start preparing the salad. This a great recipe to prep a day or two before.
How to prepare kale for salad?
The best way to prepare kale for a salad is to first clean it, and then remove the leafy part from the stem. The process of chopping it into smaller pieces is a great way to ensure a nice salad-like texture from the leaves.
How to make kale soft for salad?
To make kale soft for a salad, finely chop the leaves after you remove them fro the stem and then massage with the dressing you're using. The massaging process slightly breaks down the fibers, especially when you then let the salad sit for 10-15 minutes.
Can you eat raw kale?
Yes, you can eat raw kale (even though many people think you can't). Raw kale is a nutritional powerhouse and can be quite delicious. Kale is one of the most nutrient-dense foods out there, even more so than spinach. Antioxidants abound in this leafy green, many of which help fight cancer and decrease heart disease risk. A single cup has over 200% of your recommended dose of vitamin A, over 600% of your recommended daily dose of vitamin K, and over 100% of the recommended dosage of vitamin C.
How long does kale salad last in the refrigerator?
While kale salad will last in the fridge for up to 4 to 5 days, it will likely get a bit soggy or mushy as it sits. This is especially true if you mix the avocado and dressing into the kale and carrots before storing it.
Expert Tips and Trick
Small is better. Do NOT skimp on chopping. The finer the kale is chopped, the better it will taste!
Let it rest. Make sure you allow adequate time for the massaged kale to sit. This helps break down the fibrous texture generally found in this leafy green.
DIY. Do NOT buy the pre-packaged kale. It tastes bitter and is simply not as good as the leaves found in a bunch.
Save time. Buy pre-shredded carrots and leave out the zucchini to make this salad quicker to prepare.
Make it work. Leave out the red onion or sub for sweet onion if you want a little less punch. If needed, simply use all lemon juice or all lime juice for the salad dressing. This recipe is a great base to add in other veggies, as well.
Feeling nutty? Toss in some toasted pecans, walnuts, pistachios, roasted almonds, or pine nuts. Or try toasted chickpeas!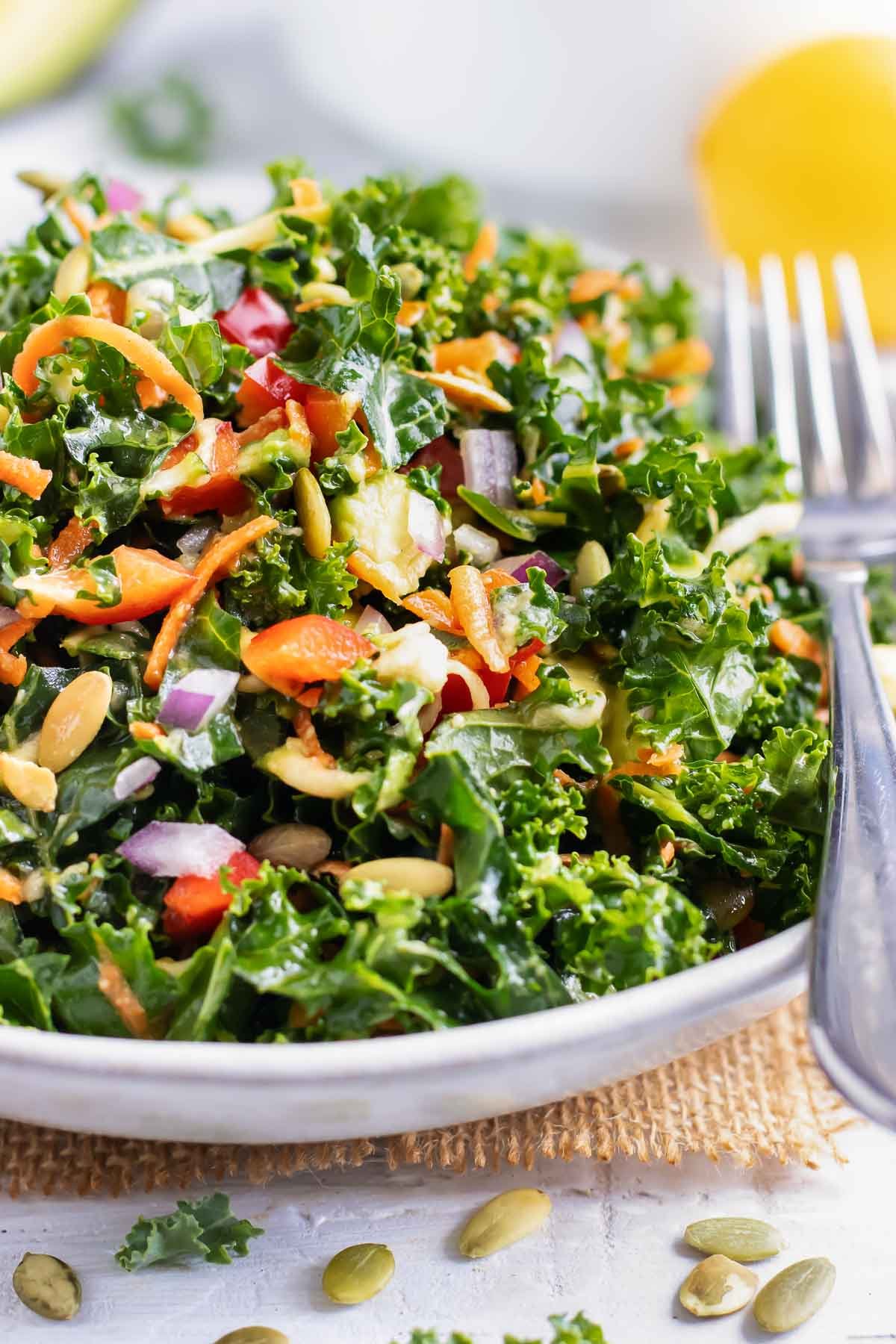 Other Healthy Salad Ideas
A healthy salad just makes you feel good after eating it. Any of these just might become your new favorite.
Chopped Kale Salad with Cranberries and Chicken Cobb Chopped Kale Salad are easy to make and delicious salads.
Healthy Taco Salad in a Mason Jar is perfect for on the go.
Arugula Fig Salad with Balsamic Vinaigrette Dressing has lots of flavor.
Massaged Kale Salad Recipe
Massaged Kale Salad is the perfect way to enjoy this healthy veggie without the hard, bitter taste. Finely chopped kale is tossed in a lime and lemon salad dressing along with avocado, carrots, and bell peppers.
Ingredients
1

bunch

kale

finely chopped, about 5 cups

1

carrot

grated

1

zucchini

grated

3

Tbsp.

olive oil

1

tsp.

salt

to taste

1

tsp.

ginger paste

or grated ginger

1

Tbsp.

lemon juice

fresh

2

Tbsp.

lime juice

fresh

1

avocado

large, pitted, peeled and finely diced

¼

cup

red onion

finely diced

½

red bell pepper

finely diced

¼

cup

sunflower seeds

toasted
Instructions
Remove stalks from kale and discard. Use disc tool of food processor to process the kale and transfer to a large bowl. You can also finely chop the kale with a knife.

In a small bowl whisk together olive oil, salt, ginger, lime juice, and lemon juice. Pour over salad and gently massage dressing into the vegetables. Let salad sit for 10-15 minutes.

Add avocado, onion, red bell pepper, and sunflower seeds. Toss to combine.

Serve salad immediately and enjoy!
Nutrition Facts
Massaged Kale Salad Recipe
Amount Per Serving
Calories 196
Calories from Fat 135
% Daily Value*
Fat 15g23%
Sodium 353mg15%
Potassium 621mg18%
Carbohydrates 12g4%
Protein 4g8%
Vitamin A 7700IU154%
Vitamin C 92.4mg112%
Calcium 101mg10%
Iron 1.5mg8%
* Percent Daily Values are based on a 2000 calorie diet.