Skip the store-bought and mix up your own homemade Healthy Salad Dressing in just 5 minutes! Learn how to make 7 different recipes with simple ingredients for a variety of flavors. Drizzle these healthy and gluten-free vinaigrettes over spinach, kale, and mixed greens salads, or use them as a quick marinade!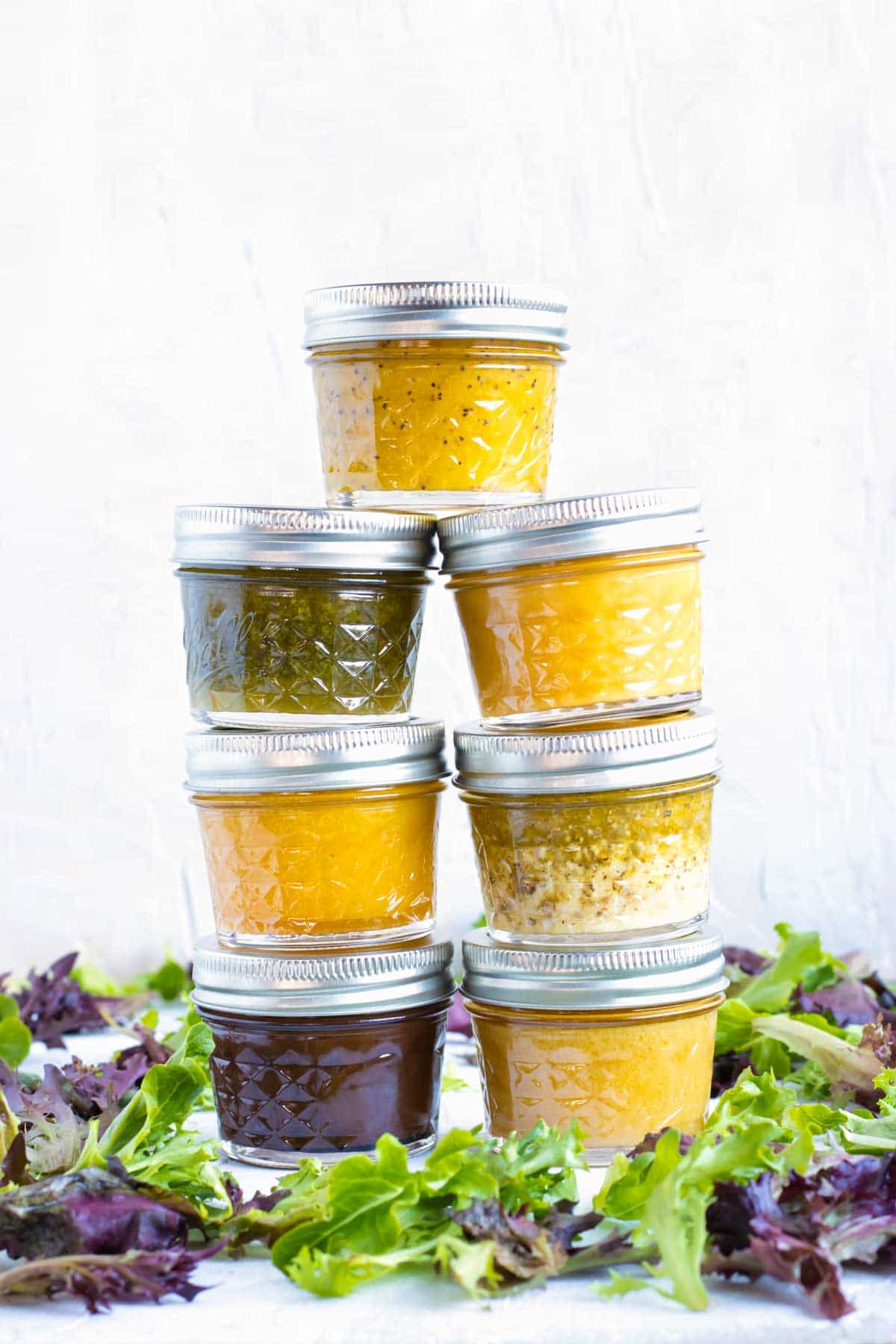 Making salad dressings and vinaigrette recipes at home is actually so much easier and simpler to do than you might think!
And while buying packaged bottles may seem like a quick alternative, they're often loaded with unhealthy ingredients. (Chemicals, preservatives, and canola oil – just to name a few!)
Instead, you can make your own homemade recipes in only 5 minutes and with simple, easy to find ingredients. And in reality, you probably already have most of what you need on hand.
What is a Vinaigrette?
A vinaigrette is simply a combination of oil and an acidic component, typically some type of vinegar, that is then shaken or blended together.
Ingredients
The simple ingredients you need to make these healthy salad dressing recipes include:
Oil. The key component in any recipe. Extra virgin olive oil is the best and most common oil to use. You can also substitute for sunflower oil or avocado oil for similar results.
Vinegar. Vinegar often acts as the acidic component. Balsamic, white wine, red wine, rice wine, and apple cider vinegar are all wonderful vinegars to try and are featured in the recipes below.
Citrus. Lemons, limes, and oranges help add additional acidity while also giving them a touch of sweetness.
Seasoning. You can add a variety of flavors by mixing in seasonings such as ginger, garlic, herbs, or spices.
Sweetener. While not all recipes have a sweet component, honey, maple syrup, and sugar work great when trying to balance the acidity from citrus or vinegar.
How to Make Healthy Homemade Salad Dressings
The basic steps for making homemade vinaigrette are simple to follow. Please see the recipes below for more detailed ingredient amounts.
All you need to do is measure all of the ingredients and combine them! Use any of the following four methods for mixing:
Blender
This is definitely the preferred technique. A blender such as a NutriBullet is great because it's small, easy to clean, and emulsifies the dressings nicely. You can also use a Vitamix.
Food processor
A mini-prep food processor works great when blending fresh herbs or larger ingredients.
Jar with a Lid
While simply shaking your ingredients together in a jar will not completely emulsify the ingredients, it does get the job done and eliminates something additional to clean.
Bowl with a Whisk
This would be the last resort. It takes additional time and mixture will tend to separate unless whisked for a few minutes.
Meal Prep and Storage
To Prep-Ahead: Since the flavors only get better with time, make these up at least 24 hours before using.
To Store: Glass jars that have an airtight seal, such as these 4-ounce and 8-ounce mason jars, are the best since glass does not leach a plastic taste into ingredients. Recipes with fresh ingredients will keep for up to 1 week in the refrigerator. Dressings without perishable ingredients will last for up to 2 weeks, or even longer, when refrigerated.
To Freeze: It is not recommended to freeze as the ingredients will separate upon thawing.
To Serve: Allow it to rest at room temperature for about 10 minutes, then shake and drizzle.
FAQs
What is the healthiest dressing for a salad?
Vinaigrettes are the healthiest options since they are made with simple ingredients such as oil, vinegar, and very little sweetener and do not contain mayonnaise or sour cream. No matter which flavor you select, homemade dressings will always be healthier than store-bought.
What can I use instead of salad dressing?
Try adding extra flavor to your salad with citrus juice, salsa, guacamole, yogurt, or hummus.
What is the worst salad dressing for you?
Dressings made with mayonnaise, cream, or cheese such as ranch or blue cheese are generally considered unhealthy due to their fat and dairy content. Store-bought options also generally contain sodium, sugars, and chemicals or preservatives that are not healthy.
Healthy Salad Dressing Recipes
There are a multitude of different recipes for healthy salad dressing you can make easily at home.
Below you will find my 7 go-to flavors. All recipes prepare enough for 5 servings at about 2 tablespoons per serving.
Cilantro Lime Vinaigrette
What I love the most about this recipe is how a bulk of it is made from fresh cilantro! This helps to cut the calories drastically by still adding loads of flavor. Try this out on this Tomato and Avocado Chicken Salad recipe.
½ cup olive oil extra virgin
¼ cup cilantro finely chopped
2 Tbsp. lime juice fresh
1 tsp. lime zest
2 Tbsp. honey
Pinch of salt
¼ tsp. paprika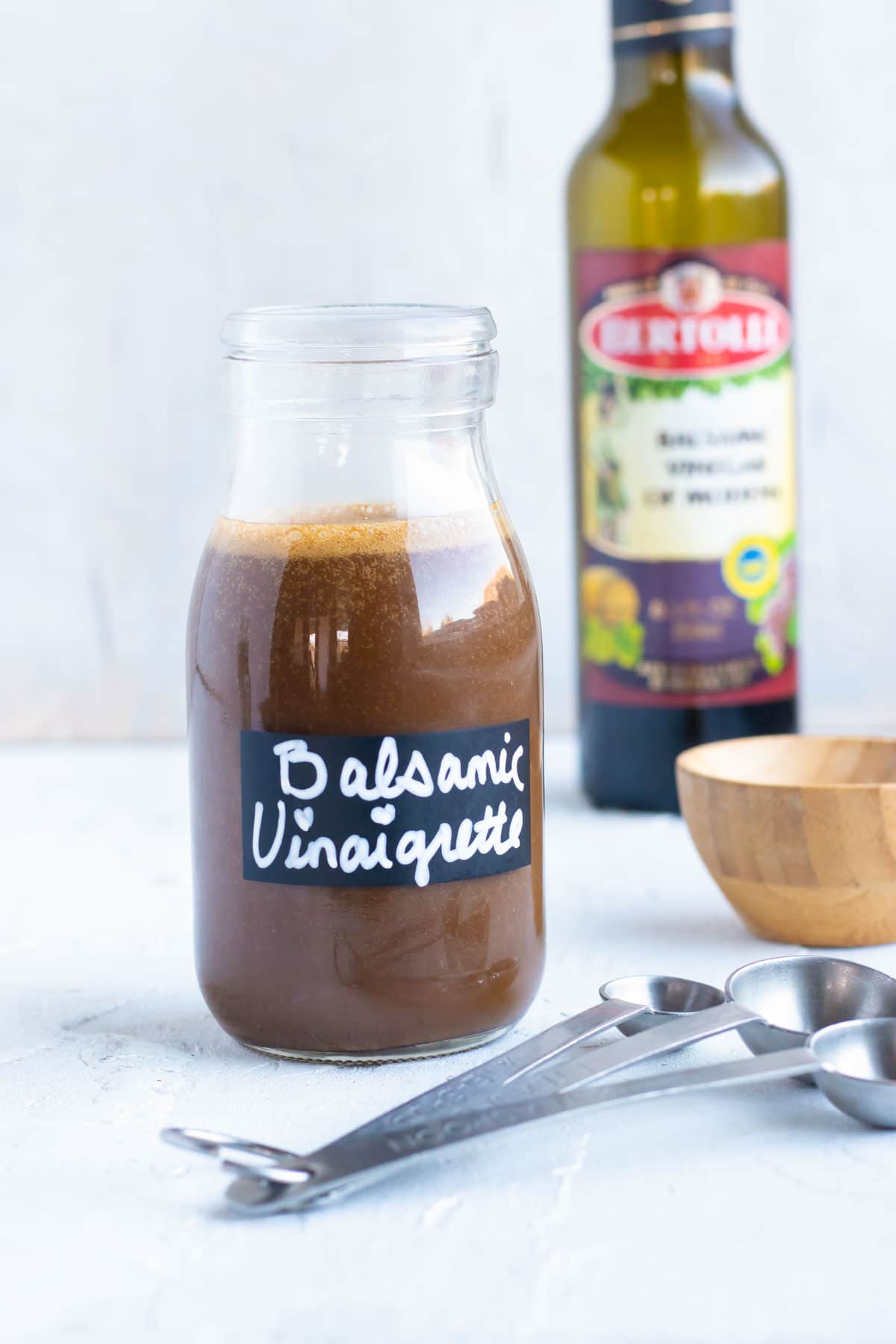 Balsamic Vinaigrette
Learning how to make this balsamic dressing recipe was my first foray into the world of homemade salad dressings. It is super easy to make and tastes great on just about anything! Try it out in this Roasted Beet Salad, this Steak Salad Recipe, or in this Arugula Fig Salad.
½ cup olive oil extra virgin
¼ cup balsamic vinegar
2 Tbsp. pure maple syrup or honey
Pinch of salt optional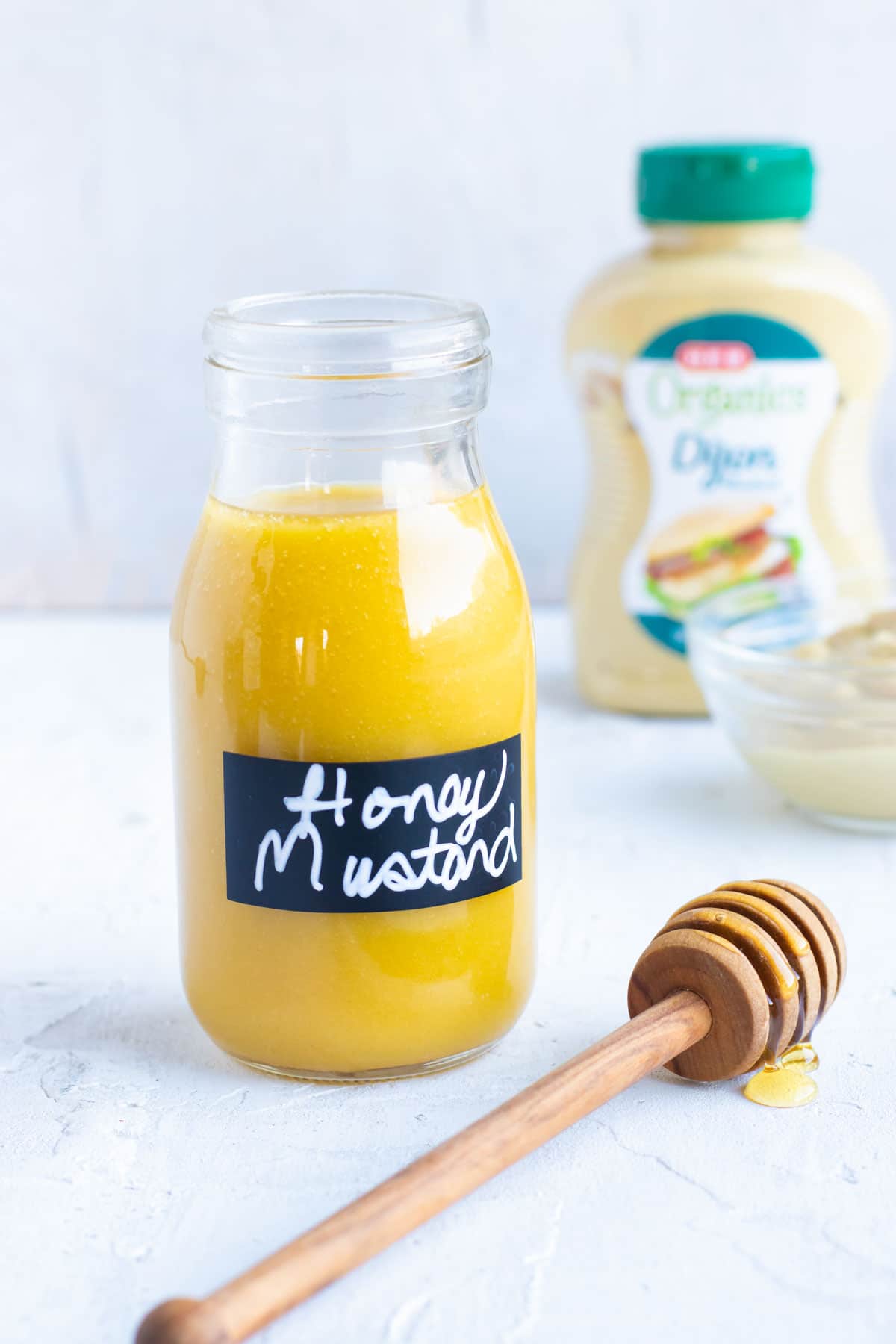 Honey Mustard Dressing
This healthy honey mustard recipe is one of my favorites to make! You can try it on this Chicken Cobb Salad or as a dip for these Paleo Chicken Tenders.
½ cup olive oil extra virgin
2 Tbsp. Dijon mustard
2 Tbsp. white wine vinegar or apple cider vinegar
3 Tbsp. honey
Pinch of salt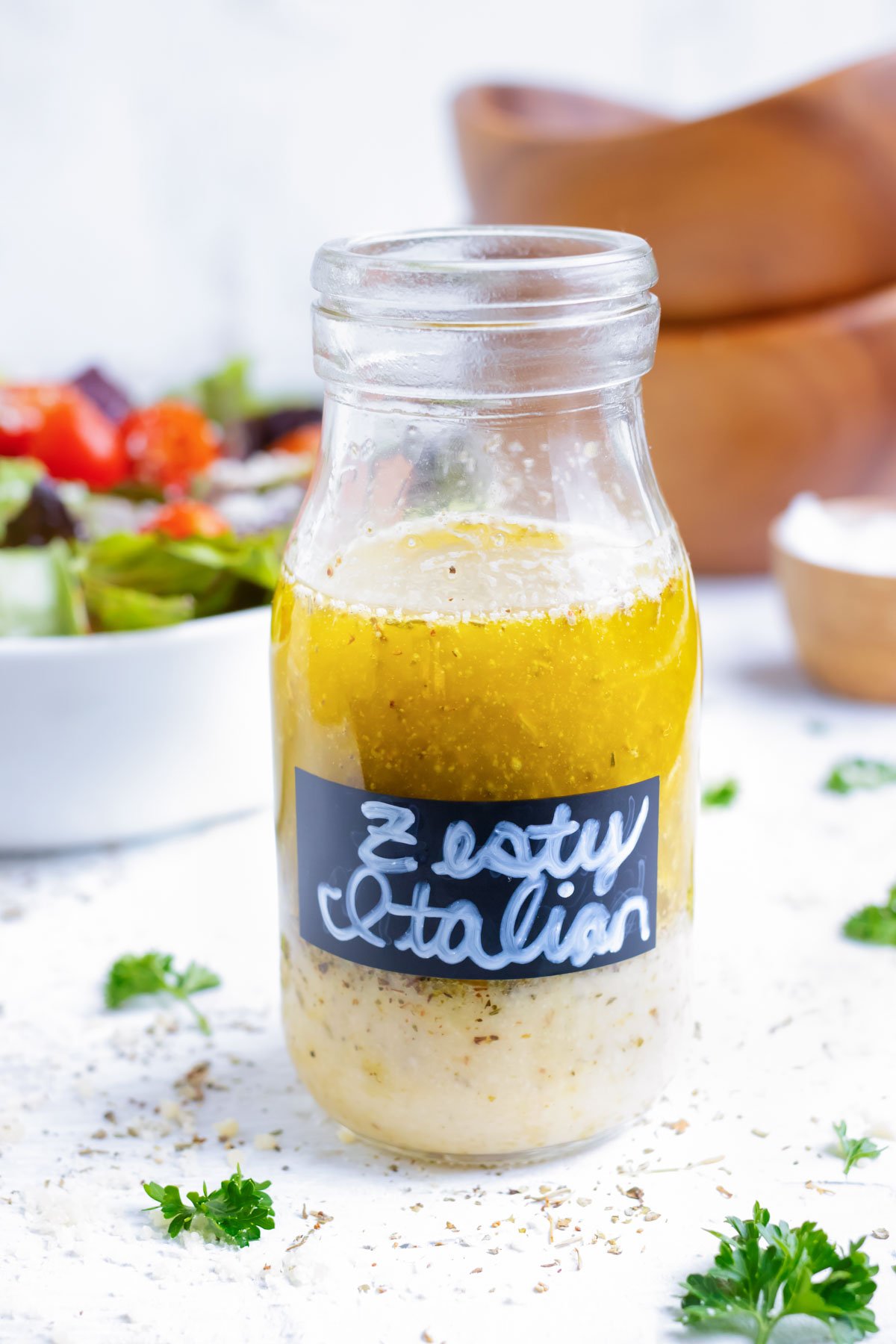 Italian Vinaigrette
Homemade Italian Dressing is a healthier version of the one found at Olive Garden. It tastes great on a salad full of bell peppers and red onions, or in this Italian Dressing Pasta Salad.
½ cup olive oil extra virgin
2 Tbsp. white wine vinegar
1 clove garlic crushed
2 tsp. Italian seasoning
2 tsp. lemon juice fresh
3 Tbsp. Parmesan cheese
2 tsp. honey
Pinch of salt
You can also make a French spin with this Salad Nicoise Dressing.
Asian Ginger Dressing
This recipe is super light and refreshing and tastes incredible on everything from a chopped Brussels sprout salad or to freshen up a spinach salad full of broccoli, cucumber, and shredded carrots.
½ cup olive oil extra virgin
2 Tbsp. rice wine vinegar
1 Tbsp. soy sauce gluten-free, or Tamari
1 Tbsp. ginger paste or crushed fresh ginger
1 clove garlic crushed
1 tsp. lemon juice fresh
1 tsp. sugar or honey
Maple Orange Vinaigrette
This simple recipe was made quickly on a weeknight to add to our chopped kale salad. Little did I know that we would love it so much that I brought it to our Thanksgiving dinner! Be sure to check out and use it on this Chopped Kale Salad with Cranberries for a delightful taste combo.
½ cup olive oil extra virgin
2 Tbsp. orange juice fresh
2 Tbsp. orange zest
2 Tbsp. pure maple syrup
2 Tbsp. apple cider vinegar
Pinch of salt
Lemon Poppy Seed Vinaigrette
When the weather starts to warm up a bit in the Spring, reach for this lemon poppy seed version! It's light, refreshing, and compliments just about any salad recipe perfectly. Try it in this Summer Vegetable Quinoa Salad recipe!
½ cup olive oil extra virgin
1 Tbsp. lemon juice fresh
2 tsp. lemon zest
2 Tbsp. honey
2 Tbsp. white wine vinegar
½ tsp. poppy seeds
Pinch of salt