Honey Balsamic Glazed Chicken is a healthy and secretly easy-to-make recipe that will leave your guests in awe with how impressive it looks! Chicken rests in a balsamic vinegar and honey marinade, then is cooked in a cast-iron skillet or seared on the grill. Finish off this simple main dish with a drizzle of balsamic glaze to take it over the top!
Balsamic Glazed Chicken Recipe
Everyone needs good, go-to, easy chicken recipes. Especially for busy weeknights…
One that you know you always have all of the ingredients on hand, with a marinade that will take your dinner from boring to brilliant.
This honey balsamic chicken recipe is exactly that. (And came from a little inspiration when making this Balsamic Glaze.)
It's simple, easy to whip up, and is out-of-this-world delicious!
Sweet honey and tangy balsamic vinegar combine to tantalize your taste buds atop a tender and juicy chicken breast.
But wait, what's that herby goodness in there?
It's my secret ingredient that takes this chicken over-the-top. There's a touch of fresh rosemary to keep those buds guessing!
This recipe is so impressive you can serve it up for a fancy dinner party. Meanwhile, your friends will be none-the-wiser that you actually threw this together last minute.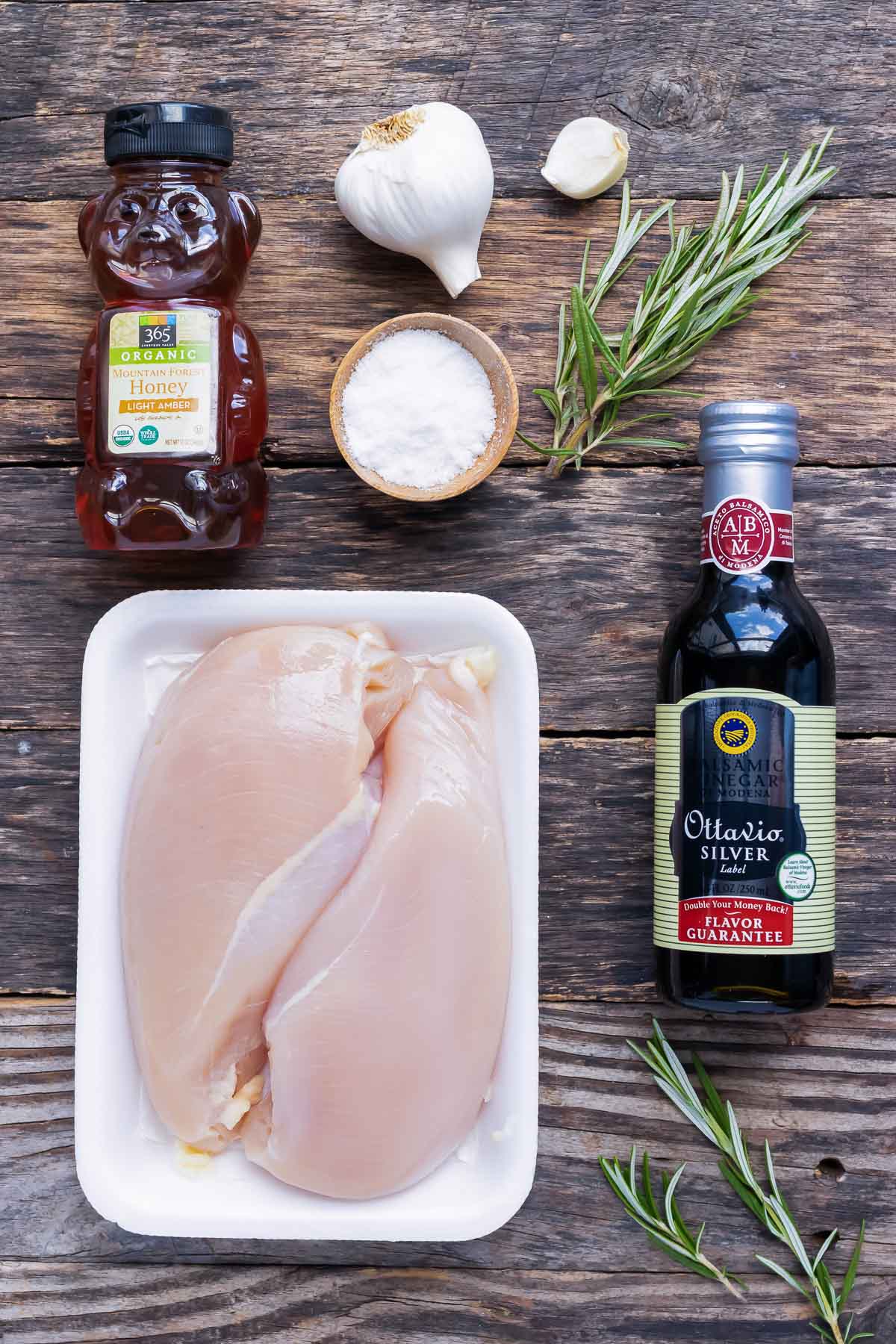 Ingredients
The simple ingredients you need to make this easy Balsamic Chicken recipe include:
Chicken Breasts. Use organic boneless skinless chicken breasts if possible. Not only do they taste incredible but they are SO much better for you. If needed, you can sub in boneless skinless chicken thighs, but be sure to adjust the cooking time.
Honey. Local wildflower honey is best, but clover honey will work well, too. Or, swap it out for pure maple syrup or agave nectar.
Chicken Broth. Water can also be used in place of the broth. If so, you may want to increase the amount of salt to make up for the lack of sodium and flavor.
Balsamic Vinegar. This ingredient is the main star of the show in the balsamic chicken marinade. Opt for a good quality balsamic vinegar such as Ottavia's Silver Balsamic Vinegar, or the best balsamic vinegar you can afford for big flavor. Be sure to NOT use a balsamic vinaigrette.
Rosemary. Fresh rosemary gives a subtle note that really takes this recipe over-the-top. Or, substitute for fresh thyme, basil, or even dried herbs.
How to Make Balsamic Chicken
Making this balsamic chicken breast recipe with its accompanying glaze only requires a few simple steps:
Prep the Chicken
Properly preparing the meat makes cooking chicken breasts surprisingly easy.
First, you'll want to tenderize and portion them. Pound into 1-inch thick pieces with a meat mallet and cut into 4-ounce sections. Save on the mess while doing this by covering the chicken in plastic wrap or placing it in a Ziploc bag.
A kitchen scale will give you the most accurate results. Be sure the chicken comes out to even thickness so it cooks consistently.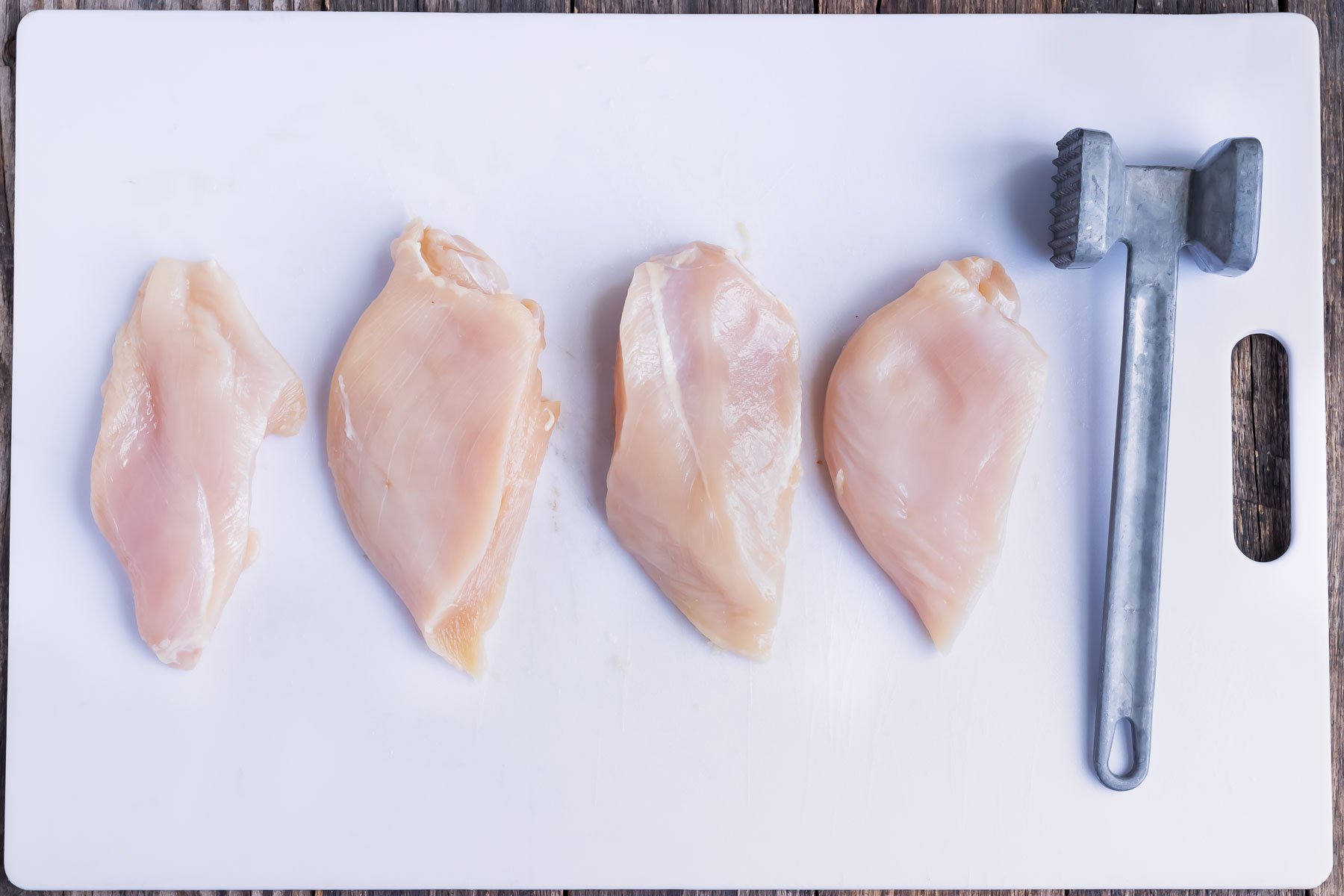 Make the Marinade
Whisk together marinade ingredients in a large bowl or bag.
Add the prepared chicken and marinate in the fridge for 15-30 minutes.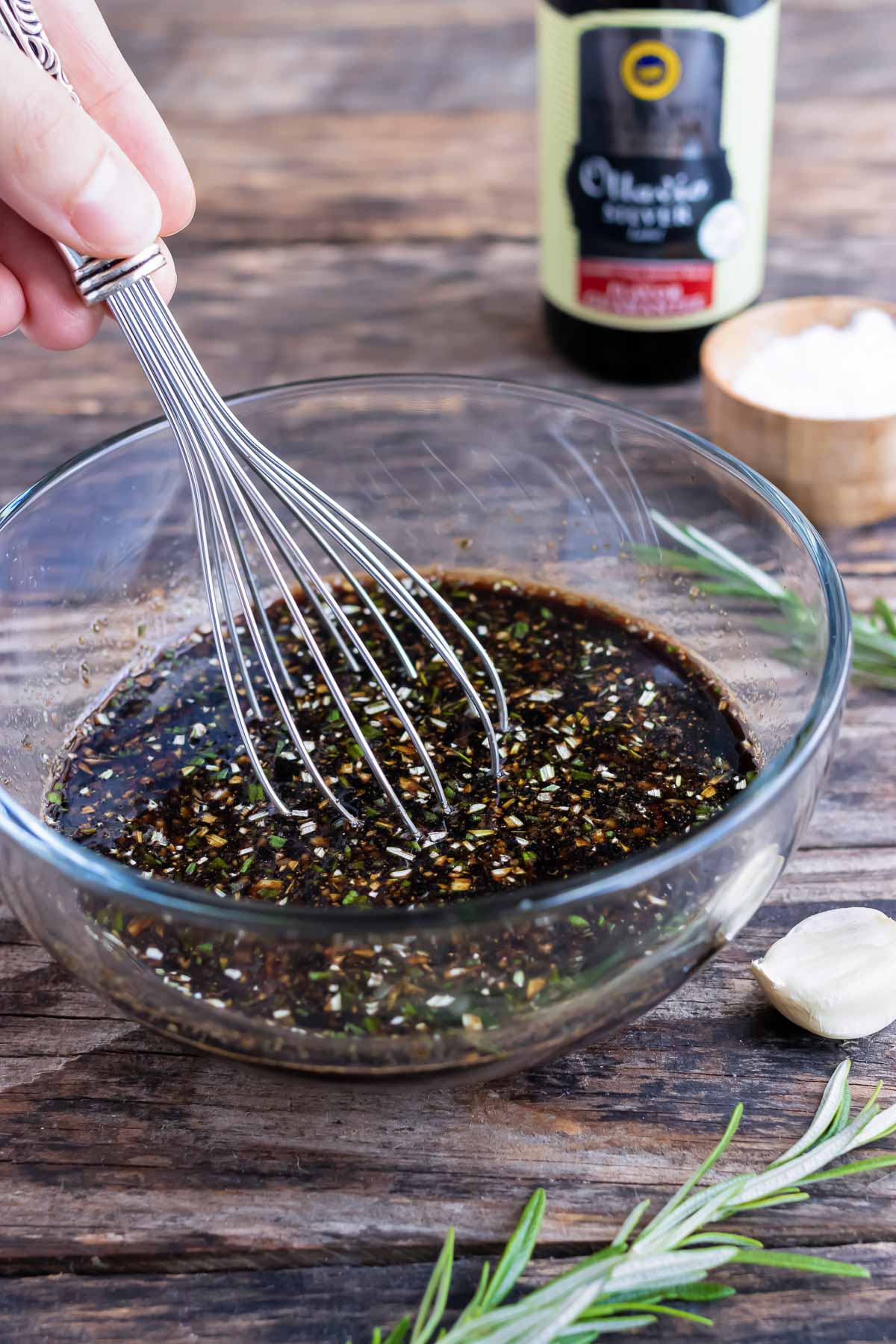 Cook the Chicken in a Skillet
Place the marinated chicken in a cast-iron skillet over medium or medium-high heat for 3-4 minutes per side.
You'll know it's done cooking when the internal temperature reaches 165°F with a meat thermometer. (Here's more on the question, What temperature is chicken done?)
The cook time will vary based on how thick the chicken is.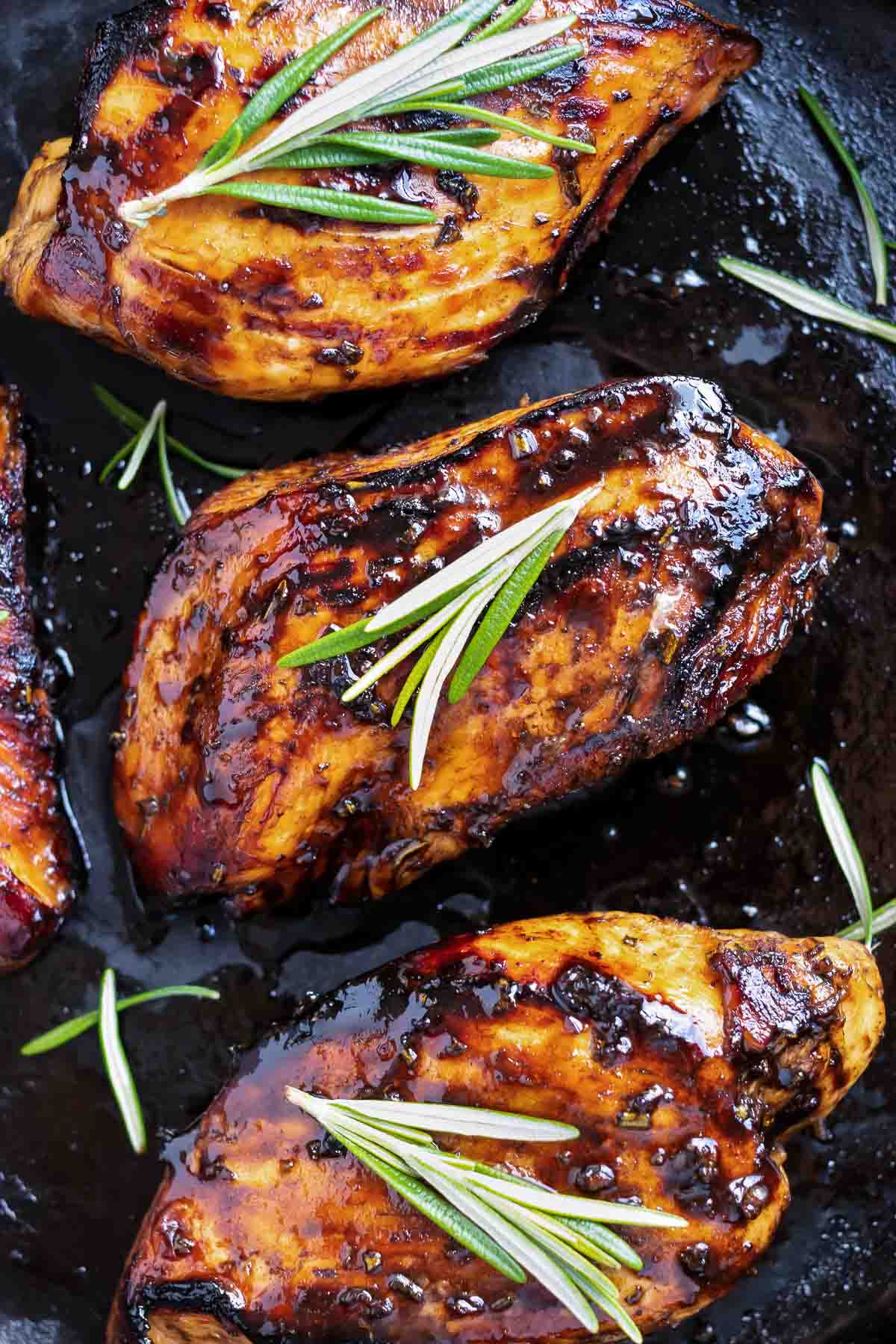 How to Grill Balsamic Chicken
Cooking this chicken on the grill is very similar to the stovetop method.
Portion, tenderize, and marinate the chicken. Then preheat a barbecue to medium heat. Grill the chicken for 4-5 minutes per side.
Reduce the Sauce
Add the excess marinade to a saucepan. Bring it to a boil for 1 minute, and simmer for 10 minutes.
It will reduce by half and continue to thicken up as it cools to form a glaze.
Drizzle the reduction of balsamic vinegar over the chicken just before serving.
Garnish with extra fresh rosemary for a pop of flavor and color.
If you grilled the chicken, remove it first. Then, drizzle the sticky glaze over the top.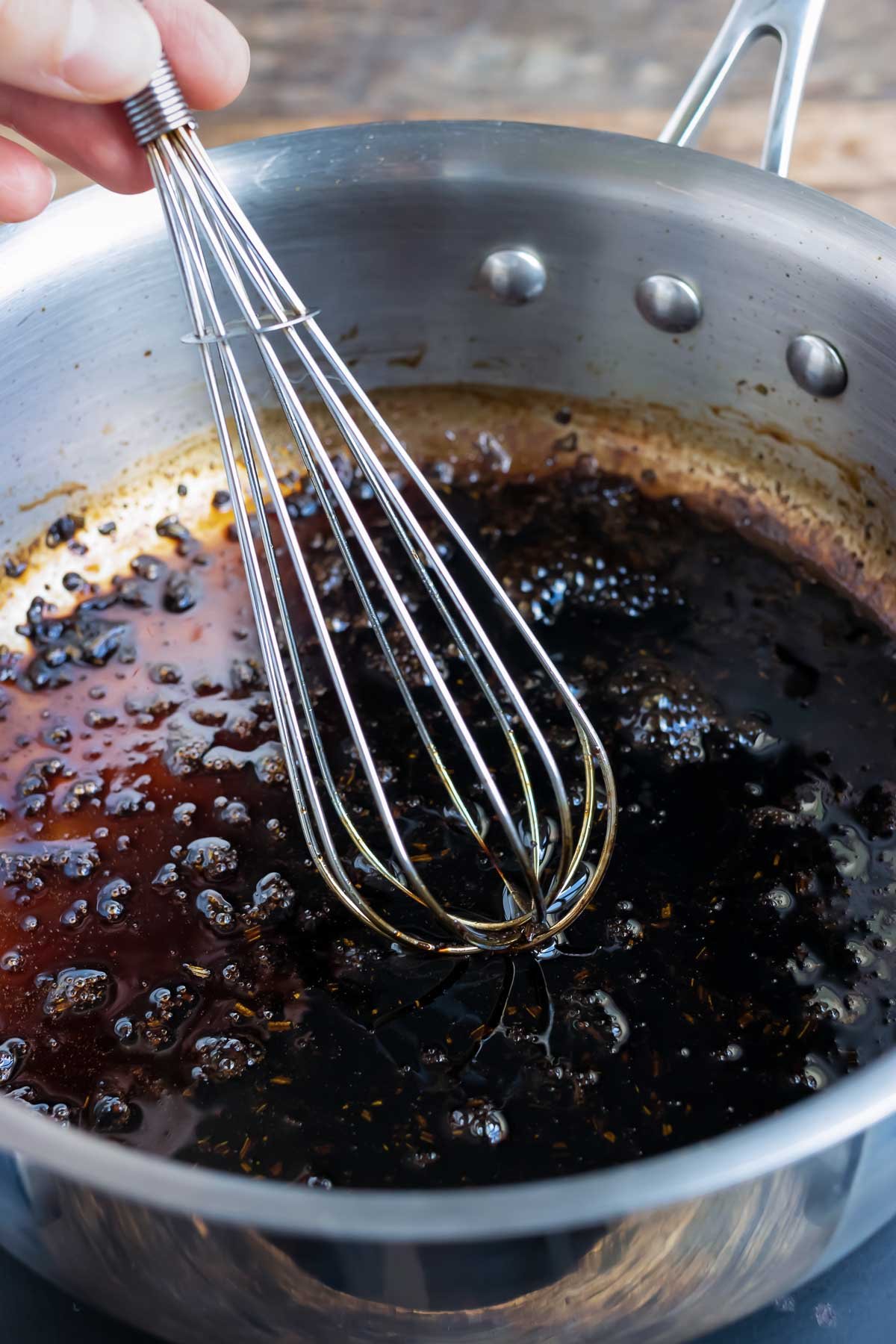 Meal Prep and Storage
To Prep-Ahead: Mix up the marinade and balsamic glaze and store in the refrigerator until ready to use. You can also marinate the chicken up to 12 hours in advance.
To Store: Leftover balsamic chicken will last for up to 3-4 days if sealed in an airtight container in the refrigerator. Store the balsamic glaze separately in the refrigerator for up to 1-2 weeks.
To Freeze: Place in a freezer-safe container for up to 4-6 months.
To Reheat: Warm the chicken in the microwave, or in a skillet on the stove until heated through.
Dietary Modifications
The recipe you'll find below is already gluten-free, paleo, and dairy-free as written. Here are substitutions you can make to help it fit your other dietary requirements:
Low-carb or Keto: Replace the sweetener with a non-nutritive sweetener such as Stevia.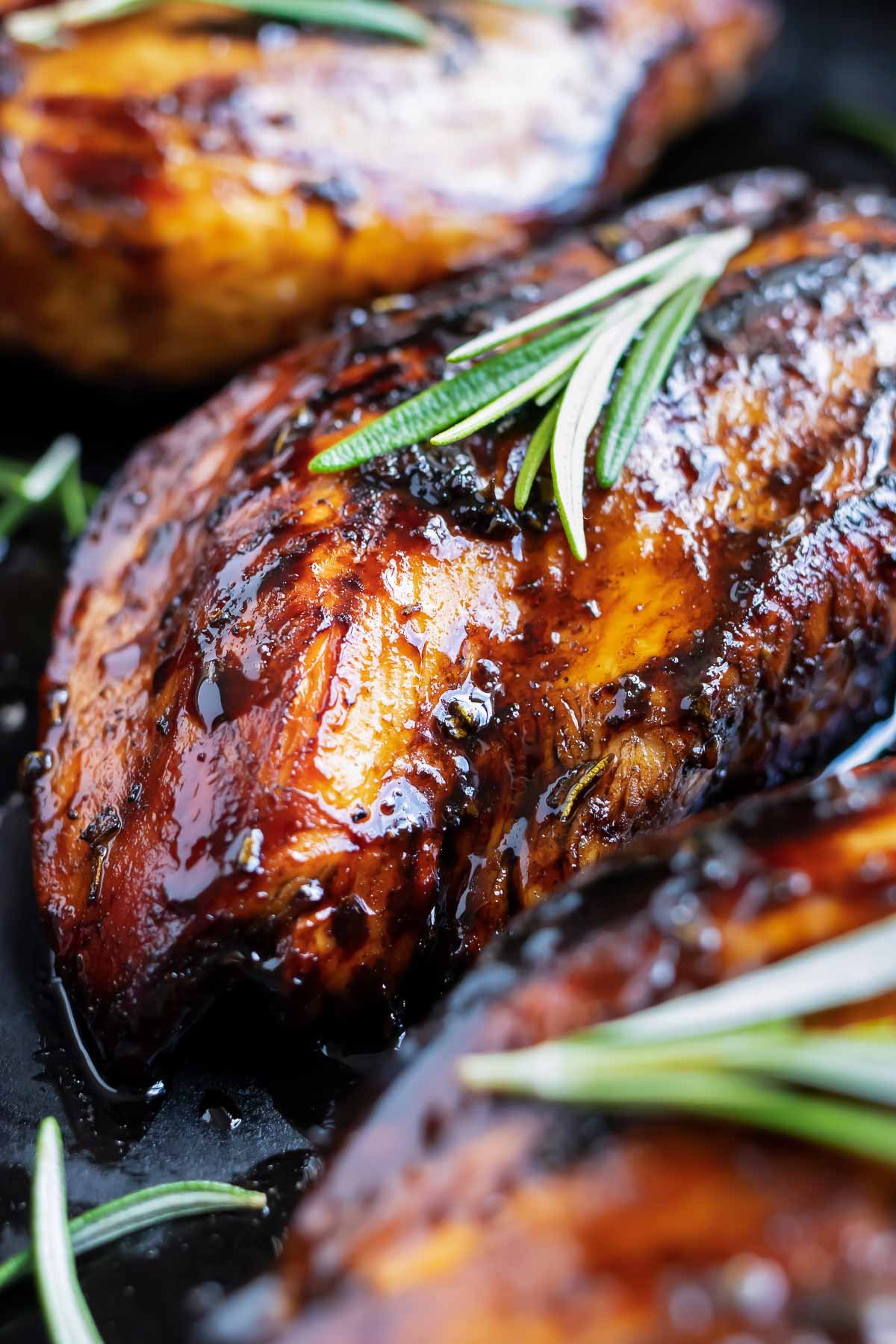 Is balsamic glaze and reduction the same thing?
While balsamic glaze and reduction are very similar, there is a slight difference. Both are the result of cooking down balsamic vinegar to a thicker consistency. However, a glaze also adds in a sweetener such as honey or sugar.
Expert Tips and Tricks
Pound it out. Use a meat tenderizer to reduce the chicken to 1-inch thick pieces.
Place some parchment. Cover the chicken when pounding to prevent the raw juices from splattering.
Use high quality. The real taste comes from the balsamic vinegar, so don't skimp!
Cast-iron is key. This pan gives it a crusty sear and the best results.
Prep the glaze. As the balsamic glaze cools it will thicken, so make it in advance for a stickier sauce and an easy dinner.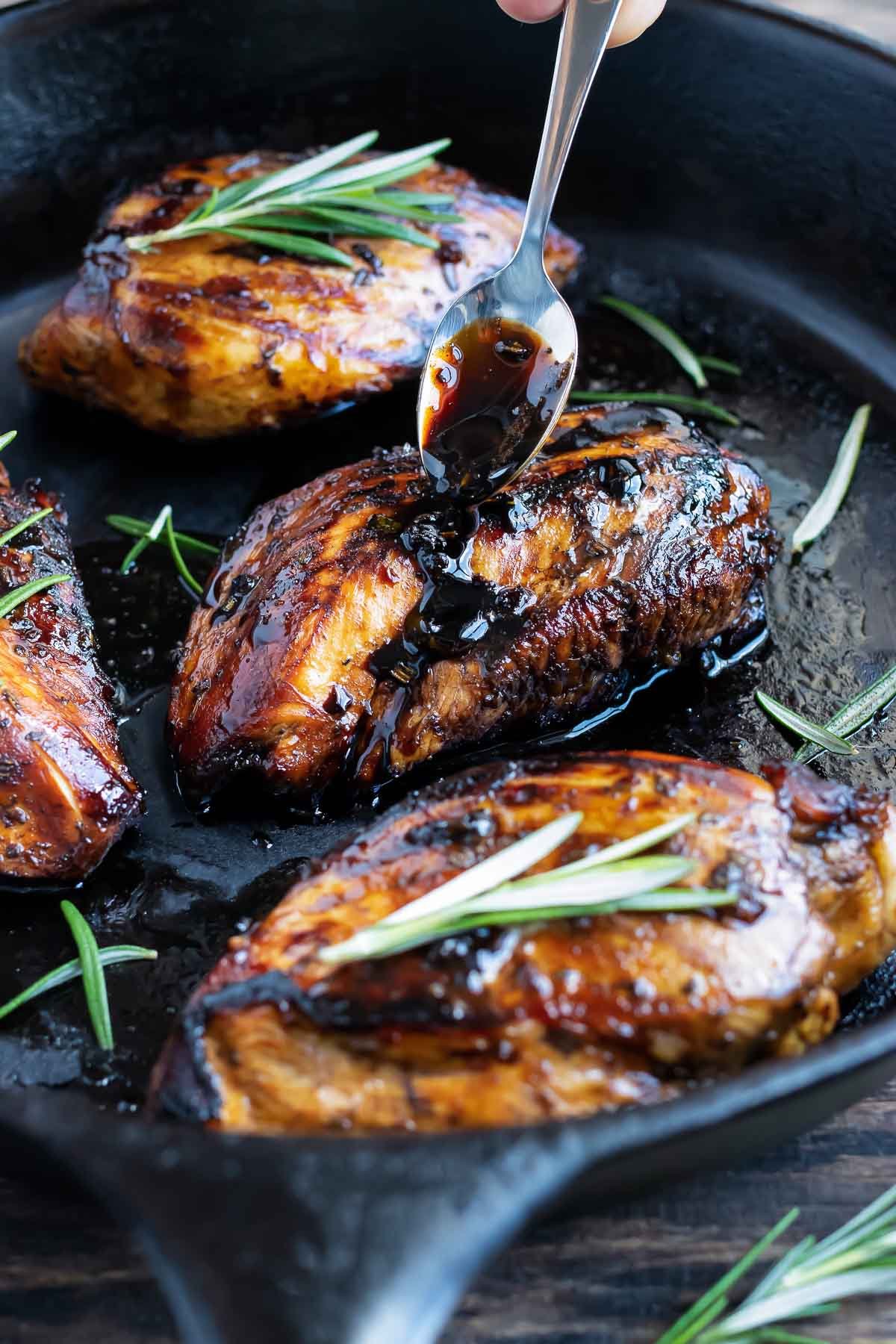 What to Serve with Balsamic Glazed Chicken?
This balsamic glazed chicken is such a versatile main dish and can be served with a variety of side dishes. Here are a few of favorites for a weeknight dinner:
Chinese Green Beans and Broccoli Bacon Salad are a great way to get your greens.
In the summer, be sure to try Sautéed Zucchini and Zucchini Pie. They will quickly become a family favorite.
Air Fryer Roasted Potatoes or Instant Pot Sweet Potatoes are quick and easy.
Or, keep it simple with a Massaged Kale Salad.
More Chicken Breast Recipes
Chicken is one of the easiest, and healthiest, proteins for a quick and simple dinner. Try any of these recipes next.
For some Italian flavor, try Gluten-free Chicken Parmesan, Caprese Chicken, or Chicken Piccata.
This Honey Mustard Chicken and Hot Honey Chicken are so easy to whip up, too.
Also, check out How to Thaw Chicken Fast!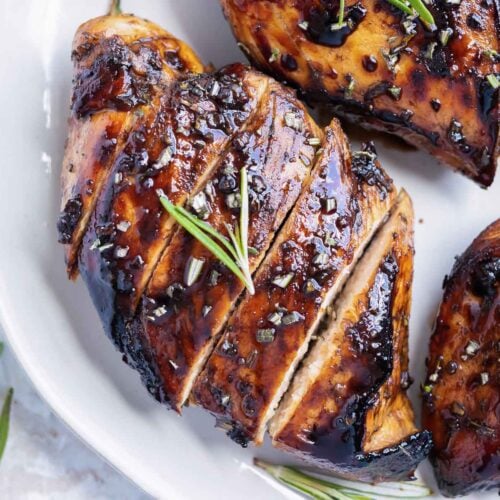 Balsamic Chicken Recipe (Honey Glazed)
Honey Balsamic Glazed Chicken is a healthy recipe that makes an impressive dinner for any occasion. Chicken rests in a balsamic vinegar and honey marinade, then is cooked in a cast-iron skillet or seared on the grill.
Ingredients
1

lb.

chicken breasts

½

cup

balsamic vinegar

good quality

¼

cup

chicken broth

regular sodium

2

Tbsp.

honey

2

cloves

garlic

crushed

½

tsp.

salt

to taste

¼

tsp.

black pepper

1

tsp.

rosemary

fresh, finely chopped

1

Tbsp.

olive oil
Instructions
Pound chicken breasts to 1-inch thick and cut into 4-ounce portions.

In a medium-sized bowl whisk together vinegar, broth, honey, garlic, salt, pepper, and rosemary. Reserve ½ cup of marinade and add remaining ~¼ cup to a 1-gallon ziplock bag with the chicken breasts.

Marinate for 15-30 minutes.

In a large cast-iron skillet over medium-high heat add oil and chicken, letting excess marinade drip off of it before adding to the skillet. Cook for 3-4 minutes per side, or until it is cooked through and internal temperature reaches 165 degrees. (Check with a meat thermometer.)

Meanwhile, in a separate, small saucepan or skillet add remaining balsamic marinade and bring to a boil. Boil for 1 minute and then reduce heat to simmer.

Let balsamic vinegar mixture simmer for 10 minutes or until it is reduced by half and forms a glaze.

Serve cooked chicken breasts with balsamic glaze and enjoy!
Recipe Video
Recipe Notes
You can substitute pure maple syrup or agave nectar for the honey.
Fresh thyme or basil will work well in place of the rosemary. Dried herbs will also be a good substitution for the fresh rosemary.
To Store: Leftovers will last for up to 3-4 days if sealed in an airtight container in the refrigerator. Keep the balsamic glaze separately in the refrigerator for up to 1-2 weeks.
To Freeze: Place in a freezer-safe container for up to 4-6 months.
Nutrition Facts
Balsamic Chicken Recipe (Honey Glazed)
Amount Per Serving
Calories 220
Calories from Fat 63
% Daily Value*
Fat 7g11%
Cholesterol 73mg24%
Sodium 433mg19%
Potassium 479mg14%
Carbohydrates 13g4%
Protein 25g50%
Vitamin A 73IU1%
Vitamin C 4mg5%
Calcium 33mg3%
Iron 1mg6%
* Percent Daily Values are based on a 2000 calorie diet.