If a recipe calls for fresh lemon juice, you might wonder, how much juice is in one lemon? The number of tablespoons you get all depends on whether it's small, medium, or large. When you're shopping for your next recipe, use this guide so you know exactly what size fresh lemons—and how many—to go for.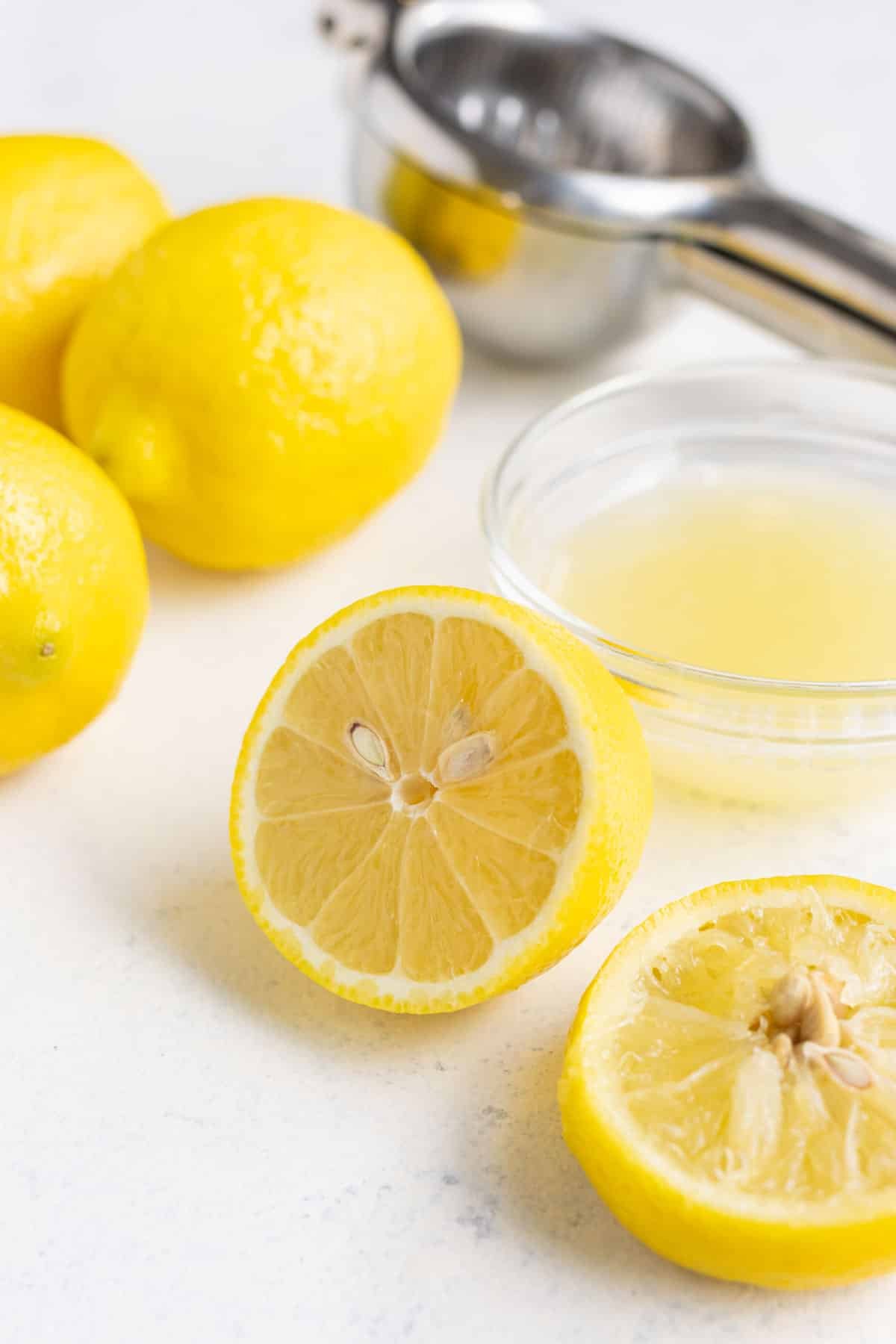 Generally speaking, the size of the lemon is what determines approximately how many tablespoons of fresh lemon juice it will yield. For the standard measurement of a whole lemon, follow this guide.
The average juice of one small lemon (3 ounces) contains roughly 2-3 tablespoons of juice. One medium-sized lemon (4-5 ounces) contains 3-4 tablespoons of fresh citrus juice. Lastly, one large lemon (6 ounces) contains about 5 tablespoons of lemon juice.
How to Juice a Lemon
This citrus fruit might be tough or soft, but either way, learning how to juice a lemon will help you get the most juice out of your lemon. The best way is to follow these three steps. This method will give you the exactly what you need for your recipe!
Step 1: Apply Pressure
Make sure to put pressure on the single lemon by rolling it on your countertop. This will help release all the juices and make it easier to squeeze. You want your lemon softer than when you bought it before moving to the next step.
Step 2: Cut in Half
After you've applied pressure, cut your lemon in half (hot dog style). This is the easiest way to hold your lemon while squeezing it.
Step 3: Squeeze to Juice
There are a few ways to squeeze a lemon. You can either use your bare hands by squeezing with one while holding the other below to catch the seeds.
You can also use a citrus reamer (or citrus squeezer) or an actual citrus juicer. Compared to using your hands, either method will get you much more lemon juice, so go with whichever you prefer.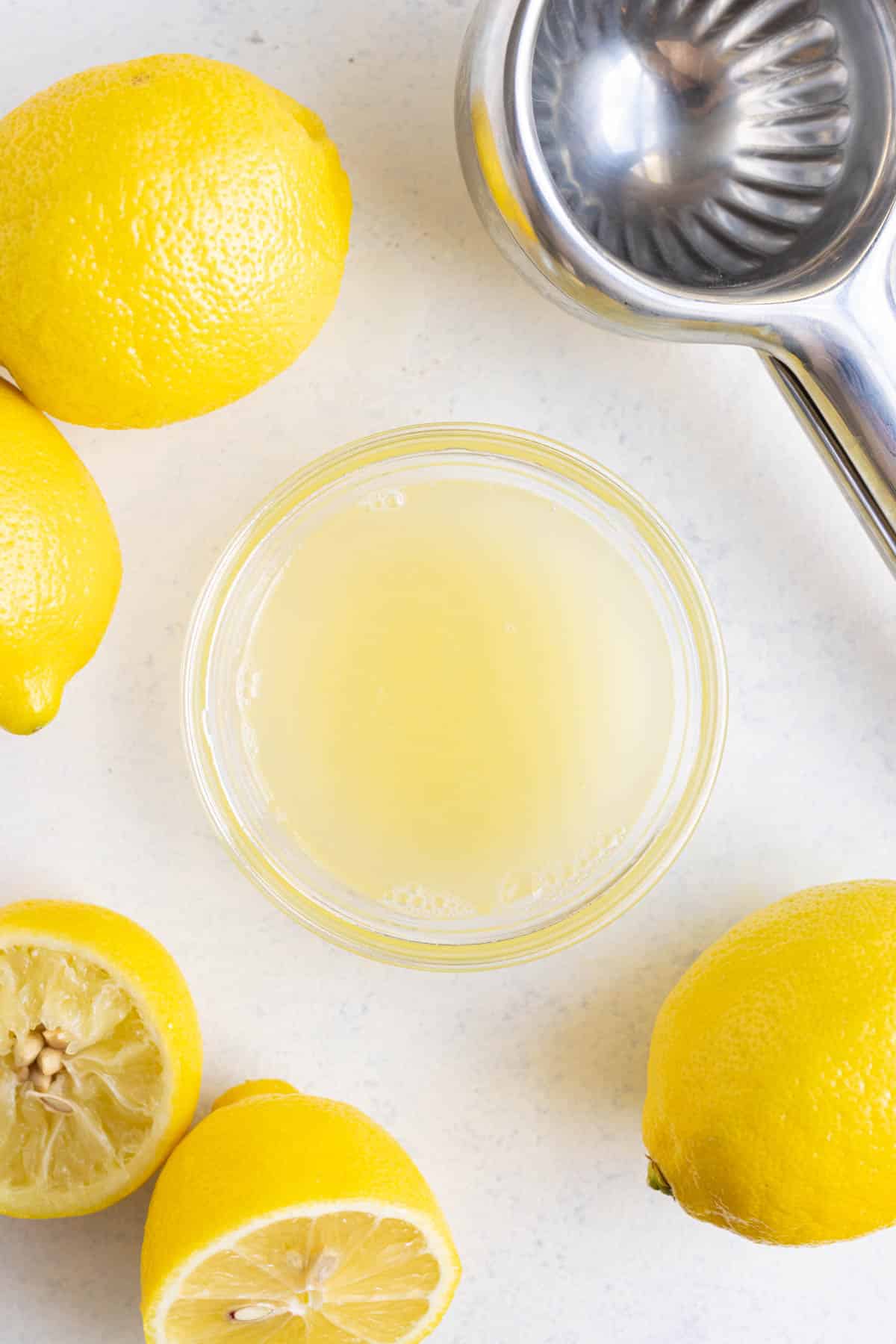 Don't Forget the Zest!
While lemon juice has a citrusy, fresh flavor, you can also use lemon zest to add an even brighter flavor to your dish. Lemon zest works well for salad dressings, pasta garnishes, or even creamy sauces.
Zesting is much easier while your lemon is still whole, so you'll want to do this before you juice.
How to Zest a Lemon
The first step is to wash your lemon. There's usually a waxy coating when you buy them from your grocery store, which you don't want to put in your food.
After you dry your lemon, one of the easiest ways to zest is to use a citrus zester or Microplane grater to grate the lemon peel off. Once you see the white part underneath the yellow peel, you've zested deep enough.
Check out this post to further read tips and tricks about How to Zest a Lemon.
Zesting a whole lemon will yield about 1 tablespoon of lemon zest.
Recipes That Use Lemon Juice
Craving the bright tangy flavors of lemons? Take a look at these recipes!
This Pasta Primavera with Lemon Garlic Butter is full of flavor and pops with brightness. Easy Lemon Chicken Piccata and Lemon Garlic Baked Salmon in Foil come together in 30 minutes or less. Cook these Lemon Pepper Chicken Wings for your next game day tailgate.
Lemon works wonders in baked goods. See for yourself with this Healthy Lemon Zucchini Bread, Lemon Bread (Starbucks Copycat), or these soft and fluffy Easy Lemon Blueberry Cookies. Breakfast is a treat with Blueberry Lemon Chia Seed Pudding.
The dressing options are limitless when it comes to fresh lemon juice. This Lemon Vinaigrette Dressing will go perfect with your next side salad. For a creamy take, try this Lemon Tahini Salad Dressing.