Lemon Pepper Wings are going to be the first appetizer to disappear at your next game day or Super Bowl party! Chicken wing portions are tossed in lemon juice, oil, cornstarch, and lemon pepper seasoning, then baked in the oven for a perfectly crispy skin. Serve this quick and easy recipe along with other finger foods for your next get-together!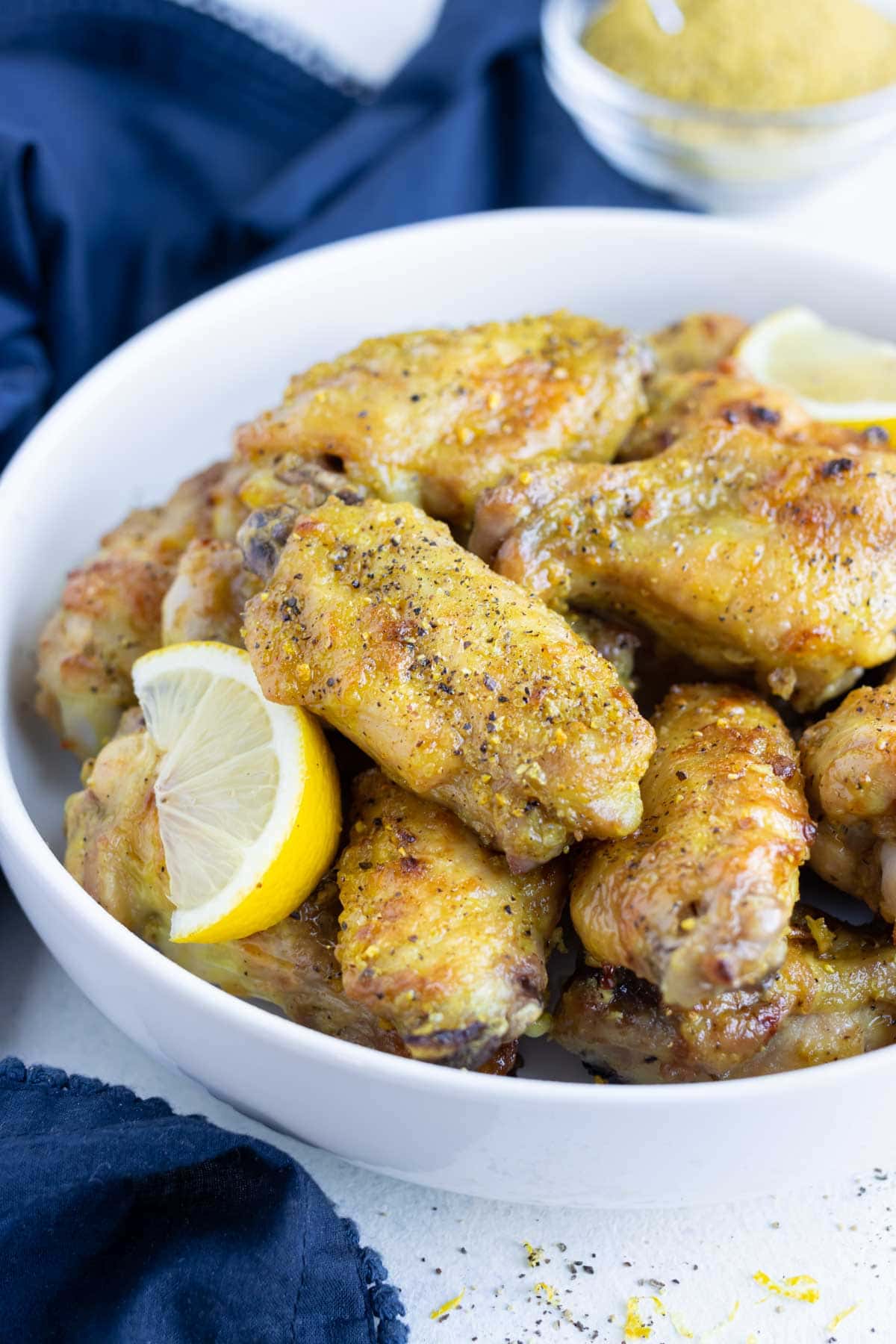 No Super Bowl or game day party is complete without a finger-licking plate FULL of baked chicken wings.
Garlic Parmesan Wings, Air Fryer Chicken Wings, Baked Buffalo Chicken Wings, Thai Chicken Wings, or this lemon pepper variation – I'm not picky!
However, chicken wings sort of get a bad rap for being unhealthy and difficult to make.
But can I let you in on a little secret?
They can actually be A LOT healthier for you if you bake the chicken wings in the oven instead of deep-frying them!
What-the-what?! How could baking them in the oven create such crispy and crunchy skin?
Well you're going to need to pay attention very closely to a few tips and tricks for the BEST baked wings recipe below.
And you'll also learn how to easily prep them ahead of the big day so they can be popped in the oven when the game begins!
Ingredients
The simple ingredients you need to make this Lemon Pepper Chicken Wings recipe include:
Wing Portions. You'll need roughly 2 pounds of wingettes and drumettes to make the recipe. The part that looks like a drumstick is the drumette and has the most white meat, and the highest meat to skin ratio. Wingettes, AKA flats, contain two bones, have more dark meat, and slightly less meat to skin than drumettes. Most grocery stores normally have both wingettes and drumettes already cut and prepared in the meat section. However, if all you can find is whole chicken wings you can easily cut chicken wings yourself.
Garlic. Fresh garlic is full of flavor and is the best choice. You can substitute for garlic powder but it will not give you nearly the same taste.
Lemon Juice. Fresh lemon juice is preferred, but bottled will work as well.
Oil. A high smoke point oil such as avocado oil is needed since you will be cooking at a high temperature. Canola, safflower, or grapeseed oil are also good options. Olive oil will work if it's all you have.
Cornstarch. This starchy component is the key ingredient that makes the wings crisp up in the oven. Tapioca starch or arrowroot starch may also be used if you are avoiding grains.
Lemon Pepper Seasoning. Making a homemade version allows you to control the amount of salt. If you use store-bought make sure to read the label. If the mix contains salt, then do not add the salt mentioned in the lemon pepper wings recipe below.
How to Make Lemon Pepper Wings
The basic steps for making Lemon Pepper Wings are simple to follow. Please see the recipe card below for more detailed ingredient amounts.
Coat the Wings
Measure garlic cloves, lemon juice, olive oil, and salt (if your lemon pepper seasoning doesn't contain any) into a large bowl. Use a whisk to thoroughly mix everything together.
Add the wing portions to the bowl and toss with the sauce. This step gets the wings slightly wet so the starch will adhere to the skin.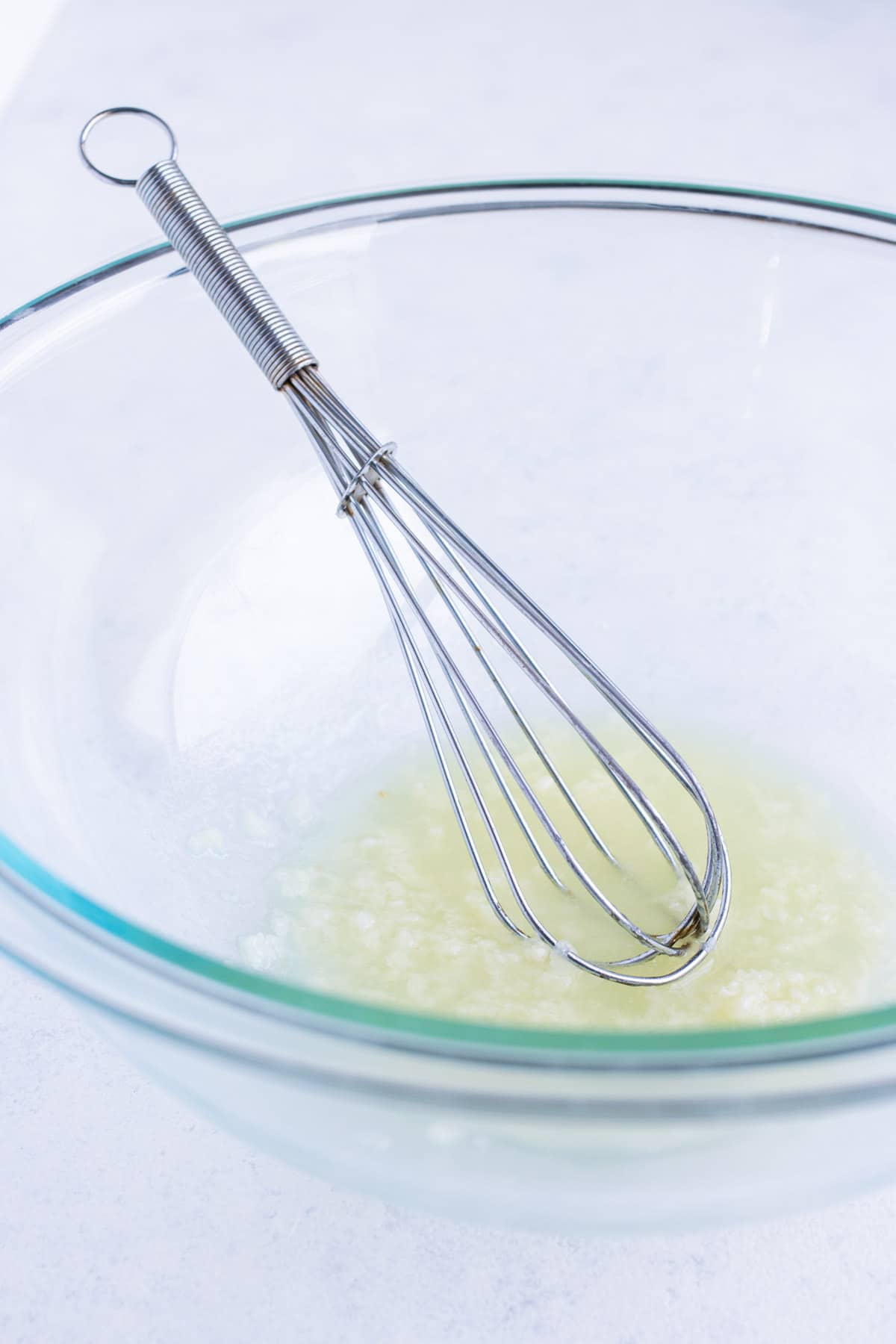 Cover with Starch
Whisk together cornstarch and lemon pepper seasoning in a small bowl. Sprinkle the mixture all over the wings and toss to coat completely. Add the starch mixture incrementally to ensure all of the chicken is coated evenly.
The starch gives the chicken wings their crispy coating, so DO NOT SKIP THIS STEP!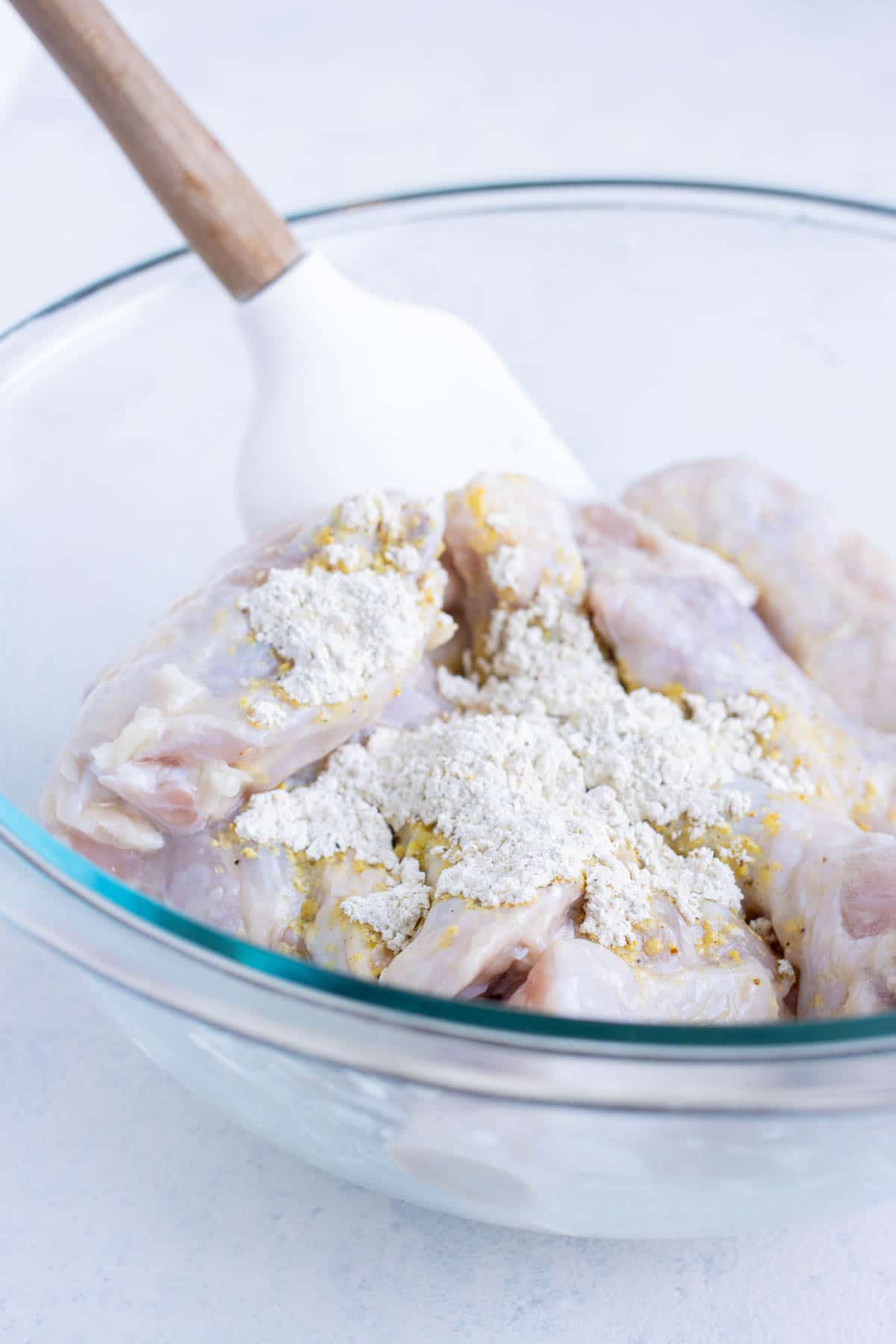 Bake in Oven
For the crispiest results, set a wire rack on top of a rimmed baking sheet lined with either foil or parchment paper. Arrange the coated wings skin side-up in a single layer on the wire rack. Be careful not to overlap them for the most crispy skin!
You can also place the wings directly on a parchment paper lined baking sheet but they will not be as crispy.
Bake the chicken wings in a preheated 400°F oven for 40-45 minutes. After 20 minutes, carefully flip each of the wings over so they are skin side-down, then bake for the remaining 20-25 minutes.
You might also like these Oven Baked Chicken Drumsticks!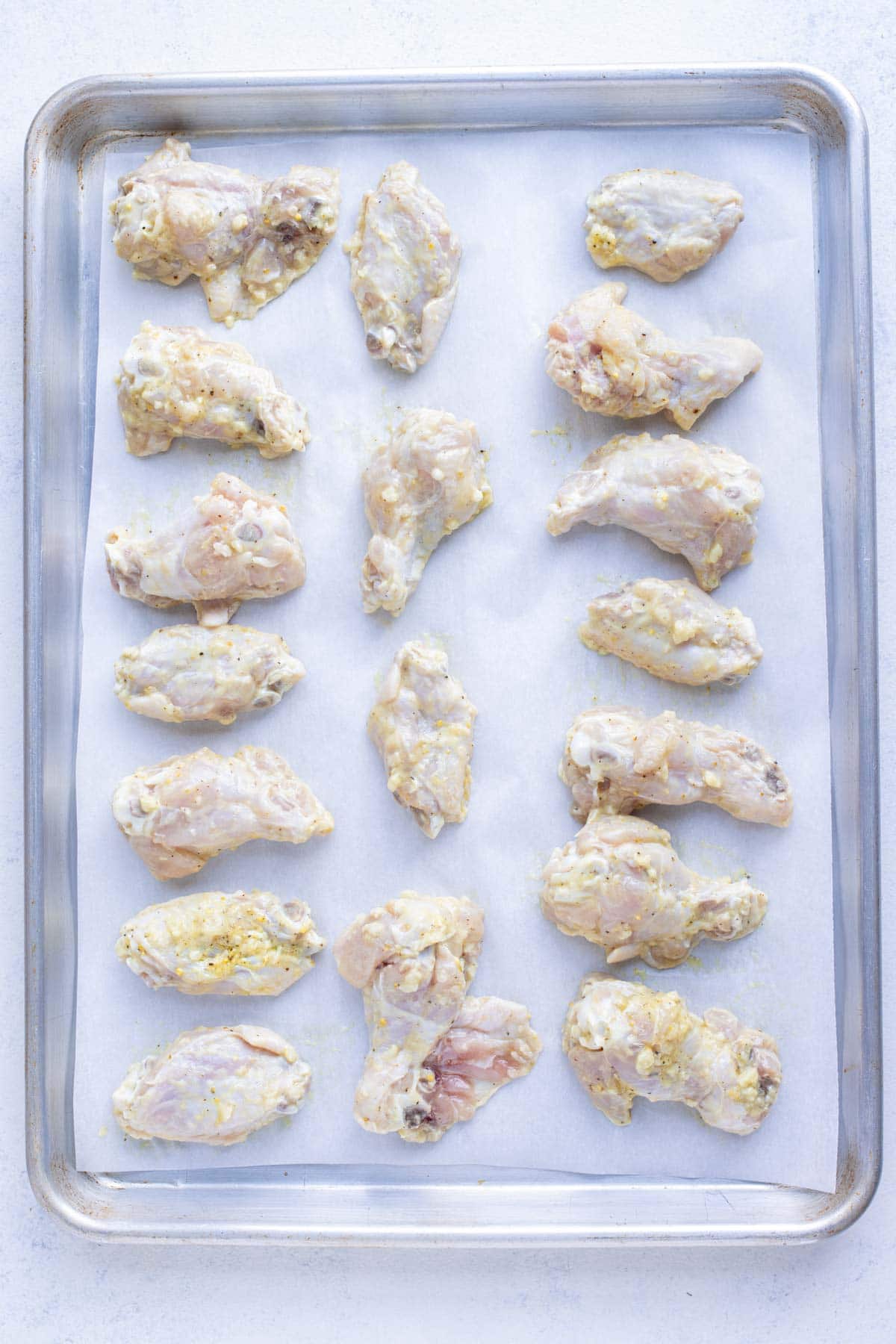 Brush with Lemon Pepper Sauce
While the wings are baking, whisk together a sauce of butter and more lemon pepper seasoning. If you are Whole30 or Paleo, simply use ghee. For a dairy-free version use a vegan "butter" stick instead.
Brush the sauce all over the wings and then return them to the oven on a high broil for 2-4 more minutes, or until crispy.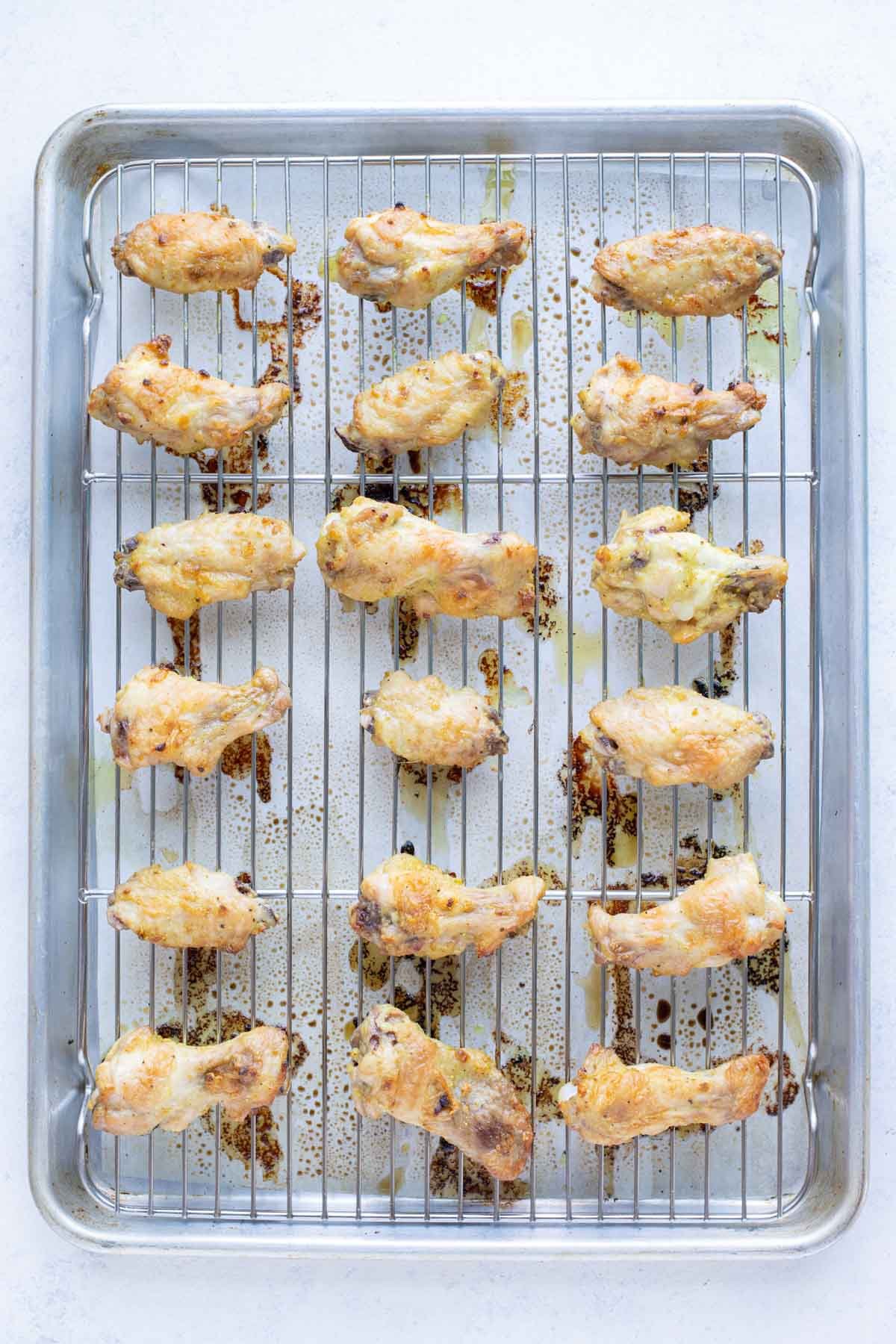 Serving
These lemon pepper wings are best served straight out of the oven with an extra sprinkling of crushed black pepper and a bit of fresh lemon zest.
They're great on their own, or pair them with your favorite dipping sauces! A few of my favorites include Homemade Ranch Dressing and Blue Cheese Dressing!
Meal Prep and Storage
To Prep-Ahead: Prepare the wings and stop just before baking in the oven. Keep the wings in an airtight container in the refrigerator for up to 2 days. Bring them out at least 30 minutes before baking so they can come to room temperature. Follow the remaining instructions as outlined below.
To Store: Place leftovers in an airtight container in the fridge for up to 3-5 days.
To Freeze: Seal in a freezer-safe airtight container for up to 3 months.
To Reheat: Return to a 400°F oven for 10 minutes and broil for the last minute or two.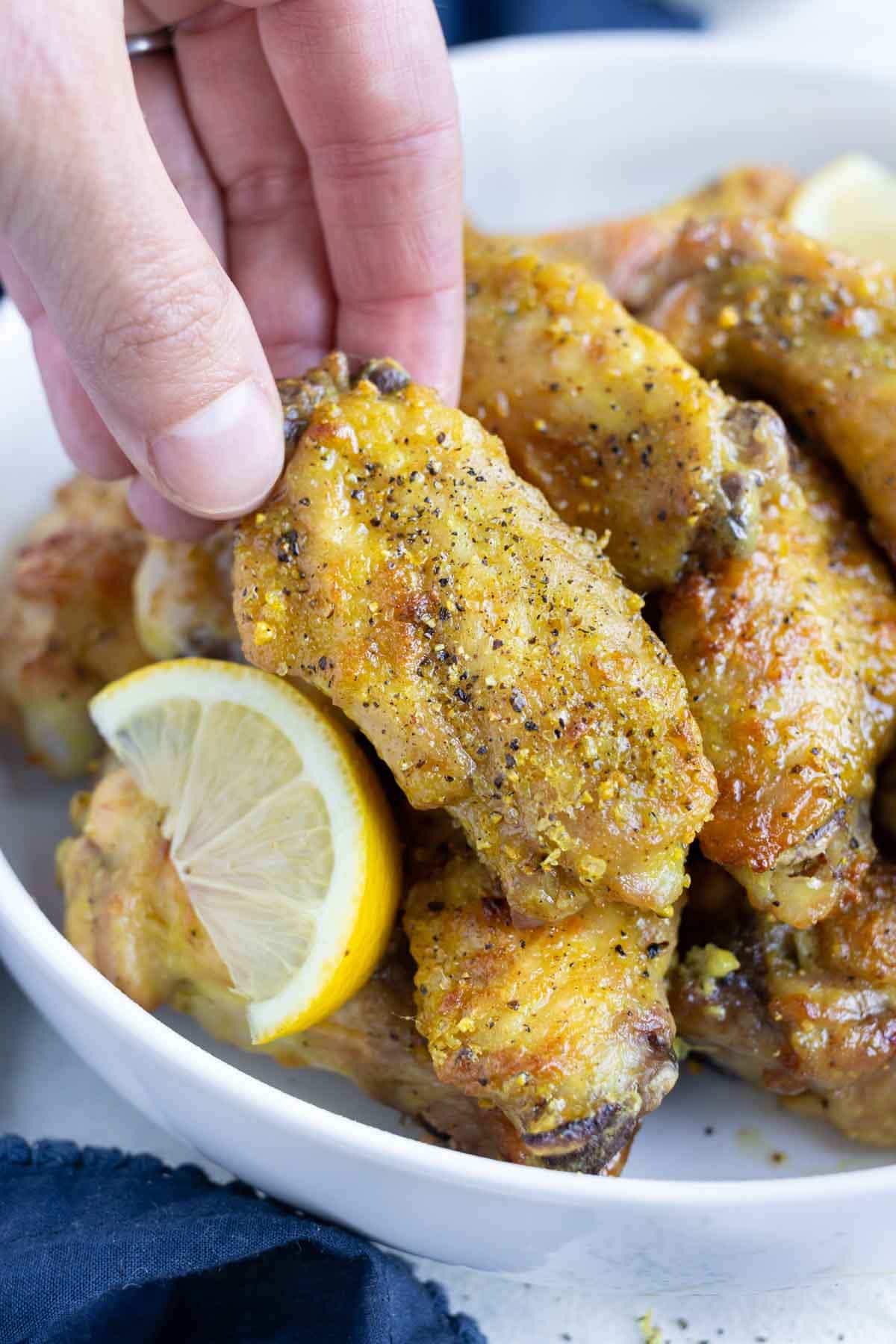 FAQs
Are lemon pepper wings keto?
Each recipe will vary, but generally lemon pepper wings are low-carb. One serving of this recipe contains 6 grams of carbohydrates.
Is lemon pepper the same as lemon and pepper?
Essentially, yes. Lemon pepper seasoning is made from dried lemon zest, pepper, and occasionally salt will be added.
How spicy is lemon pepper?
Lemon pepper is not considered spicy as it generally only contains black pepper.
Expert Tips and Tricks
Avoid over-doing it. Only a light coating of oil is needed to perfectly crisp the wings.
Don't forget to starch! Cornstarch is the extra special ingredient that is necessary for the crispiest results.
Leave some space. The hot air needs to be able to reach every inch of the wings so make sure they are not touching.
Elevate the wings. Bake the wings on a wire rack so the air can circulate all around the chicken.
Keep the heat high. Baking at 400°F helps the skin to crisp up quickly while the inside becomes tender.
Go for the extra crunch. Broiling skin side-up at the very end of baking will take the crispiness to the next level!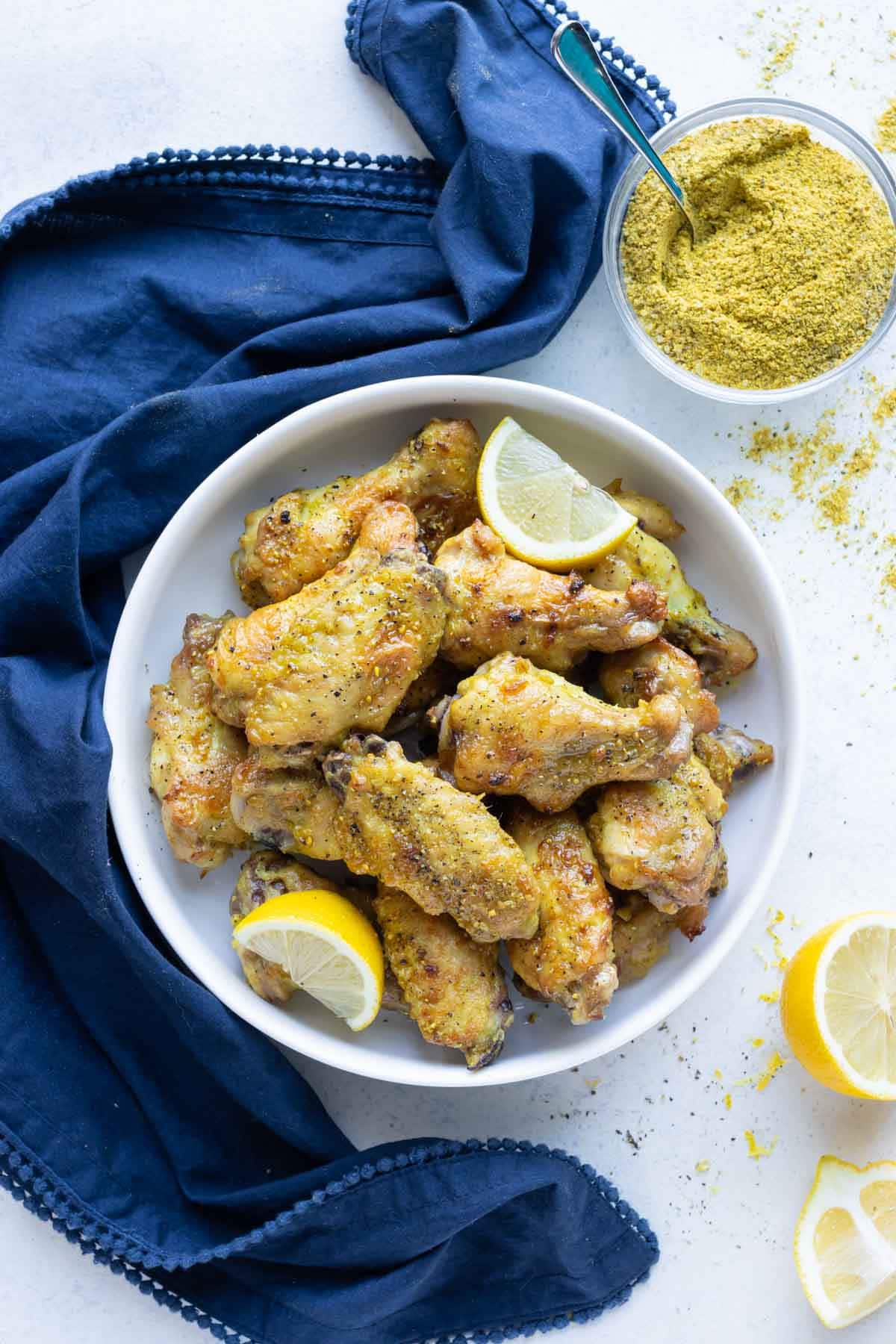 More Game Day Recipes
Create the best snack spread with the following appetizers:
Lemon Pepper Chicken Wings Recipe
Lemon Pepper Wings are the best low-carb appetizer recipe! Serve this quick and easy dish along with other finger foods for Super Bowl or your next party.
Ingredients
2

lbs.

chicken wings portions

wingettes and/or drummettes

3

cloves

garlic

crushed

1

Tbsp.

lemon juice

2

Tbsp.

olive oil

½

tsp.

salt

to taste*

2 ½

tsp.

lemon pepper seasoning

divided

2

Tbsp.

cornstarch

tapioca or arrowroot starch

1 ½

Tbsp.

butter

melted, or ghee*
Instructions
Preheat oven to 400 degrees.

In a large bowl whisk together crushed garlic, lemon juice, olive oil, and salt (if lemon pepper seasoning is salt-free.) Add chicken wings and toss to combine.

In a small bowl whisk together 1 ½ teaspoons lemon pepper seasoning and tapioca flour. Sprinkle mixture over wings and toss to combine.

Line a large baking sheet with aluminum foil or parchment paper and then place a wire rack on top. Layer wings in a single layer, skin side-down, being careful that none of the skin is touching. (You can also place them directly onto parchment paper, but they won't come out nearly as crispy!)

Bake wings in preheated oven for 40-45 minutes, flipping halfway through.

While chicken wings are baking, whisk together melted butter and remaining 1 teaspoon of lemon pepper seasoning. Once wings are done, brush lemon pepper-butter mixture over wings. Broil wings on high for 2-4 minutes or until skin is crispy and slightly browned.

Serve lemon pepper wings immediately with a sprinkle of freshly ground black pepper and lemon zest. Enjoy!
Recipe Video
Recipe Notes
Some lemon pepper seasoning mixes have salt added and some do not. Be sure to read the label carefully and only add salt to the recipe if the seasoning is salt-free.
Can also use a dairy-free vegan "butter" stick.
A few brands of lemon pepper seasonings that work well in this baked chicken wings recipe include:
To Store: Place leftovers in an airtight container in the fridge for up to 3-5 days.
To Freeze: Seal in a freezer-safe airtight container for up to 3 months.
Nutrition Facts
Lemon Pepper Chicken Wings Recipe
Amount Per Serving
Calories 319
Calories from Fat 216
% Daily Value*
Fat 24g37%
Cholesterol 124mg41%
Sodium 296mg13%
Potassium 269mg8%
Carbohydrates 6g2%
Protein 21g42%
Vitamin A 325IU7%
Vitamin C 2.5mg3%
Calcium 30mg3%
Iron 1.7mg9%
* Percent Daily Values are based on a 2000 calorie diet.