To find out if granola is good for you, you need to know the kind of fibers, proteins, and sugars it has. Find out what granola is and its nutritional value, its health benefits and downsides, what to look for when purchasing, and how to make healthy granola.
What is granola?
Granola is a cereal-like breakfast or on-the-go snack that is usually made with rolled oats, sugar, dried fruits, nuts, and seeds. There are different types, which make it a popular product.
You can eat granola with milk, yogurt, cottage cheese, or a smoothie. Additionally, you can enjoy it as a bar or pop it in your mouth like popcorn.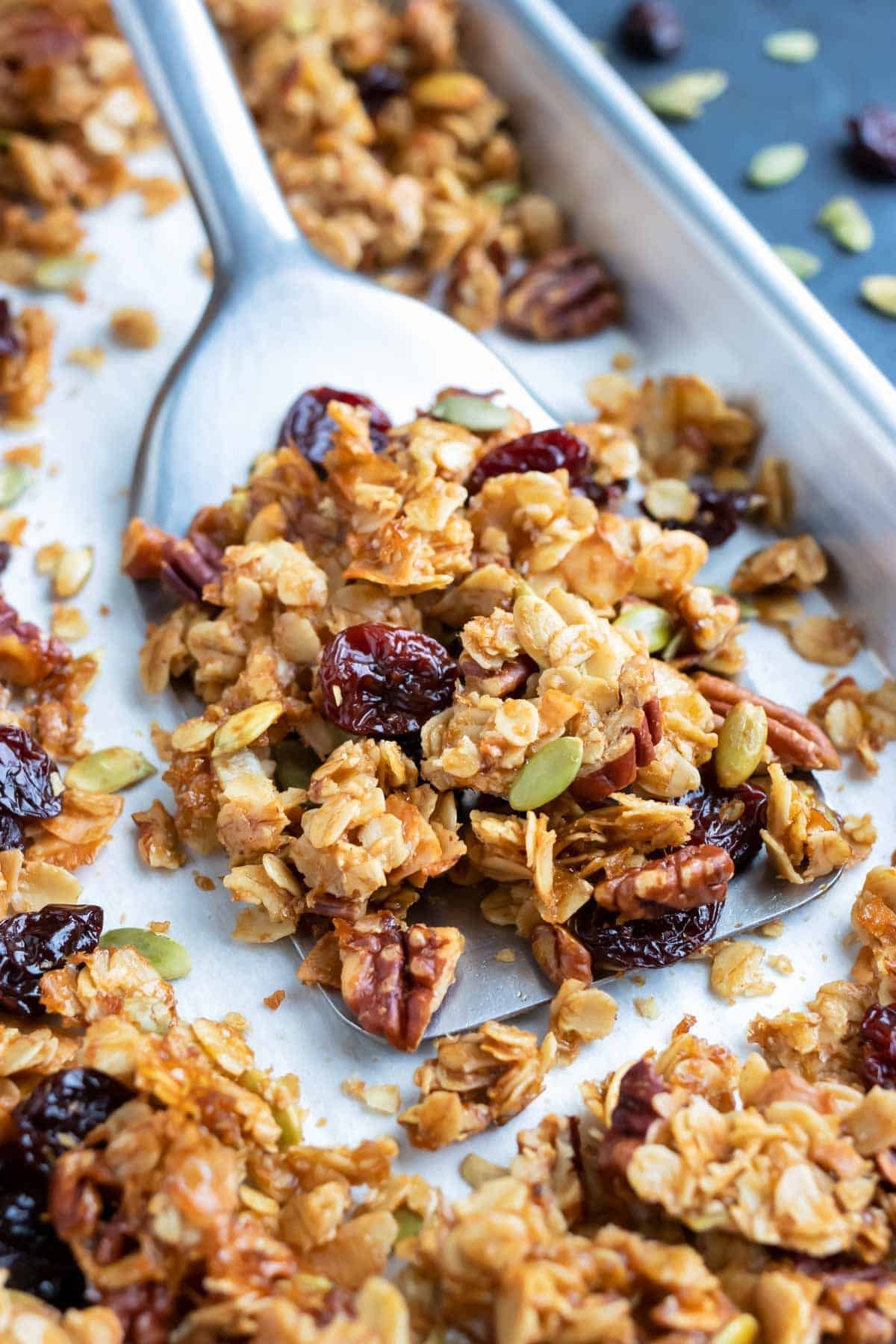 Nutrition Facts
Nutritional value varies depending on the specific ingredients. Granola is calorie-dense and rich in protein and fiber. It can also provide iron, magnesium, zinc, vitamin B, and vitamin E.
Granola with multiple kinds of dried fruit or added sweeteners like honey or maple syrup is higher in sugar. Nuts and seeds provide more protein. Those with more whole grains are higher in fiber.
Generally, ¼ cup of granola will provide 140 grams of calories, 9 grams of fat, 85 milligrams of sodium, 14 grams of carbohydrates, 3 grams of fiber, 4 grams of sugar, and 3 grams of protein per serving. For the most accurate nutrition facts, look at the food labels on your favorite recipes and in your grocery stores.
Is granola healthy?
Yes, it has numerous health benefits: reduced inflammation, improved gut health, and increased vitamins to name a few. Let's look at what makes granola a healthy food.
Granola is Rich in Fiber and Protein
Nuts like almonds, pecans, and cashews and seeds like pumpkin and sesame are high in fiber and protein. These ingredients delay your stomach from feeling empty, giving you more time to properly digest your food. This ensures proper metabolic function to meet your energy requirements. People who need an easy snack choose this food because it gives that extra energy boost.
Improves Blood Pressure
Oats and flax seeds have been shown to improve blood pressure. Granola's ability to lower blood pressure benefits the cardiovascular system which can reduce the risk of strokes and fatal heart conditions. Adding potassium-rich fruit like bananas into your granola helps to maintain a healthy blood pressure.
Reduces Cholesterol Levels
Most recipes include almonds and walnuts that are high in omega-3 fatty acids (the good kind of cholesterol). Oats are an excellent source of beta glucan, a fiber that reduces bad cholesterol levels in your heart.
Reducing bad cholesterol prevents plaque from forming in your arteries and veins. This type of plaque can cause high cholesterol and lead to a variety of health problems.
Reduces Blood Sugar
Any kind of whole grain, dried fruit, and seed will help reduce and control blood sugar levels, especially in people with obesity and prediabetes. For example, blueberries, oats, and pecans are all good sources of a mineral called manganese. Manganese is a blood sugar regulator that stimulates insulin release.
According to the American Journal of Clinical Nutrition, manganese also assists in the production of energy from food and facilitates cellular and organ tissue repair.
Improves Gut Health
This popular product can improve gut bacteria due to the high levels of soluble fiber found in oats. The soluble fiber stimulates peristaltic motion which, simply put, contracts the intestines causing food to move smoothly along the digestive tract. As the fiber progresses through the intestines, it nourishes the healthy gut bacteria allowing it to flourish.
Provides Antioxidants
Coconut, Brazil nuts, and chia seeds are great sources of antioxidants like quercetin, selenium, gallic acid, and vitamin E. Antioxidants aid in lowering inflammation. Antioxidant-rich ingredients are crucial to your diet because they fight against harmful elements like free radicals. Antioxidants are known to protect your body from cancers and heart disease.
Weight Loss
Granola promotes weight loss because it is low in cholesterol and sodium. High cholesterol and high sodium contribute to chronic obesity.
Eating healthy granola causes a suppressed appetite that leads to a release of ghrelin, the hormone that causes the body to tell you when to eat. It can literally help prevent overeating, so if you're questioning whether you should include it in your diet, the answer is an easy yes in moderation.
Disease Prevention
Granola may help reduce cancer, low antioxidant levels, and life-threatening health conditions. Because granola has high levels of manganese, it can also boost the white blood count that stops cancer from spreading. Manganese also removes free radicals from changing healthy cells into cancerous ones that alter your DNA structure.
Anemia Prevention
Anemia is the lack of iron in your blood that is required for red blood cell formation. Granola eases many of the symptoms of anemia like being consistently tired. As you check labels at your grocery store, be sure that iron is a prominent nutrient.
Skin Care
Granola protects your skin from premature aging, sunburns, and wrinkles because it is high in vitamin E. It also helps strengthen the capillary walls of your heart, thus increasing blood flow to all extremities, including your hair follicles and nails.
Pregnancy Benefits
Pregnant women may benefit from incorporating healthy granola in their diet. It contains vitamins like folate which is a natural source of folic acid. Folic acid is essential to a healthy pregnancy and may prevent birth challenges.
Plant-Based Protein
Luckily, if you follow a vegan diet, this food provides those necessary proteins your body needs. Since most protein sources are meats, eggs, fish, and dairy, granola can fill in those gaps. The seeds, oats, and puffed rice are protein-rich ingredients. Depending on the brand or recipe, 100 grams of granola may have 12 grams of protein per serving, which is more than two whole eggs.
Migraine Prevention
Granola can prevent migraines. The magnesium helps lower the inflammation in your body resulting in healthy blood circulation, balancing blood vessels, and improving their elasticity. It can prevent muscle spasms that lead to massive headaches or migraines.
Downsides of granola
While granola has amazing benefits, it is not always the most healthy food. Based on the recommended 2,000 calories per day, granola can be high in calories, fat, and sugar.
Its high caloric value is often due to fats like vegetable oil, coconut oil, and nut butters. While these ingredients bind the granola together, they are not always the safest option if you're eating more than the standard serving size.
Sugars are linked to chronic health conditions like heart disease, type 2 diabetes, and obesity. According to the U.S. Department of Agriculture, stay within 50 grams of daily sugar intake. That being said, consider looking at the label because most granolas have about 17 grams of sugar per serving.
It is very common to eat more than the label's standard serving size, which could mean a substantial amount of sugar in just one bowl of granola. Consider the sweeteners in granola and what you are pairing with it to ensure that you aren't overeating.
How to pick a healthy granola
Pay attention to the first few ingredients on your nutrition labels. These ingredients will be the most prominent in the granola. Abstain from high sugars and instead pick the ones with more fiber and protein.
In addition to checking the ingredients on the nutrition label, also check for the standard serving size. Most granolas vary from 12.5 grams to 67 grams per serving. The smaller serving sizes are more misleading because you are more likely to eat more than what's recommended.
Healthy granola recipes
Making granola at home is simple. You can use recipes as guides by adding and taking away what you prefer. This fool-proof Healthy Homemade Granola recipe is a perfect place to start if you've never made granola before.
Try out this fall-inspired Maple Pecan Apple Cinnamon Granola recipe to pair with your favorite yogurt. This crunchy Big Cluster Toffee Nut Granola is a great addition to your cottage cheese or açaí bowl.
If you're looking for on-the-go granola, try these No Bake Peanut Butter Granola Bars with Chocolate Chips. Another easy breakfast option are these vegan, gluten-free Maple Pecan Oatmeal Muffins.
The bottom line
Granola is a creative, versatile, and nutritious food. However, it can also have downsides if not consumed in moderation. It's important to always check the nutrition label.
Choosing homemade or store-bought granola that is packed with oats, nuts, and dried fruit can significantly improve your overall health. Because it is so adaptable, you get to choose what you want with the choicest flavors and healthiest ingredients.