Cassava flour tortillas are super easy to make, only require a few ingredients, and taste as good as a flour tortilla! Wrap all of your favorite gluten-free and dairy-free ingredients into these homemade Paleo tortillas for a quick, healthy, vegan, and Whole30 lunch or dinner recipe.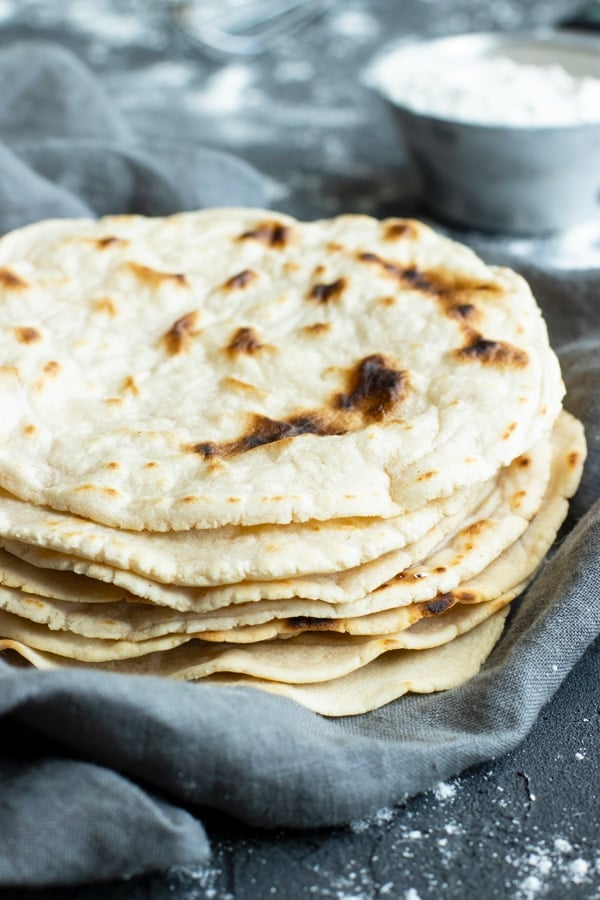 Paleo Tortillas That Taste As Good as Flour Tortillas!
"Shocked" does not even give our reaction justice.
Both Cohl and I sat in utter amazement when we tasted how good cassava flour tortillas actually are and how similar they are to regular flour tortillas.
Unlike other grain-free tortillas, this cassava flour tortilla recipe actually held its shape, did not break apart when we rolled up our filling, and had a very similar texture to a flour tortilla.
There was no weird aftertaste that you might get from a coconut flour and almond flour tortilla. They're also totally nut-free and egg-free for anyone that might be allergic!
Good ole' fashioned deliciousness all wrapped up in a delightful cassava flour tortilla.
Your Paleo tortilla dreams have come true!!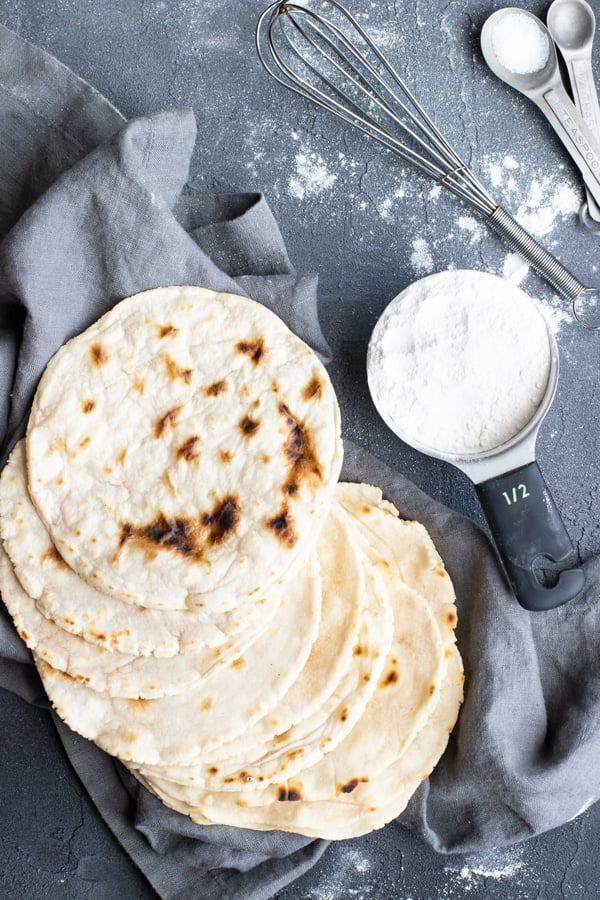 Are Corn Tortillas Paleo?
While you are probably already aware that flour tortillas are definitely not Paleo, you might be wondering if corn tortillas are Paleo?
Unfortunately, corn is considered a grain that is off-limits with a Paleo diet. So no, corn tortillas are not Paleo.
Luckily, though, cassava flour tortillas ARE Paleo! But what is cassava four and how is it Paleo?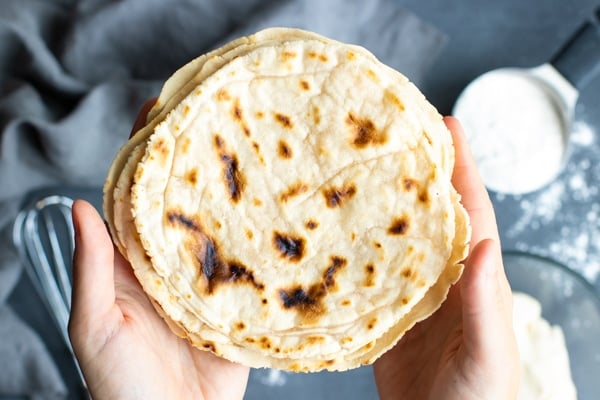 What Is Cassava Flour?
Cassava flour is made from the yuca root, or cassava root, which makes it "grain-free."
Cassava flour is made by simply peeling, drying, and then grinding the entire cassava root.
Tapioca starch also comes from the cassava root but is made by washing and extracting a starchy liquid instead of using the entire root.
Since cassava flour is full of starchy carbohydrates it makes a great flour to use in gluten-free and Paleo baking as well as when making Paleo tortillas.
While cassava flour is not allowed for those on a low-carb or ketogenic diet, it does have some nutritional value in that it is a good source of Vitamin C and manganese.
Otto's Cassava Flour is my favorite and the best to use in these Paleo tortillas!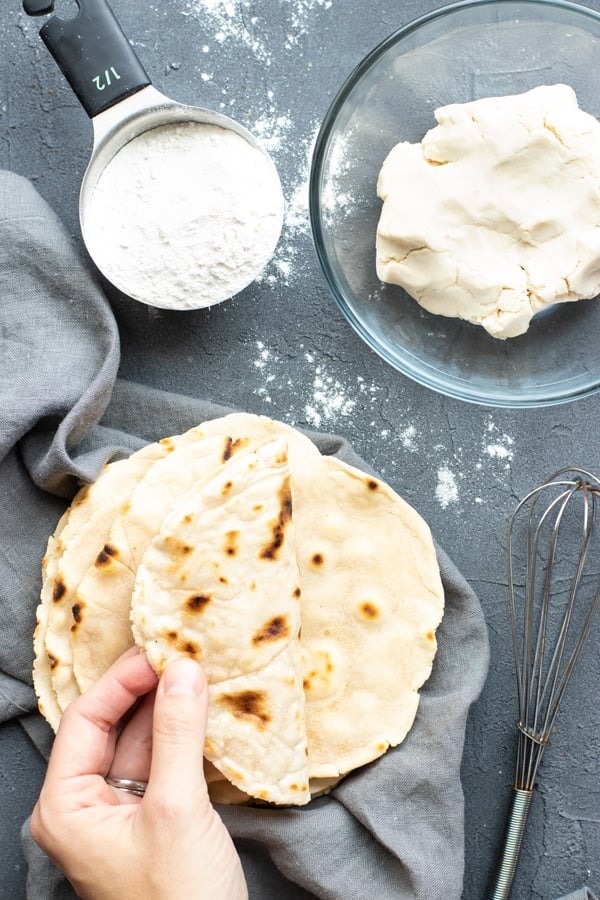 How to Make Cassava Flour Tortillas?
Making homemade Paleo tortillas is an easy process that only requires a few ingredients, a skillet or griddle, and a bit of love!
Step 1: Whisk together your cassava flour, salt, and garlic powder.

The garlic powder is optional, but gives the cassava flour tortillas a great flavor punch!

Step 2: Add your oil and water and knead until well combined.
Step 3: Roll your dough into balls and then roll out your balls with a rolling pin until 1/8-inch thick and 4-½ to 5 inches in diameter.

You can also shape your Paleo tortillas by using a tortilla press.

Step 4: Heat a DRY skillet (yes, dry!) or electric griddle over medium-high heat and cook your tortillas for 1-2 minutes per side.

You'll know when to flip them when they start bubbling up!

Step 5: Serve your tortillas warm with yummy filling ingredients.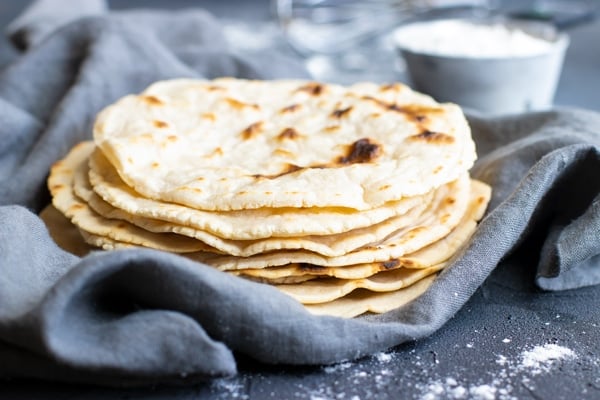 Favorite Paleo Tacos
These cassava flour tortillas are a wonderful canvas to let your Paleo taco making imagination go wild! Here are a few of my favorite Paleo tacos: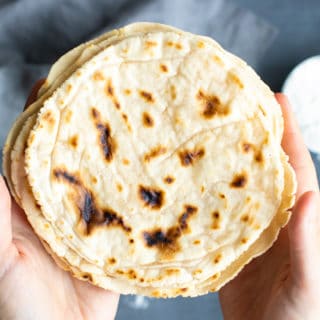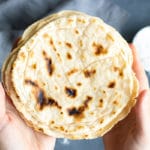 Paleo Cassava Flour Tortillas
Cassava flour tortillas are super easy to make, only require a few ingredients, and taste as good as a flour tortilla!
Ingredients
1 ½

cups

cassava flour

Otto's brand

½

tsp.

salt

⅛

tsp

garlic powder

¼

cup

olive oil

¾

cup

warm water

plus more if needed
Instructions
In a large bowl whisk together

cassava flour,

salt, and garlic powder.

Add oil and warm water. Knead dough until thoroughly mixed.

Divide dough into 8 equal portions. Roll each portion into a ball and place between two pieces of parchment paper. Using a rolling pin, roll dough until it is ⅛-inch thick and has a diameter of 4 ½-5 inches. Or, place balls of dough into a tortilla press. Repeat with remaining balls of dough.

Heat a dry skillet or griddle over medium-high heat. Cook each tortilla for 1-2 minutes per side, or until it begins to bubble.

Serve tortillas warm with your favorite taco ingredients and enjoy!
Recipe Notes
Otto's cassava flour is used in this recipe. Other brands of cassava flour have not been tested and may come out with varying results.
Nutrition Facts
Paleo Cassava Flour Tortillas
Amount Per Serving
Calories 138
Calories from Fat 54
% Daily Value*
Fat 6g9%
Sodium 120mg5%
Potassium 4mg0%
Carbohydrates 18g6%
Vitamin C 1.2mg1%
Calcium 34mg3%
Iron 1.3mg7%
* Percent Daily Values are based on a 2000 calorie diet.
Want more recipes like these Paleo Cassava Flour Tortillas?
Easy Blackened Shrimp Tacos with Cilantro Lime Sauce
Cassava Flour Pumpkin Pancakes
Blackened Fish Tacos with Avocado Sauce