Wake up to a jar full of these Healthy Pumpkin Overnight Oats that are loaded with pumpkin puree, pie spice, maple syrup, and cashew or almond milk. This easy meal prep breakfast recipe is vegan, gluten-free, vegetarian, and can be prepped ahead for an easy grab-and-go recipe.
Want a few other healthy overnight oatmeal recipes? You might also enjoy these Chocolate Peanut Butter Overnight Oats, Apple Cinnamon Overnight Oats, Peach Cobbler Overnight Oats, and these Healthy Blueberry Overnight Oats.
Pumpkin Overnight Oats – Favorite Version
A few years ago we went through a phase of making just about every kind of healthy overnight oatmeal recipe known to mankind.
And it all started with these Maple Cinnamon & Brown Sugar Overnight Oats.
During this time my husband was working 2 days a week in a town almost 2 hours away. On those busy mornings we needed a quick, easy, and nutritious grab-and-go recipe that we could take with us.
Inevitably our love for this easy breakfast dish was born!
And after making almost every combination I could think of (Peanut Butter Chocolate, Blueberry Chia, Strawberry Shortcake, Almond Butter Banana…) I recently realized I had not made my favorite combination yet…
Pumpkin Spice Overnight Oats!!
Taste Like Pumpkin Pie!
After years of making overnight oatmeal, I was surprised by just how much this recipe actually tasted like a delicious pumpkin pie.
But then again, it IS made from pumpkin puree, pure maple syrup, and pumpkin pie spice – so all of the crucial pumpkin pie elements are there…
(with a little bit of old-fashioned oats and cashew or almond milk, of course!)
And then you top this delightful breakfast recipe with some toasted pecans and voila!! You've got yourself a cozy jar full of oatmeal that is 1000% Fall-season-and-Thanksgiving-worthy.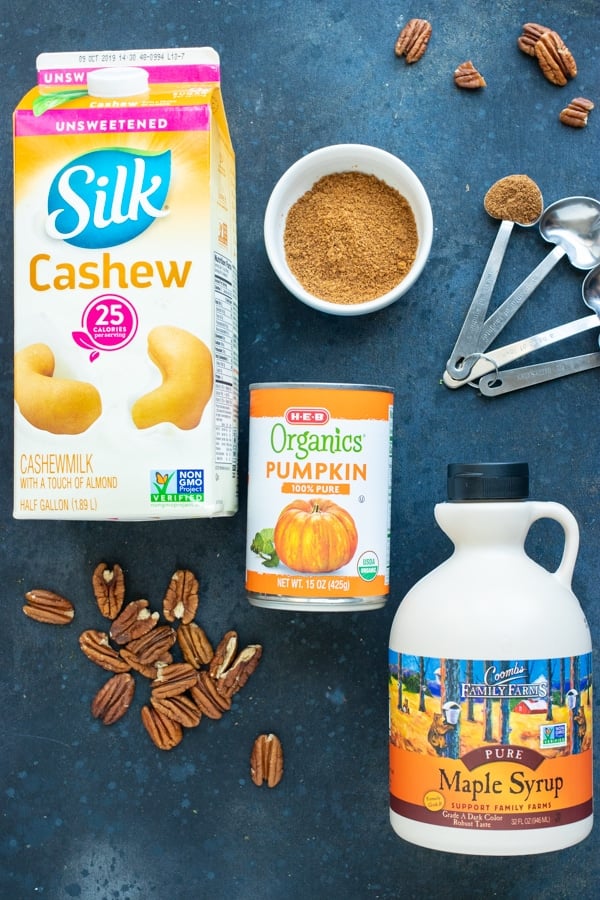 Main Ingredients
Just like in all overnight oatmeal recipes, there are 2 ingredients that are absolutely mandatory:
Oats – Old-fashioned rolled oats are the best type to use. They maintain their texture after soaking and do not get too mushy like quick cooking oats tend to do.
Milk – There are a variety of milks you can use when making overnight oats and you can learn more about them below.

Ingredients
The above ingredients are used in every single make-ahead oats recipe you will come across. To make pumpkin spice overnight oats, however, you will also need these ingredients:
Pumpkin Puree – The canned puree works best in this recipe. You can always make your own from a fresh pumpkin, but it takes a lot of time and is not really worth the extra effort.
Pumpkin Pie Spice – Pumpkin pie spice is simply a combination of cinnamon, nutmeg, ginger, cloves, and sometimes allspice. If you cannot find it at the store, you can always make your own homemade pumpkin pie spice.
Coconut Sugar – A refined sugar-free sugar is used in this healthy oatmeal recipe, but regular granulated sugar can also be used.
Pure Maple Syrup – Make sure you do NOT get the pancake syrup kind, but PURE maple syrup for the best taste and nutrition.
Vanilla – This adds a nice depth of flavor to the oats.
Toasted Pecans – Totally optional and can be left off if you have picky eaters, but these nuts add a lovely crunch to the creamy pumpkin oats.
Types of Milk
There are numerous types of milk that can be used when making this recipe with very minimal affect on the finished product.
A few of the best types of milk to use include:
Cashew Milk – Our new favorite go-to since it is super creamy and tastes really good in this recipe.
Almond Milk – This was once our go-to but we have recently had to eliminate almonds from our house due to an allergy.
Soy Milk – Can also be used but is pretty allergenic for most people.
Regular Milk – This type can definitely be used if you do not have a milk allergy or are lactose intolerant.
Cook's Tip: The only milk I would NOT recommend using is coconut milk. This will give your oats a pretty strong coconut flavor instead of a pumpkin spice flavor.
How to Make
The process of making this easy meal prep oatmeal is relatively simple and consists of the following steps:
Add ½ cup oats to four separate jars.
Pour ½ cup milk into each jar.
Whisk together pumpkin puree, pie spice, coconut sugar, maple syrup, and vanilla in a small bowl.
Add equal amounts of the puree mixture to each jar.
Refrigerate for at least 2 hours or up to overnight before serving.
Toast pecans and serve with pumpkin overnight oats.
What Type of Jars to Use?
The best type of jars to use when making overnight oat recipes are glass mason jars.
Depending on the serving size you can either use 4-ounce mason jars, 6-ounce mason jars, or 8-ounce mason jars.
Since 8-ounce jars are the easiest to locate and will fit an entire serving of overnight oats, that is what I would recommend using in this recipe.
Serving- Warm or Cold?
Oftentimes I get asked the question, "Do you serve overnight oats warm or cold?"
And the answer is, it's completely up to you!
Personally, I enjoy the ease of grabbing a jar of oats straight from the fridge and chowing down on them cold.
However, if you want to heat yours up you are more than welcome to and can read more below about how to do that.
FAQs
Are pumpkin overnight oats vegan and gluten-free?
Yes. This recipe is vegan since pure maple syrup is used and gluten-free when certified gluten-free oats are used.
Can I heat up overnight oats?
Yes. You absolutely can heat them up. Simply heat them up in the microwave for 1-2 minutes or until they are heated through. You may need to add a little extra milk to get the consistency you desire.
Cook's Tip: Wait until after the oats are heated up to add the toasted pecans.
Meal Prep & Storing
How long will they last in the refrigerator?
Overnight oats will last in the refrigerator for up to 3-4 days. But please know, the texture begins to get a little mushier with each day and they are best if enjoyed within the first 24 hours.
How can I meal prep these oats?
If you would like to have that delicious texture every morning of the week, do not add the milk to the jar until the night before serving.
Can I freeze overnight oats?
No. I would not recommend freezing. The texture of the oats will not be the same and instead will be too watery.
More Pumpkin Recipes
Healthy Pumpkin Muffins | Gluten-Free
Healthy Pumpkin Chocolate Chip Cookies
Pumpkin Overnight Oats Recipe
Healthy Pumpkin Overnight Oats are loaded with pumpkin puree, pie spice, maple syrup, and cashew or almond milk for an easy oatmeal recipe.
Total Time
2
hours
10
minutes
Ingredients
2

cups

oats

rolled, old-fashioned, gluten-free

2

cups

milk

almond or cashew

½

cup

pumpkin puree

3

tbsp.

coconut sugar

3

Tbsp.

pure maple syrup

1

tsp.

vanilla extract

¾

tsp.

pumpkin pie spice

½

cup

pecans

coarsely chopped
Instructions
Add ½ cup oats into four separate 6-8 oz. mason jars.

Pour ½ cup milk into each mason jar.

In a small bowl whisk together pumpkin puree, coconut sugar, maple syrup, vanilla extract, and pumpkin pie spice.

Add equal amounts of the pumpkin puree mixture to each jar. (About 3 tablespoons into each jar.)

Refrigerate for at least 2 hours before serving.

Mix pumpkin puree into oats and top each jar with 2 tablespoons of pecans. Enjoy!
Recipe Notes
Since 8-ounce jars are the easiest to locate and will fit an entire serving of overnight oats, that is what I would recommend using in this recipe.
Nutrition Facts
Pumpkin Overnight Oats Recipe
Amount Per Serving
Calories 346
Calories from Fat 117
% Daily Value*
Fat 13g20%
Sodium 168mg7%
Potassium 285mg8%
Carbohydrates 51g17%
Protein 7g14%
Vitamin A 4766IU95%
Vitamin C 2mg2%
Calcium 206mg21%
Iron 3mg17%
* Percent Daily Values are based on a 2000 calorie diet.