Roasted Pork Tenderloin with Mustard, Apple & Vegetables makes a quick, healthy and gluten-free dinner recipe. You can have your entire dinner ready on one sheet pan!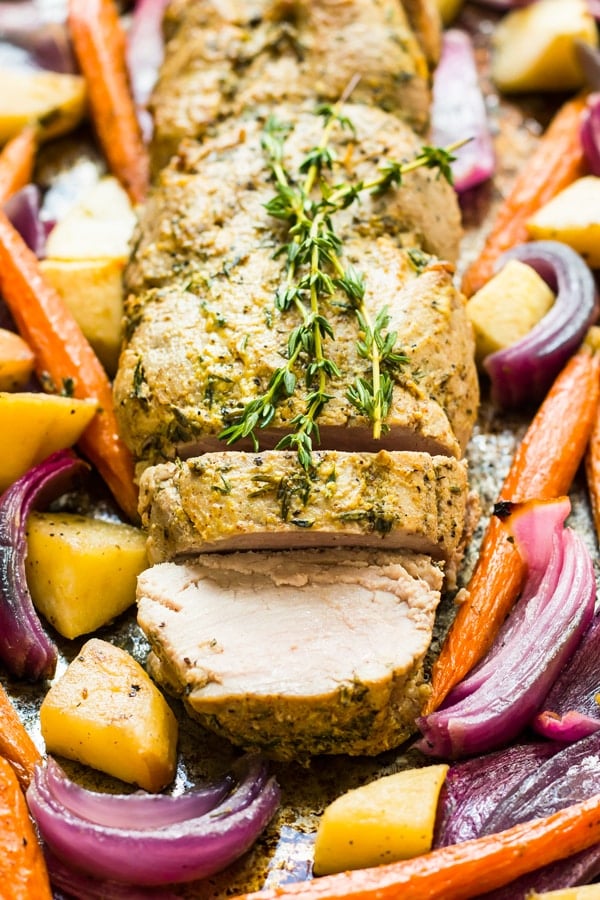 Hectic Life + Mustard Pork Tenderloin
With life being a bit hectic lately, quick and easy, minimal cleanup dinners, like this roasted mustard pork tenderloin, have been all the rage in our house.
Let me give you a little taste (pardon the pun) of the craziness:
As some of you know, Cohl and I have been traveling back and forth to San Antonio every week. He has a job down there for 2 days out of the week so we normally go and stay with a friend for one, or even two, of those nights. I know… our friends are incredible!
Every time we stay at a friends house we bring our sweet, and not-so-chill, Tevah-dog with us. Just like most dogs, she normally likes her own home, her own bed, and a little activity throughout the day.
Well, yesterday I left her for about an hour while I headed over to get a quick run in at the gym.
Little did I know, there was a bottle of Hershey's chocolate syrup sitting oh-so-temptingly on the coffee table.
Being the dog she is, she decided to break into the bottle and shake chocolate syrup all over our friend's beige carpet.
Fortunately, she was smart enough to know that this magical syrup is poisonous for her and little of it was consumed.
I can only imagine the thoughts running through her head (we like to think Tevah has a scooby-doo voice…) "Gee, that bottle sure does smell tasty!"… *sniff* *sniff* and then pulls the bottle down from the coffee table… "Boy, that was easy to open up!"… continues to shake the syrup onto the floor… "Man, mom and dad are going to be so mad at me!"… drops everything in its' place and retreats back to her bed in shame.
Oven-Roasted Pork Tenderloin for Crazy Times
I am sure to some extent you can totally relate! Whether you have a dog, kids, or a lovely combination of both… sometimes life as you know it becomes unpredictably more hectic.
During times like these, it is such a relief to have a quick, healthy, all-in-one dinner recipe on hand… like this oven-roasted pork tenderloin recipe!
In this oven-roasted pork tenderloin recipe you will find a tasty rub full of mustard and fresh thyme. Add in some carrots, red onions and apples and you have yourself a healthy dinner ready to go!
Swap It Out – Roasted Pork Tenderloin Recipe
Feel free to swap out some of the vegetables for others with similar cooking times in this roasted pork tenderloin recipe.
For example, you can switch the carrots for sweet potatoes or the red onions for sweet white onions.
You can also try this Roast Chicken with Apples.
Roasted Pork Tenderloin with Mustard, Apple & Vegetables
One pan roasted pork tenderloin with mustard, apples and vegetables makes a quick and easy, one pan healthy dinner recipe.

Ingredients
2.5

pounds

pork tenderloin

2 tenderloins, white fat and silver film trimmed
Mustard-Thyme Rub
2

tbsp.

thyme

fresh

1

tbsp.

olive oil

2

tbsp.

butter

melted

2

cloves

garlic

crushed

2

tbsp.

stone ground mustard

½

tsp.

salt

½

tsp.

pepper
Vegetables
1

pound

baby carrots

2

small

red onions

cut into 1-inch thick slices

3

Gala apples

peeled and cut into 1-inch cubes

2

tbsp.

olive oil

½

tsp.

salt

½

tsp.

pepper
Instructions
Preheat oven to 400 degrees.

Place carrots on a large, rimmed baking sheet and toss with 1 tablespoon of olive oil. Cover with aluminum foil and roast for 15 minutes.

In a small bowl combine mustard-thyme rub ingredients. Whisk until smooth.

After trimming pork tenderloins, rub pork with half of the mustard-thyme mixture.

In a large skillet over medium-high heat drizzle 1 tbsp olive oil and place pork, one tenderloin at a time, into skillet. Sear tenderloin on all sides. This should take about 8-10 minutes per tenderloin.

Once carrots are done cooking, remove from oven and divide between two baking sheets. Add half of the onions and apples to each sheet. Drizzle each tray of vegetables with 1 tablespoon of olive oil and ¼ teaspoon salt and pepper.

Nestle pork into the vegetables and rub remaining mustard-thyme mixture onto pork. Return trays to oven, uncovered, for another 20-22 minutes.

Pork is done cooking when the internal temperature reaches 130-140 degrees Fahrenheit.

Let pork sit at room temperature for 10 minutes. Serve and enjoy!
Nutrition Facts
Roasted Pork Tenderloin with Mustard, Apple & Vegetables
Amount Per Serving
Calories 309
Calories from Fat 117
% Daily Value*
Fat 13g20%
Cholesterol 100mg33%
Sodium 426mg19%
Potassium 792mg23%
Carbohydrates 15g5%
Protein 30g60%
Vitamin A 8125IU163%
Vitamin C 10.7mg13%
Calcium 52mg5%
Iron 2.7mg15%
* Percent Daily Values are based on a 2000 calorie diet.
Want more recipes like this Oven-Roasted Pork Tenderloin with Mustard & Vegetables?
Healthy Sweet Potato Ground Turkey Chili
Spinach & Artichoke Spaghetti Squash Bowls with Chicken