For a quick and easy dinner, look no further than this Unstuffed Cabbage Rolls recipe! It has all of the flavors you know and love in traditional stuffed cabbage with ground beef, rice, tomato sauce, and cabbage, but without all of the work! This easy 30-minute weeknight meal will soon become a family favorite.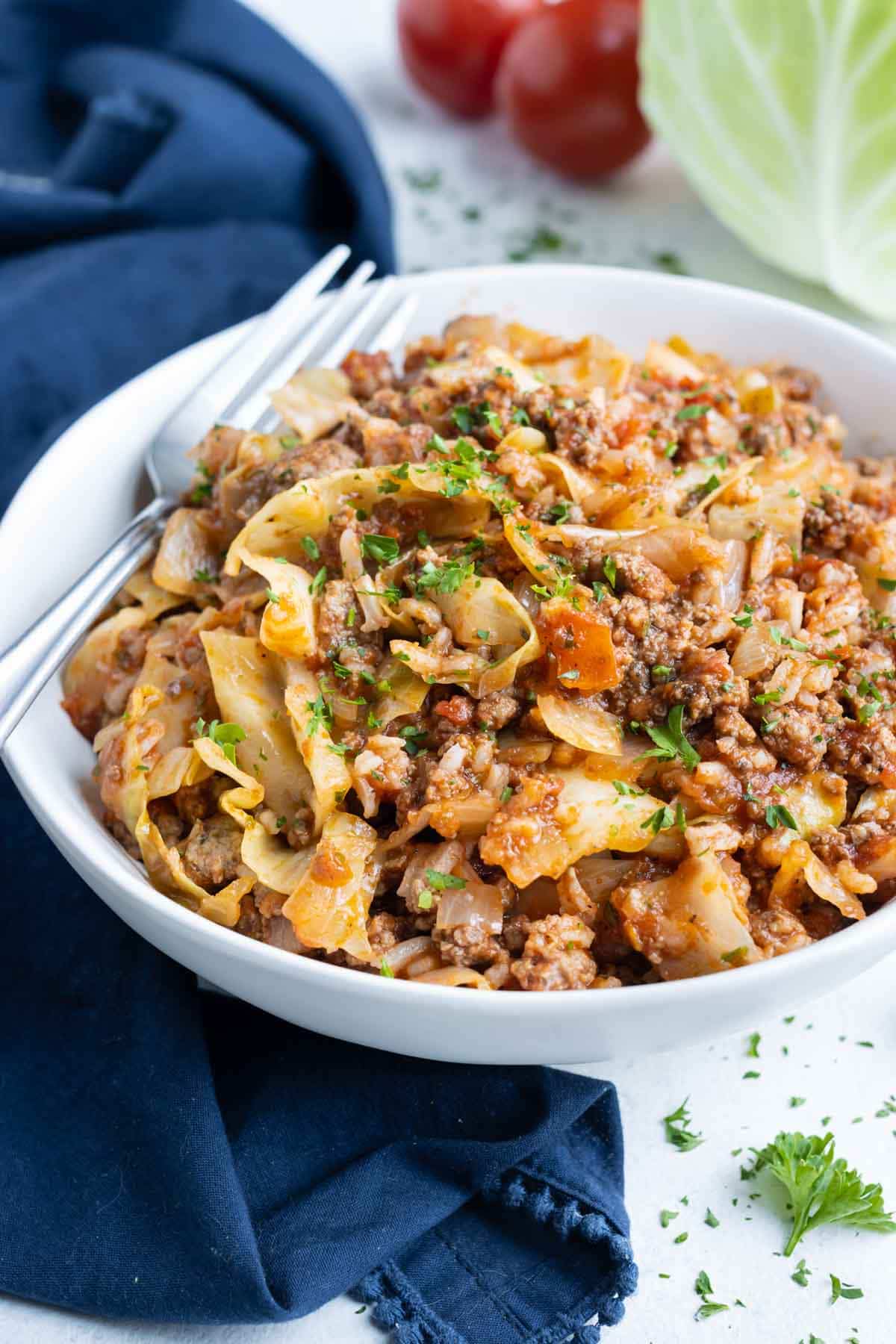 I absolutely love these Stuffed Cabbage Rolls. But, what I DON'T love about them is how long it takes to get this dinner on the table.
So, I had the idea to take all of the components, throw them in a skillet, and cook them up. I have had great success with doing this previously when I made this Egg Roll in a Bowl and Reuben in a Bowl!
The result was a super quick and easy weeknight dinner that was hearty, low in calories, and filling!
Cabbage rolls are traditionally made with rice, but you can sub in cauliflower rice if you want to make them keto-friendly and reduce carbohydrates.
Ingredients
The simple ingredients for this Unstuffed Cabbage Rolls recipe include:
Ground meat. Beef, venison, ground turkey or chicken work fantastic. Red meat tastes more like the authentic recipe. Opt for a 90/10 or 93/7 as fattier blends will have excess liquid. And a little tip, venison turns out great!!
Cabbage. Use one small head or half of a large one. You want about 8 cups once it's chopped. Here's a guide to easily shred cabbage if you need one.
Tomatoes. Both crushed and canned sauce are needed. You can sub the crushed with diced tomatoes, but it will end up with a different consistency.
Rice. Cook the brown or white rice ahead of time. Try this Instant Pot White Rice or cook it on the stovetop.
Worcestershire sauce. This is necessary as it adds a lovely depth of flavor.
Garlic cloves. Can sub garlic poweder.
Sugar. Just a pinch helps to balance out the acidity from the tomatoes. If needed, you can leave it out or sub with honey.
Seasonings. Salt, pepper, paprika, dried oregano, and fresh parsley. You can use ¼ teaspoon dried parsley in place of the fresh, if needed.
How to Make Unstuffed Cabbage Rolls
The basic steps to make Unstuffed Cabbage Rolls are simple. For more detailed ingredient amounts, see the recipe card below.
Saute Onion
Add oil and onions to a large skillet or dutch oven and sauté over medium or medium-high heat. Allow the onions to cook for several minutes, until translucent and aromatic. Add minced garlic and continue to cook for another minute. Here are tips on how to mince garlic.
Ensure consistent stirring so the onions and garlic do not burn.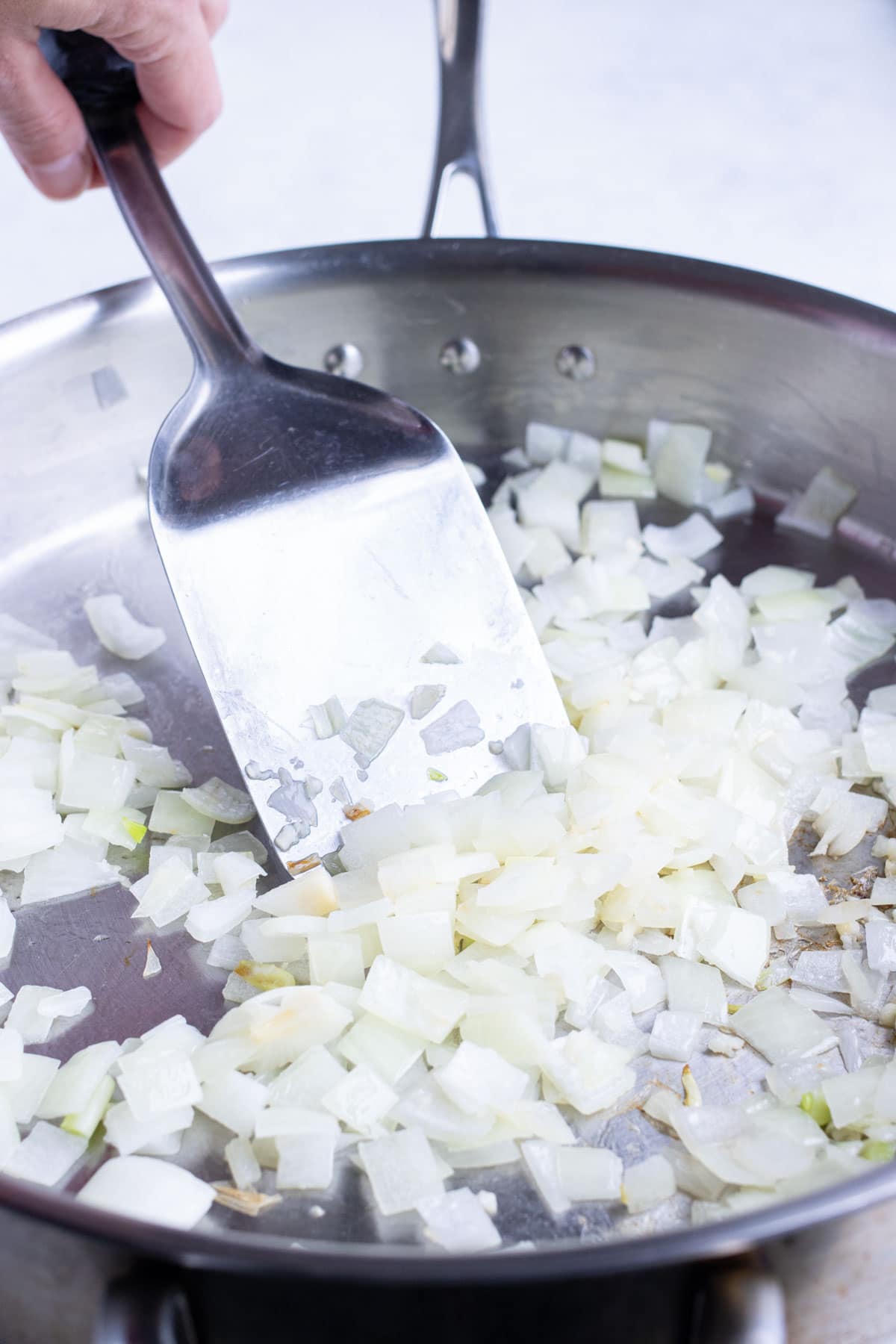 Cook and Crumble
Push the garlic and onions to the side of the pan and add your protein of choice. Be sure to break up the beef or venison as it is cooking so no large chunks remain. Note, use a meat browning tool or potato masher to crumble it more easily.
Sauté the meat and onions for four or five minutes until the juice runs clear and no pink is left.
Sauté Cabbage
Carefully combine the cabbage with the beef and onion mixture. If the pan is small, add the cabbage in two batches. Stir gently so the filling is not tossed out accidentally.
Simmer and Stir
Add rice, tomatoes, sauce, seasonings, and Worcestershire sauce to the mixture and thoroughly combine.
Once all of the ingredients are incorporated. Cover the skillet with a tight-fitting lid and allow the mixture to simmer for ten minutes, or until the cabbage is softened.
Meal Prep and Storage
To Prep-Ahead: The cabbage and onions can be cut 1-2 days before you cook the dish. The seasonings can be pre-mixed, as well.
To Store: Place the unstuffed cabbage rolls in an airtight container. Store in the fridge for up to 4-5 days.
To Freeze: You can freeze leftovers for up to 3 months.
To Reheat: Allow the cabbage to thaw in the fridge. For best results, reheat in a skillet over medium heat. To avoid soggy cabbage, do not reheat in the microwave.
Dietary Modifications
This recipe is already gluten-free and dairy-free as written. Here are some adjustments and substitutions you can make to help it fit your other dietary requirements.
Keto-friendly: Opt for cauliflower rice instead of white or brown rice and leave out the sugar.
Refined sugar-free: Sub honey for the sugar and ensure canned tomatoes and sauce are free from refined sugar.
FAQs
What do you eat with cabbage rolls?
Cabbage is incredibly versatile. Cabbage rolls pair great with hearty bread, a starchy side like potatoes or spaetzle, or a bean salad.
What nationality are cabbage rolls?
Cabbage rolls can be traced to many cultures, including Jewish, Romanian, Polish, Ukrainian, Egyptian, and Asian. While the filling varies, the basic idea remains the same with meat, grains, or other vegetables cooked inside cabbage leaves.
What is the difference in types of cabbage?
Green cabbage looks a little like iceberg lettuce and is peppery until it is cooked. Then, it becomes sweeter. Red or purple cabbage can be used in place of green, but will likely leach color into the rest of your dish. Savoy cabbage has crinkly leaves and is generally the sweetest. Napa cabbage is the most tender and is generally sweet, as well.
Expert Tips and Tricks
Lose the fat. Opt for a lower fat blend in your meat choice, otherwise there will be extra liquid in your dish.
Get chopping. Ensure the cabbage is evenly shredded so it cooks up consistently.
Sauté and stir. Don't leave the onion sitting too long, it will burn and stick to the pan. Stir regularly to cook well.
Add in batches. Be careful when adding the shredded cabbage to the skillet. Pour it in in two batches if it won't all comfortably fit in one.
Let it simmer. Cover the skillet tightly and allow the mixture to simmer to allow the cabbage to cook thoroughly and the flavors to blend well.
Make it a Meal
Add one of these side dishes to the Unstuffed Cabbage Rolls for a complete meal.
Roasted Butternut Squash with Maple
More Cabbage Recipes
Try one of these other cabbage recipes.
Unstuffed Cabbage Rolls Recipe
For a quick and easy dinner, look no further than this Unstuffed Cabbage Rolls recipe! It has all of the flavors you know and love in traditional stuffed cabbage with ground beef, rice, tomato sauce, and cabbage, but without all of the work!
Ingredients
2

Tbsp.

oil

divided

1

small sweet onion

finely diced

3

cloves

garlic

crushed

1

lb.

ground beef

venison or turkey, 90/10 or 93/7

7-8

cups

cabbage

shredded

15

oz.

crushed tomatoes

canned

8

oz.

tomato sauce

canned

1

cup

rice cooked

white or brown*

2

Tbsp.

Worcestershire sauce

1

Tbsp.

sugar

optional

1 ½

tsp.

salt

to taste

½

tsp.

black pepper

to taste

½

tsp.

paprika

½

tsp.

oregano

dried

2

Tbsp.

fresh parsley

finely chopped
Instructions
Add 1 tablespoon of oil to a large skillet along with the diced onion and cook over medium heat for 3-4 minutes. Add garlic and continue cooking for 30 seconds, or until it becomes fragrant.

Push onion and garlic to the side and add the ground beef. Cook for 5-6 minutes, or until the meat is no longer pink. Mash with a potato masher to get fine crumbles and then drain any excess fat.

Push the meat and onions to the side and add in an additional tablespoon of oil along with the cabbage. You may have to add this in batches if your skillet isn't large enough. Saute for 3-4 minutes, adding in more cabbage as you go.

Once the cabbage has softened, add the crushed tomatoes, tomato sauce, cooked rice, Worcestershire sauce, and remaining seasonings. Stir everything together until well combined.

Bring the sauce to a boil and then reduce heat to medium-low. Simmer, uncovered, for 10-12 minutes, stirring occasionally.

Serve immediately with a sprinkle of additional chopped parsley and enjoy!
Nutrition Facts
Unstuffed Cabbage Rolls Recipe
Amount Per Serving
Calories 420
Calories from Fat 225
% Daily Value*
Fat 25g38%
Cholesterol 64mg21%
Sodium 1065mg46%
Potassium 965mg28%
Carbohydrates 31g10%
Protein 20g40%
Vitamin A 1232IU25%
Vitamin C 58mg70%
Calcium 128mg13%
Iron 5mg28%
* Percent Daily Values are based on a 2000 calorie diet.