These creamy Mashed Sweet Potatoes can be sweet or savory, and make the perfect side dish for any comforting meal. It is quick and easy to boil, bake, or cook sweet potatoes in an Instant Pot, then mash them to a smooth consistency. Season this dish with garlic and herbs, cinnamon and brown sugar, or give them a twist with maple and bacon, holidays just got a lot more delicious.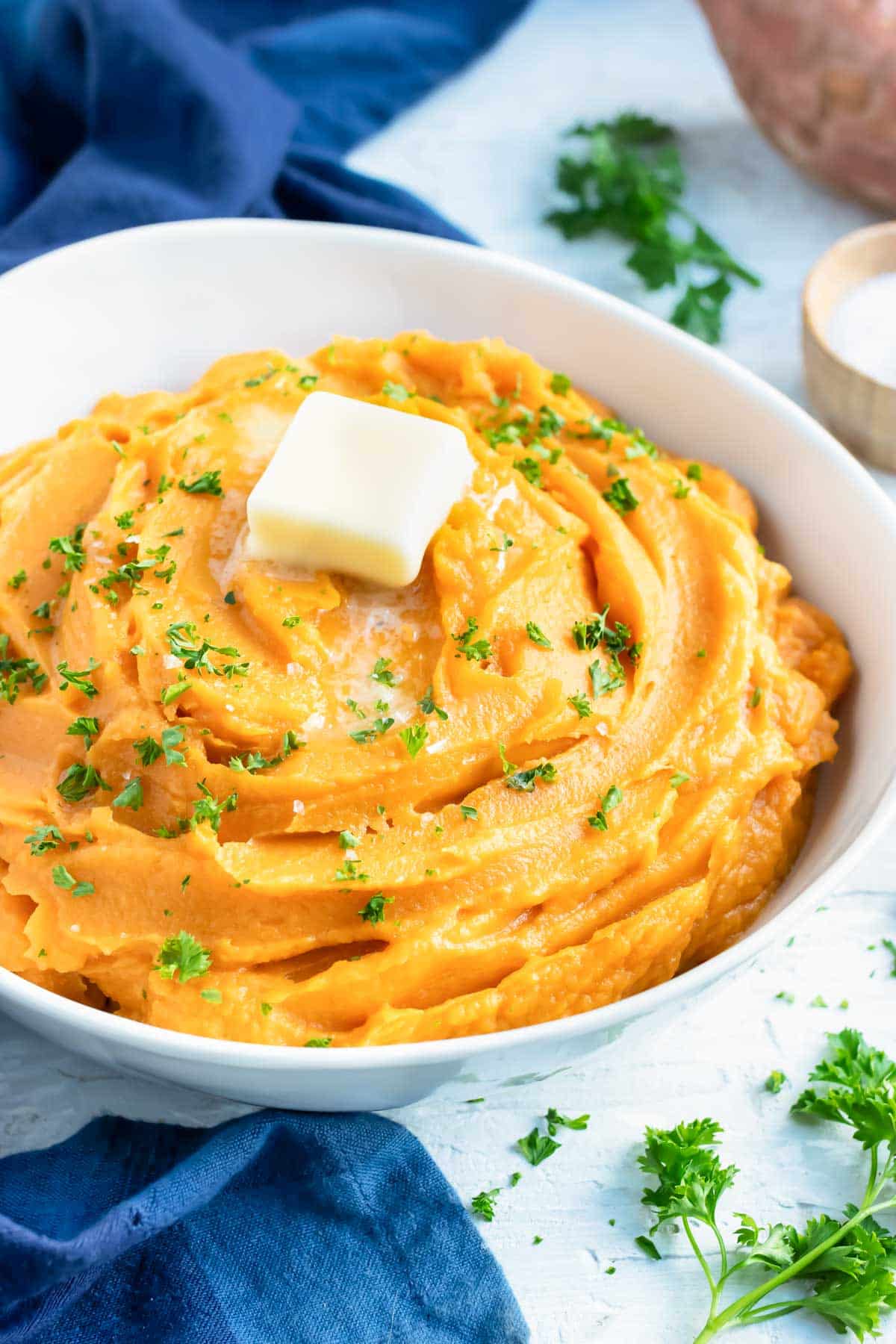 There is one vegetable in my house that is consumed on the regular – sweet potatoes! (Case in point: I have over 25 Sweet Potato Recipes to share.)
Sometimes I make a Sweet Potato Hash…
Or I bake sweet potatoes, boil sweet potatoes and even air fryer sweet potatoes!
But even with all of these variations, I realize that I do not make them mashed nearly enough!
Not only is this recipe quick and easy to make, but there are a TON of flavor variations you can try.
You can choose to make them completely Whole30, Paleo, and even vegan.
Or you can naughty-them-up a bit with some crumbled bacon or brown sugar.
And bonus – they make a wonderful side dish recipe that can be meal prepped ahead for your Thanksgiving or Christmas gathering!
If you happen to have any leftover, use them up in this Sweet Potato Shepherd's Pie.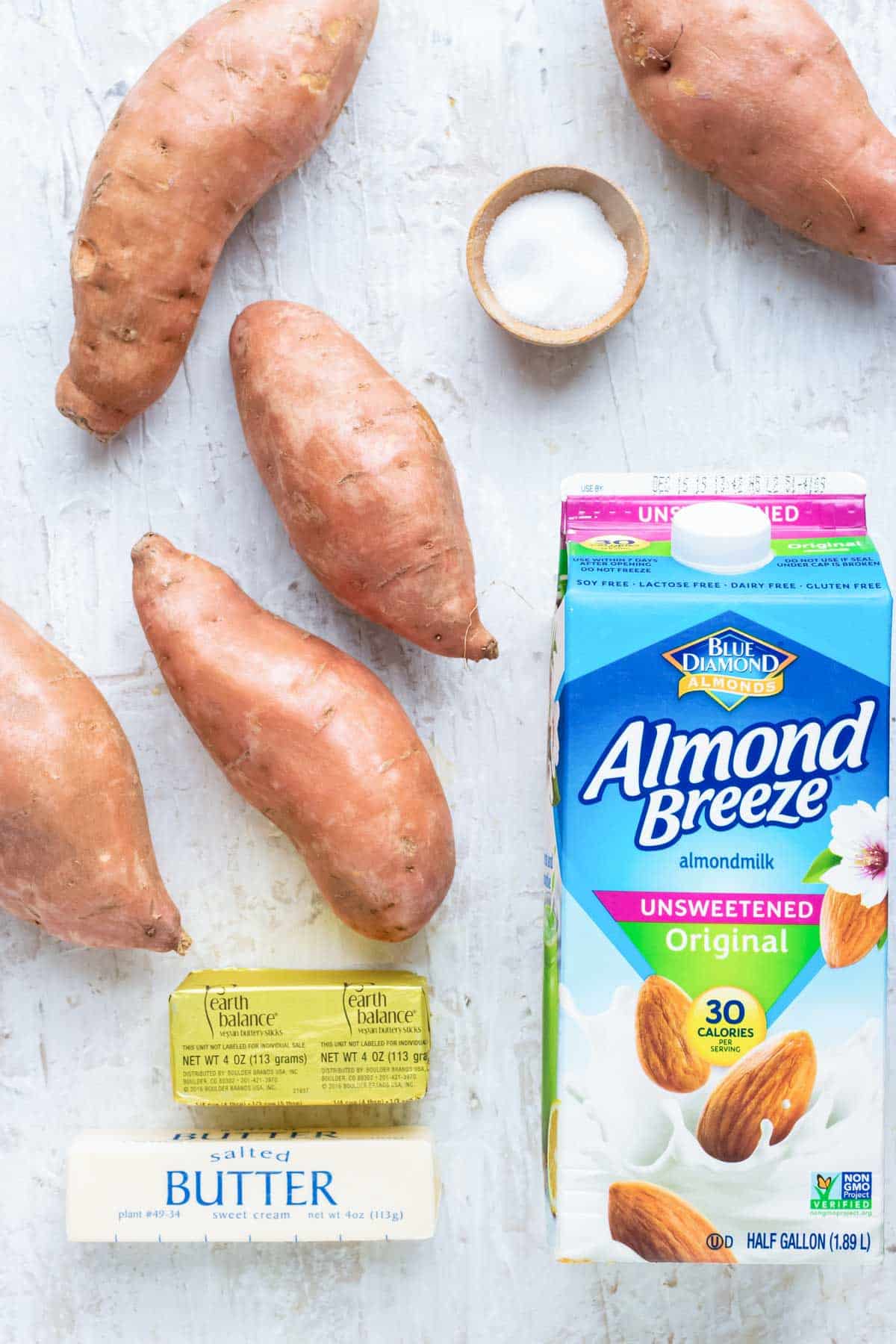 Ingredients
The simple ingredients you need to make this mashed sweet potatoes recipe include:
Sweet Potatoes. You will need about 2 ½ pounds, or 4-5 medium to large-sized potatoes. Garnets have a red-purple skin and are used in sweet potato pies and mashes. Jewel is another variety that mashes well and tastes great in mashed potatoes and casseroles. Beauregards are the most common type found in grocery stores and can be boiled, mashed, and baked. Avoid yams, as they are too starchy and won't give you the creamy texture you need. (Learn more about the differences of Yams vs. Sweet Potatoes here.)
Milk. Between ¼ to ⅓ cup of regular milk is mixed in to reach your desired consistency. Make this recipe vegan and dairy-free with almond, oat, soy, or cashew milk.
Butter. Regular butter definitely gives this recipe an incredible flavor. However, if you are dairy-free or vegan you can substitute with vegan buttery sticks or oil.
Salt. Add as much or as little as you prefer.
How to Make Mashed Sweet Potatoes
The basic steps for making healthy mashed sweet potatoes are simple to follow:
Cook the Potatoes
When making mashed sweet potatoes you can cook the potatoes by boiling, baking, or using a pressure cooker.
To boil sweet potatoes simply fill a large pot with peeled and cubed potatoes and water then bring it to a boil. Reduce to medium-high heat and cook for 12-15 minutes or until the potatoes are tender. This is the quickest and easiest method.
Baking Sweet Potatoes takes a bit longer but gives a wonderful, toasted flavor. Poke holes in whole potatoes before wrapping in foil and baking at 400°F for 40-60 minutes.
Cooking Instant Pot sweet potatoes will give you tender potatoes in a short amount of time. Pierce whole potatoes and place in the pressure cooker with water and cook on high for 16-22 minutes.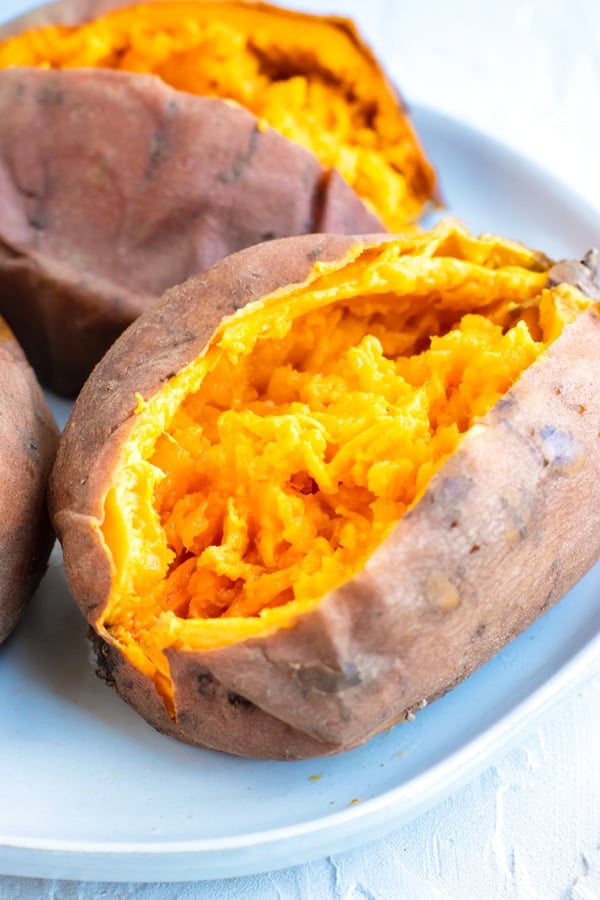 Mash Them Up
There are 3 different ways you can mash sweet potatoes, much like with regular potatoes. Each will give you a slightly different level of creaminess.
Food Processor – This is the preferred method since it will give you a super creamy and tender texture. A large, 10-12 cup food processor is recommended.
Electric Mixer (Or Stand Mixer) – Another great method that does not require much arm work. If you like clumps in your mashed potatoes, then this will be the best method for you.
Potato Masher – By far the most labor intensive method, but also the most traditional. Much like if you mixed it in a stand mixer, you will get a slightly clumpier finished product.
Add the Flavor
The sweet potato mash recipe does taste great with just milk, butter, and salt. But you can add in a few more ingredients to really up-level your flavor game.
Maple Bacon
The combination of cooked bacon with pure maple syrup will give you a perfectly sweet and savory flavor profile.
Simply add the syrup to the food processor before puréeing then top with the bacon to serve.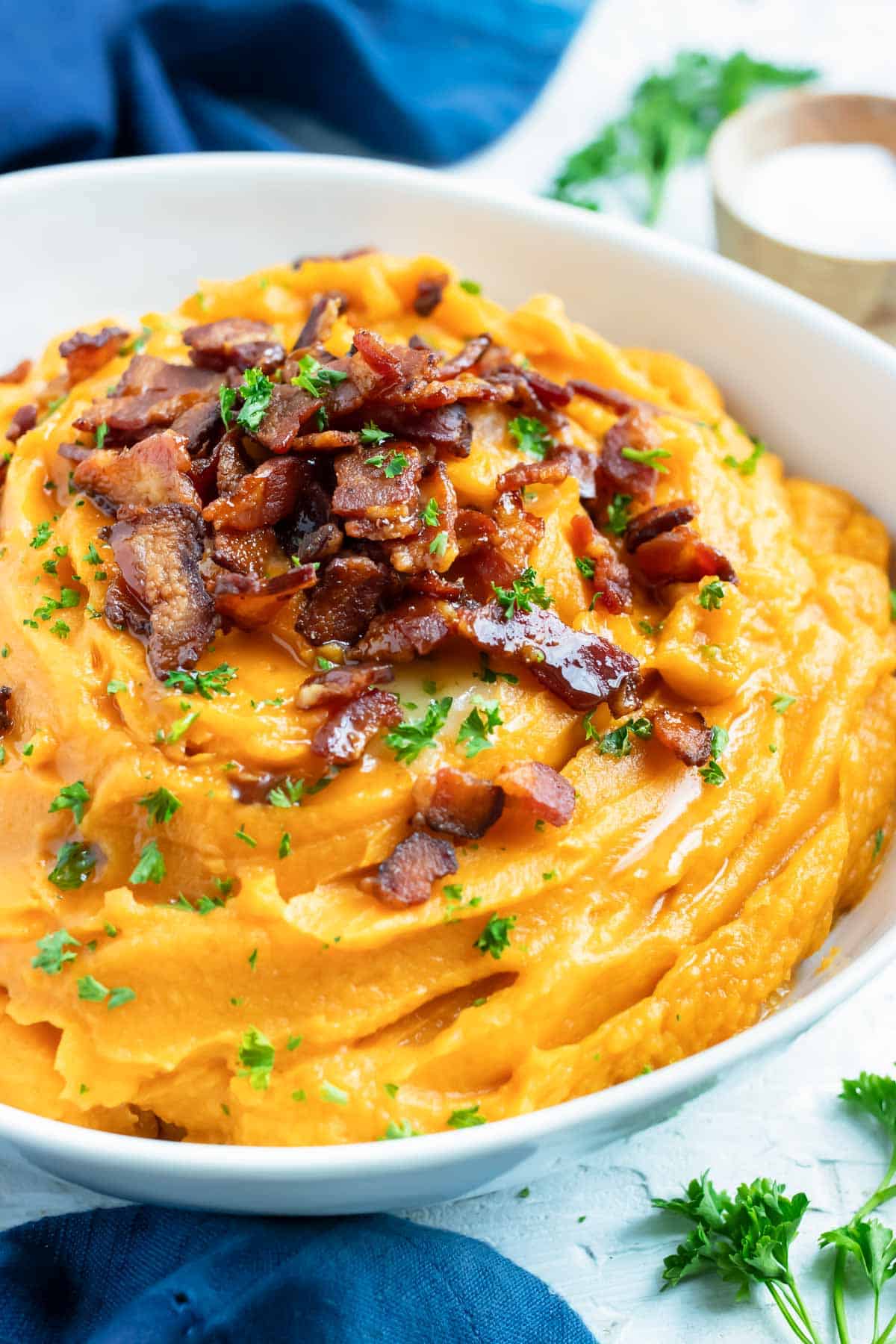 Cinnamon, Brown Sugar & Pecans
If you prefer them sweet, then adding cinnamon and brown sugar will be your way to go!
Mix in the brown sugar and cinnamon while mashing and garnish with toasted pecans.
Garlic & Herb
Another great savory option is simply swapping out the regular butter for homemade garlic butter. Add a sprinkle of chopped fresh herbs just before serving!
Meal Prep and Storage
To Prep-Ahead: Boil, bake, or cook the potatoes in a pressure cooker up to 3-5 days in advance. Or make the complete recipe and refrigerate until ready to heat and serve.
To Store: Keep mashed sweet potatoes in an airtight container in the refrigerator for up to 3-4 days.
To Freeze: Seal in a freezer-safe airtight container for up to 4-6 months.
To Reheat: Add the mashed potatoes to a pot on the stove over medium to medium-low heat with a touch more milk or water. You can also microwave until warm.
Dietary Modifications
The recipe you'll find below is already vegetarian and gluten-free as written. Here are some adjustments and substitutions you can make to help it fit your other dietary requirements:
Dairy-Free: Use almond, oat, soy or cashew milk as well as a butter alternative.
Vegan: Select a plant-based milk and butter.
Whole30: Swap the butter for clarified butter or ghee and choose a dairy-free milk.
Paleo: Make these potatoes creamy with ghee or clarified butter and coconut milk.
FAQs
Is it better to peel sweet potatoes before boiling?
Peeling potatoes before boiling is not necessary, however peeling and cubing them will reduce the cooking time.
Are sweet potatoes healthier than mashed potatoes?
Sweet and regular potatoes are quite similar when it comes to nutrition. The biggest difference is that sweet potatoes contain more vitamin A and regular potatoes have more potassium.
Why are my mashed sweet potatoes lumpy?
If your mashed potatoes are lumpy they were likely not cooked enough. The potatoes should be tender before mashing by hand or in a food processor.
Expert Tips
Adjust to taste. Start with minimal milk and add more to reach your desired consistency.
Bake for flavor. Roast the potatoes in the oven for a deeper and sweeter taste.
Wait to peel. Cook the potatoes whole to easily remove the skin once done.
Get the best texture. Use a food processor for the most creamy and tender mashed potatoes.
Prep ahead. Make this dish in advance to save time during the holidays.
What to Serve with Mashed Sweet Potatoes
These mashed sweet potatoes are so delicious, try them as a side with one of these recipes:
More Sweet Potato Recipes
Sweet potatoes are so versatile! Give one of these recipes a try next time you're craving them:
Mashed Sweet Potatoes Recipe
These creamy Mashed Sweet Potatoes can be sweet or savory, and are the perfect side dish. It is quick and easy to boil, bake, or cook sweet potatoes in an Instant Pot, then mash them to a smooth consistency.
Ingredients
2 ½

lbs.

sweet potatoes

peeled and cooked

⅓

cup

milk

or almond or cashew milk

4

Tbsp.

butter

or vegan buttery sticks, softened

¾ – 1

tsp.

salt

to taste

Parsley

finely chopped, optional
Cinnamon Sugar
¼

cup

brown sugar

or coconut sugar

½

tsp.

cinnamon

¼

cup

toasted pecans

coarsely chopped
Maple Bacon
¼

cup

pure maple syrup

4

oz.

cooked bacon

crumbled
Instructions
Bring a large pot of water to a boil, add sweet potatoes, and cook for 12-15 minutes. Drain sweet potatoes in a colander.

Serve with a sprinkle of fresh parsley.
Cinnamon Sugar:
Add brown sugar and cinnamon to the bowl of the food processor before pureeing.

Serve with toasted pecans.
Maple Bacon:
Add maple syrup to the bowl of the food processor before pureeing.
Recipe Notes
Nutritional information is calculated without any of the additional toppings.
You can also mash sweet potatoes with a potato masher or in a large stand mixer.
You can also cook sweet potatoes by baking them in the oven or in the Instant Pot.
To Store: Keep mashed sweet potatoes in an airtight container in the refrigerator for up to 3-4 days.
To Freeze: Seal in a freezer-safe airtight container for up to 4-6 months.
Nutrition Facts
Mashed Sweet Potatoes Recipe
Amount Per Serving
Calories 231.4
Calories from Fat 70
% Daily Value*
Fat 7.83g12%
Cholesterol 20.07mg7%
Sodium 479.33mg21%
Potassium 636.92mg18%
Carbohydrates 38.09g13%
Protein 3.12g6%
Vitamin A 27046.22IU541%
Vitamin C 4.54mg6%
Calcium 75.61mg8%
Iron 1.15mg6%
* Percent Daily Values are based on a 2000 calorie diet.