With over 20 of the best Sweet Potato Recipes you can easily have a healthy side dish or complete dinner ready for your family tonight! From baked and roasted sweet potatoes, to whole30, vegan, and gluten-free recipes, there are so many ways you can skin this potato!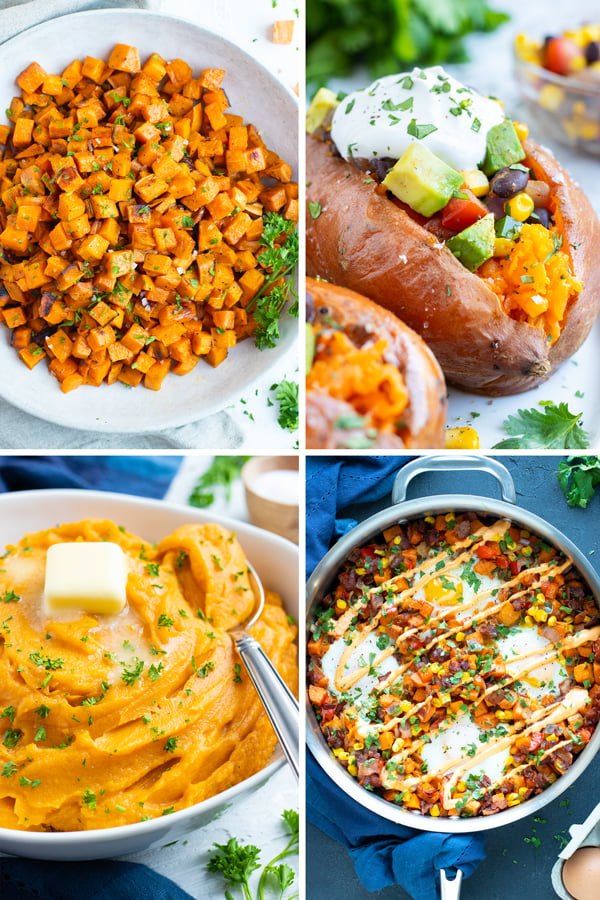 Sweet Potatoes
Sweet potatoes are hands down one of the tastiest and best shelf-stable ingredients that are also incredibly healthy for you!
Packing in loads of Vitamin C and filling fiber, they will keep you full and well.
While their sweet flavor adds a wonderful balance to more traditionally savory dishes.
Sweet potatoes can last up to 3-5 weeks when stored in a cool, dry place or up to 3-4 months when kept in the refrigerator.
How to Cook Sweet Potatoes
Sometimes the recipes you find will call for already cooked sweet potatoes.
If that's the case, there are a variety of ways you can cook sweet potatoes and they're all SO incredibly easy:
Baked Whole Sweet Potatoes – These can be used for stuffing with taco-style ingredients or shredded BBQ chicken. Or, just top them with a bit of cinnamon and sugar for a sweet treat!
Instant Pot Sweet Potatoes – Another way to quickly cook whole potatoes for your favorite mashed or stuffed potato recipes.
Boiling Sweet Potatoes – This is a super easy way to soften potatoes so they can be turned into a burger patty or mashed until creamy and smooth.
Sweet Potato Recipes
Sweet potatoes, chicken apple sausage, and kale combine to form one of the best and easiest quinoa bowl recipes. All of the ingredients are cooked in one pot, or skillet, to make a healthy quinoa recipe that is full of sage and savory Fall flavors!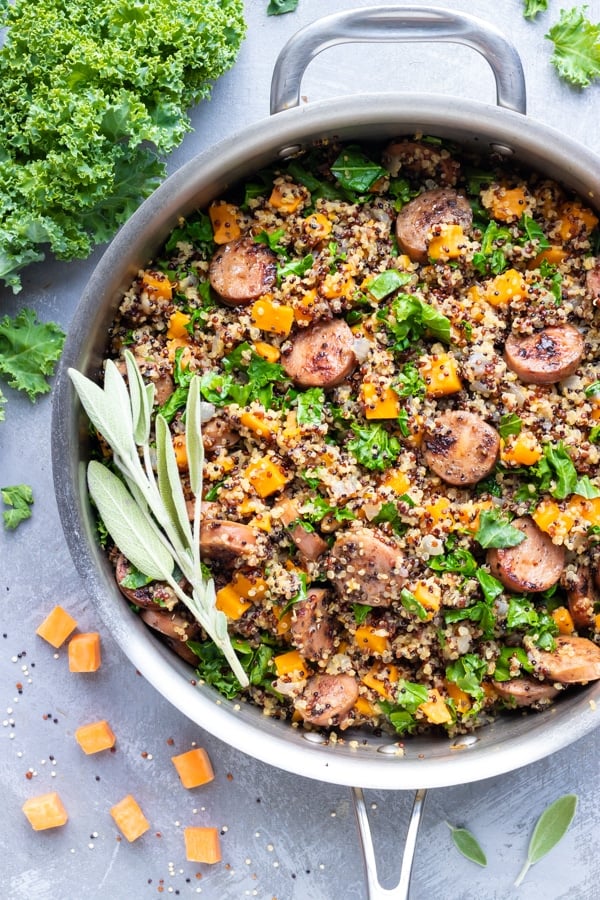 Mashed Sweet Potatoes are an easy, healthy, vegan, and Paleo side dish recipe for a weeknight dinner or Thanksgiving gathering. Learn How to Make Mashed Sweet Potatoes that can be served with brown sugar, savory bacon, or garlic and herbs.
These Mexican Stuffed Sweet Potatoes are a healthy dinner recipe that can easily be meal prepped for busy weeks! Baked sweet potatoes are loaded with canned corn, black beans, fresh tomatoes, avocado, and homemade taco seasoning for a gluten-free, dairy-free, vegetarian, and vegan family-friendly recipe.
Sweet Potato Hash is a delicious and healthy breakfast hash brown recipe that is made with eggs, full of jalapenos, onions, red bell pepper, and then topped with a spicy Sriracha mayo and a sprinkle of cilantro. These easy sweet potato hash browns are gluten-free, dairy-free, and can easily be made Paleo and Whole30 compliant.

Vegan Tacos are loaded with sweet potatoes, shaved Brussel sprouts, a spicy-sweet sauce, and then wrapped in a Paleo tortilla. This gluten-free, dairy-free, Paleo, and vegan taco recipe will make you completely forget the meat is missing!

Skillet Brussel sprouts and sweet potatoes are a super quick and easy side dish to serve with chicken, steak, turkey, or pork! This healthy recipe is gluten-free, dairy-free, vegan, Paleo, and makes a great weeknight, Christmas, or Thanksgiving vegetable side dish, too!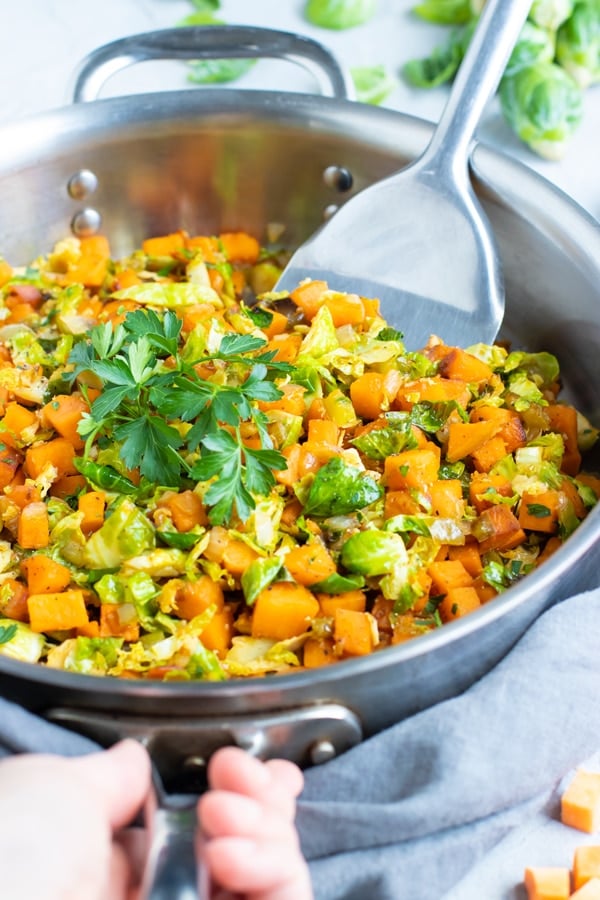 BBQ Chicken Stuffed Sweet Potatoes are an easy, healthy, gluten-free, and dairy-free weeknight dinner recipe the whole family will enjoy! This stuffed sweet potatoes recipe can also easily be made Paleo and Whole30.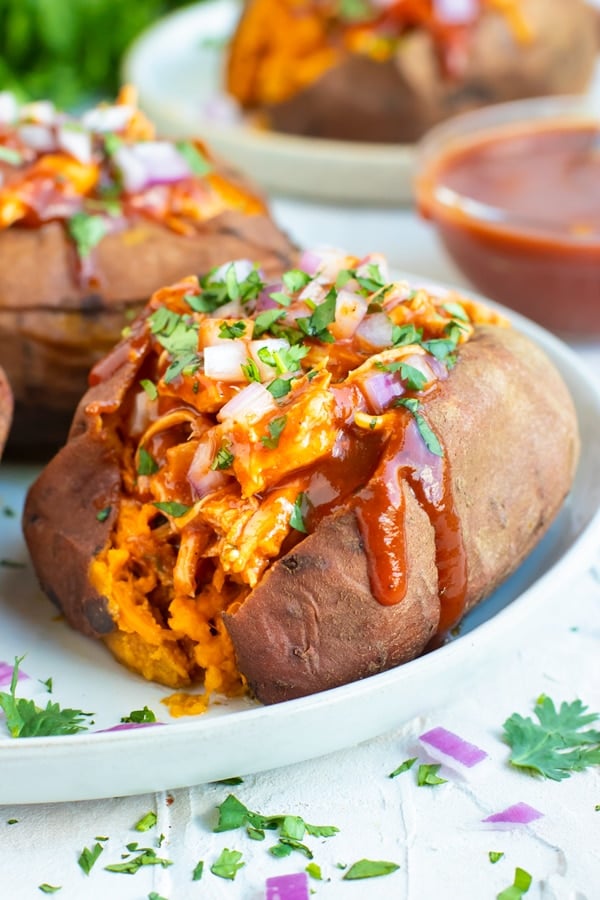 Roasted sweet potato cubes are a healthy, easy, and quick way to make sweet potatoes in the oven! This baked sweet potatoes recipe makes perfectly crispy cubes every time and is a gluten-free, dairy-free, vegan, vegetarian, and Whole30 side dish.
Learn how to make cilantro lime sweet potato noodles with a spiralizer in under 15 minutes! These sweet potato spiral noodles are an easy, healthy, gluten-free, vegan, Paleo, and whole30 side dish that is a breeze to whip up!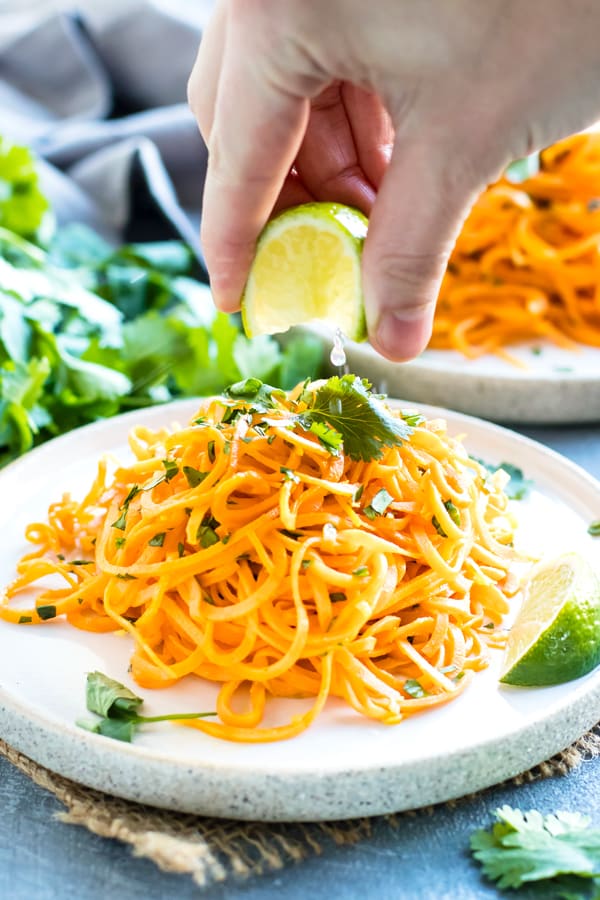 This Sweet Potato Black Bean Burger recipe is made with quinoa and loaded with spices for a hearty and filling veggie burger. You can bake this black bean quinoa burger in the oven or sear it on the stove for a gluten-free, dairy-free, vegetarian, and vegan burger recipe!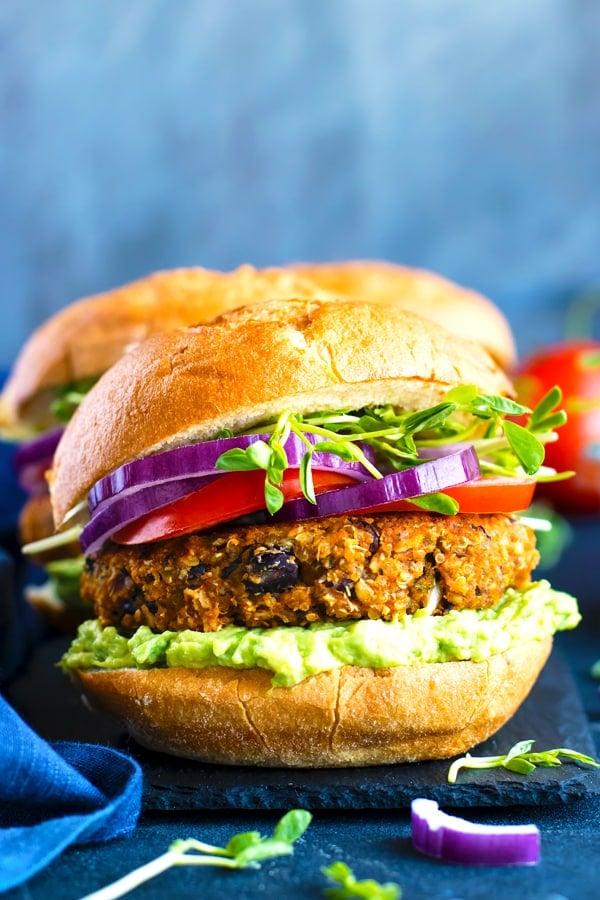 These Hasselback Sweet Potatoes with Brown Sugar & Pecans make a great gluten-free and vegetarian side dish for Thanksgiving, Christmas or any other special occasion meal!

This Sweet Potato Broccoli Quinoa Bowl recipe is full of nutritious fiber, lean chicken, topped with a sesame-ginger salad dressing and is gluten-free and dairy-free. It is one of our favorite healthy and easy chicken quinoa bowl recipes in our house!

Healthy Sweet Potato Casserole is topped with a pecan and oat crumble for a lightened-up, gluten-free version of your favorite Thanksgiving Day casserole!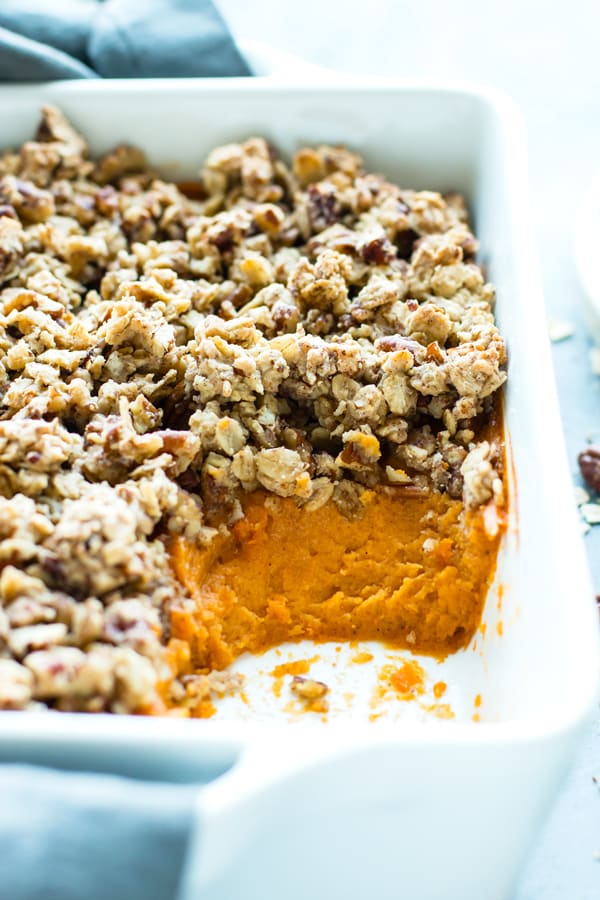 Even on those crazy-busy weeknights, you can have a healthy dinner ready in under 30 minutes with this one-pot honey BBQ chicken and sweet potatoes recipe!
Easy skillet sweet potatoes make a quick side dish for any meal! This simple sweet potato recipe is gluten-free, vegetarian, dairy-free, paleo and vegan.
These Black Bean & Sweet Potato Tacos are gluten-free and vegetarian. They make a wonderful breakfast, lunch or dinner taco recipe that is ready in under 30 minutes!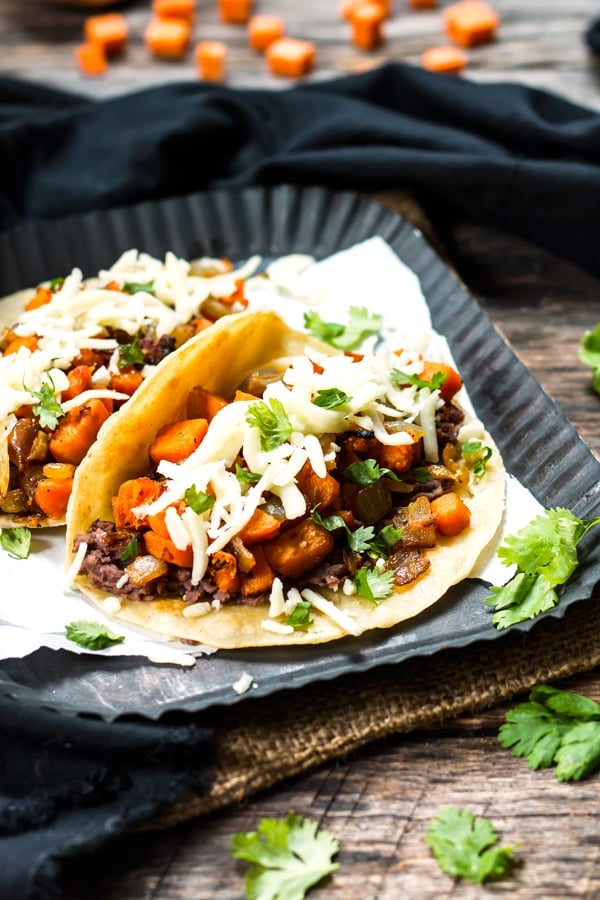 Sweet potato ground turkey chili is a healthy and quick gluten free dinner recipe that is full of black beans, corn, and lots of chili flavor!

A roasted sweet potato hummus recipe that is made without tahini!! It is full of hearty sweet potatoes, spices and garbanzo beans making it a super healthy vegan and gluten free snack or appetizer.
An easy and healthy recipe for crispy baked sweet potatoes fries that are BAKED in the oven and not fried! Served with a spicy-sweet sriracha mayo.
Slow Cooker Chicken Curry with Coconut Milk
Slow Cooker Chicken Curry that is made with coconut milk and sweet potatoes!! This curry chicken recipe is naturally gluten-free and makes a delicious lunch or dinner when served with rice.